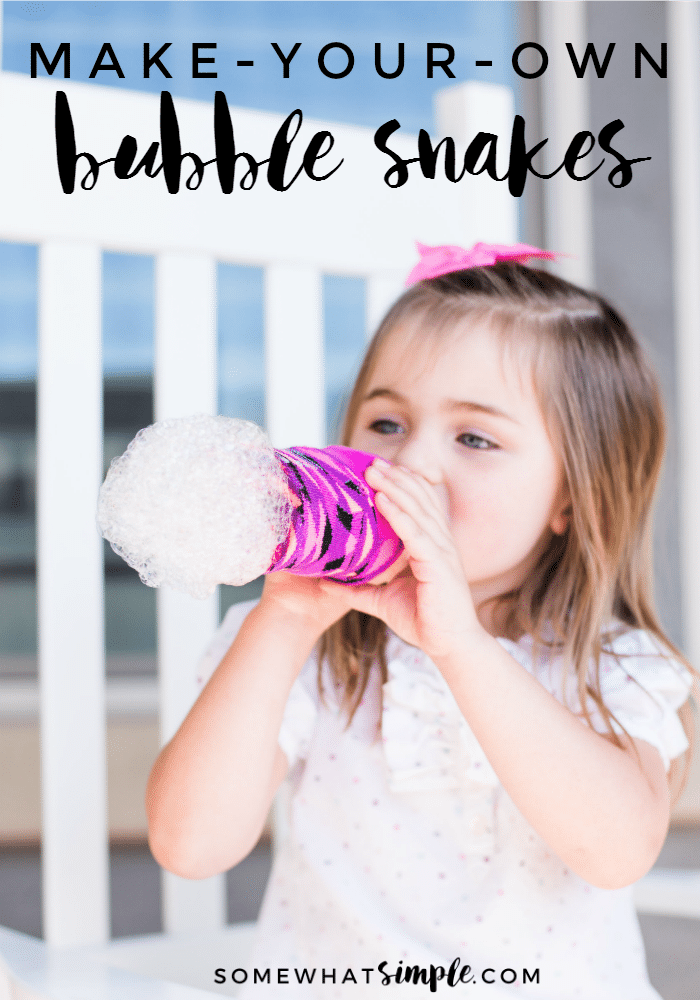 Looking for some good, clean fun? These bubble snakes can be ready in two minutes or less!
Here are a few more fun ideas your kids will love – Paper Bag Pinatas, Painted Rock Art, and Glowing Monster Craft.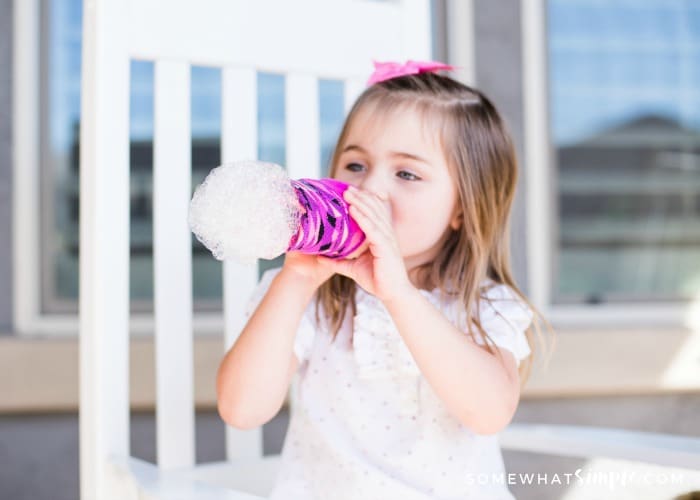 We've been making these bubble snakes every so often for YEARS now! I actually prefer them to the regular bubbles and wands you buy in the store. They produce such good bubbles without evaporating or popping easily, and it's way less mess!! They're like magical, extra strength bubbles and they are so much fun!
Even the tiniest of toddlers can experience the fun of blowing bubbles with this method, and you probably have all the supplies you need in your home right now!
Here is how to make them –
How to Make Bubble Snakes
SUPPLIES –
liquid dish soap – you could use a homemade bubble solution or your favorite store-bought soap – original Dawn, Palmalive, etc.
old sock
sharp scissors
water bottle – make sure you use a standard size bottle and not the small ones.
small bowl
* If you don't have a spare cotton sock laying around, you can use a piece of fabric (cotton or flannel work best) that is at least big enough to cover the bottom of your water bottle. You'll also need a rubber band or elastic band to secure it.
DIRECTIONS –
Cut the bottom off a water bottle using your scissors.
Put sock over the bottom of the water bottle.
Pour some dish soap into a small bowl, just about a 1/2 inch deep.
Dip the sock end of the water bottle into the bowl of soap to coat the bottom.
Place your mouth around the water bottle and blow! Keep blowing long and shallow breaths so the bubbles get longer and longer, forming a "snake"! See how long your snakes can get until the soap snakes break off.
Dip the water bottle back into the bubble mixture and keep on blowing!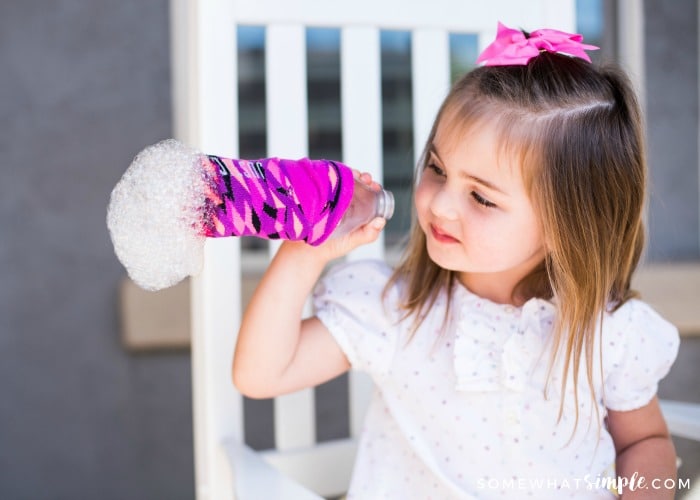 How to Make Rainbow Bubble Snakes
Here's a colorful way to make more fun bubble snakes – rainbow bubbles!
YOU WILL NEED –
all the supplies listed above
liquid food coloring
DIRECTIONS –
Follow the directions mentioned to secure your sock to a water bottle.
Before dipping the end of your bottle into the shallow container of bubble solution, add a drop of your favorite color food coloring to the end of your sock.
Then, dip as usual and blow! The drops of the food coloring will dye your bubbles as they grow.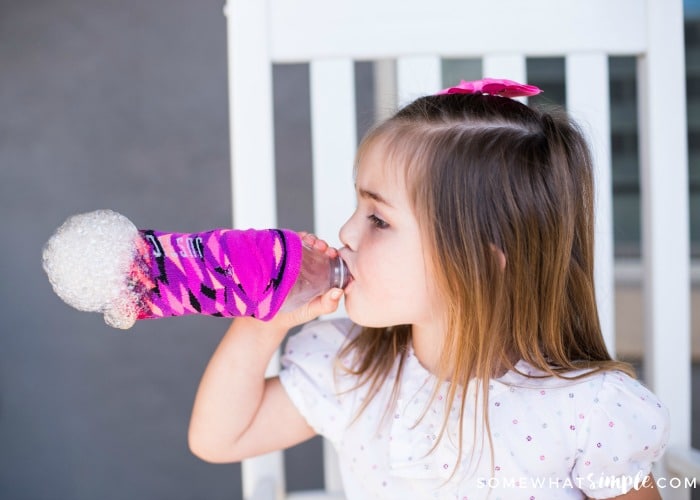 NOTES –
Be careful with little kids "sucking" the water bottle instead of blowing into it. Plenty of kids over here have gotten a mouth full of tiny bubbles, which is one sure-fire way to end all the fun! (Adult supervision is defintely suggested!)
If you try this on a breezy day, the wind might pick up the bubbles too soon from your bottles and blow little bubble spheres all over your yard! My kids actually love this! The duration of the bubbles seem to last forever and they like to pretend it's snowing! (Sorry to those of you still covered in snow! Here in AZ "snow" is a treat!)
You can add a little bit of water to your shallow bowl of soap to make your soap last longer.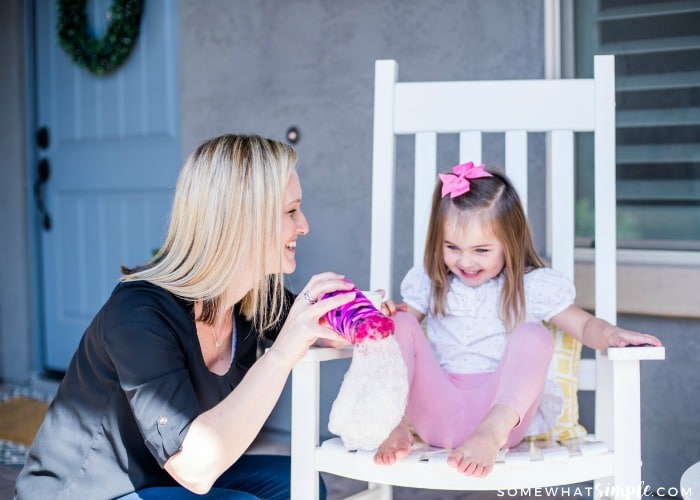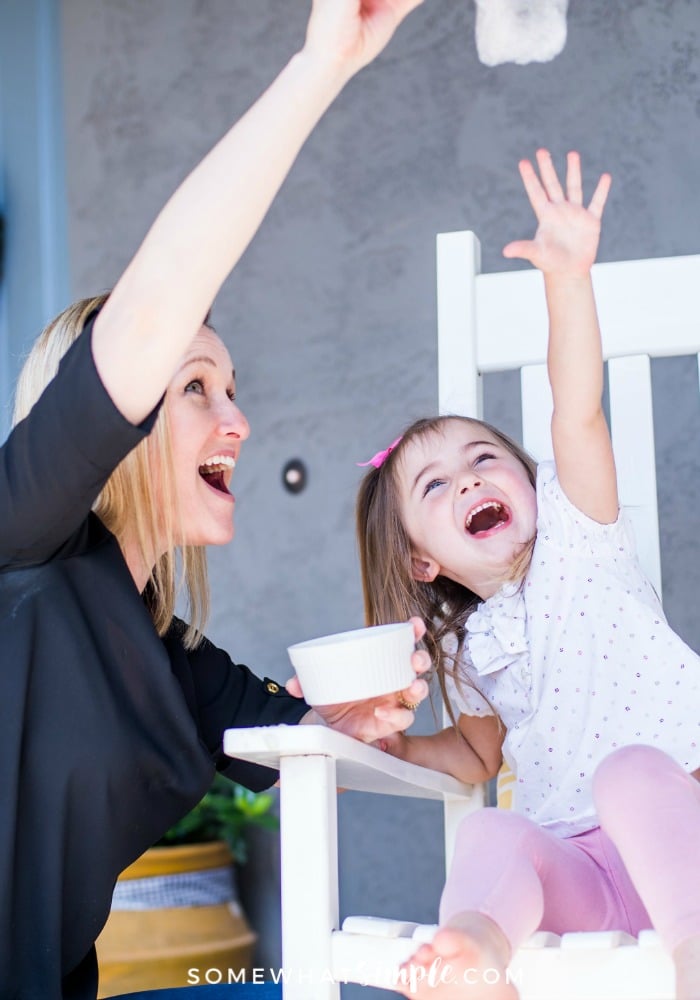 We hope you have so much fun blowing bubble snakes! If you make them, leave a comment in the section below or tag us on Facebook, Pinterest, Instagram, and Twitter!