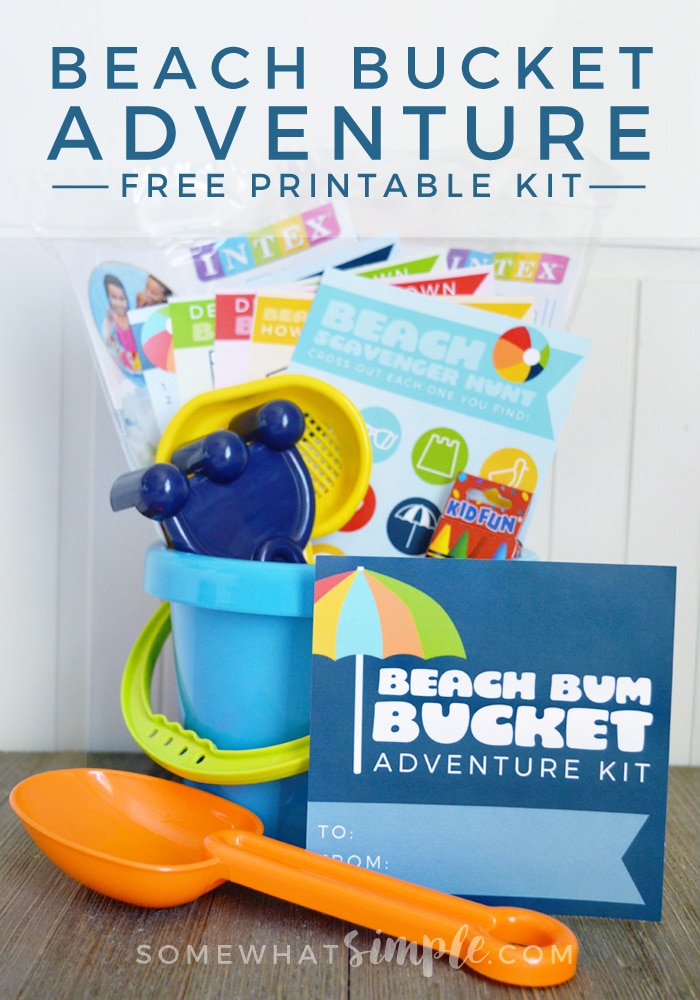 Take the stress out of your next family beach day with these FREE beach activities for kids! 15 simple activities and printables so you're never bored at the beach again!
If you're planning a trip to the beach, be sure to check out our favorite Beach Hacks before you go!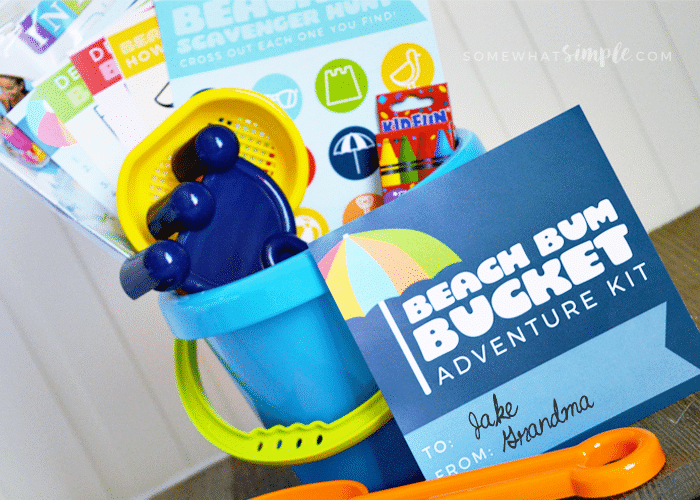 Planning a Beach Family Vacation
My family just got back from a family trip to Florida that was SO.MUCH.FUN. We drove over 16 hours each way to get there (insert crazy face here) but I was fully prepared with plenty of treats and toys to keep my kids excited.
One of the entertainment ideas I came up with to give them was this Beach Bucket Adventure Kit, full of sand toys and fun activities to do once we (finally!) got to the shore. I shopped the Target Dollar Spot for all of this so the whole thing was less than $10.
Want to make your own?
Here's how: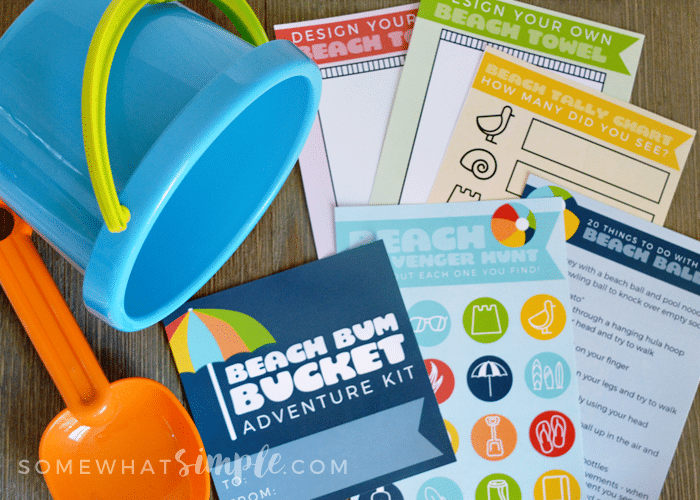 Beach Activity Adventure Kit
YOU WILL NEED –
a beach bucket
free printable beach activities (download below)
sand toys – shovel, rake, beach ball, etc.
items to decorate sandcastles – craft stores have fun wooden props like pennants, sea creatures, peg people, etc.
crayons or pencils (to use with the printables)
TIP –
I laminated my printables to make them more durable and reusable, but if you plan to use them once and toss them, regular paper or cardstock will work just fine!
DIRECTIONS –
Fill your bucket with all the fun items listed above.
Head to the beach and have fun!!!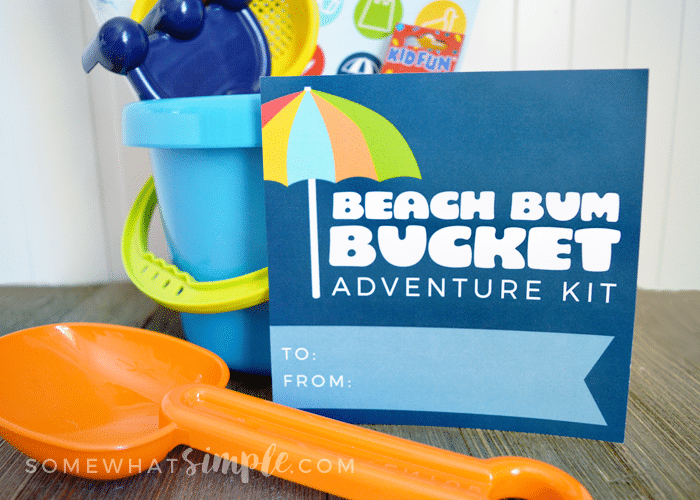 Printable Beach Activities
Our printable pack comes with the following beach activities for kids –
adventure kit label – to stick on the front of your bucket
20 things to do with a beach ball – play Hot Potato, beach bowling, and MORE!
tally chart – count all the birds, shells, sunglasses, etc.
design a beach towel
beach scavenger hunt – the first one to find all the beach items on the list wins!
For immediate access to these printables, enter your name and email address in the form below. A new screen will load with the PDF – the file will not be emailed to you.
Please note: All the printables published on Somewhat Simple are for personal use only. They may not be sold, mass-printed or claimed to be your own. If you have questions about this or need us to make an exception, please email us – we are super nice! (steph@somewhatsimple.com)
More Beach Activities
Here are a few more ideas you can do while sitting on the shore –
sandy beach games – sketch a Tic-Tac-Toe, Hangman, or Hopscotch playing board in the sand and have fun!
sand Pictionary – hurry and draw a picture while the tide is out and have your family guess what you drew before the tide comes back in and the waves clear your canvas.
build a creature – forget the sand castles and instead, build/ sculpt a sea creature – whale, sea turtle, mermaid, etc. out of the sand. (We also love building a sand snowman!) Don't forget to add seaweed hair and driftwood arms + legs!
blanket + ball bounce – like beach volleyball, but without the net! Kids hold opposite ends of a bounce a ball in the air by pulling it taut and catching it again. See how long they can keep it going before the ball touches the sand.
sand skeeball/darts – Draw circles inside circles, in the sand, each worth its own point value – the center/ smallest circle being worth the most. Then, roll a ball or toss a seashell towards the game board, trying to land on the circle worth the highest amount of points.
musical towels – a beach version of the classic game "Musical Chairs"
balancing boogie board – lined up on boogie boards near the edge of the water with your back facing the ocean, then try not to fall as the waves come in. The last one standing wins!
treasure hunt – bury objects in the sand (like a plastic cup or tennis ball) and have your kids hunt and dig to find them.
dig a hole – set a timer for 2 minutes and the person with the deepest hole wins!
toys + entertainment – bring books, fly a kite, or play limbo with an umbrella pole!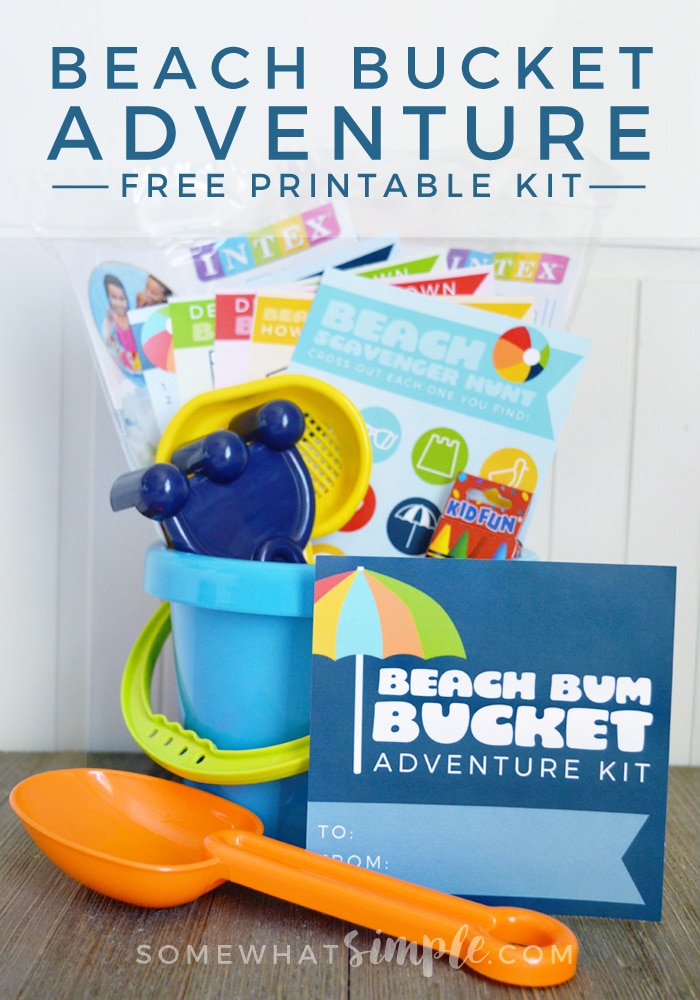 We hope you have so much fun on your next trip to the beach!
. . . . .
ABOUT THE AUTHOR: Abbey is the creative mom and blogger from The Cards We Drew. She was a contributor on the Somewhat Simple Creative Team in 2013 where she shared creative seasonal ideas each and every month!
This post was originally published on Somewhat Simple in May 2013. It was updated with new printables in July 2016.