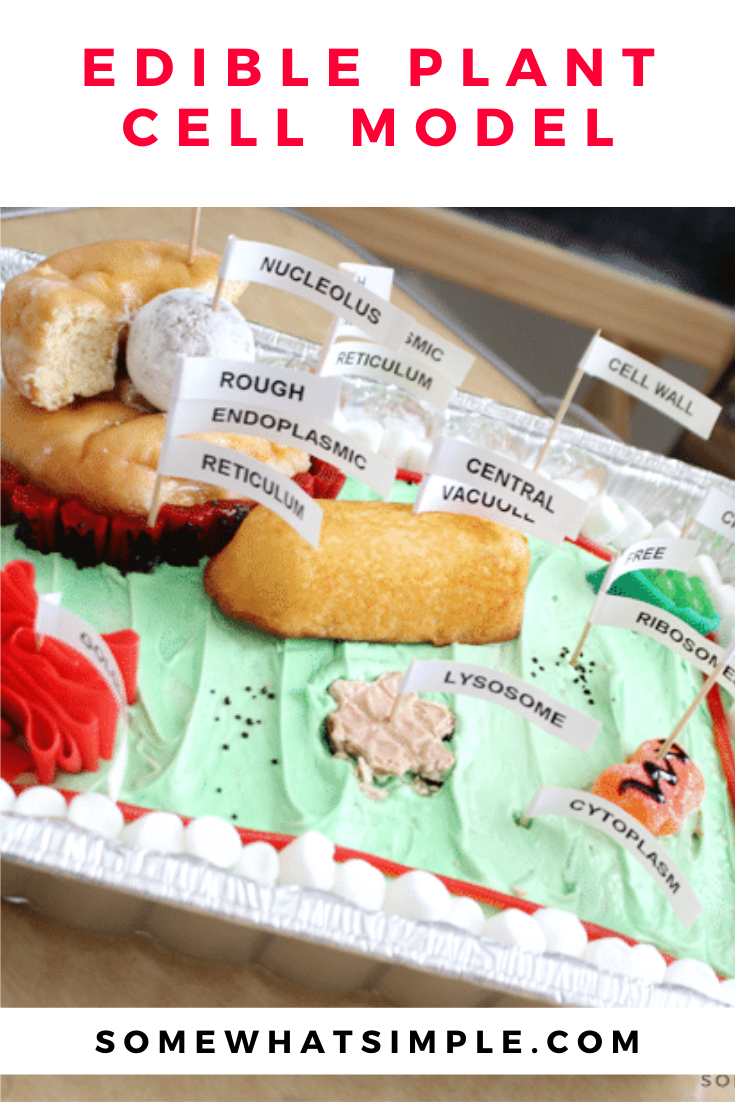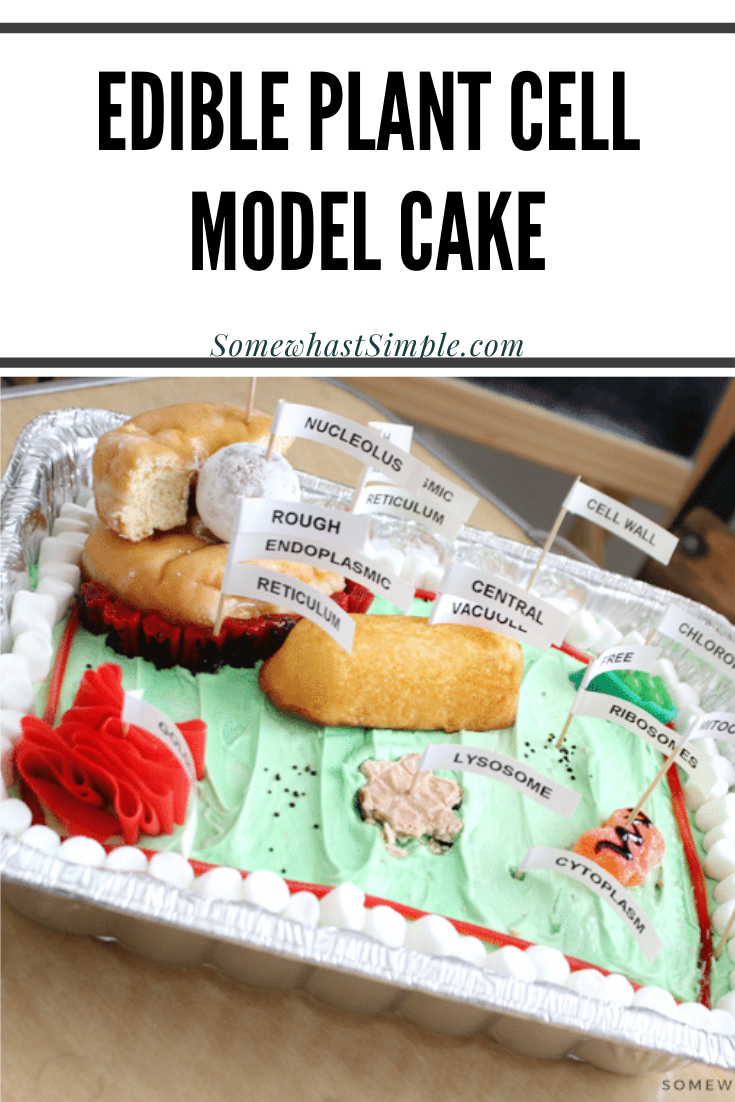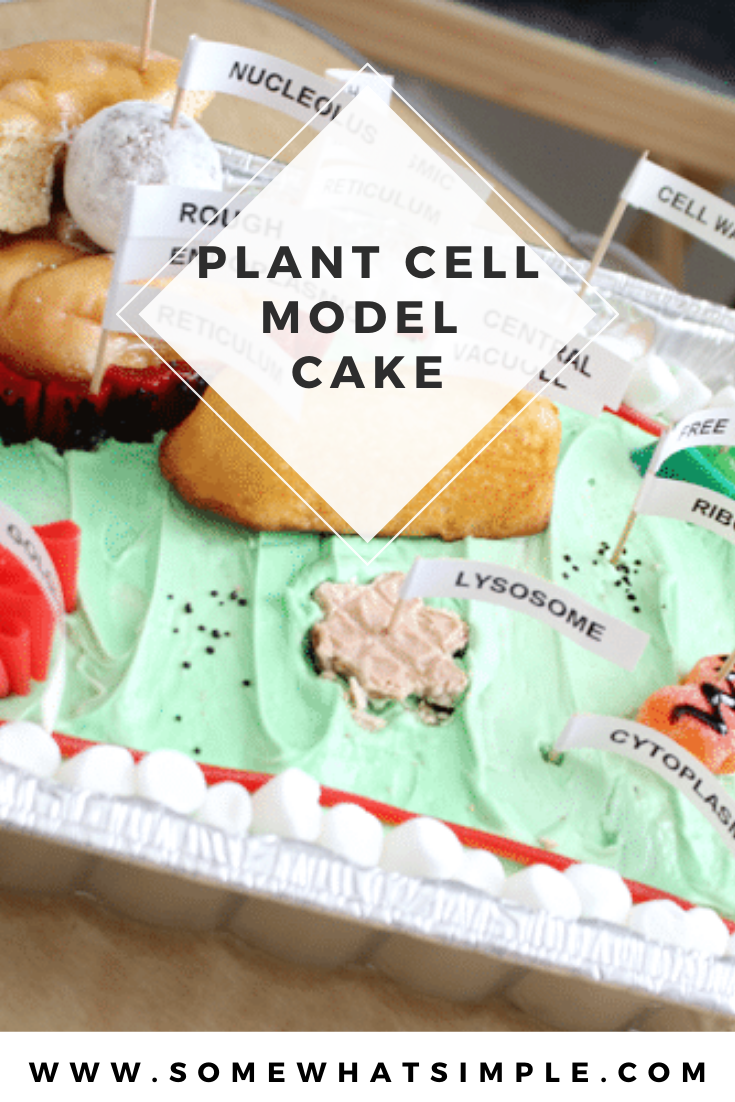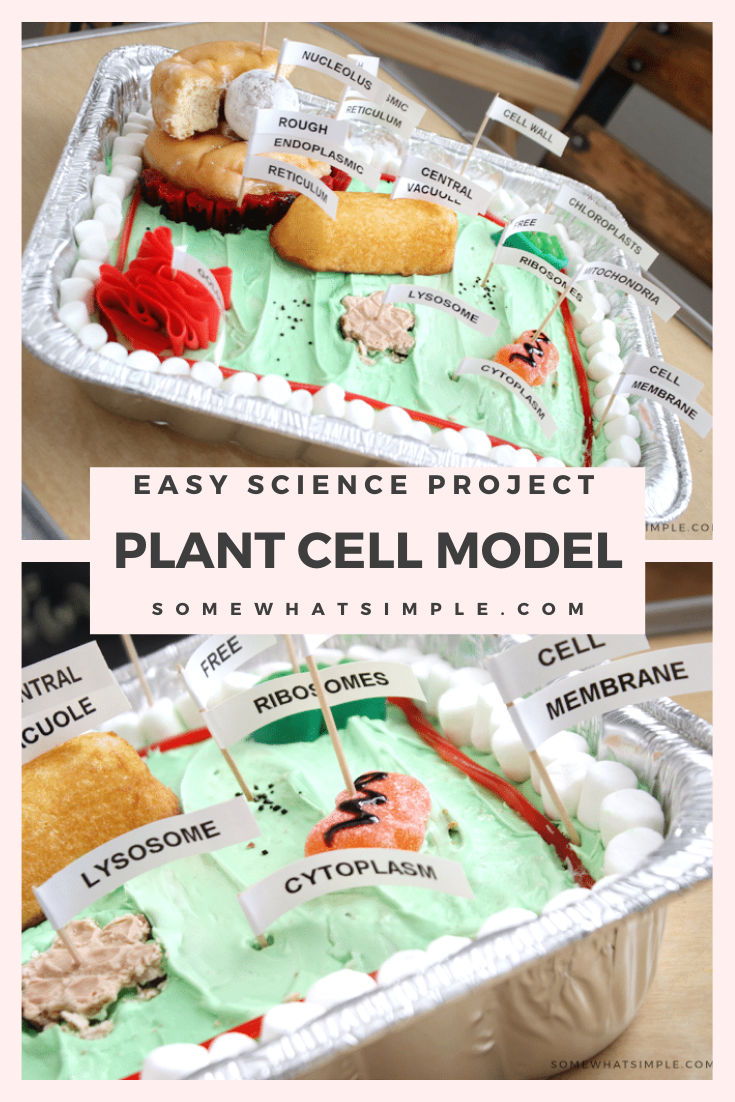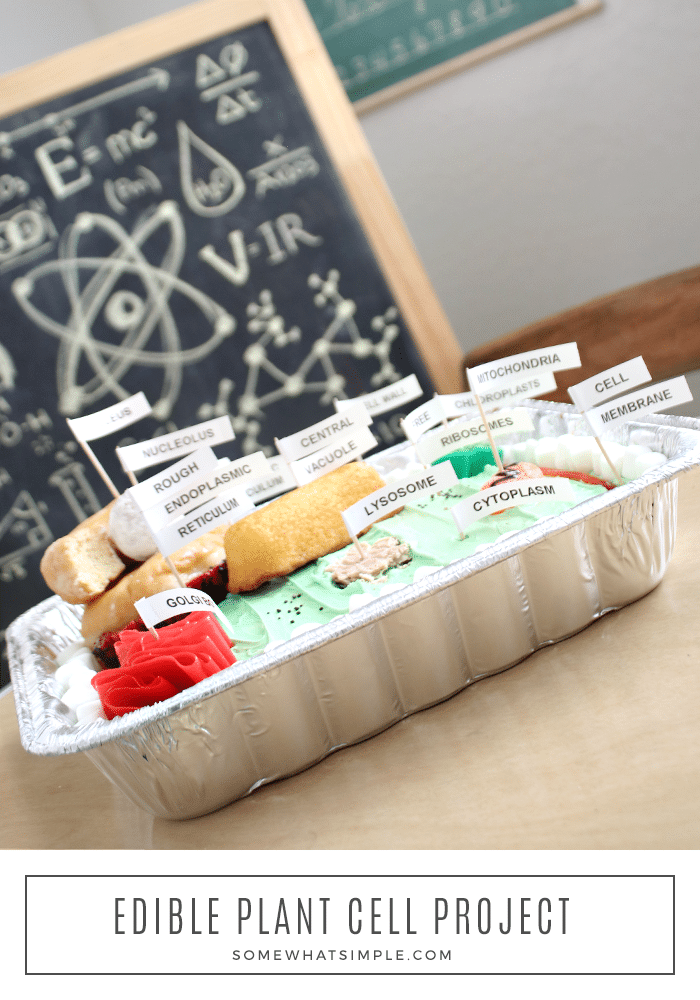 Making a plant cell model is a great way to have some fun with your kids in the kitchen! This fun, edible science project is both educational and tasty!
Looking for more activities and projects to do with your kids? Here are a couple more we love – Fun at the Train Station, and No TV, No Problem!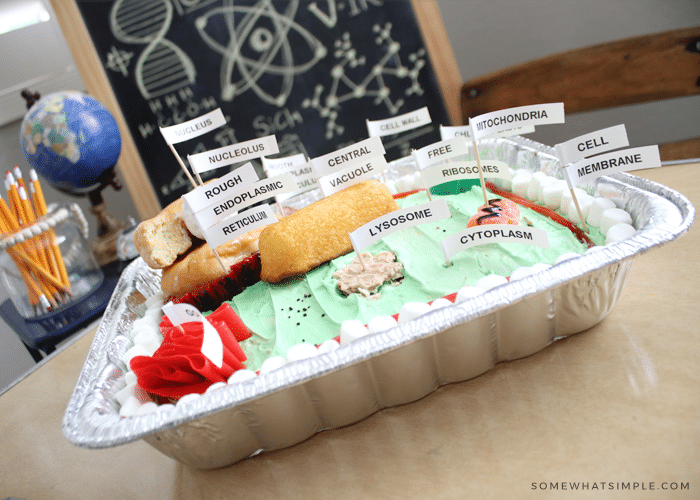 A 3D Science Project Assignment
My sixth grader came home with the assignment to make a 3D model of a plant cell. We were given no guidelines as far as what it needed to look like or what materials we had to use. We decided to get a little creative and made it using a cake and other items so the entire model would be edible!
Making this plant cell model proved to be much more fun than the styrofoam animal cell I made with his older sister a couple of years ago! Here is what we used and how we made it –
How To Make An Edible Plant Cell Model
MATERIALS + INGREDIENTS –
One vanilla cake mix + ingredients on back of box
disposable rectangle pan (as close to 13×9 as you can)
Toothpicks
Plant cell labels (download below)
Scissors
Tape
Plant cell parts –

cell wall — mini marshmallows
cell membrane — red licorice
cytoplasm — green frosting
nucleus — 2 glazed donuts, 1 cut in half
nucleolus — powdered sugar donut hole
central vacuole — Twinkie
mitochondria — orange slices gummy candy + black cookie icing
smooth endoplasmic reticulum — red licorice bites
rough endoplasmic reticulum — water, red licorice bites + black sprinkles
free ribosomes — black sprinkles
chloroplasts — green Mike & Ikes + a green Airhead
Golgi body — Fruit by the Foot
lysosome — wafer cookie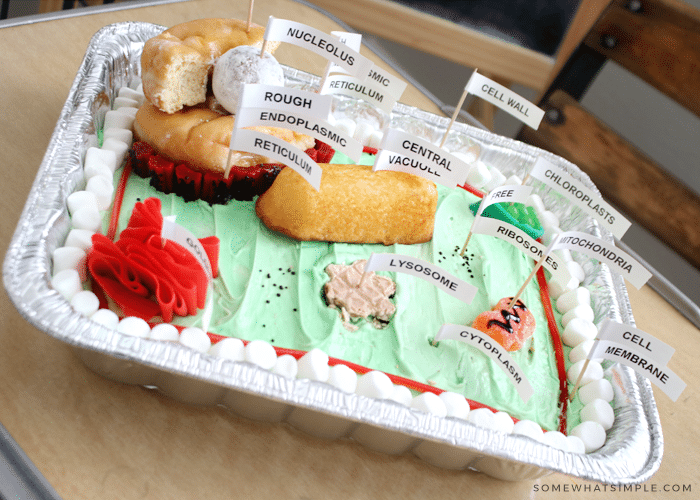 DIRECTIONS
Base – Make your cake according to package directions in your disposable cake pan. Let it cool completely.
Cytoplasm – Add your "cytoplasm" by spreading green frosting over the entire cake.
Cell Wall – Place mini marshmallows around the entire perimeter of the cake to form your "cell wall."

Cell Membrane – Add a "cell membrane" by putting red licorice on the frosting, up against the row of marshmallows around the entire perimeter of the cell.
Nucleus – Place your "nucleus" in the corner – one donut on the frosting, then half of a donut sitting on top of that donut.
Nucleolus – Place your "nucleolus" on top of your donut, up against the halved donut.

Central Vacuole – Place a Twinkie on the cake to represent the central vacuole.
Mitochondria – Make your "mitochondria" by drawing a squiggly line with black frosting on top of an orange candy slice. Place this on your cell.
Smoot Endoplasmic Reticulum – Add a border of red licorice bites around half of one side of your nucleus donut. This will be the smooth endoplasmic reticulum.
Rough Endoplasmic Reticulum – Coat several pieces of licorice bites in water, then roll them in black sprinkles. Line them up next to your smooth endoplasmic reticulum to finish the border around your donut. These will represent the rough endoplasmic reticulum.

Ribosomes – Sprinkle some black sprinkles in a few clusters on top of your frosting to represent the free ribosomes.
Chloroplast – To make a chloroplast, cut a green airhead in half, lengthwise. Wrap the airhead around to form a circle, then stick it into the frosting. Fill the inside of the Airhead circle with green Mike & Ikes that are standing on their ends.

Golgi Body – Unwrap a fruit by the foot, then fold it "accordion style" and stick in on your cake. This will be the Golgi body.
Lysosome – Place a wafer cookie on your cake to be a "lysosome."
Label It – Download and print the cell parts printable, then cut each label out. Wrap one end of each label around a toothpick, and tape it to secure. Stick a toothpick and label into each plant part, and you're done!!!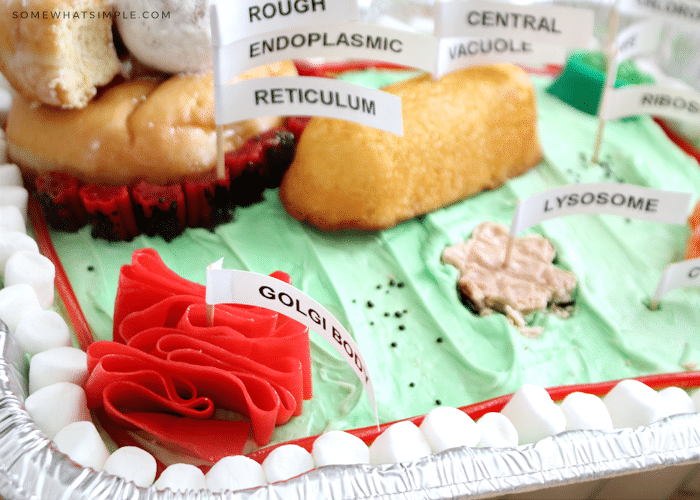 Plant Cell Model Labels Printable
Enter your name and email address below for immediate access to these free plant cell model labels –
This edible plant cell project is such a fun science project, right?? And for those of you who care, he got an A+. 😉
Edible Plant Cell Recipe
This plant cell science project is fun to make and even more fun to eat!
Ingredients
1

box

vanilla cake mix

1

package

mini marshmallows

1

package

red licorice

1

container

green frosting

2

glazed donuts

1

powdered sugar donut hole

1

Twinkie

1

package

orange slices gummy candy

1

package

black cookie icing

1

package

red licorice bites

1

bottle

black sprinkles

7

green Mike & Ikes

1

green Airhead

1

Fruit by the Foot

1

wafer cookie
Instructions
Make your cake according to package directions and let it cool.

Spread green frosting over the entire cake.

Place mini marshmallows around the entire perimeter of the cake

Place red licorice on the frosting, up against the row of marshmallows around the entire perimeter the cake

Place one donut on the frosting, then half of a donut sitting on top of that donut.

Place your "nucleolus" on top of your donut, up against the halved donut.

Place a Twinkie on the cake

Draw a squiggly line with black frosting on top of an orange candy slice. Place this on the cake.

Add a border of red licorice bites around half of one side of your nucleus donut.

Coat several pieces of licorice bites in water, then roll them in black sprinkles. Line them up next to your smooth endoplasmic reticulum to finish the border around your donut.

Sprinkle some black sprinkles in a few clusters on top of your frosting.

Cut a green airhead in half, lengthwise. Wrap the airhead around to form a circle, then stick it into the frosting. Fill the inside of the Airhead circle with green Mike & Ikes that are standing on their ends.

Fold the fruit by the foot "accordion style" and stick in on your cake.

Place a wafer cookie on your cake.

Label each part of the cell
Equipment
Toothpicks

Plant cell labels (download below)

scissors

Tape

Aluminum baking tray
Nutrition
Serving:
1
serving
·
Calories:
679
kcal
Other Notes