Three ingredients, no cleaning chemicals, and no food coloring! Here is how to make slime that is safe for kids and a ton of fun!!!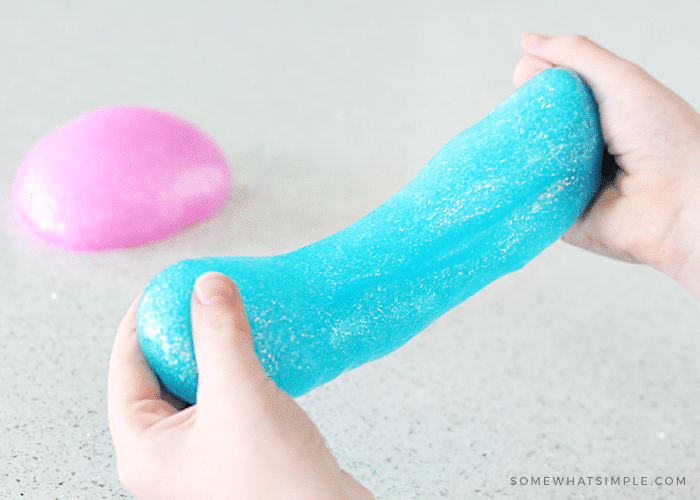 How To Make Slime That Sparkles!
My daughter learned how to make slime at a friends house earlier this year and her world was forever changed! I, however, was not a huge fan of the recipe she was given. Not only did it use an ingredient that I later found out wasn't super safe for kids, it also used shaving cream to make it fluffy – and shaving cream is either super smelly for the cheap stuff or kind of expensive! I was sick of having my home smell like a barbershop, so I set out to find a few new recipes.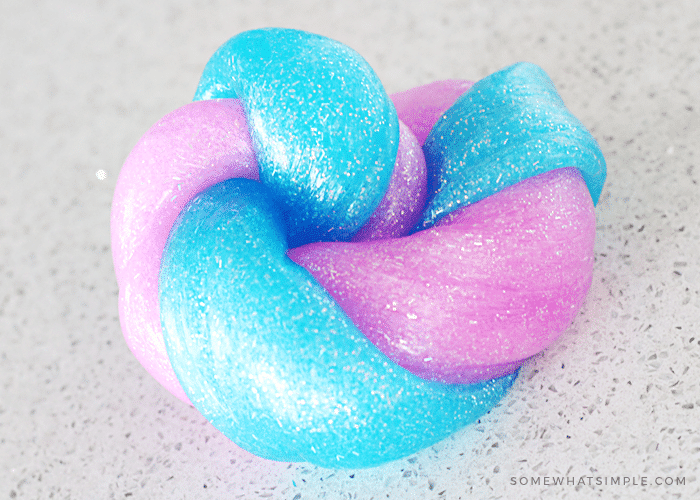 We tried several homemade slime recipes, and we all determined that THIS one was our favorite! This slime is soft and stretchy, but not sticky, smelly or dangerous for little kiddos.
How to Make Slime – The Best Slime Recipe
For this particular slime recipe, we used Glitter Glue. I would think any liquid/clear glue would work, but we went the the glittery stuff because my daughters were DYING to try it and it was also on sale! 🙂 This slime recipe is simple and quick, plus is is essentially mess-free!
How to Make Glitter Slime – Ingredients:
1- 6 fl oz bottle of glue
1/2 tablespoon of baking soda
1 1/2 tablespoon contact solution*
NOTES –
* I don't use contact solution on a regular basis, so I am not sure if there is a difference between solutions. I bought the cheapest from Target – the Up &Up brand – and we've never had a problem with it!
Directions For Making Homemade Slime:
Pour the entire bottle of glue into a small mixing bowl.
Add the baking soda to the bowl of glue and stir until combined.
Add the contact solution to the bowl and mix well. When the slime begins to get firm, you can use your hands to knead it and combine all the ingredients really well.
Add a squirt of more contact solution if it is too sticky.
Continue kneading and adding contact solution as needed. A little solution goes a long way, so don't use too much!
…and that's it!
Tools I Used To Make This Slime Recipe

Now you know how to make sparkling slime at home!
This easy slime recipe seriously provides hours of entertainment and creative fun in the palm of your hand!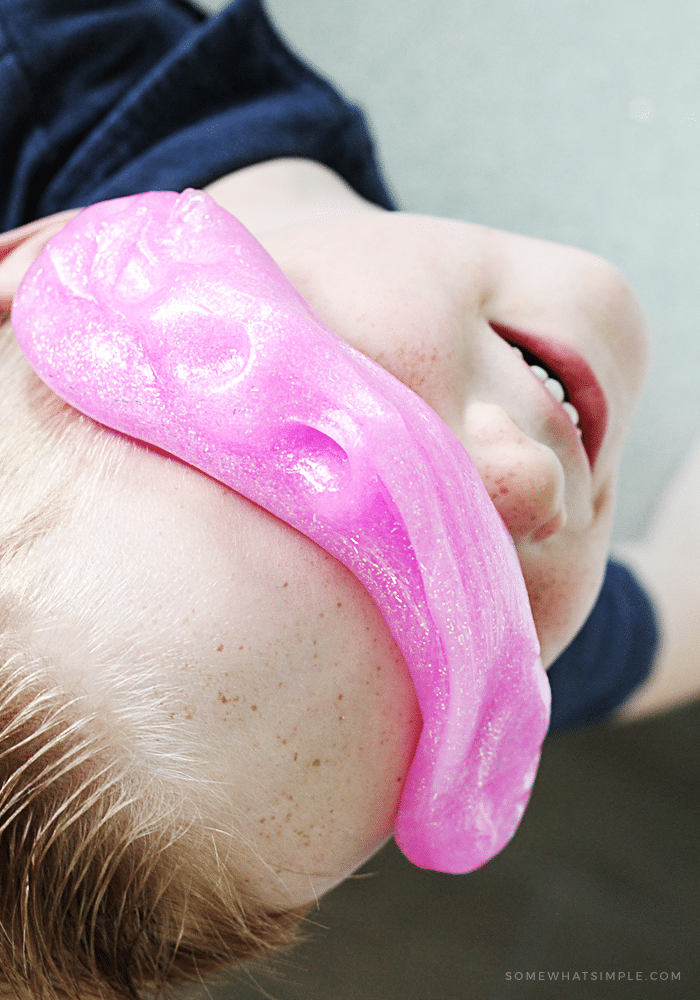 … or face. 😉
There are a ton of ways to make slime!
How Do You Make Slime?
Leave us a comment with your favorite easy slime recipe, I'd love to see how you guys make it!