Keep summer boredom at bay with the "Mom I'm Bored" Jar! Any time your kids say they're bored they can pick an activity from the bored jar. It could be something fun or it could be a chore. It'll make them think twice before saying they're bored!
You might also like these Summer Boredom Busters – B-O-R-E-D ACRONYM PRINTABLE, Printable Summer Schedule, and our Printable Summer Journal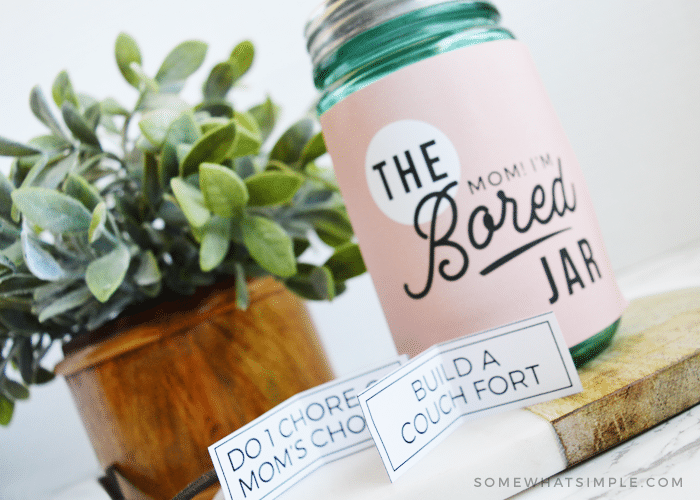 Bored Jar
By about the second week of summer, moms all over the world have one thing in common-
we are all sick and tired of the phrase, "Mom, I'm bored!"
My friend told me that every time her son said he was bored, she would give him a baby wipe and pick a room of the house and have him dust all the baseboards in that room! It didn't take him too long to find something else to do and stop telling his mom he was bored! I decided I needed to come up with something of my own to keep my kids busy, and that is when I created this "Mom I'm Bored" Jar:
I taped a cute label on a jar and then I filled it with some boredom buster activities. Some of the activities are fun, some of them are not, so before my kids decide to have me entertain them, they really need to decide if it's worth it or not!
They might get "Make cookies with Mom", or they might get "Pull weeds."
They could get "Play in the sprinklers", or they could get "Do a chore of Mom's choice!"
I made the boredom busters into a printable so you all can download the activities I used and make your own jar!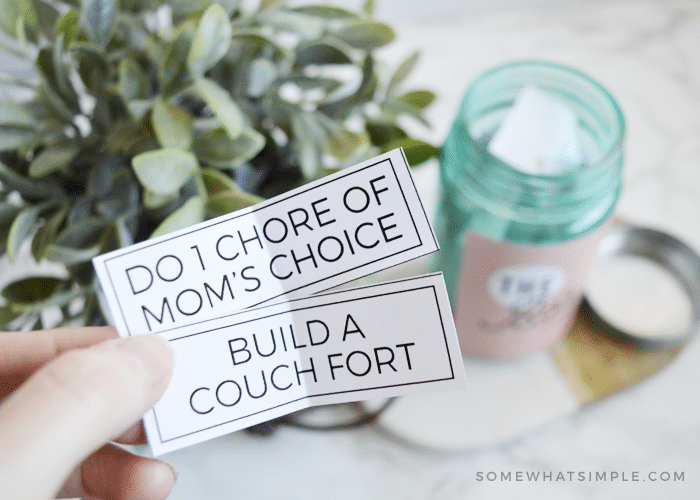 The "Mom I'm Bored" Jar
Our bored jar printable kit includes 2 different colored labels, over 50 suggested boredom activities, and some blank tags so you can customize the activities for your own family.
MATERIALS NEEDED:
1 jar
printable label and activities (download below)
scissors
tape
DIRECTIONS:
Download and print the printable and then cut them out.
Tape the label to the front of the jar and place the activities inside the jar.
Easy Peasy!