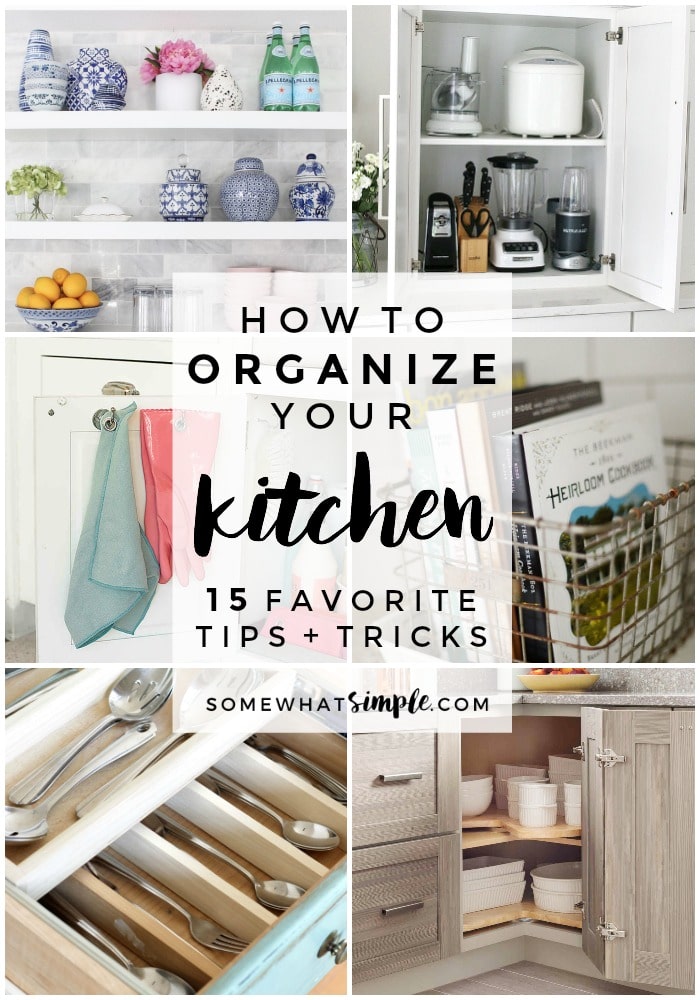 15 favorite kitchen organization tips and tricks!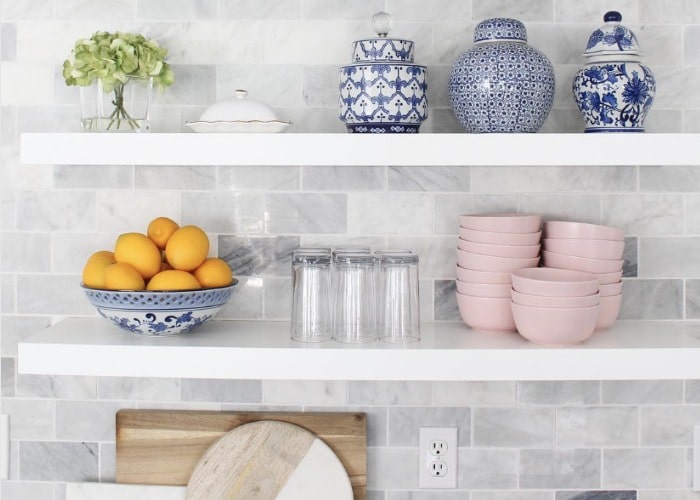 Tips on How to Organize Kitchen Items
I hope you feel like organizing, because today we're sharing some helpful tips on how to organize kitchen items that are going to motivate you for sure!! Dishes, cutlery, cleaning supplies and more! Take a look at these kitchen organization ideas:
kitchen cabinet organizers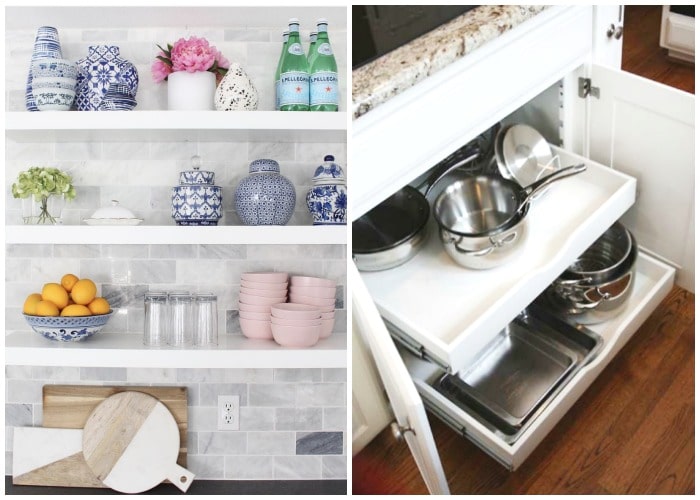 1. Optimize your Space with Open Shelves
Bulky cabinets can often over crowd a small kitchen. Open shelving is a great way to display and store your beautiful items while increasing the airiness of the entire space. From Classy Clutter on Instagram.
2. Layer items to create extra space.
One of my favorite ways to organize a small space is to use layering, meaning the items I use the most are stacked in the front, and items I use less often are in the back.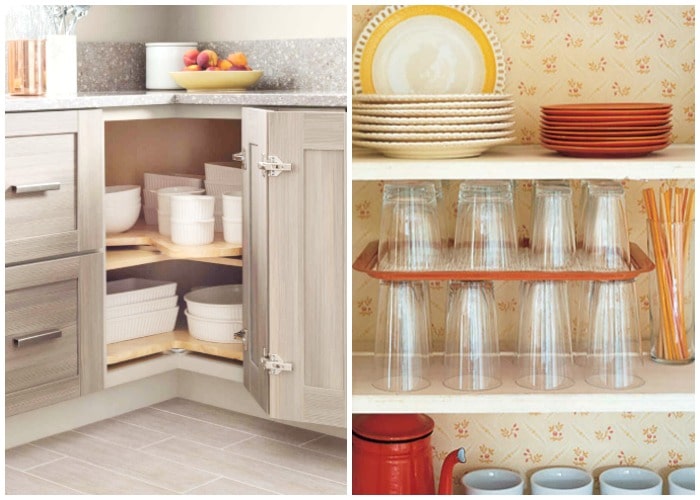 3. Utilize Lazy Susans
Lazy Susans totally help maximize the hard-to-reach spaces, and can really make the corners of your cupboards and pantry more functional. From Martha.
4. Use a Tray Divider
Using a serving tray as a shelf divider is a great way to increase cupboard space! Place large glasses upside down on the cupboard shelf, set the tray on top, and add a piece of non-skid shelf liner so the glasses stay put. Then, arrange smaller glasses upside down on the top of the tray. From Martha.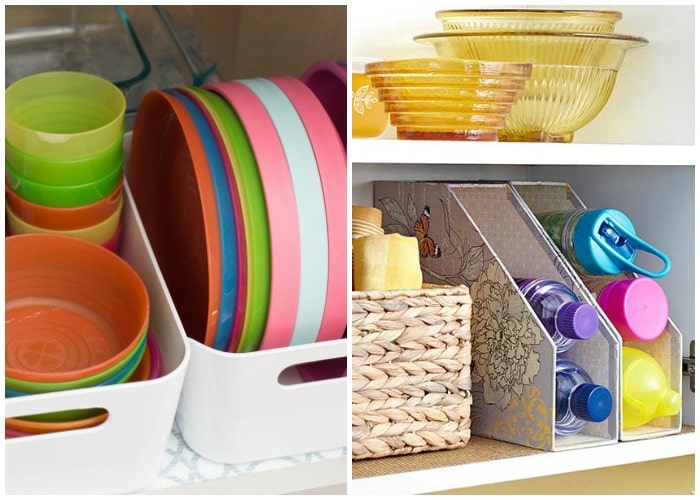 5. Buy some Baskets
Baskets are the BEST kitchen cabinet organizers! Not only do baskets maximize shelf space, they are also a great way to store like items. I LOVE the idea of corralling kids dishes in these plastic baskets, from Making Home Base.
6. Use Magazine Holders for Water Bottles
It used to make me so mad when I'd reach for a water bottle and they'd all fall over! One day I saw an idea from Better Homes and Garden showing how to contain water bottles in a magazine holder. GENIUS!
under kitchen sink organizer
7. Hang-Dry Help
Hang your wet rags and gloves from hooks on the inside of a cabinet door, where the items can stay out of sight as they dry. From Martha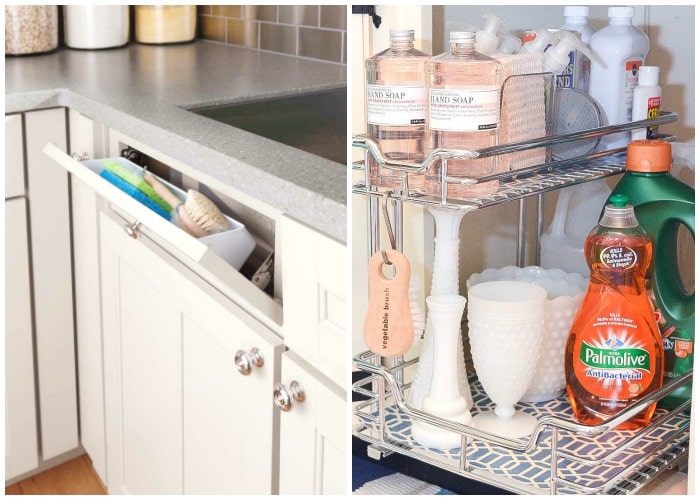 8. Make Every Space Count
Make use of even the smallest spaces! Consider a tilt-down drawer at your sink to store sponges and knicknacks that take up valuable counter space. From Martha.
9. Under the Sink Organizer
Investing in a good-quality pull out shelf can help maximize the space under your sink. Iron and Twine has tips on finding the BEST under kitchen sink organizer.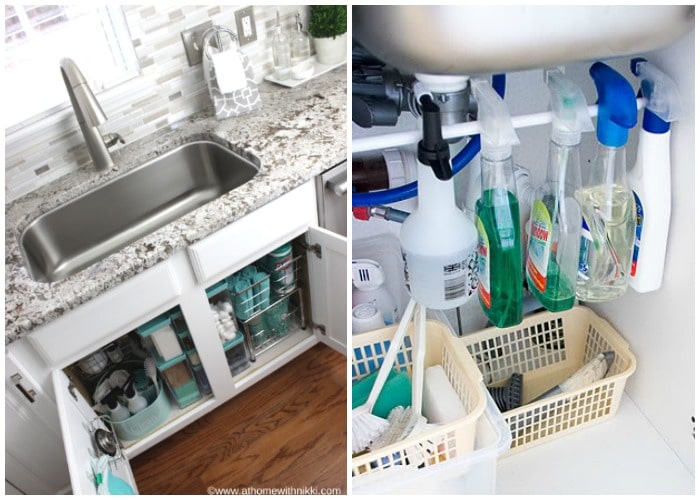 10. Make it Pretty
It's not something many people see, but making the area under your sink nice and pretty will certainly put a smile on your face every time you open the cupboard! I love the matching canisters and fun color of this under the sink cupboard, from At Home With Nikki.
11. Handy Little Curtain Rod
Give your cleaning supplies a space of their own by adding a small
spring-loaded curtain rod
that they can hang on. From A Thousand Words.
kitchen counter organization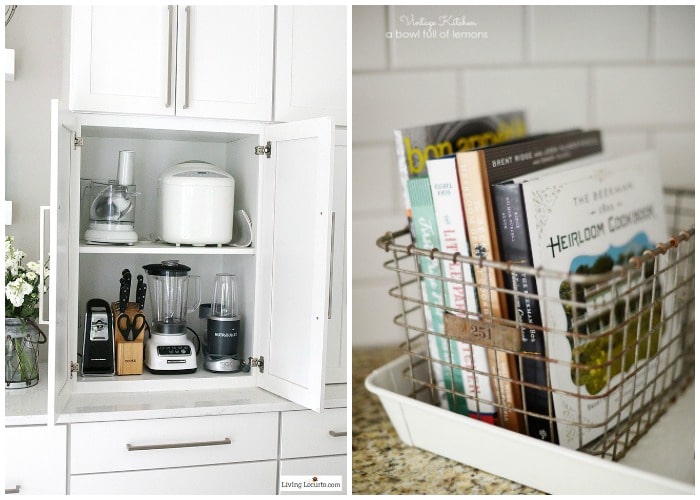 12. Less is More
I will be honest, I am not a fan of much on the counters of my kitchen. Even my pretty KitchenAid that I love so much has a home inside a cupboard. I just think the more you have out in the open, the more cluttered it looks, so I keep things very minimal. If it doesn't get used all.the.time and it doesn't look pretty, hide it! 🙂 I absolutely love this appliance cupboard from Living Locurto.
13. Speaking of Looking Pretty…
A pretty way to tackle the task of kitchen counter organization is to have a basket of cookbooks, or something else you use that is pretty enough to display. It not only looks great, but it is functional too! From A Bowl Full of Lemons.
kitchen drawer organizer
14. Junk Drawer Organization
Use cutlery organizers, baskets and/or office organizers to tame the stuff in your junk drawer. It's amazing how using a simple organization solution can make a drawer of randomness look clean and tidy! From The Container Store.
15. Double the Drawer Space
Short on drawer space? Nothing is worse than digging through a drawer to find a certain serving spoon, am I right? Learn how to make your own Double Kitchen Drawer Organizer, with Remodelando La Casa.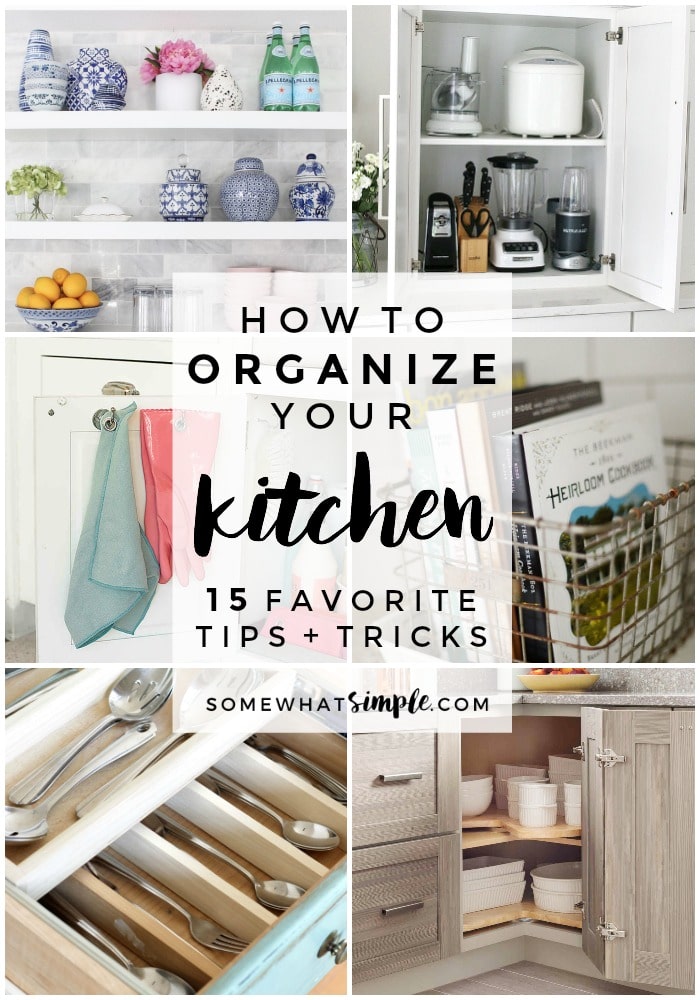 I hope these tips inspired you and gave you some great ideas for how to organize your kitchen!