Turn those musty, rotten smells into something fresh and inviting with these 3 simple tips to make your house smell good!
Looking for more household cleaning tips? Here are a few of our favorites – How to Clean Your Entire House, The Best Way to Speed Clean, and Printable Cleaning Checklist.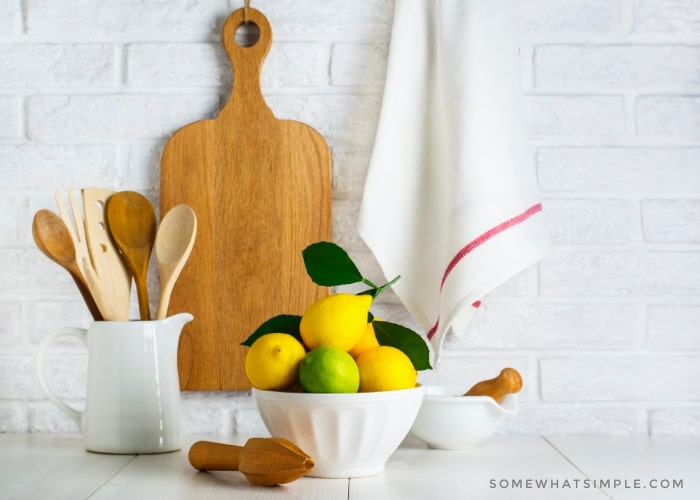 I love a good-smelling home and I am always on the hunt for ways to keep my home fresh and smelling great. When I wake up in the morning, I'd prefer not to smell the onion I cut up the night before. When I come home in the evening, I'd like to not smell the dirty cleats from that afternoon's soccer practice.
I think a good smelling candle is a decent mask of smells, but with 5 kids and a tendency to leave candles burning all night and day, this isn't always the safest way to go! Air Fresheners only last so long and seem only to "cover up" a bad smell, not get rid of it. But I have 3 go-to methods I use all the time that work good and it works fast. Plus, they use inexpensive items you might already have on-hand. Take a look –
3 Easy Ways to Make Your House Smell Good
Here are our three favorite ways to get your home to smell amazing.  We've already had quite a few people comment below with their favorite tricks too, so be sure to read to the very end!
1. Simmer on the Stove
The method I use most often to get my home smelling great is to simmer a small pot of water on the stove and drop in some various fragrances and spices. My favorite "potpourri recipe" (<<linked) combines cinnamon sticks and cranberries with a few other kitchen spices – it smells like Christmas and I burn it all winter long! In the spring and summer, try simmering citrus peels with some rosemary sprigs or some vanilla.
2. Dryer Sheets
Think outside the laundry room and add dryer sheets in random places around the house. Inside your coat closet, inside the cupboard under the sink, under your couch etc. You can place them in front of your air conditioning filters- that'll get a fresh smell working through the whole house quick!
3. Baking Soda + Vinegar
Make your own air freshener and odor eliminator with just a few natural ingredients from your kitchen! Here are 2 different options –
Place a bowl of vinegar in a room with an especially stubborn odor, Vinegar not only covers a smell, but it also gets rid of it completely! While this isn't the fastest method (it can take up to 24 hours) vinegar is safe, affordable and super effective.
Grab a spray bottle and make your own air freshener with some water, baking soda + essential oil or vanilla. (Recipe HERE.) You can use this to freshen up literally every room in your house – and it smells so good!  I like to use mine to freshen up the bathrooms but you can also use it to eliminate odors from carpets, couches, shoes, closets, dog beds, etc.
More Easy Home Cleaning Tips
What tips do you have to keep your home smelling nice?  Leave me a comment, I'd love to read some new ideas!