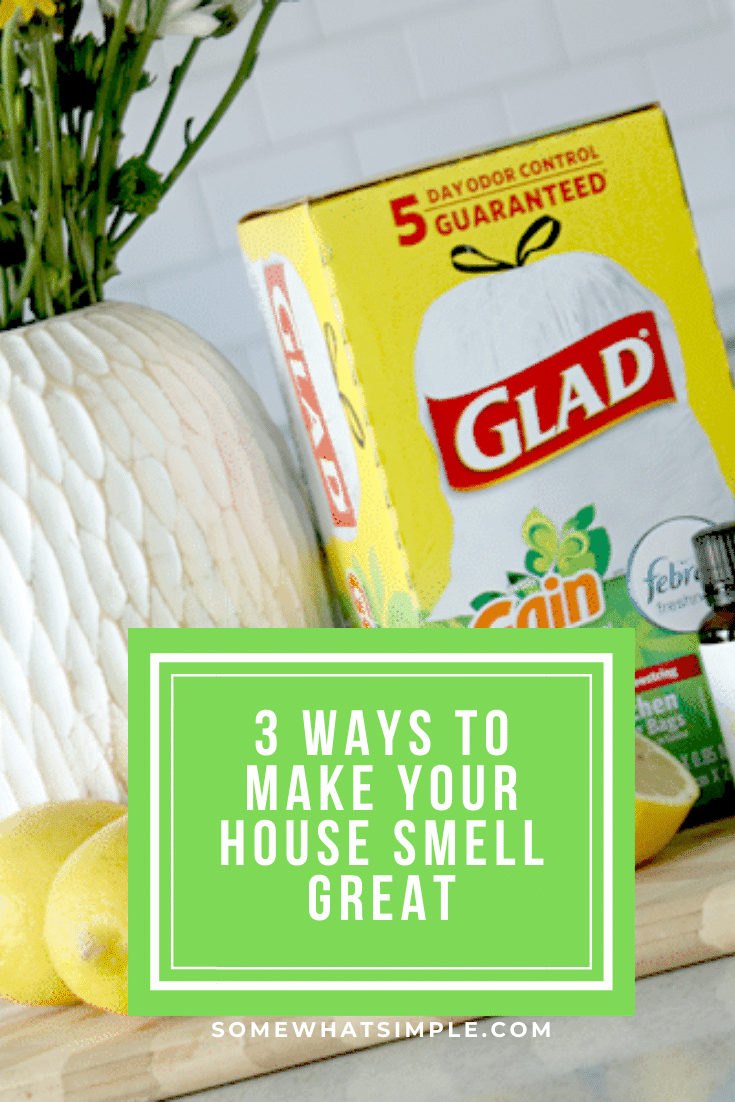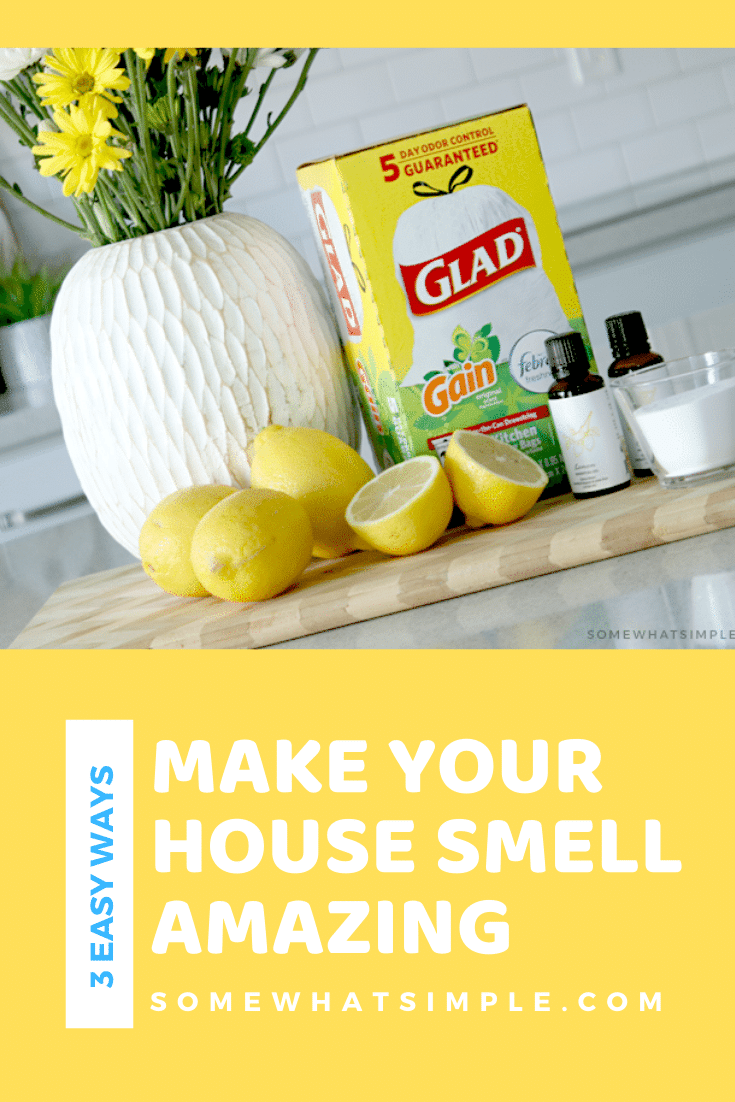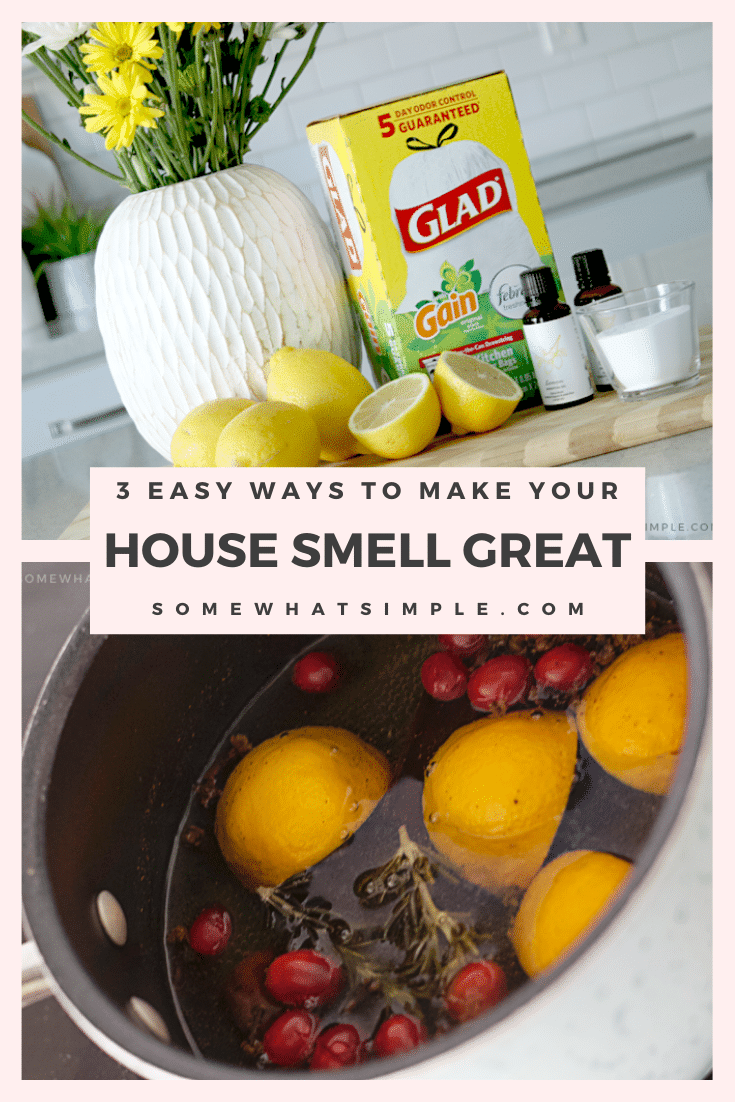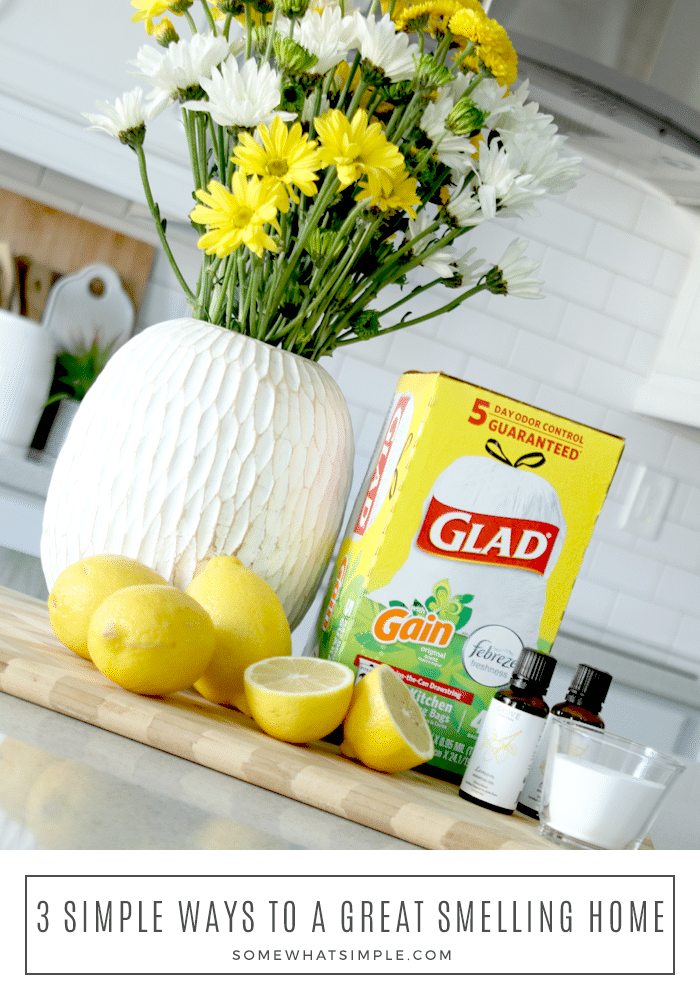 Make your home fresh and inviting with these 3 simple tips that make your house smell great!
This post is sponsored by Glad Products Company and Martha Stewart Living. All opinions are 100% my own.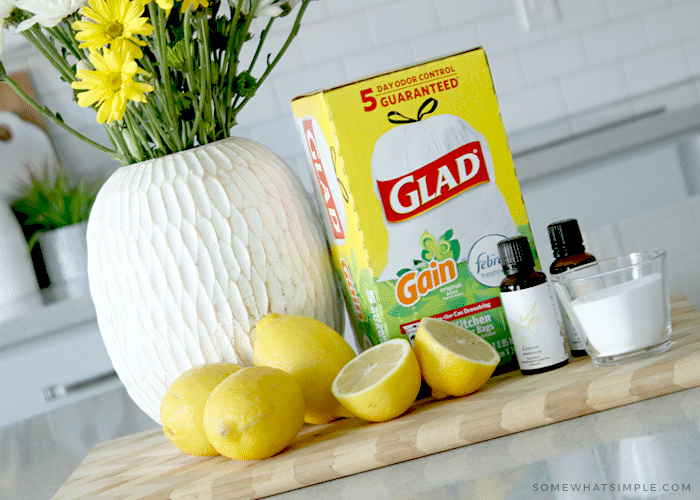 I love a good-smelling home, and I love finding simple ways to keep my home feeling fresh and smelling great! When I wake up in the morning, I'd prefer not to smell the onion I cut up for dinner the night before. When I come home in the evening, I don't want to smell the table scraps from breakfast that were left sitting at the bottom of the sink. (Sour milk and soggy cereal, anyone?)
Dirty laundry, stale soccer cleats and a bathroom used by kids and teens can definitely add to the unfresh (and unwelcoming!) smells in a home. But three of the smelliest and most common culprits are all found in your kitchen – the garbage can, the fridge, and your kitchen sink.
Today I want to share with you my 3 go-to methods that address these problem areas. These methods work well and they work fast! (Plus they use items that you can keep on-hand… so you'll be ready at a moment's notice whenever smelly disaster strikes!)
How to Get Rid of Odors in Your Home
If you have allergies, asthma, or are sensitive to smells, here are 3 tips to help neutralize odors –
1. Tidy Your Trash
It's no surprise that this tip is TOP on my list! Trash cans can be some of the smelliest, most un-sanitary areas of our home… BUT IT DOESN'T HAVE TO BE THIS WAY!
Take out your trash every day, or every OTHER day at the very least.
Wash out the inside of your trash can with your hose every 4-6 months.
Line your trash cans with trash bags that are durable, odor neutralizing, and help protect against leaks.
We recently started using Glad Kitchen OdorShield Gain Original Scent trash bags and I can honestly say I.AM.IN.LOVE!!! Here is what I love most about them –
They neutralize odors with the irresistible scent of Gain. (I wish every room in my house could smell like freshly cleaned laundry!!)
They help protect against leaks, so you have less "stuff" at the bottom of your trash cans, growing bacteria and causing odors.
They have dual-layer protection for reinforced strength so you don't track garbage through your whole house on it's way outside. (I worry a whole lot less when my teenagers are asked to take the trash out now!)
Even my 6-year-old noticed how awesome these bags are! When it was her turn to put a new bag in the trash can after dinner, she said, "MOM, smell this bag! Doesn't it smell SO good?!"
Who knew trash bags could cause so much excitement?!
Visit https://www.glad.com/trash/kitchen/kitchen-odorshield-gain-original-scent/ for more details and information.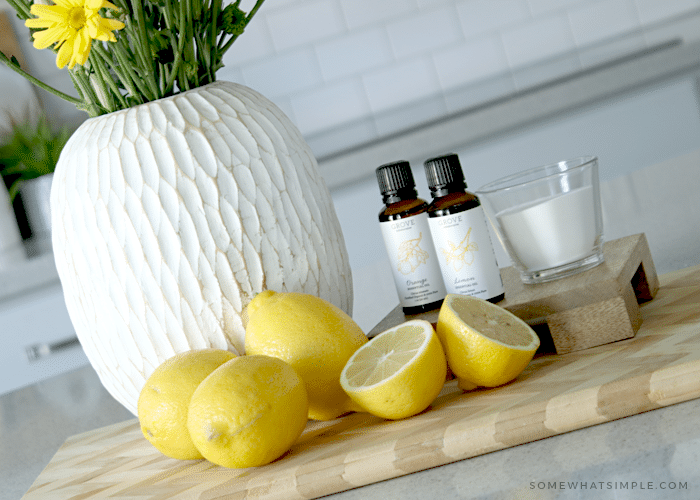 2. Freshen your Fridge
A casual glance on the inside of the fridge can be an instant smack in the face from leftover foods and expired products sitting inside.
Clean out your fridge once a week and get rid of anything old or expired.
Wipe down the shelves with a clean, wet washcloth.
Add a few drops of your favorite essential oils to a small dish of baking soda and place it inside. This will help eliminate odors for months!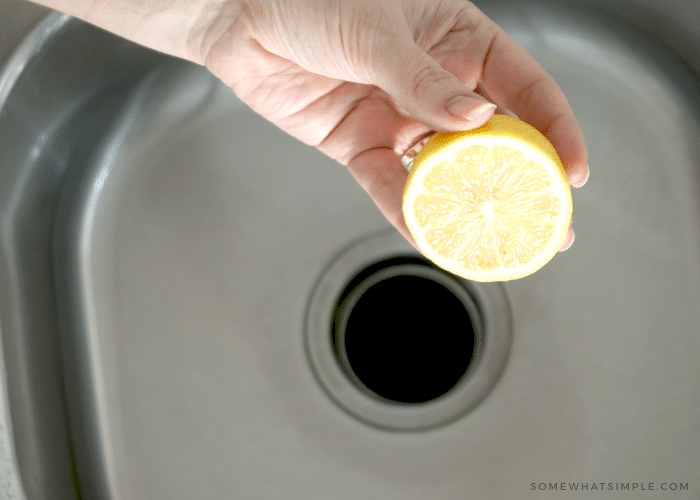 3. Save your Sink
A sink's tiny crevices and dark, unreachable drains sure give food scraps an easy way to wreak havoc on your home!
Wipe down your sink before bed every night with hot, soapy water.
Do a deep clean with a scrubbing pad and toothpick every couple of weeks. Scrape out any "gunk" residing in the cracks by your drain and where the sink meets the counter.
Drop lemon slices into your garbage disposal to clean the blades and make your drain smell fresh.

How to Make Your House Smell Great
If you love a good scent running through your entire home, here are 3 methods we love –
1. Simmer on the Stove
Simmer a small pot of water on the stove and drop in some various fragrances and spices. My favorite potpourri recipe combines cinnamon sticks and cranberries with a few other kitchen spices – it smells like Christmas and I burn it all winter long! In the spring and summer, try simmering citrus peels with some rosemary sprigs or some vanilla.
2. Double-Duty Dryer Sheets
Think outside the laundry room and add dryer sheets in random places around the house. Inside your coat closet, inside the cupboard under the sink, under your couch etc. You can place them in front of your air conditioning filters- that'll get a fresh smell working through the whole house quick!
3. Make Your Own Air Freshener/ Odor Eliminator!
Grab a spray bottle and add some water, baking soda + essential oil or vanilla. (Recipe HERE.) You can use this to freshen up literally every room in your house – and it smells so good! I like to use mine to freshen up the bathrooms but you can also use it to eliminate odors from carpets, couches, shoes, closets, dog beds, etc.
What tips do you have to keep your house smelling great?
Leave me a comment, I'd love to read your ideas!
And be sure to visit https://www.glad.com/trash/kitchen/kitchen-odorshield-gain-original-scent/ more details and information about my new favorite trash bags!
Certain trademarks used under license from The Procter & Gamble Company or its affiliates.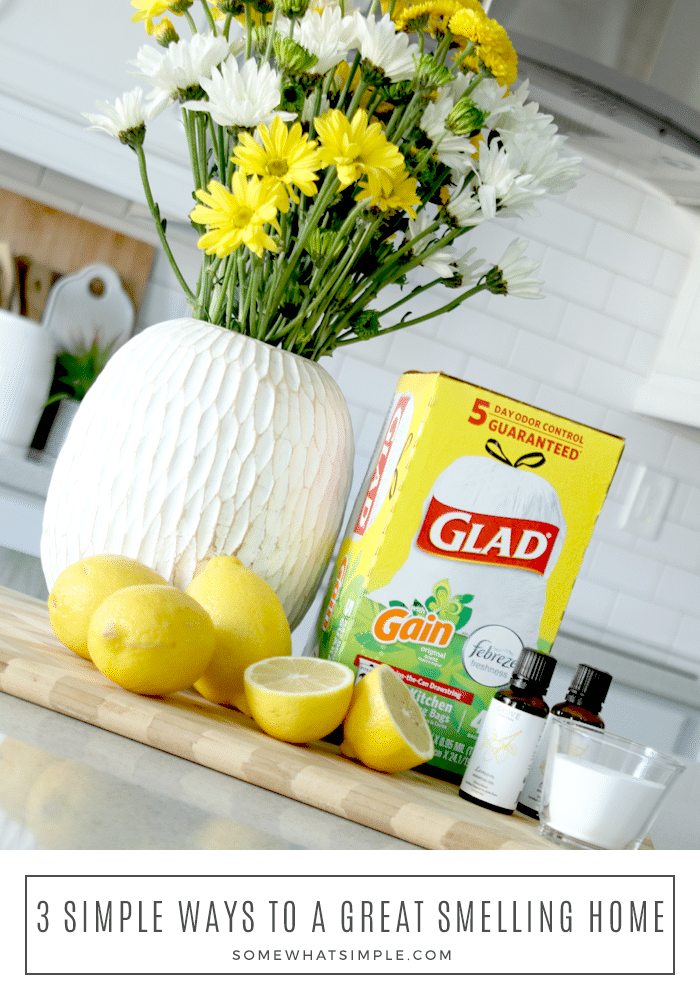 This post is sponsored by Glad Products Company and Martha Stewart Living. All opinions are 100% my own.