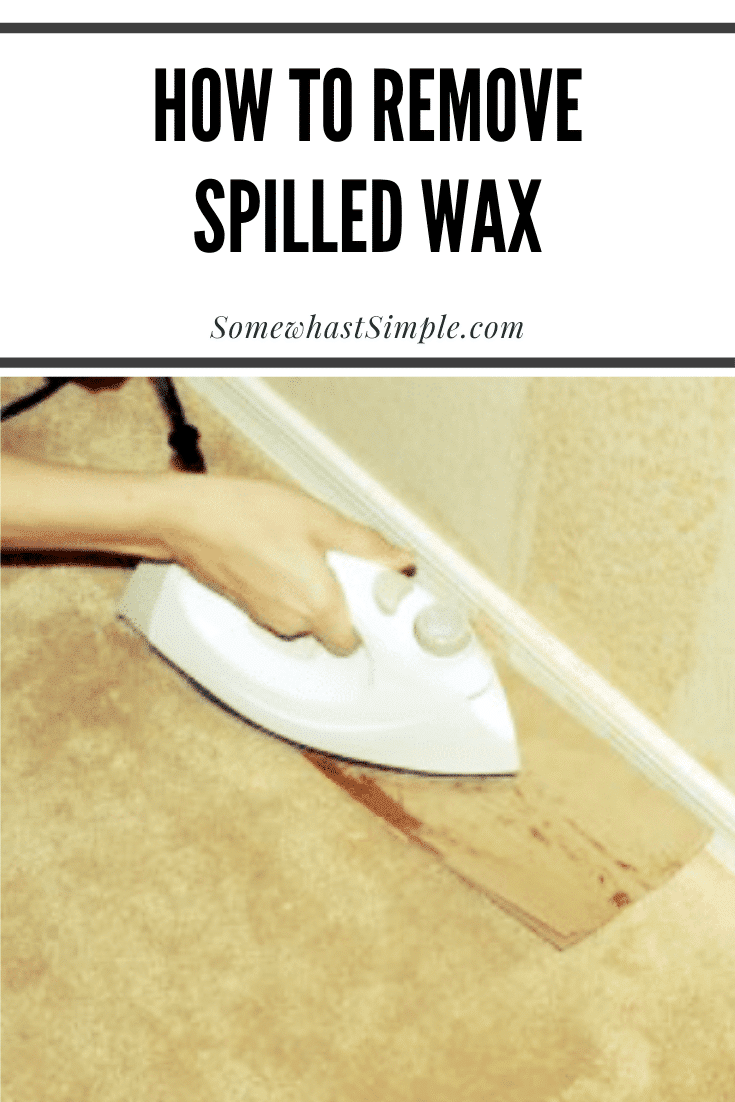 Today I learned a great, NEW cleaning tip that everyone should know. It's how to remove candle wax easily from a wall or carpet! This cleaning tip will help you easily remove wax when it accidentally spills.
If you still feel like cleaning after you're done with the spilled wax, grab our Free Cleaning Checklists and get started on the rest of the house.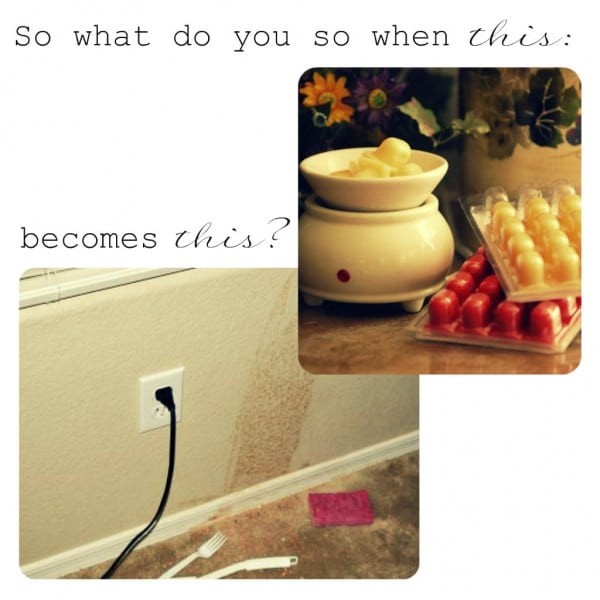 A Candle Wax Mess
I love a house that smells great! And one of my favorite ways to do this is to use a wax warmer with delicious smelling wax melts. One day I had the bright idea to put it on the coffee table in my living room. I should've know better because within days of putting it there, it got knocked over and melted candle wax spilled all over the wall and the carpet.
Nobody wants a big, spilled, waxy mess on your walls and carpet, right? This picture was taken halfway thru the clean-up process, so you can imagine what it looked like when it twice as bad! After my initial freak out, I wondered just how would I remove this candle wax from the wall and carpet. It was on there pretty good.
Failed Attempt #1 – Well, first you get a kitchen sponge and then laugh at yourself for even thinking the wax would simply "wipe up".
Failed Attempt #2 – Then you start scraping your fingernails and a plastic fork along the wall and then you realize how much you hate textured walls!
Failed Attempt #3 – In desperation, you are handed a lighter (from your husband) to try melting the wax off the wall without burning it and hoping the carpet doesn't catch fire. (And to think, this very month I am teaching my preschoolers about fire safety! HA!)
When all that fails, you head to the computer and find this fabulous idea!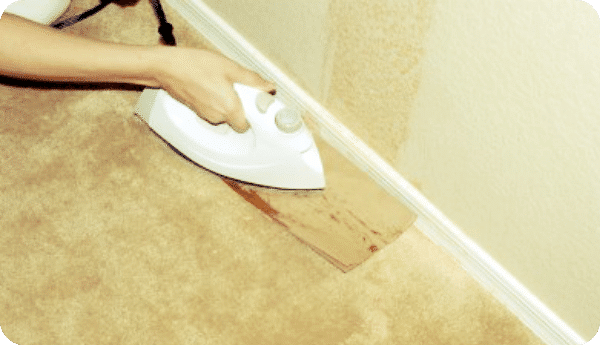 How To Remove Wax A Wall & Carpet
You're not going to believe just how easy this is to clean up. Spoiler alert, my husband was actually on to something when he handed me the lighter. Here's how to do it.
Items You'll Need:
Paper Lunch Bags (you'll need several of them depending on the size of the spill)
Iron
Directions
Cover The Wax – Start by simply placing the bag over an area where the wax spilled.
Lowest Heat – Turn the iron onto the lowest setting and begin to "iron" the bag. You'll want to keep the iron moving consistently. In just a few seconds, the wax will begin to be adsorbed by the paper bag!
Repeat – Continue to repeat the process until you have removed all of the wax from the wall or carpet.
Note – It worked for the carpet and the wall and it took no time at all! It was amazing to watch and it kept me and Leah entertained and amused the entire time. Apparently it works for all surfaces and fabrics! Sweet! (Also, my iron wasn't burned during this, it has been that way forever!)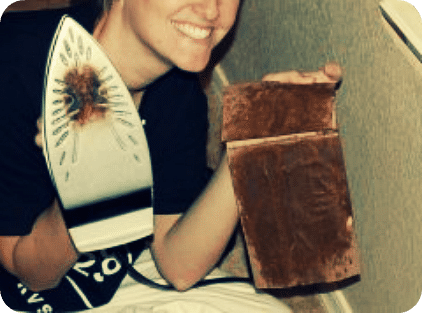 Lessons Learned
1. You can find anything on the internet and it's fantastic.
2. Keep your wax burner off the carpet.
3. I am a little obsessed with innovative ways to clean, it might become a problem!
Did anyone else not know this or was it just news to me?
More Easy Cleaning Ideas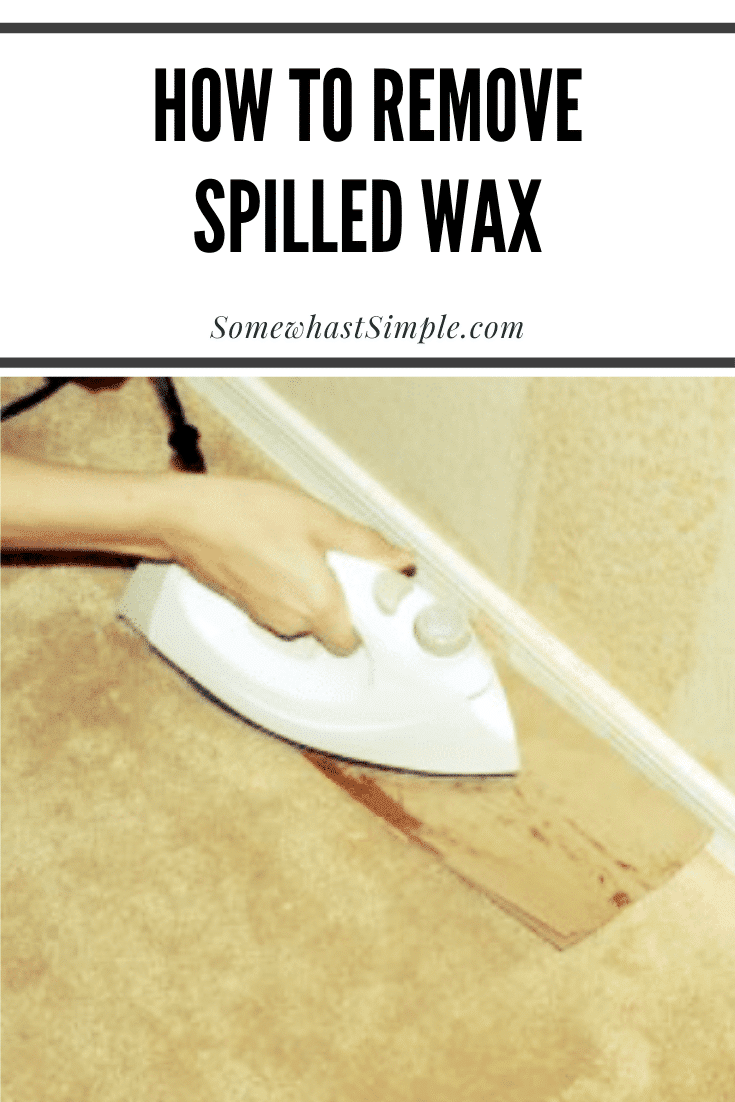 This idea was originally featured on Somewhat Simple in April of 2009