Tired of trying to guess if the dishes are clean or dirty? Then you need this simple DIY Dishwasher Magnet in your life, STAT.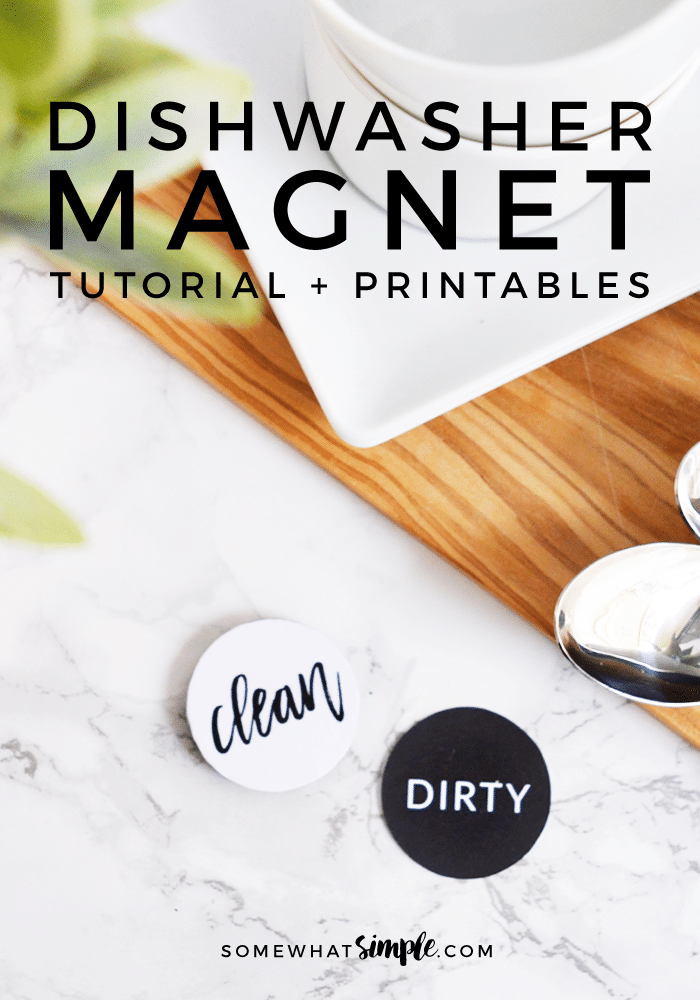 I am pretty sure I am not the only one who gets asked: "Mom, are the dishes clean or dirty?"  In fact, I hear this question several times a week. So in an effort to help answer this question before it gets yelled in my direction from across the house (again), I decided I needed a magnet that I can stick to my dishwasher.
But I have standards. Looking around the internet, I couldn't find one that I LOVED, or that met my persnickety criteria. 😉 It needed to be simple, small, reversible, beautiful fonts, and black + white. (I also wanted it to be able to get my kids to do the dishes without being nagged, or without whining. But, you know. 5 out of 6 ain't bad.) The result? BEHOLD: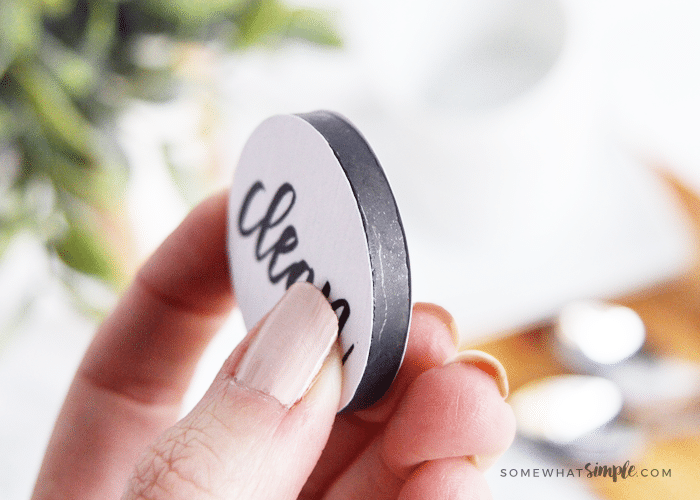 DIY Clean Dirty Dishwasher Magnet
supplies:
Dishwasher Magnet Printable (download below)
printer + paper (no specialty paper needed here! Just plain ol' white paper folks)
scissors
Mod Podge
foam or paint brush
1 1/2″ heavy duty magnets (make sure your magnet will stick to the dishwasher from both sides)
directions:
First, download our Dishwasher Magnet printable (there are several to a sheet so you can make these for friends or family. That's how awesome these are. Or you can be selfish and use an editing program to just print off one set. Your choice. We won't judge.)
Cut out both the clean and dirty circles.
Wash + dry your magnet to make sure there is no dirt or other nasty stuff that could jeopardize the look of your incredibly awesome and swoon-worthy magnet.
Paint a layer of Mod Podge onto the magnet, place one of the circles on it, then repeat on the other side.
Once semi-dry, use scissors to clean up the edges around the magnet that might be hanging over.
Paint a layer of Mod Podge on the top, bottom, and sides as a sealer, to protect your priceless treasure.
Once completely dry, place on your dishwasher and hear those angels sing!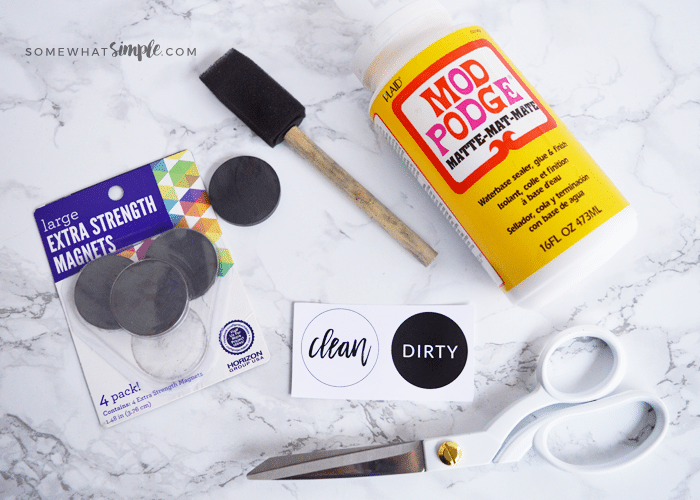 A few supplies, and you'll have a life-saving (kinda) dishwasher magnet in no time!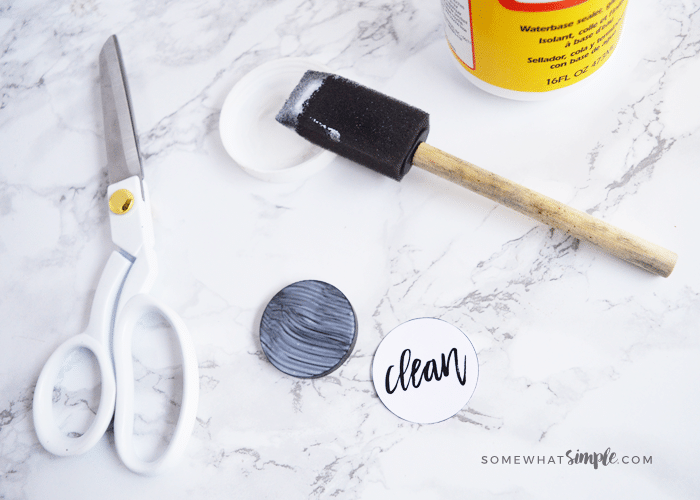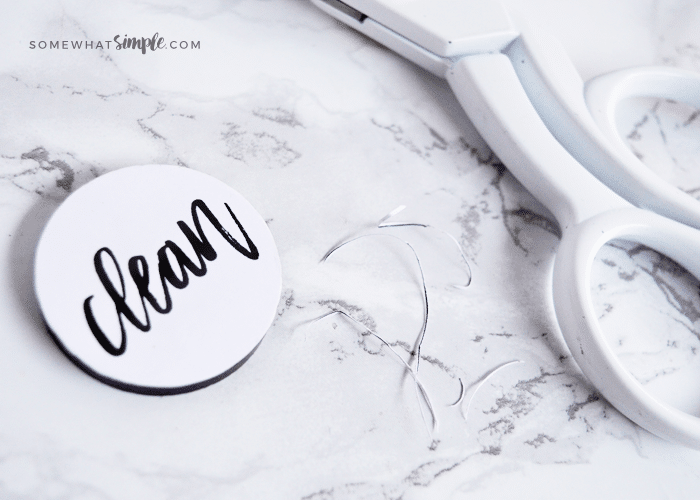 I love that the scissor sticks to the magnet for a nice, clean, circular trim.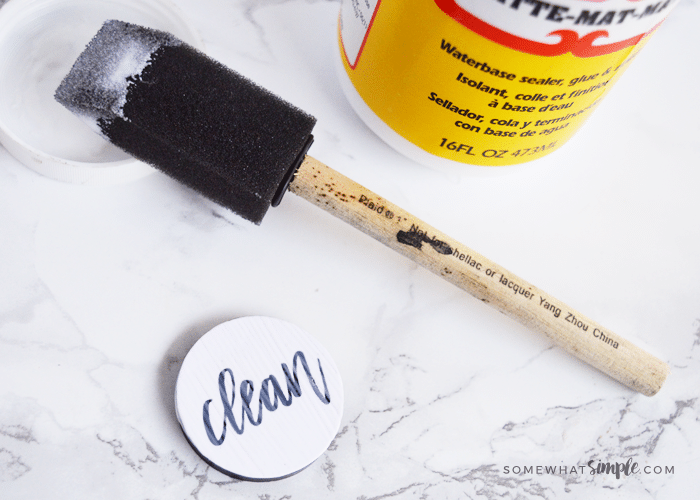 Don't forget to coat that bad boy.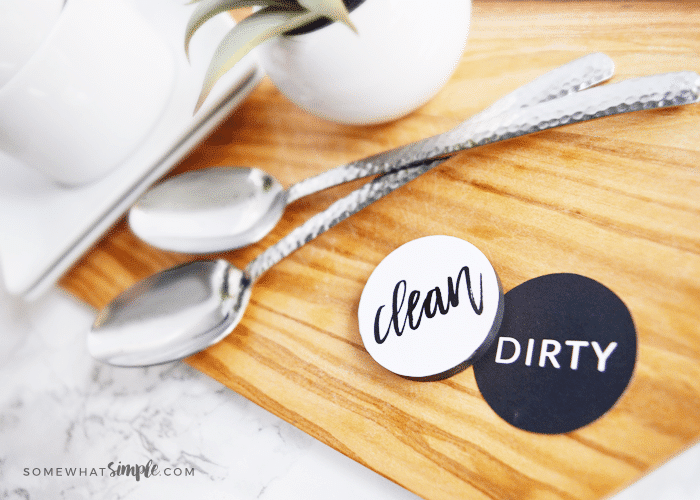 Then you're ready for the other side!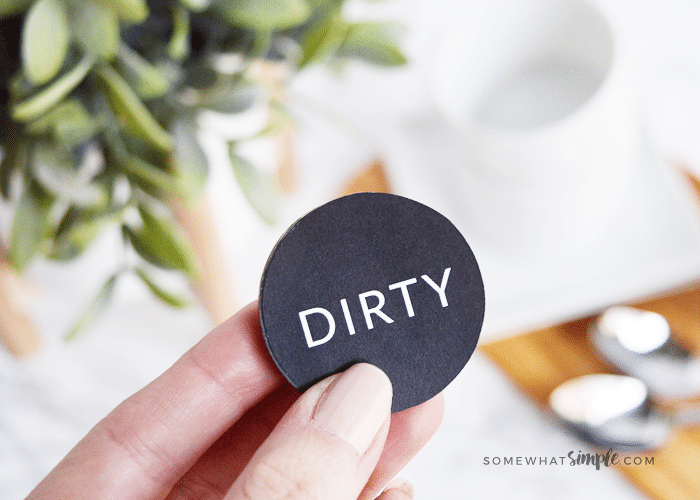 Give that side a coat, then the edge, and you've got a gorgeous, simple, minimalist-ic dishwasher magnet.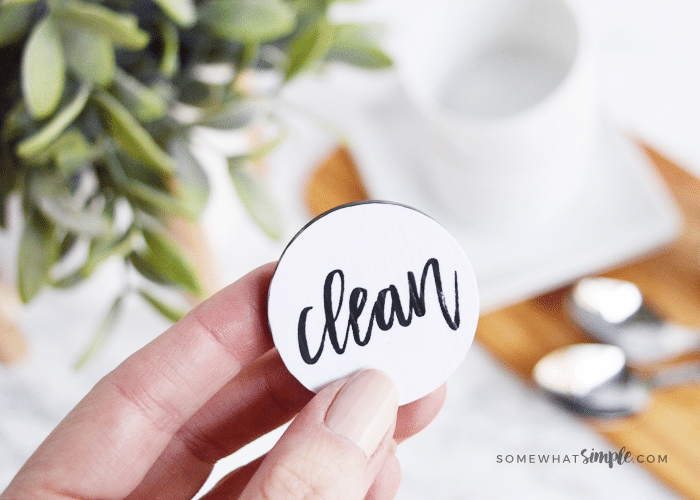 And that's it!
I absolutely love mine. My only regret? It doesn't magically make my kids do the dishes. Without whining. If you can figure out how to make that happen, let me know m'kay?
Ready to create your own?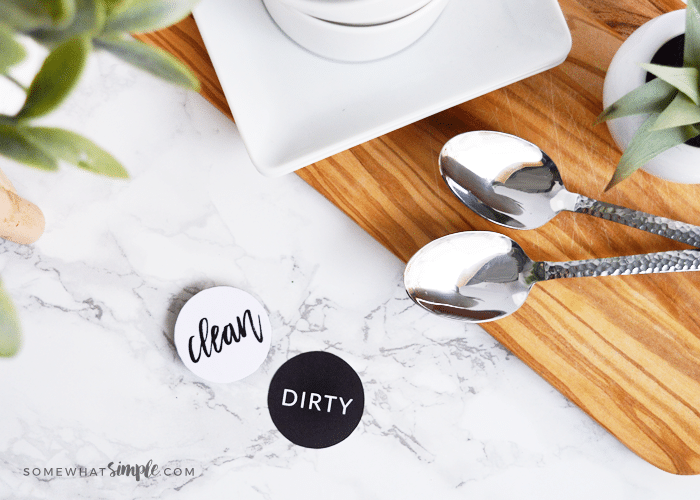 click here to download our dishwasher circles for your own magnet!
As with all of our printables on Somewhat Simple, these clean or dirty dishes printables are for personal use only. Please do not mass-produce them without our permission (ask us first, we are super nice!) and don't claim them as your own. Most importantly, do not sell these in your Etsy shop! (It happens!) 
Now your family won't have to wonder if the dishes are clean or dirty! If you can get them to look at it…
That's a story for another time.
This post originally published in March 2014, but was updated in 2018 with a new, super hot and trendy printable.
Our readers also enjoyed these posts: