Garlic Parmesan Mashed Potatoes just might become your go-to mashed potato recipe!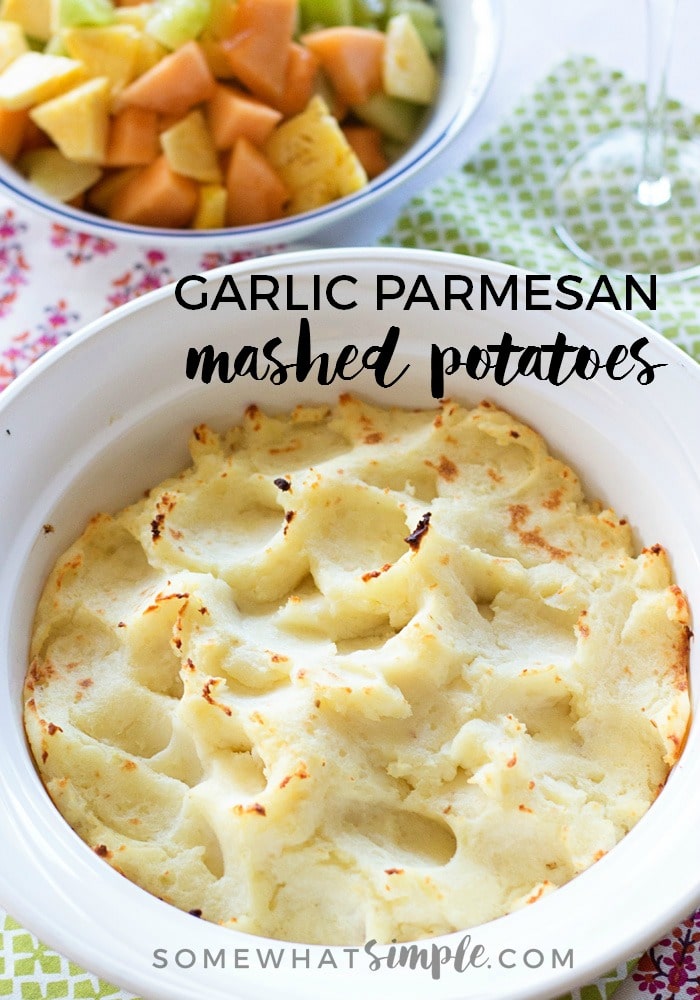 Throughout the years, people have made wonderful additions to the standard mashed potato recipe. From bacon to green onions to pesto and broccoli, mashed potatoes can be dressed up in myriad ways. One of my favorites is to add fresh garlic and parmesan cheese.
The key to having smooth potatoes is to mash them by hand before you add any butter, sour cream or liquid (like milk or cream). Once I drain my potatoes, I put them back in the pan and then I put the pan back on the hot burner that I have turned off. I mash them for a little bit there so most of the water moisture will evaporate. If I feel like the potatoes are starting to stick to the bottom or that things are too hot, I will remove the pan from the burner and continue to mash.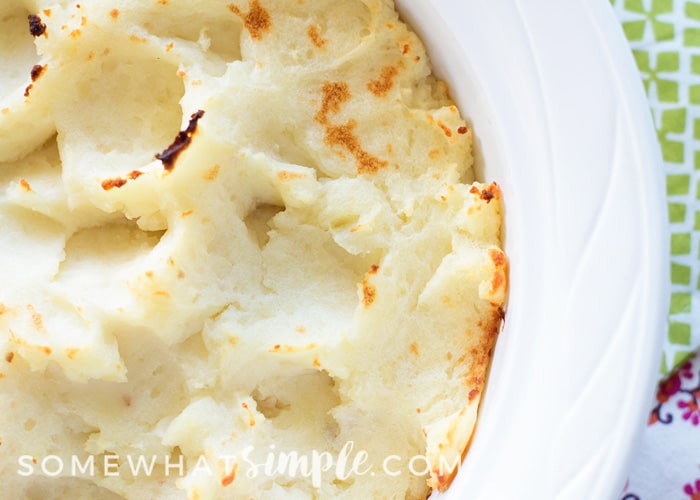 Once your potatoes are as smooth as you can get them, you add some melted butter and garlic and mash some more. You can use as much or as little garlic as you like. If your potatoes are not the consistency that you like, you can also add milk, cream, or sour cream. Then add the parmesan cheese last.
To finish off these amazing potatoes, I transfer them to an oven-safe dish and then broil them for a few minutes until the top gets slightly browned.
Garlic Parmesan Mashed Potatoes Recipe
INGREDIENTS:
3 lb. russet potatoes, cubed and boiled until tender
1/2 cup (one cube) butter
2 Tbsp. (or more) of pressed or finely diced garlic
1/2 cup Parmesan cheese
1 tsp. salt
DIRECTIONS:
While potatoes are boiling, melt butter on low heat in a saucepan on the stove.
When the butter is melted, add the garlic and sauté for a couple of minutes. Do not let the garlic get too brown. Remove and set aside while you prepare the rest of the potatoes.
When potatoes are fork-tender, drain them and then add them back to the pan.
Mash the potatoes with a potato masher or put them in your mixer and mix until smooth. Do not over-mix.
Add the salt, garlic butter and Parmesan cheese and mash or mix. If your potatoes are too stiff, add some liquid like milk or cream.
Transfer to an oven-safe dish and broil on high for several minutes until the top starts to brown.
Serve while hot.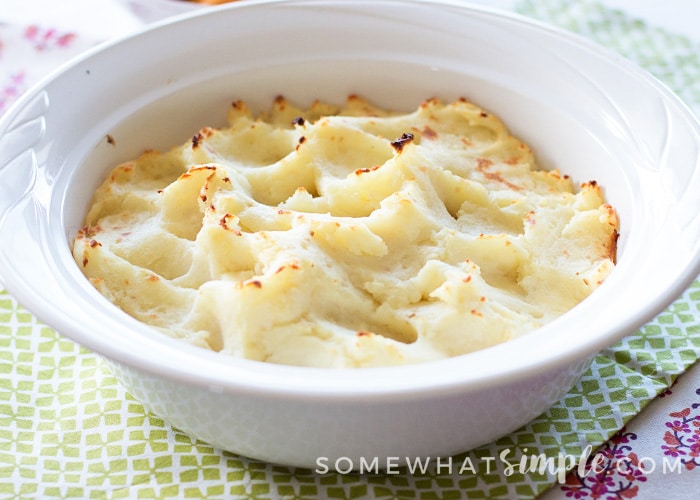 Be sure to give these a try the next time you make mashed potatoes, and they may just become your new favorite!