These delicious and savory cheddar bacon scalloped potatoes are the perfect easy-to-make side dish for any dinner!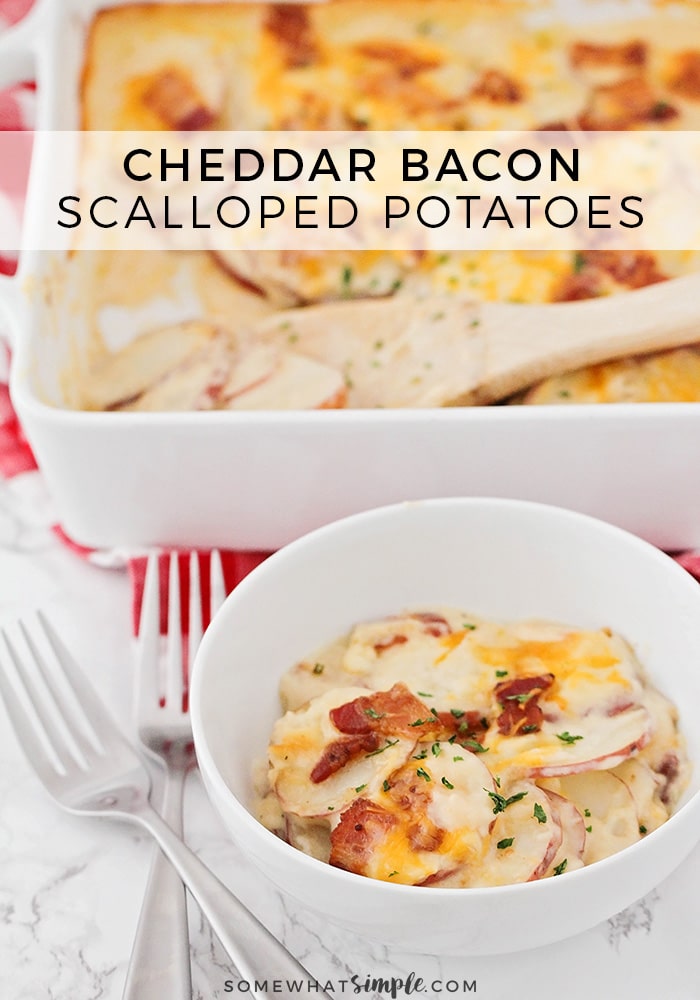 When it comes to side dishes, you can't go wrong with a delicious potato recipe. I've bumped up the flavor in these classic scalloped potatoes with some cheddar and bacon, and the result is a cheesy and savory side dish that everyone will love!
Cheddar Bacon Scalloped Potatoes
Ingredients for the scalloped potatoes –
6 medium red potatoes, sliced thinly
2 tablespoons butter
2 tablespoons flour
1 1/2 cups milk
1/2 cup chicken broth
1/4 cup half and half
1 teaspoon salt
1/4 teaspoon pepper
1 3/4 cups cheddar cheese, divided
4 slices bacon, cooked and crumbled
Directions to make the scalloped potatoes –
Preheat the oven to 350. Spray a 9 x 9 baking dish with cooking spray and set aside.
Melt the butter in a large skillet over medium heat. Whisk in the flour and cook, stirring occasionally, until golden brown. Slowly add the milk, followed by the chicken broth, while whisking constantly to prevent lumps. Cook until thickened and starting to bubble. Remove from heat and stir in the half and half, salt, pepper, and 1 cup of cheddar cheese.
Layer 1/3 of the potatoes in the bottom of the prepared dish. Pour 1/3 of the sauce over the top and spread to cover. Sprinkle 1/4 cup cheese and 1/3 of the bacon pieces over the top. Repeat twice with remaining potatoes, sauce, cheese, and bacon.
Cover with foil and bake 50 minutes, then remove cover and bake 20-30 minutes, or until golden brown and bubbling. Let stand 15-20 minutes before serving.
More Delicious Potato Recipes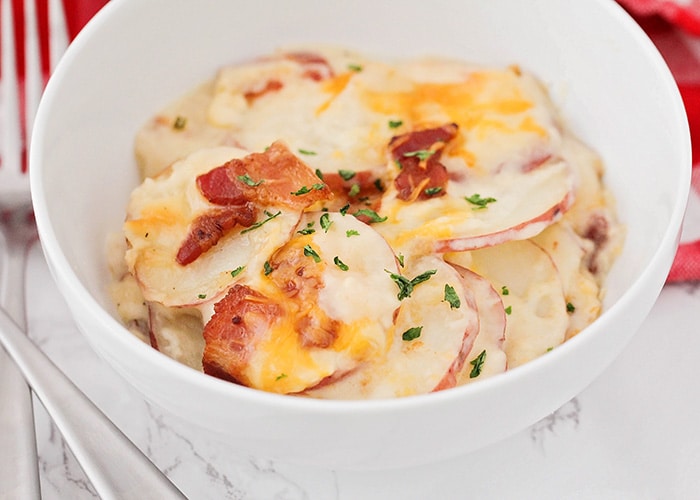 These cheesy cheddar bacon scalloped potatoes are sure to be a favorite with everyone in the family! If you're cooking for a larger crowd, you could easily double the recipe and bake it in a 9 x 13 baking dish.
Everything's better when you add bacon, right? I love how much flavor the cheddar and the bacon add to this dish!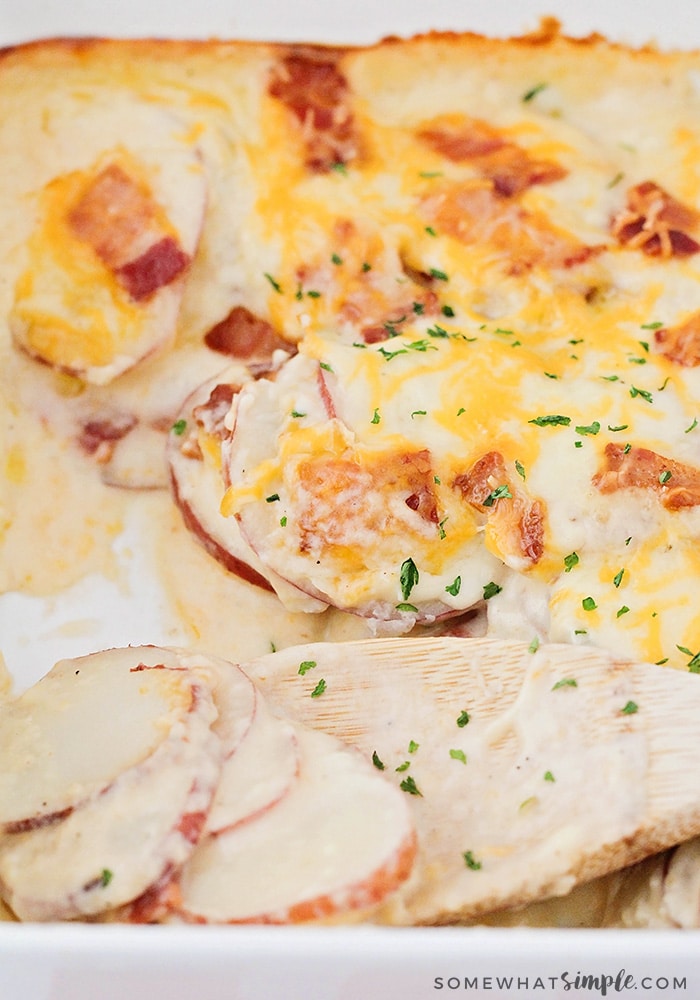 There really is nothing better than cheesy potatoes!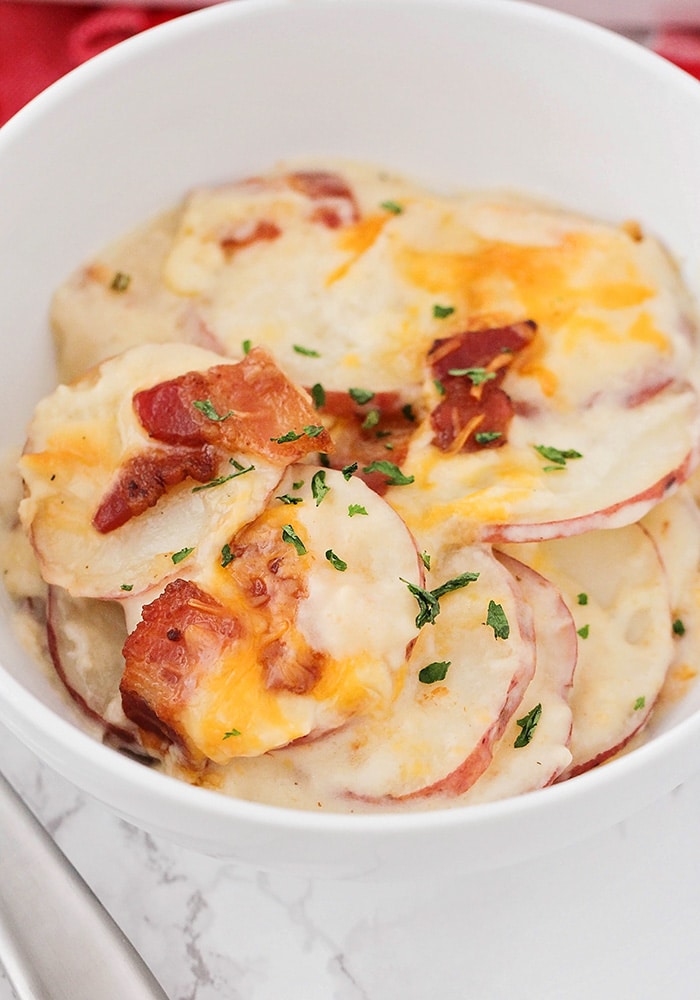 For more delicious potato side dishes, be sure to check out some of our favorites below: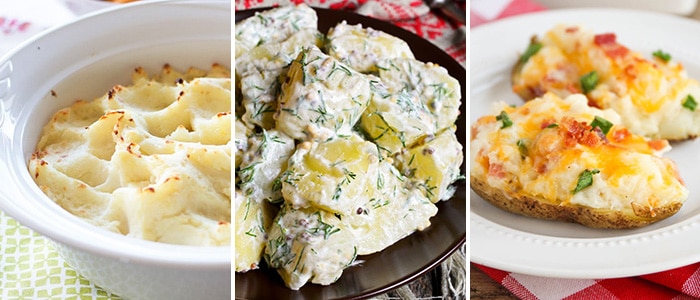 Garlic Parmesan Mashed Potatoes | Creamy Dill Potatoes | Loaded Twice Baked Potatoes