Garlic Parmesan Turkey Cutlets – These delicious turkey cutlets are so easy to make, and so healthy and delicious. A crowd-pleasing meal for a busy night!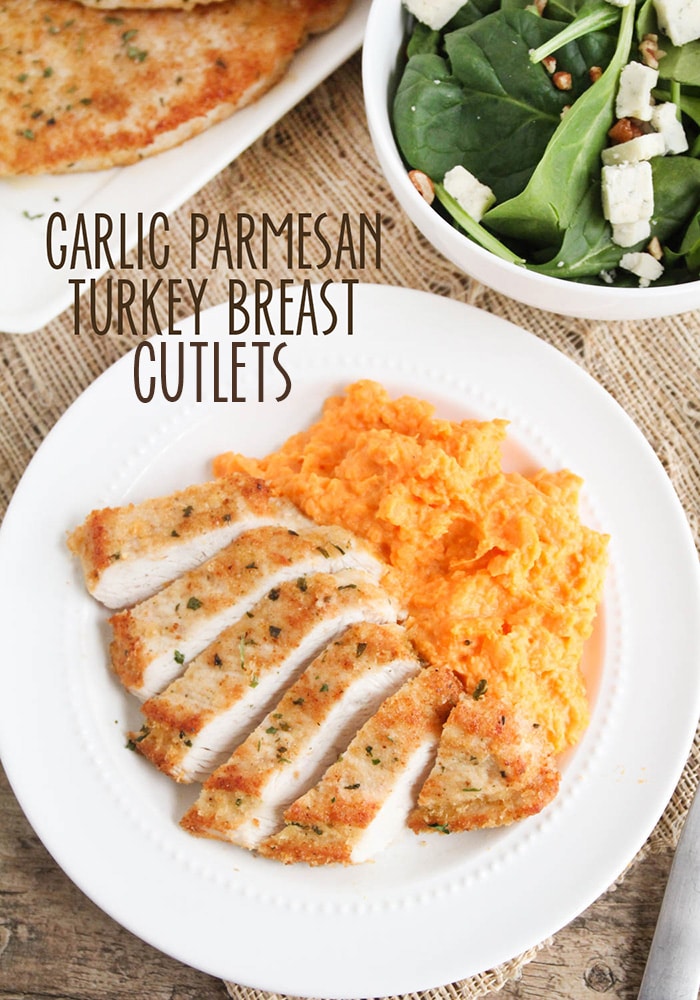 I know a lot of us are trying to eat healthier in the new year, but if you're anything like me, you sometimes fall into a rut of the same boring dinners over and over. I definitely tend to use chicken as my fallback choice of protein, but did you know that turkey actually has more protein, fewer calories, and less total fat and cholesterol than chicken? It's a great choice for a healthy dinner, and simple and easy to prepare. These garlic parmesan turkey breast cutlets are a delicious main dish that's packed with flavor and comes together in a snap!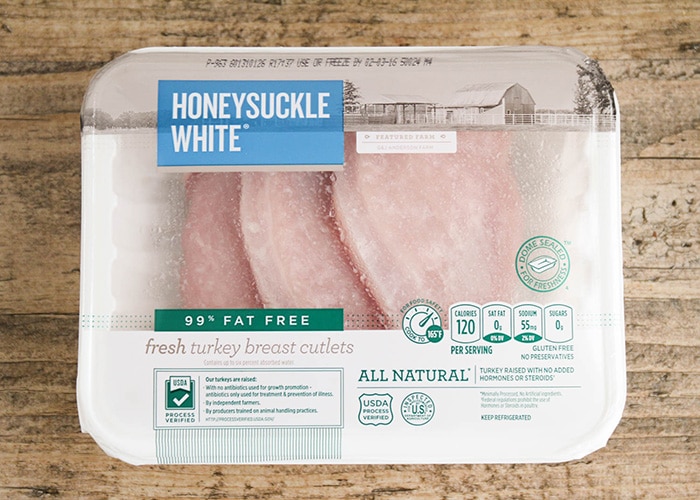 I used Honeysuckle White turkey cutlets, and they were delicious and easy to cook with. They came already trimmed and recipe ready, which really cut down on prep time. I also really like that Honeysuckle White turkeys are raised on more than 700 independent family-owned farms, without any growth promoting antibiotics. Honeysuckle White turkey is also very affordable, which is wonderful for those of us who want to eat healthy without breaking the bank. I was very impressed by the quality, freshness, and taste.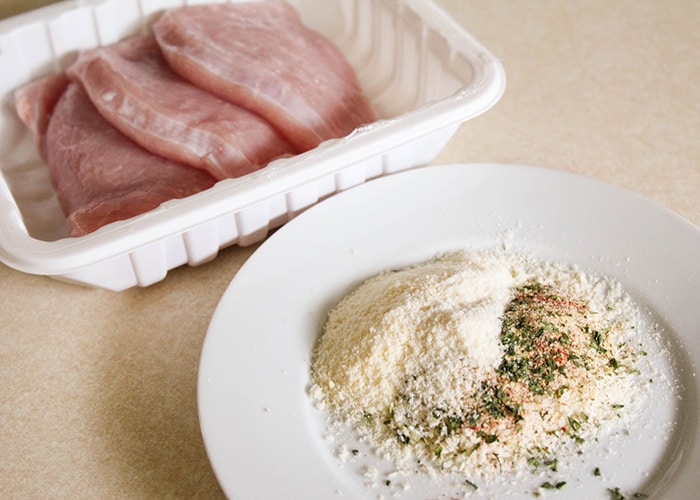 To make the cutlets, you'll mix together a combination of bread crumbs, parmesan cheese, and spices, then dredge the turkey in the mixture, making sure to coat both sides.
Next, you'll brown the cutlets in a little bit of olive oil to get a nice crispy crust.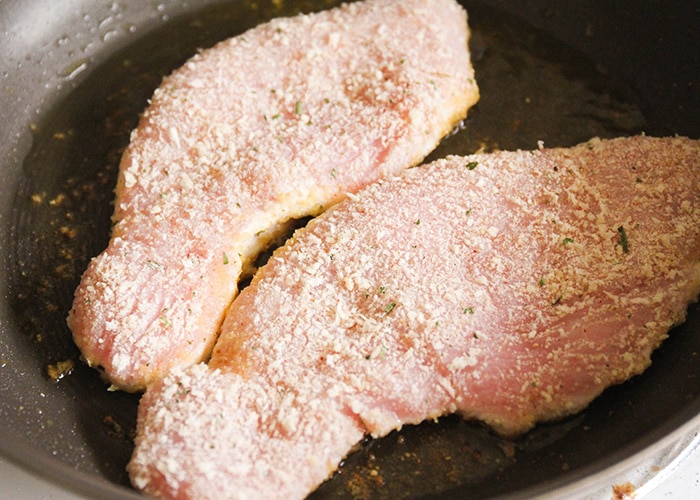 After a few minutes, flip them over to brown the other side. They look delicious already!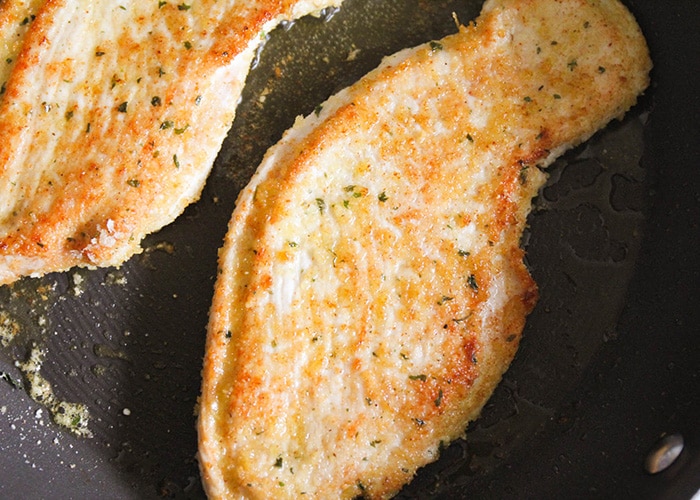 Once both sides are browned, the cutlets will finish baking in the oven. They come out crisp on the outside, tender on the inside, and super delicious. Yum!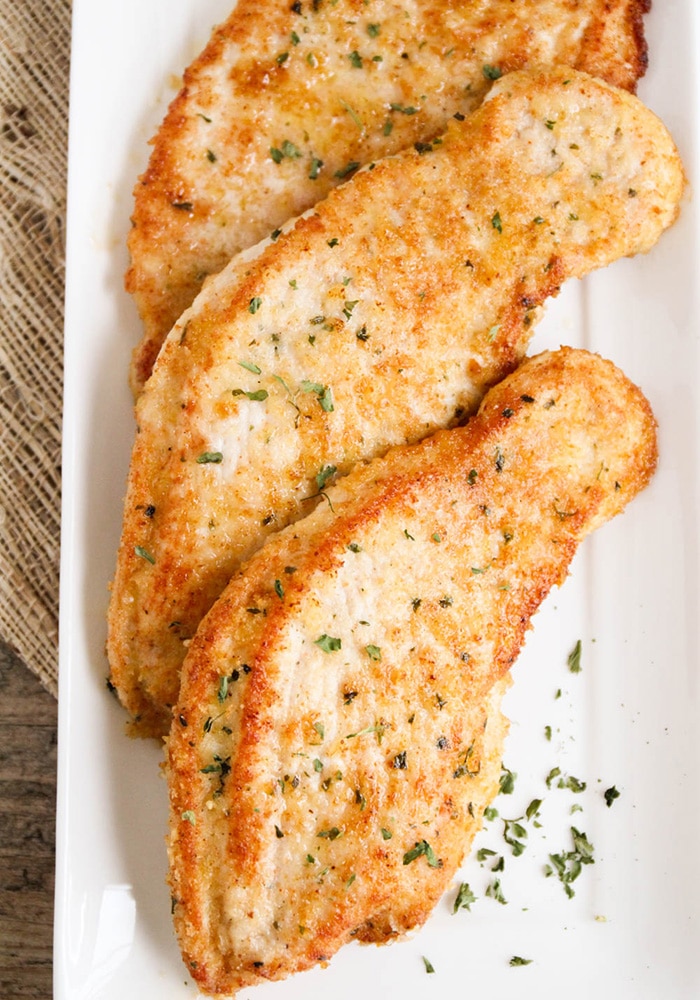 We ate our cutlets with some simple mashed sweet potatoes and a green salad, and it made for a hearty and healthy dinner that the whole family loved!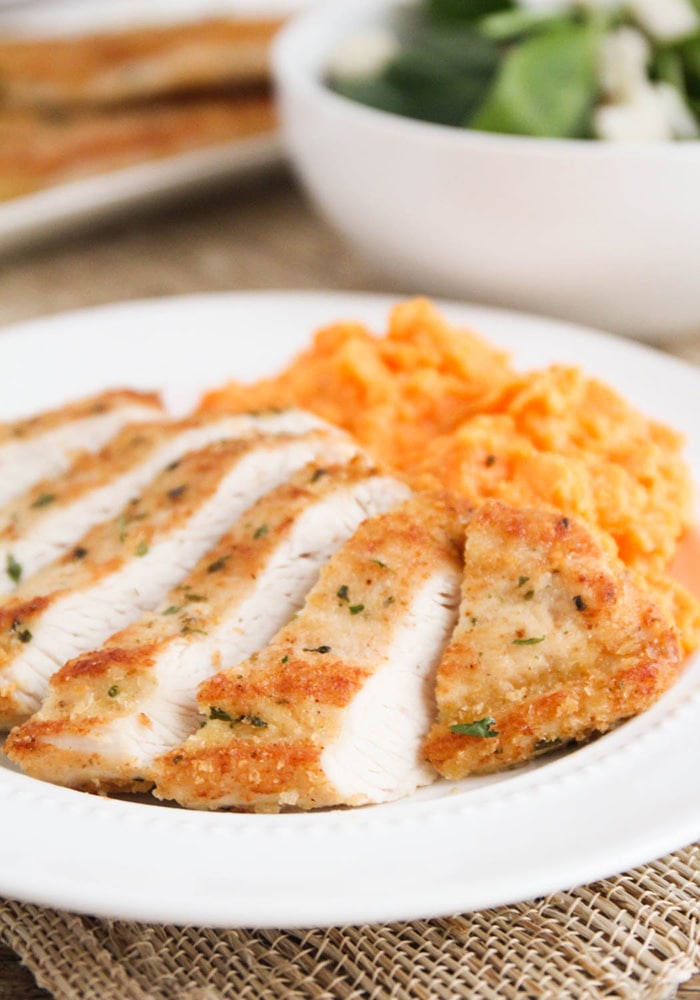 GARLIC PARMESAN TURKEY CUTLET RECIPE
INGREDIENTS:
2 teaspoons olive oil
1 package Honeysuckle White Turkey Breast Cutlets
1/4 cup panko bread crumbs
1/4 cup Italian bread crumbs
1 teaspoon garlic powder
1/4 cup parmesan cheese
1/2 teaspoon paprika
1/4 teaspoon ground black pepper
2 teaspoons dried parsley
2 teaspoons olive oil
DIRECTIONS:
Preheat the oven to 350. Heat the oil in a large skillet over medium heat.
In a shallow dish or plate, whisk together the bread crumbs, parmesan, garlic powder, paprika, black pepper, and parsley. Dredge the turkey cutlets in the mixture, patting gently to coat both sides.
Place the cutlets in the hot skillet and cook for 3-4 minutes on each side, or until golden brown. Move the browned cutlets to a baking sheet and place in the preheated oven. Bake 20-25 minutes, or until cooked through.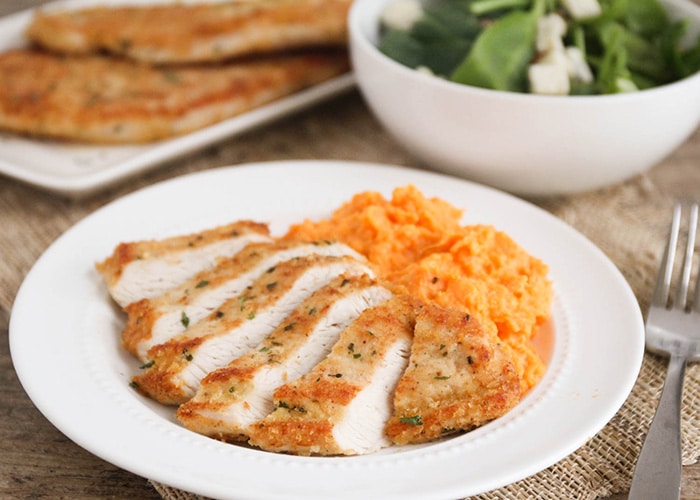 For more delicious turkey recipes on Somewhat Simple, CLICK HERE.
DON'T MISS A THING!
Sign up for our newsletter to receive our FREE Home Organization Binder Printables + weekly updates filled with creative inspiration and exclusive freebies!
---