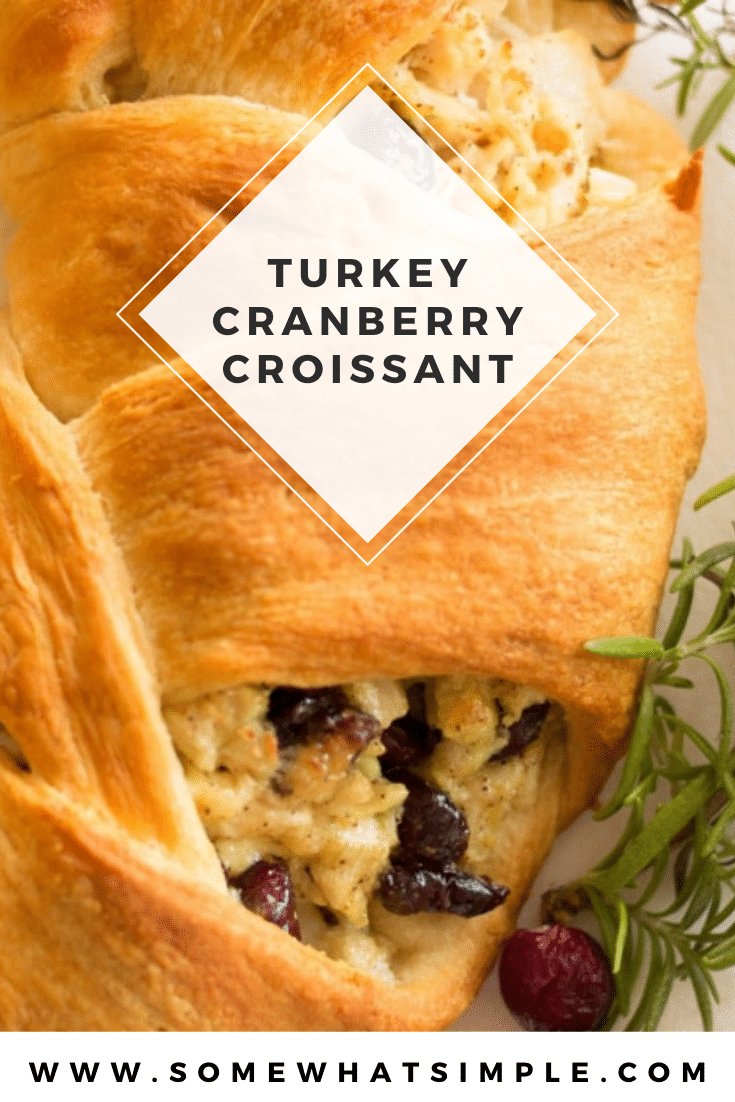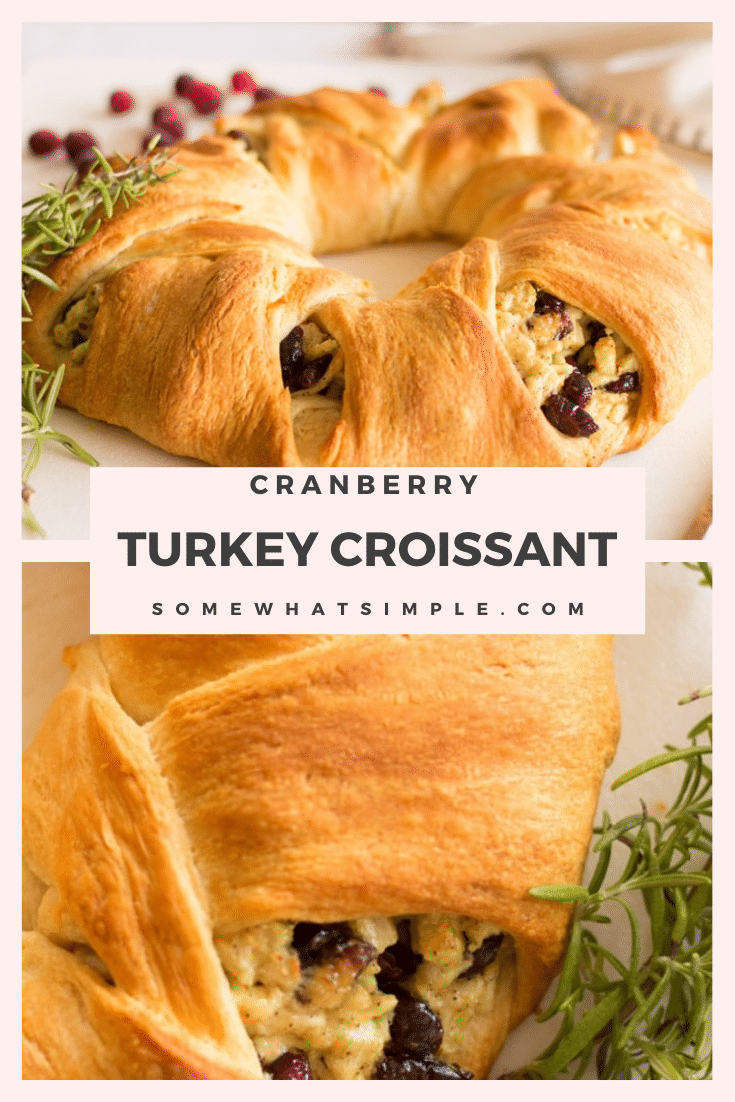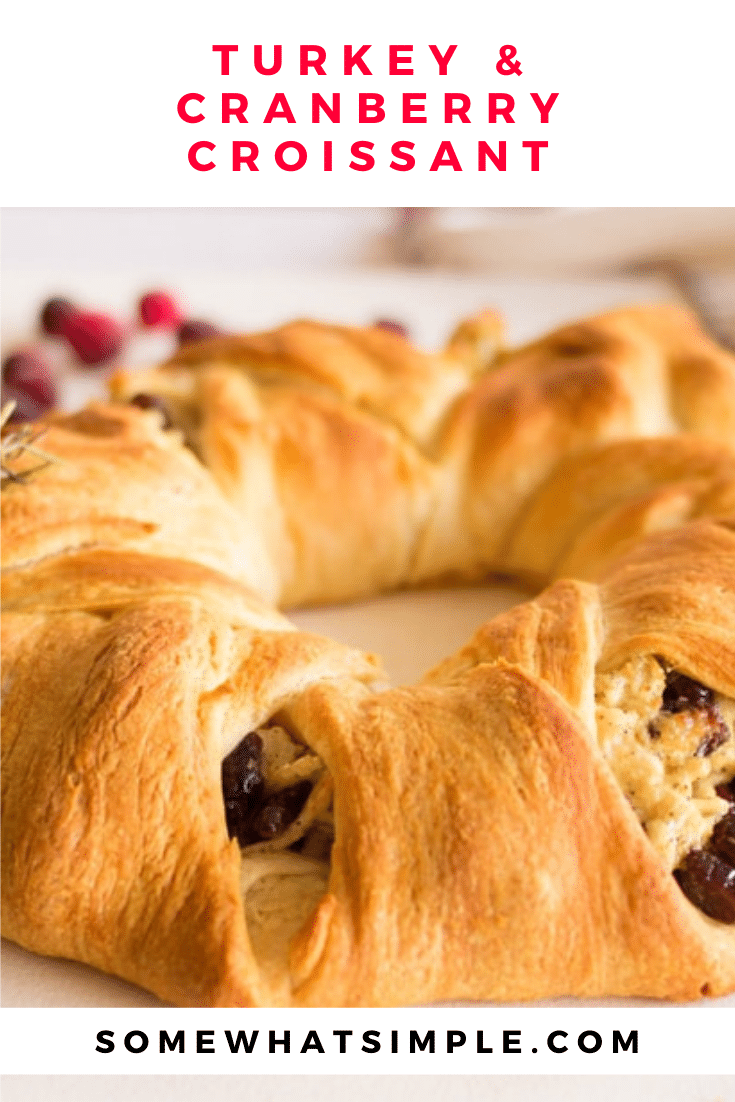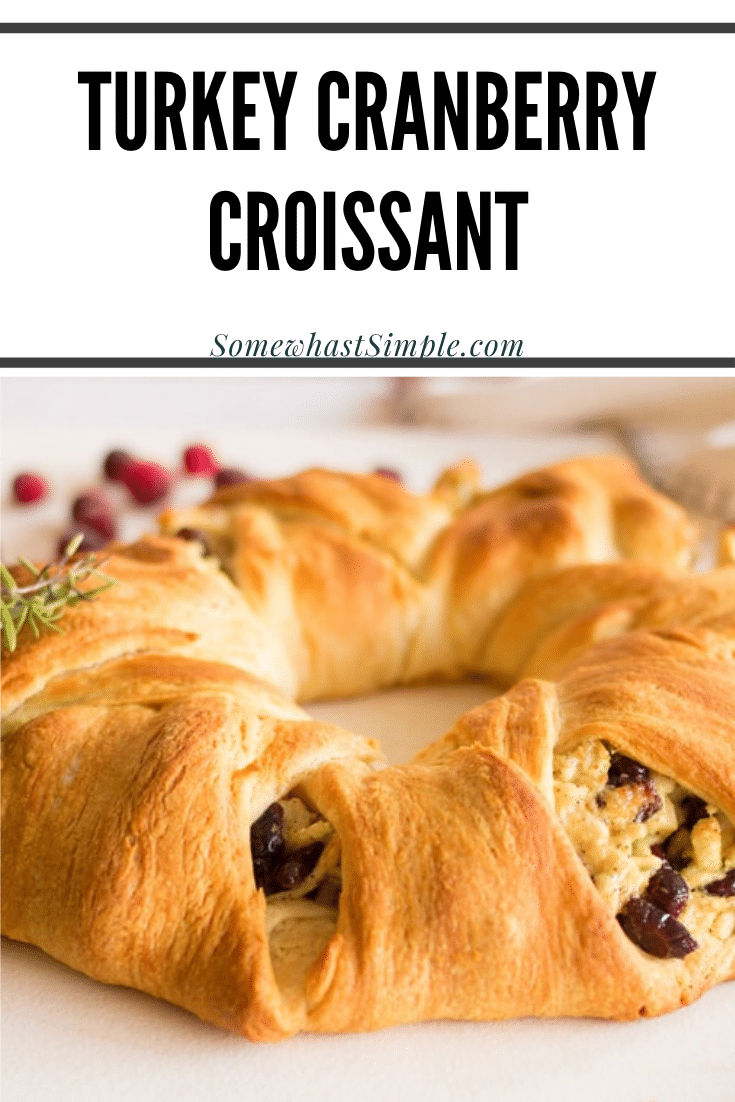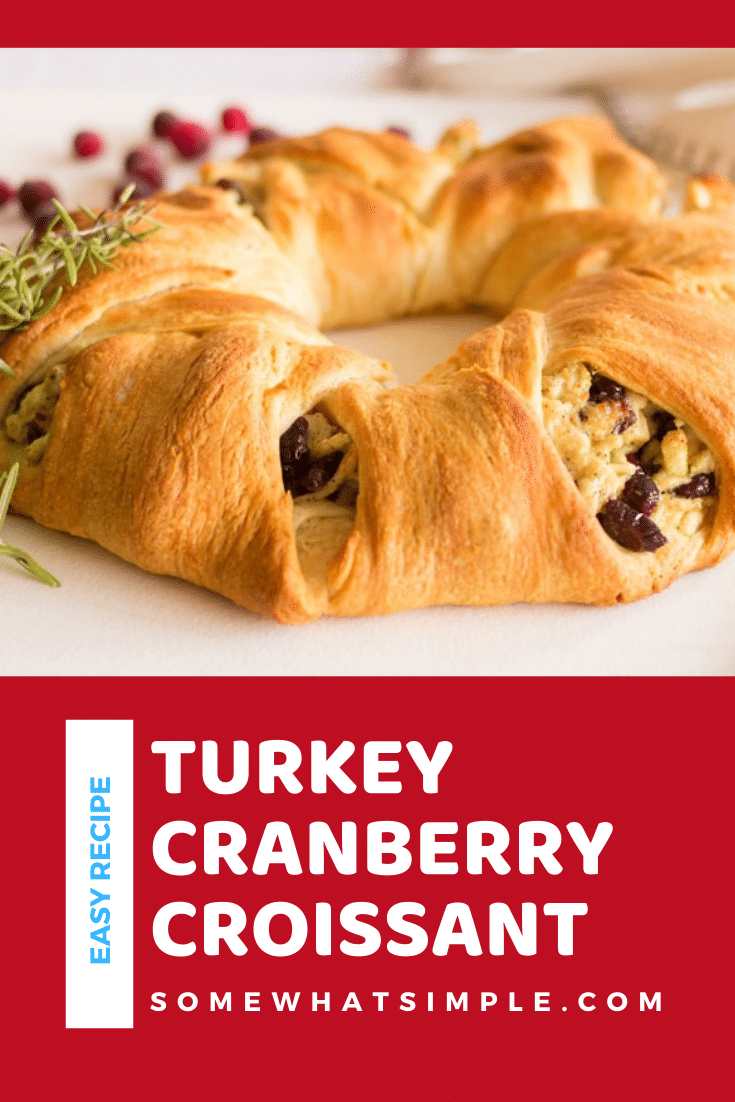 This cranberry turkey croissant wreath is a delicious way to enjoy leftover turkey from Thanksgiving. Not only does it taste delicious but it looks amazing too!
You can also enjoy any leftover turkey in these Instant Pot Turkey Chili, Garlic Parmesan Turkey and Turkey Chowder recipes.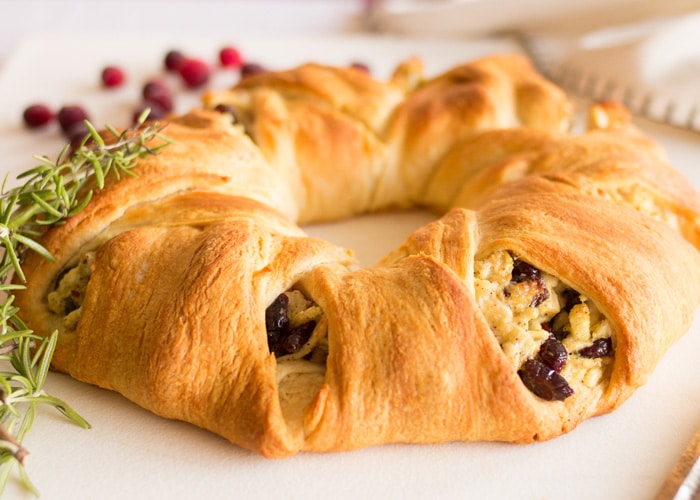 Turkey Wreath
I love Thanksgiving and everything that comes with it. Thanksgiving dinner is arguably the best meal of the whole year with the mashed potatoes, stuffing, cranberry sauce, pumpkin cheesecake, dinner rolls and of course, turkey. Lots and lots of turkey.
The question is, what do you do with all the leftover turkey? Today I have the perfect solution for you; a Turkey Cranberry Croissant Wreath. Not only is it easy to make but it's pretty, too! Plus, it's a nice variety for the leftover turkey menu.
Ingredients You'll Need
The best part about this recipe is that you'll only need a handful of basic ingredients that you probably already have in your kitchen.
2 packages of refrigerated crescent rolls
Mayonnaise
Mustard
Ground black pepper
Turkey
Celery
Dried cranberries
Swiss or mozzarella cheese
Walnuts or pecans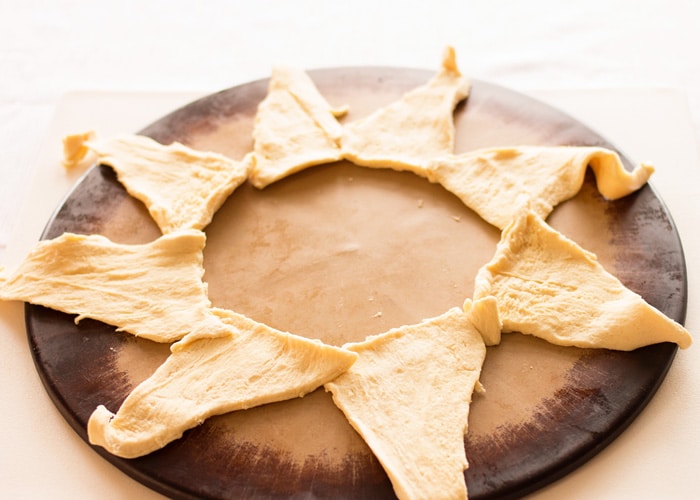 How To Make Turkey Wreaths
Lay Them Out – Open one of the croissant cans and lay all of the croissant triangles out on a pizza stone or other circular pan so that it looks like the sun.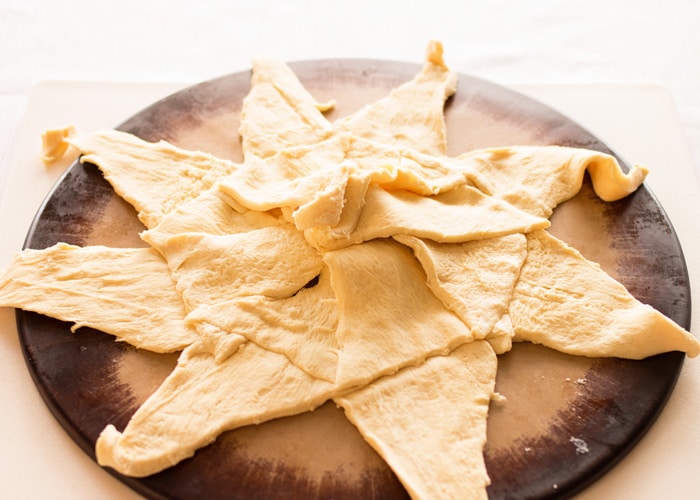 Next Layer – Now, open the other can of croissant dough and place them with their points facing inward to the center. You'll want to slightly overlap the ends so you can press them together with the first layer of croissants you already put down.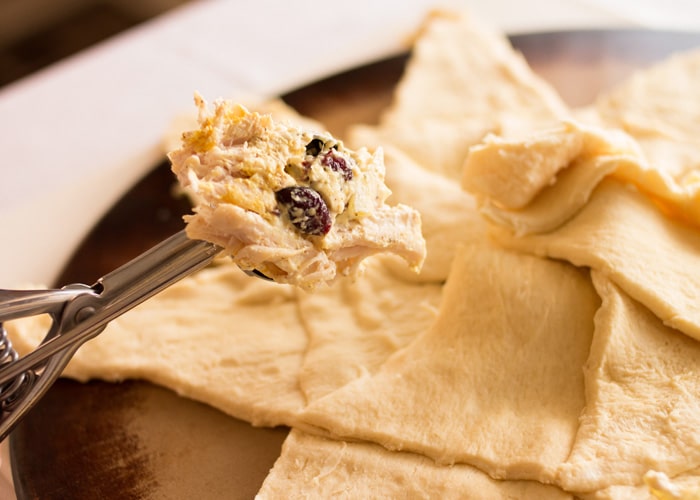 Press – You'll have a pile of croissants in the middle. That will be fixed in just a minute. You'll press the croissants together where they meet (NOT the points in the middle).
Filling – To make the turkey wreath filling, throw all of the ingredients into a bowl and mix them completely together.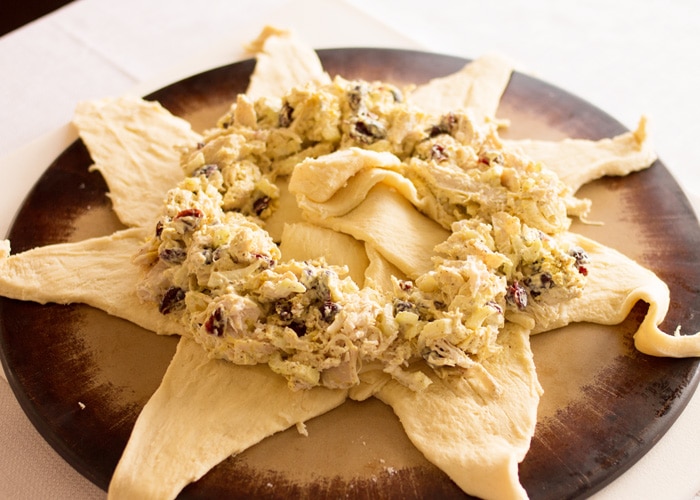 Scoop – Next, you are going to scoop your turkey mixture onto the wreath in a circle where the croissant triangles overlap. Just keep putting the turkey mixture all around the wreath until it is evenly distributed.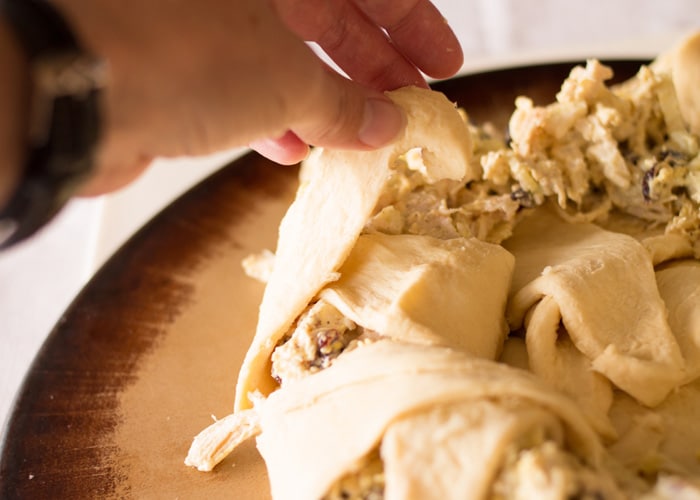 Fold – Now you're going to start enclosing the turkey filling. Just lift up an inside croissant and place it over the top of the filling. Take the corresponding outside croissant and cross it over the top of the first croissant.
Tip – You don't have to place it exactly on top. You can wrap them around a little diagonally if you think it makes it prettier. Keep wrapping croissants until all of them have been used.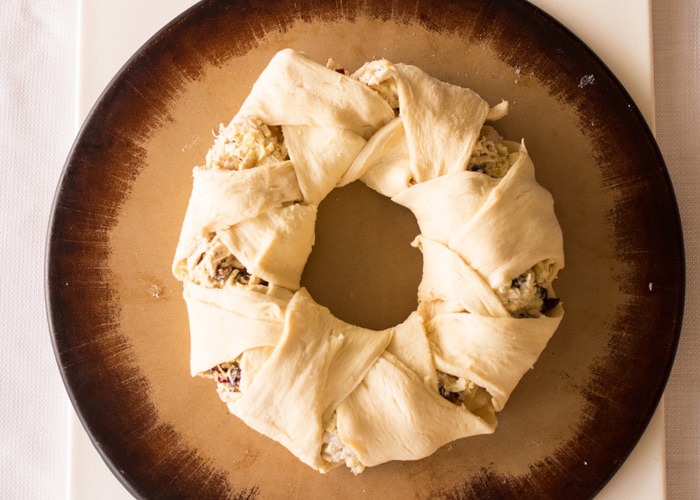 Cook – After you have wrapped all the croissants around the turkey filling, bake the wreath in a 375 degree oven for 25-30 minutes until golden brown. You'll want to serve it nice and warm.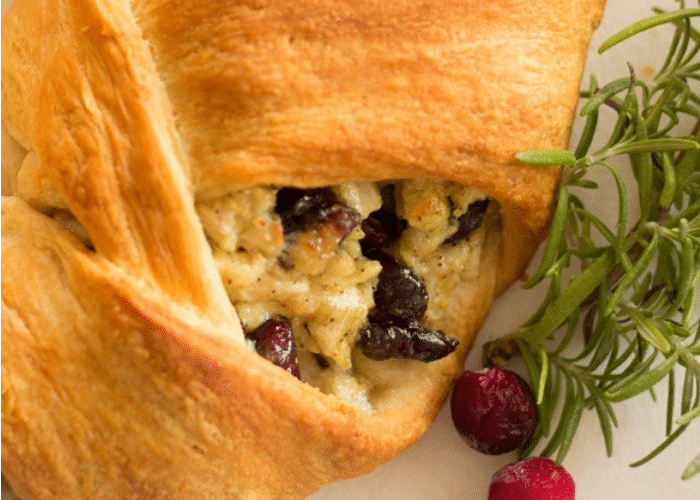 Best Turkey Side Dishes
This would be a fantastic New Year's Eve dinner or fancy party food! Actually, you can make this any time of year and just substitute the turkey for some cooked chicken. Leave us a comment below and let us know what you thought.
Turkey Cranberry Croissant Wreath Recipe
Turkey cranberry croissant wreaths are made with turkey, fresh cranberries and other delicious ingredients wrapped up in a warm croissant wreath.
Ingredients
16

refrigerated crescent rolls

,

2 packages of 8

1/2

cup

mayonnaise

2

Tbsp.

mustard

1/2

tsp.

coarsely ground black pepper

2

cups

turkey

,

cooked & chopped

1/2

cup

celery

,

sliced

1/2

cup

dried cranberries

1

cup

shredded Swiss cheese

,

or mozzarella cheese

1/4

cup

walnuts

,

or pecans (chopped)
Instructions
Remove all croissants from first can and place on a pizza stone (or other pan) in a circular pattern, points out, with center edges slightly overlapping.

Remove all croissants from second can and place on pizza stone (or other pan) in a circular pattern, points in, with edges slightly overlapping croissants from the first can.

Press the ends (not the points) of the croissants together to seal them.

Mix the mayonnaise, mustard, pepper, turkey, celery, cranberries, cheese, and nuts together. Using a large cookie scoop, place the turkey mixture around the wreath where the croissants overlap.

Starting with an inside croissant, pull it up and over the turkey filling. Take the corresponding outside croissant and pull it up and over the filling as well. Croissants do not have to perfectly overlap.

When all croissants have been pulled over filling, bake in 375 degree oven for 25-30 minutes, until golden brown. Serve warm.
Nutrition
Serving:
1
serving
·
Calories:
429
kcal
·
Carbohydrates:
31
g
·
Protein:
12
g
·
Fat:
30
g
·
Saturated Fat:
10
g
·
Cholesterol:
36
mg
·
Sodium:
630
mg
·
Potassium:
104
mg
·
Fiber:
1
g
·
Sugar:
11
g
·
Vitamin A:
163
IU
·
Vitamin C:
1
mg
·
Calcium:
119
mg
·
Iron:
1
mg
Other Notes