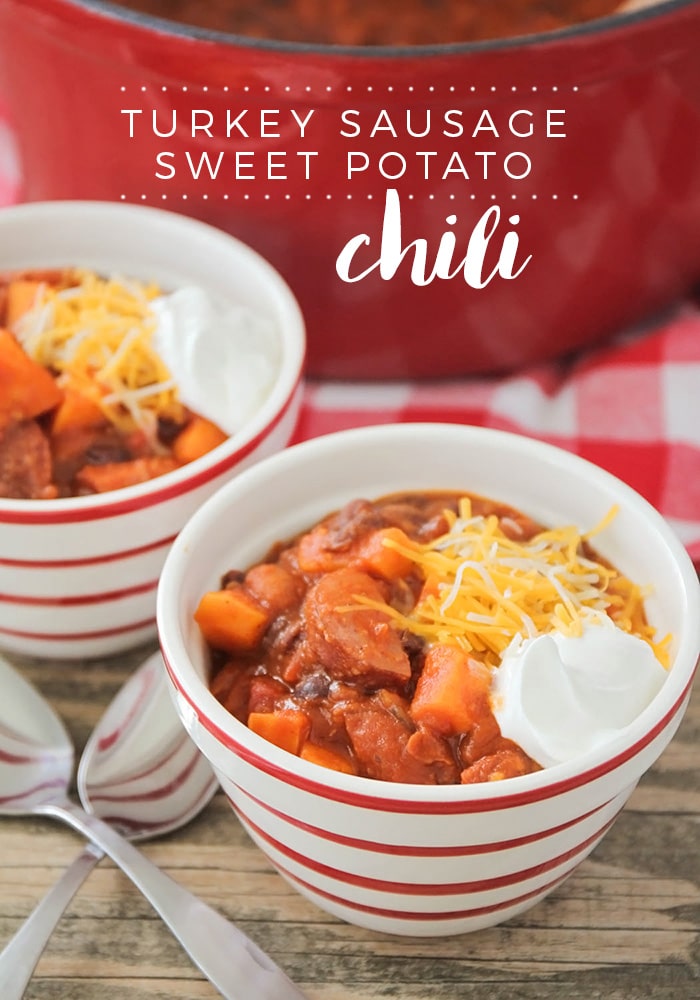 This savory and hearty turkey sausage sweet potato chili recipe is the perfect dinner for a chilly fall evening. So simple and delicious!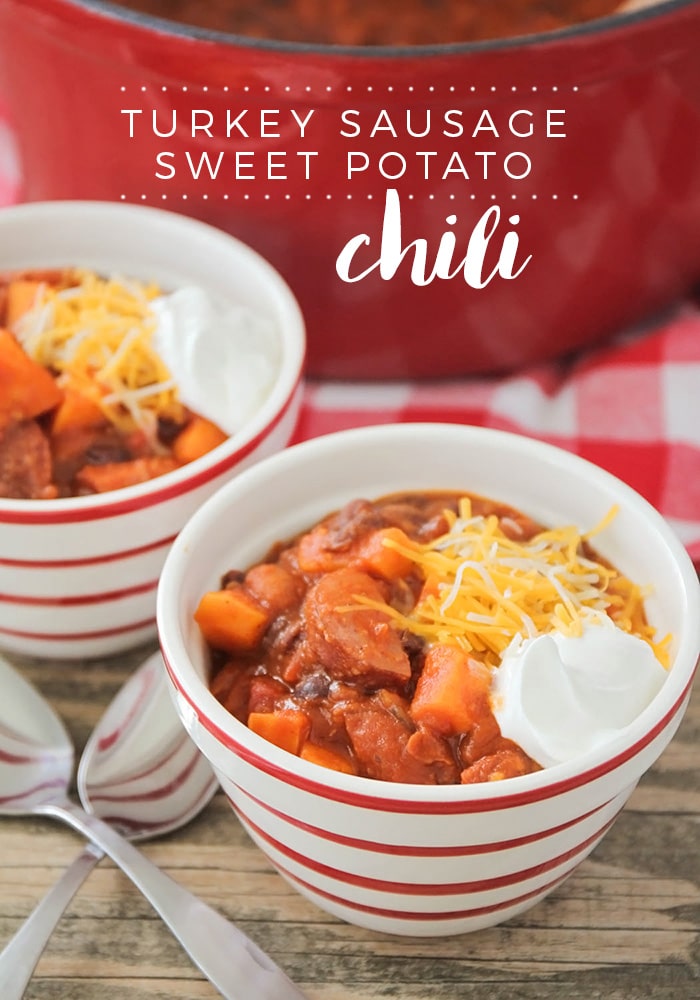 I can't help it, I am just so excited about fall! Who's with me? The leaves are changing, the kids are back in school, and it's getting darker earlier. We've had a cold snap and some rainy weather during the last few days, and it has me craving hearty soups and chilis, with warm bread on the side. There's something so wonderful and comforting about a warm bowl of delicious chili on a cold night!
Chili is one of my favorite meals to make, because it's so easy to customize and it's nice to try different flavor combinations. This turkey sausage sweet potato chili is a fun new twist on a classic chili and it is so delicious! The combination of savory turkey sausage and tender sweet potatoes is fantastic – it's a super filling meal that's packed with protein and it's good for you too!
I used Oscar Mayer Selects Uncured Turkey Sausage for this chili, and I love all the flavor that it adds! The texture of the sausage is fantastic, and it complements the flavors of the tomatoes, chili beans, and spices perfectly.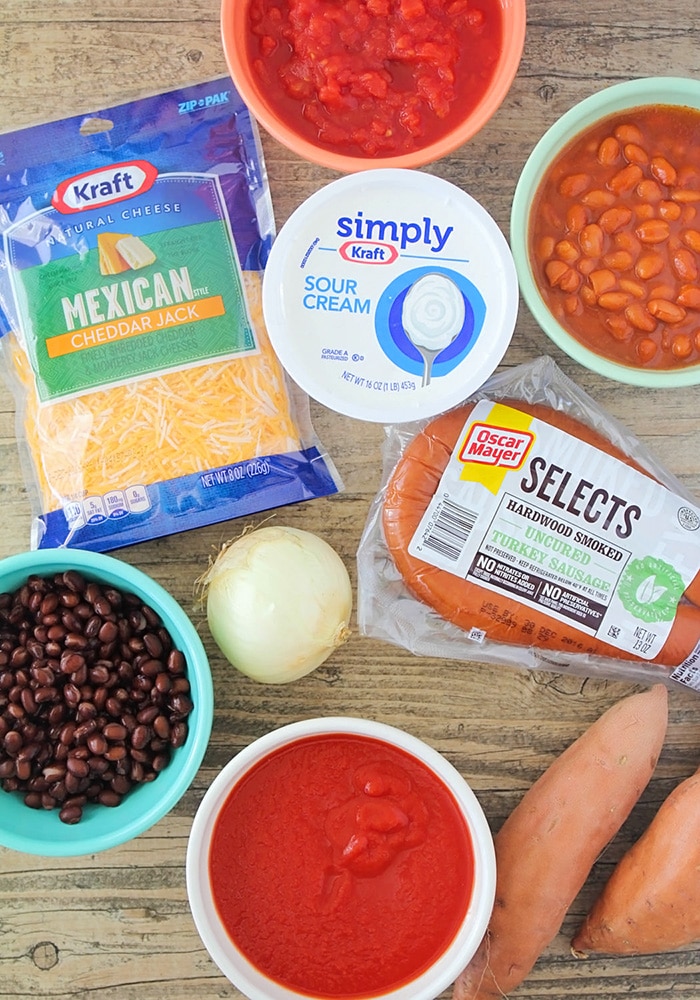 The chili comes together quickly, and smells amazing while it's cooking. My kids kept coming into the kitchen to ask what I was making because it smelled so good! Start by sautéing some onions with the turkey sausage, then add the sweet potatoes and cook a few minutes, until they start to soften.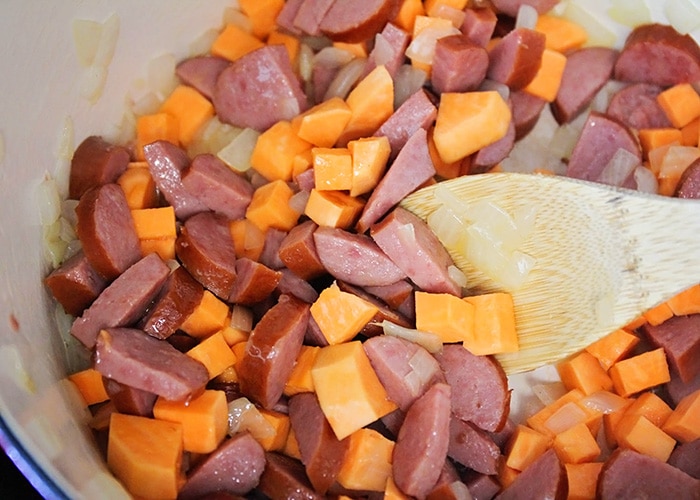 Next you'll add diced tomatoes, tomato sauce, beans, chicken broth, and spices, and bring the mixture to a simmer. It will be thin at first, but will cook down until it's thick and flavorful. I think giving it some time to simmer helps all the flavors to blend together really well, and it gives the chili a lot more depth of flavor.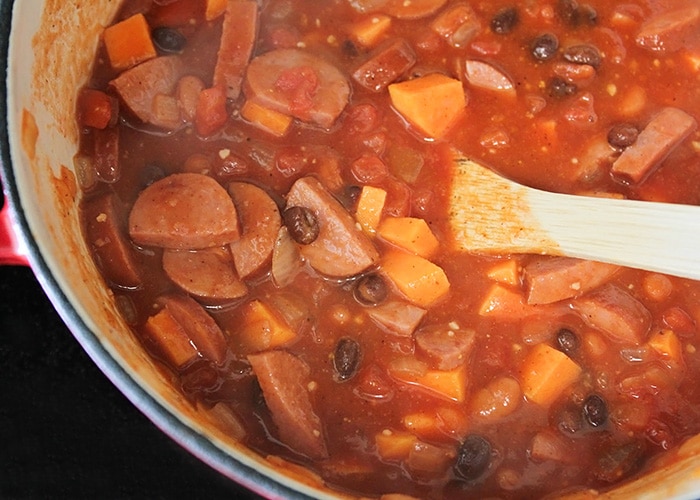 When the sweet potatoes are tender and the chili has thickened, it's ready to eat!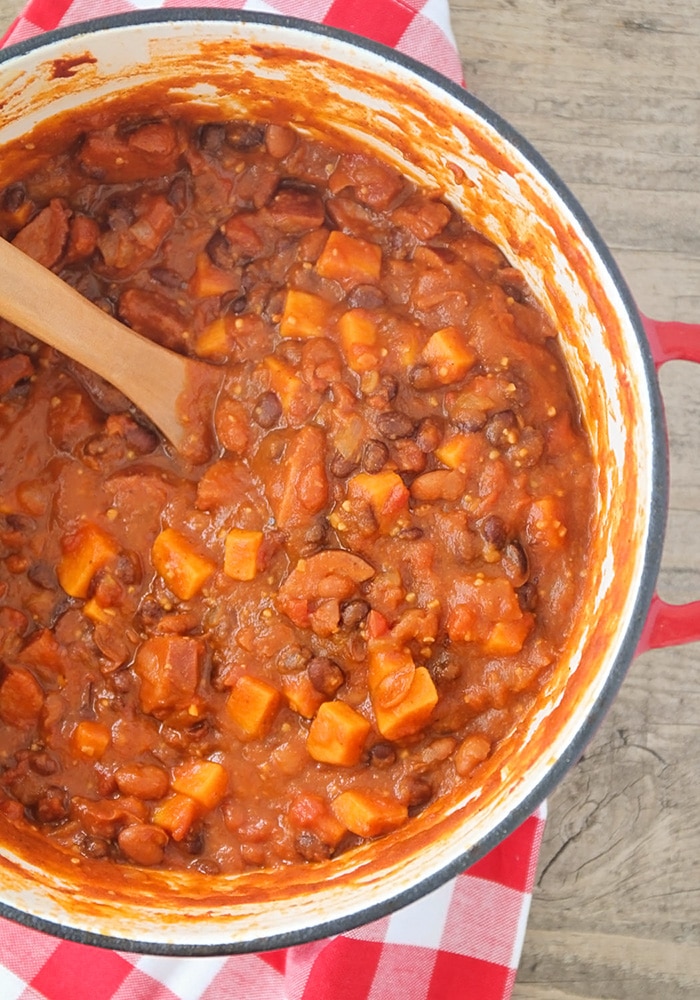 The chili is great as is, but it's fantastic topped with a little Kraft cheese and sour cream! I love to let the cheese get all melty, and then scoop out bites of cheesy chili with tortilla chips. So delicious! It reheats wonderfully and freezes well too, so I like to make a big pot and save the rest in the freezer for another day. This turkey sweet potato chili was a big favorite with the whole family. Whenever I can get my five year old to clean her plate, I know I've got a keeper recipe!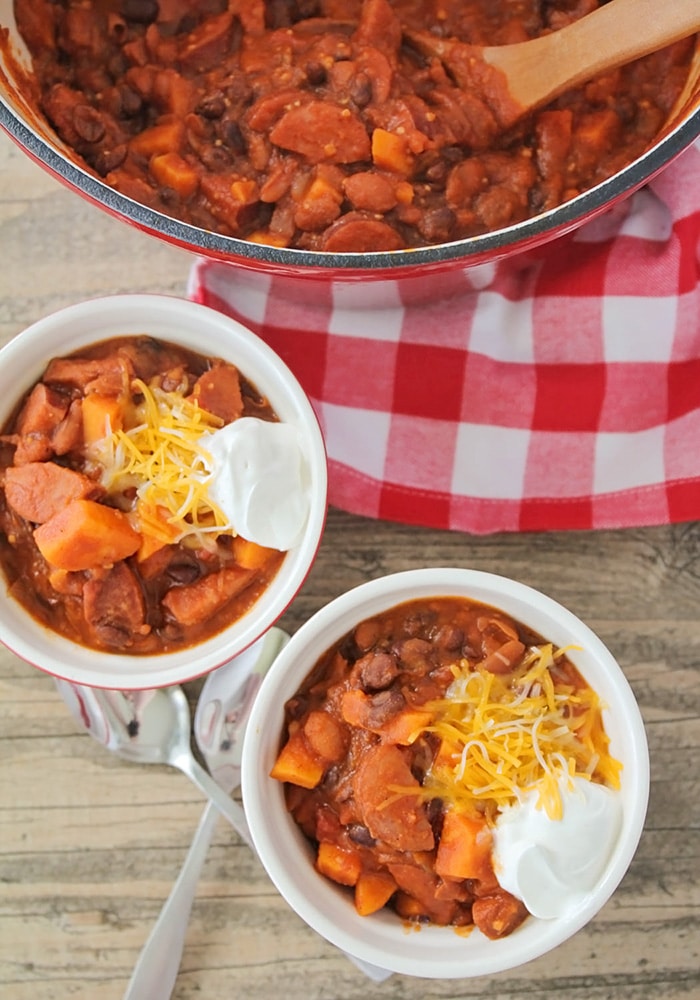 Turkey Sausage Sweet Potato Chili
INGREDIENTS:
1 package (13 ounces) Oscar Mayer Selects Uncured Turkey Sausage, chopped
2 teaspoons olive oil
1 medium onion, diced
2 tablespoons minced garlic
2 small sweet potatoes, peeled and diced
1 (15 ounce) can tomato sauce
1 (14.5 ounce) can diced tomatoes
3/4 cup chicken broth
1 (15 ounce) can black beans, drained and rinsed
1 (15 ounce) can chili beans
1/4 teaspoon pepper
1 teaspoon salt
1 tablespoon chili powder
2 teaspoons cumin
1/2 cup Kraft sour cream
1/2 cup Kraft Mexican Style shredded cheddar jack cheese
DIRECTIONS:
Heat the olive oil in a heavy pot over medium heat.
Add the turkey sausage, onion, and garlic to the pot, and cook until the onions are soft and translucent. Stir in the sweet potatoes and cook 3-4 minutes.
Add the chicken broth, diced tomatoes, tomato sauce, black beans, and chili beans, and stir to combine. Add the chili powder, cumin, salt, and pepper.
Bring the mixture to a simmer. Reduce heat and simmer uncovered 20-25 minutes, stirring occasionally, until the sweet potatoes are tender and easily pierced with a fork, and the chili has thickened. Serve hot, topped with a dollop of sour cream and a sprinkle of cheese.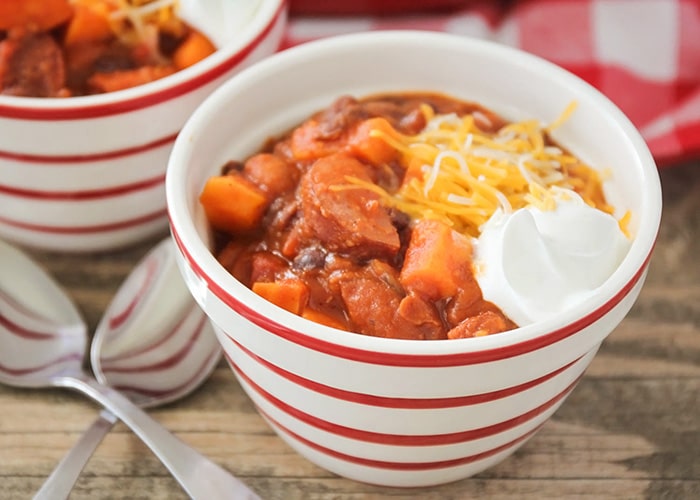 This post is sponsored by Kraft/Heinz. All opinions are my own.