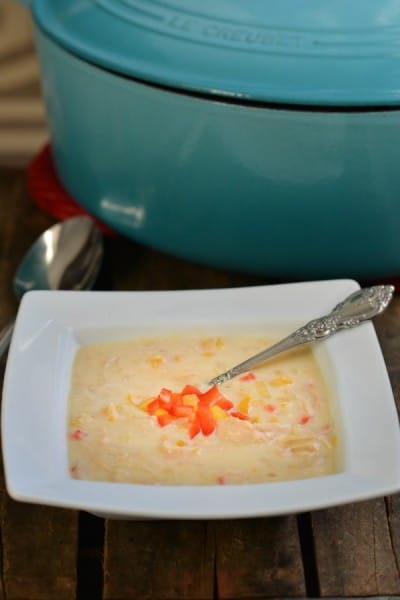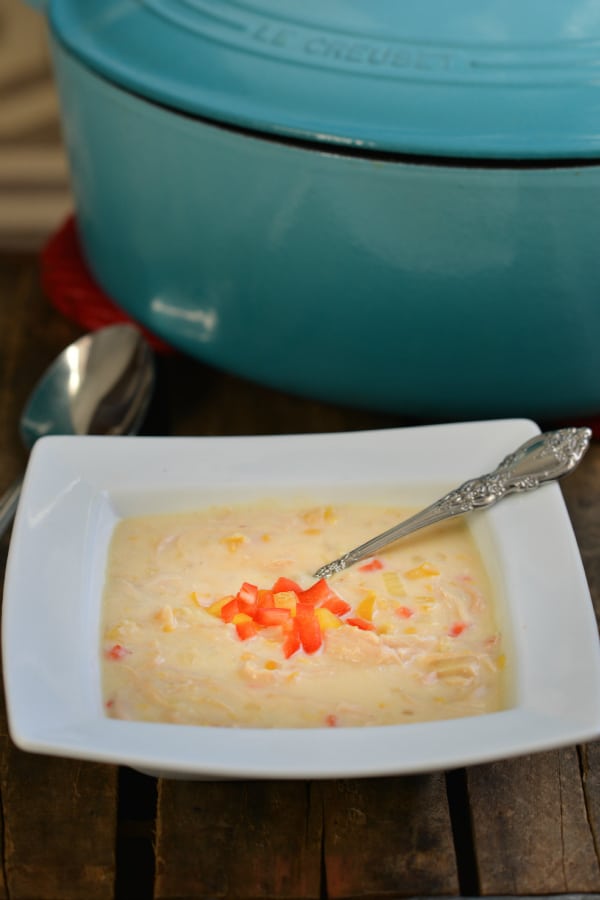 This turkey corn chowder is exactly what you need after a busy Thanksgiving week where the kitchen has had your undivided attention and you are looking for a little bit of a break. It is easy to prepare and you get to dump in a couple of cans, but no one would ever know because of its silky smooth texture and deep flavor. We tried it before Thanksgiving with a turkey breast and a slow cooker and I can't wait to make it after Thanksgiving with the leftovers.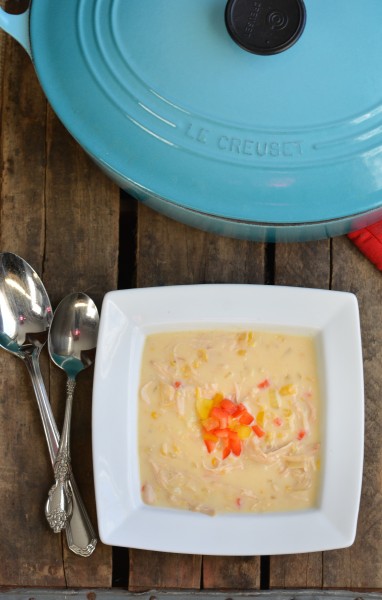 There are two different ways to approach this recipe. The first is to cook a turkey breast and a 1 1/2 cups of water in a slow cooker on high for 4-6 hours until the meat is easy to shred. For this soup you will need 4 cups of shredded turkey and 4 cups of the broth. The extra broth or turkey should be frozen or used in a couple of days. However, if you've finished Thanksgiving and you're wondering what to do with that turkey carcass, consider using it to make the turkey broth and use some of the leftover turkey for the soup. The nice thing is that if you don't want to make turkey broth, simply replace it with canned chicken broth. With your shredded turkey and broth, you are now ready to start cooking.
This recipe serves 6-8 adults.
2 cup chopped peppers, divided
1 cup chopped onions
1/4 cup butter
8 ounces cream cheese
4 cups shredded turkey
2 cans cream style corn
4 cups turkey broth
1 1/2 cups milk, divided
1/4 cup corn starch
Warm a large pot over medium heat. Add the butter and stir until it melts. Add the onions and 1 of the 2 cup of the red peppers. Stir for about 4 minutes, or until the onions are softened. Add the cream cheese and stir until the cream cheese has melted. Stir in the turkey, broth and 1 cup of milk. In a separate small bowl whisk together the corn starch and 1/2 cup milk until smooth. Once the soup is simmering, stir in the cornstarch mixture and continue to stir until the soup has thickened. Simmer for 5 minutes. Serve with the remaining chopped peppers sprinkled on top of the soup.