This Broccoli Grape Pasta Salad needs to make an appearance at your next family gathering!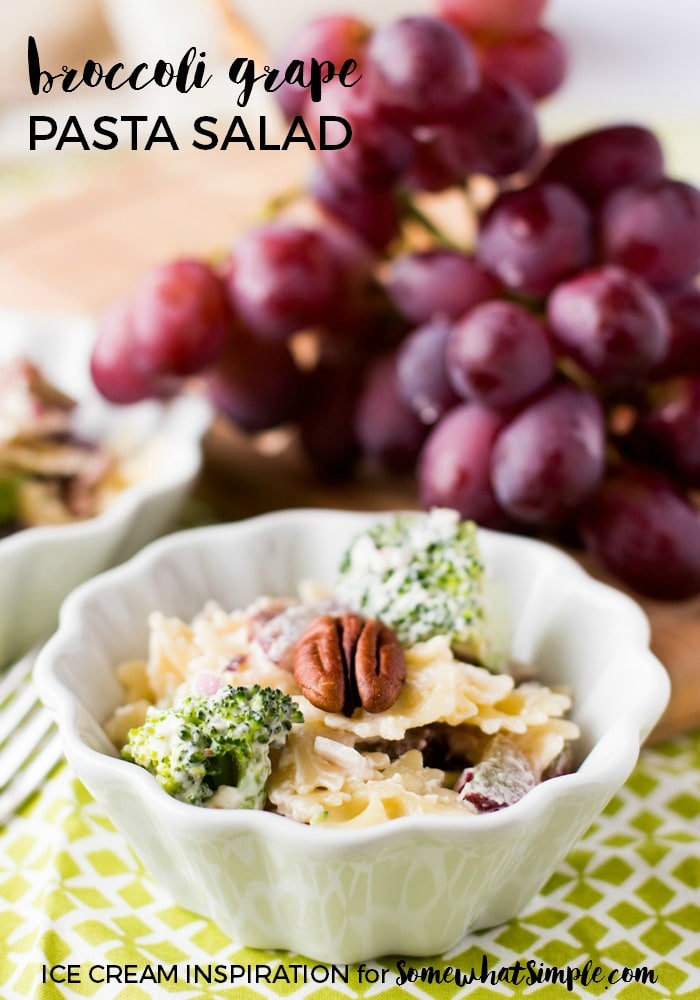 One of the greatest things about summer gatherings is the food – am I right? From your grandma's classic recipe for Frog Eye Salad, to your aunt Margaret's Rainbow Jello Salad, there is always something for everyone to love! Now you can add this recipe for Broccoli Grape Pasta Salad to the table of your next potluck. Your friends and family are going to LOVE you!
Let's talk about it for a second, shall we?
Go ahead, call it "healthy". After all, it does have broccoli and grapes, which are both delicious and nutritious. But it also has pecans to make it look "fancy", and it is just as beautiful as it is yummy! Yes, this salad has bacon in it, which may diminish its health value a bit, but when it comes to bacon, exceptions can always be made. (I used turkey bacon to skirt the issue) 🙂
Here is the simple, delicious recipe –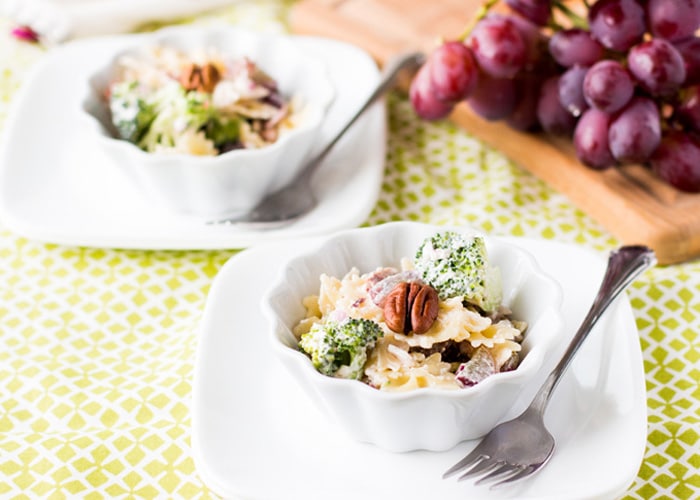 Broccoli Grape Pasta Salad
INGREDIENTS:
for the salad –
8 oz. farfalle pasta, cooked to al dente and drained
3 cups small broccoli florets
2 cups seedless red grapes, cut in half
1/4 cup diced red onion
6 cooked bacon slices, crumbled (or 3 turkey bacon slices, sliced thinly)
1/2 cup chopped pecans
for the dressing –
1 cup mayonnaise
2 Tbsp. sugar or 4 packets of Stevia (to taste)
1/4 tsp. salt
1/4 cup red wine vinegar
DIRECTIONS:
Mix the pasta, broccoli, grapes, and red onion together.
Mix all the dressing ingredients together.
Gradually pour the dressing onto the salad. Mix well. (You may not want to use all the dressing).
Cover and refrigerate for three hours.
Just before serving, add the bacon and pecans.
More Delicious Salad Recipes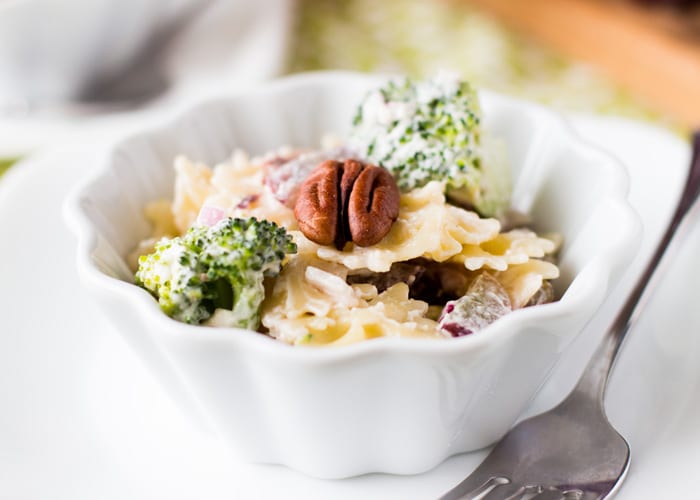 Recipe adapted from Spicy Southern Kitchen's Broccoli, Grape and Pasta Salad.