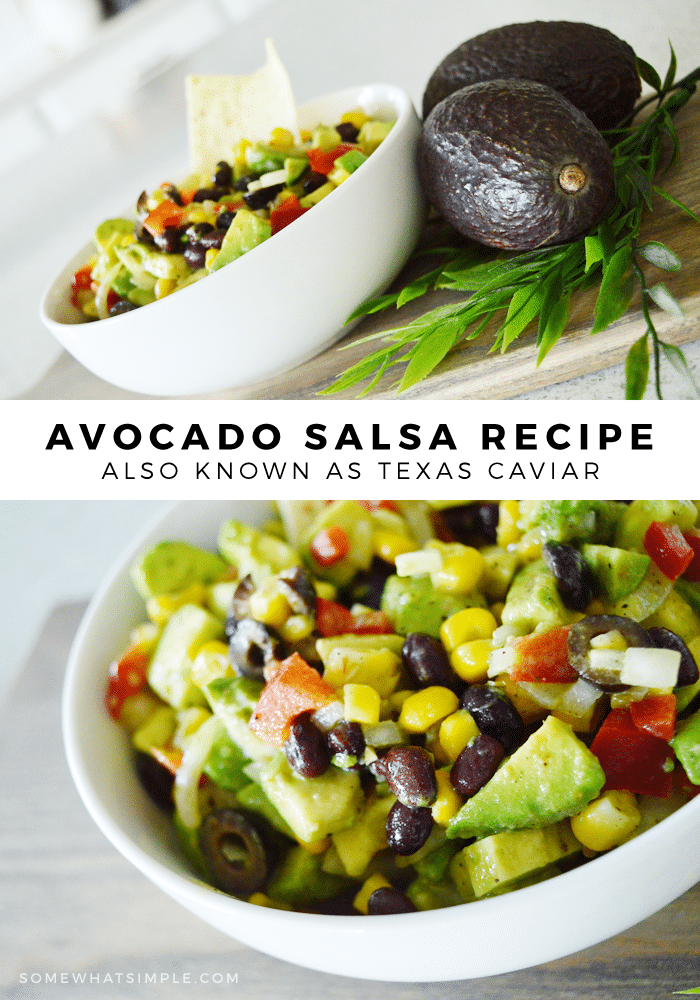 Texas Caviar is loaded with beans, corn, avocado and other fresh vegetables that are going to knock your socks off! Bursting with flavor, this easy recipe is unlike any dip you've had before. Grab your favorite chips and start enjoying this delicious salsa today!
This salsa recipe is a appetizer recipe that I like to serve when I have guests over. Some of my other favorites to make are these Strawberry Mango Salsa, my famous Homemade Mild Salsa and this Tomatillo Salsa recipes.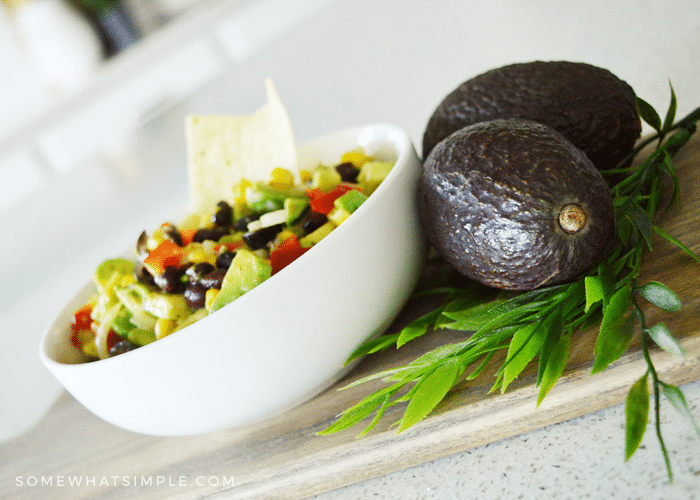 What Is Texas Caviar
Texas caviar is a colorful salsa recipe that is made with beans, delicious fresh vegetables and spices. I also love to add diced avocado to this recipe to make it even more amazing! If fact, sometimes I just grab a spoon call and call it a Texas caviar salad that I eat straight from the bowl. This recipe is so versatile, you can easily adjust the ingredients to fit anyone's taste.
Texas Caviar Dip
I found this recipe years ago and I make it all.the.time! I am a huge lover of guacamole and salsa, so why not mix them together?! When I make this avocado salsa, I seem to tweak a couple things depending on what ingredients I already have on-hand, but the general taste is always the same – and it is amazing!
My husband loves guacamole, but he HATES chunky vegetables, so this salsa does not go over well with him. In fact, the first time I made it he asked, "Who took a dump in that bowl?!"
…but who cares what he thinks, right? If he isn't eating it that just means there is more for me!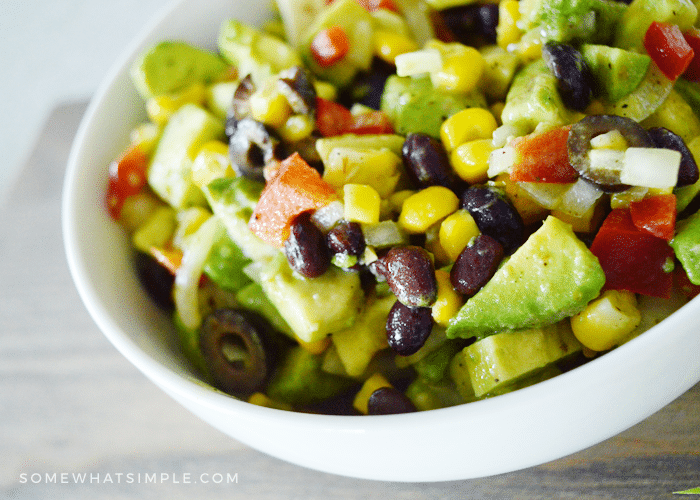 How To Make Texas Caviar
Drain and rinse the black beans
Chop the bell pepper and onion
Mince the garlic cloves
In a large bowl, mix together the beans, corn, olives, red bell pepper and onion
In a smaller bowl, mix the garlic, olive oil, lemon juice, cider vinegar, oregano and salt & pepper together
Pour this mixture into the large bowl with beans and corn and then toss to coat
Refrigerate until ready to serve
Stir in the diced avocado right before serving
What's In Texas Caviar
While these ingredients can be easily substituted or added to depending on what you have in your pantry, this are the ingredients I typically make this recipe with.
16 ounces of corn
1 can of either black or white beans
5 avocados
A chopped red bell pepper
1 small can of sliced olives
1 onion chopped
2 garlic cloves
1/3 cup of olive oil
1/4 cup of lemon juice
3 tablespoons of cider vinegar
1 teaspoon of dried oregano
1/2 teaspoon of salt
1/2 teaspoon black pepper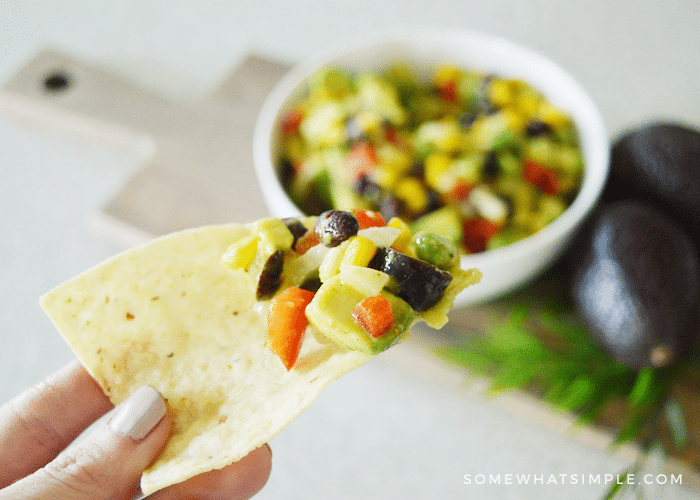 Tips For Making Texas Caviar
The easiest way to dice avocados is to cut it in half and then remove the seed. While the avocado is still in the skin, use a knife to cut the avocado in a checker board pattern. Using a fork or spoon, scoop out the perfectly diced avocado chunks.
Add the avocado to the mix immediately before serving. Avocado will turn brown if left out and exposed to the air, so while it doesn't affect the taste, it won't looks as appetizing if you add it in too soon.
How To Store Texas Caviar
This delicious recipe can be kept in the refrigerator for about five days. The avocado will be turning brown but it will still taste great. Just be sure to stir it well before eating it because the oil and juices will settle at the bottom over time. While this recipe can also be frozen, I wouldn't recommend it. The texture of the beans won't be the best and this salsa really should be enjoyed when it's freshly made.
More Easy Dip Recipes
Texas Caviar Recipe
This Texas Caviar tastes amazing as a dip for some tortilla chips, but I also love it as a topping. It is perfect on top of grilled chicken and it tastes fantastic on eggs or in a morning omelet. Now it's your turn to give this delicious recipe a try. Leave us a comment below and let us know what you served it with or tag us on social media after you make them because we love to see what you've been up to in the kitchen!
Texas Caviar Salsa Recipe
This Texas Caviar is going to knock your socks off!! Grab your favorite chips and make this delicious avocado salsa, stat!
Ingredients
1

16 ounce package frozen corn kernels, thawed

1

can black or white beans

,

drained and rinsed

2

2.25 ounce cans sliced ripe olives, drained

1

red bell pepper

,

chopped

1

small onion

,

chopped

2

cloves

garlic

,

minced

1/3

cup

olive oil

1/4

cup

lemon juice

3

tablespoons

cider vinegar

1

teaspoon

dried oregano

1/2

teaspoon

salt

1/2

teaspoon

ground black pepper

5

avocados - peeled

,

pitted and diced
Instructions
In a large bowl, mix beans, corn, olives, red bell pepper and onion.

In a small bowl, mix garlic, olive oil, lemon juice, cider vinegar, oregano, salt and pepper. Pour into the corn mixture and toss to coat. Cover and chill in the refrigerator as long as you can. I have eaten it without even being chilled and it was fine, but the cooler the better!

Stir avocados into the mixture before serving.
Nutrition
Other Notes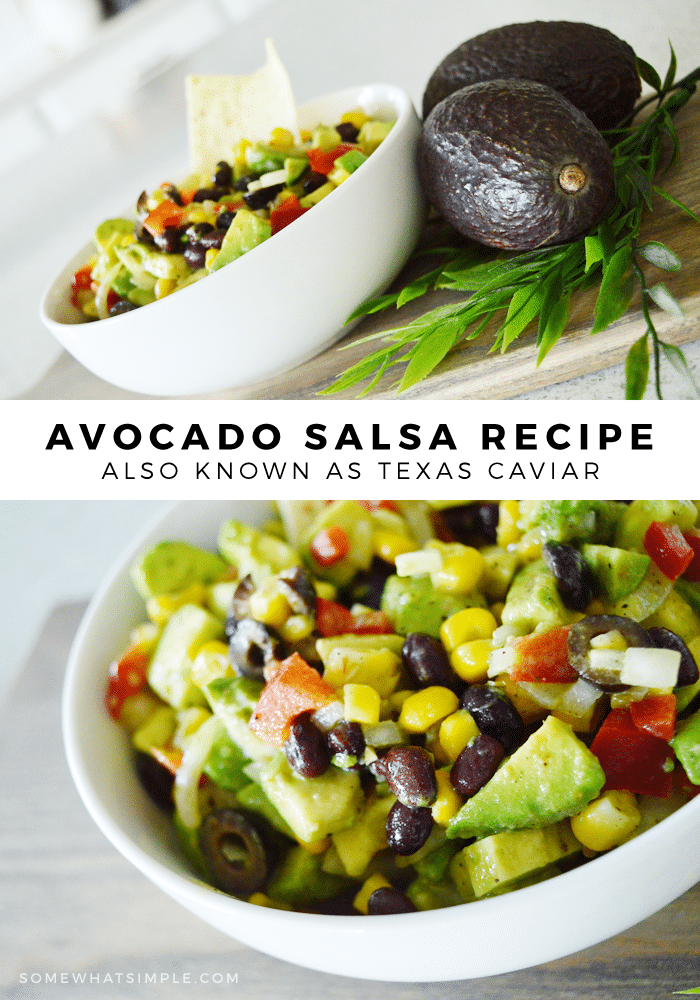 SaveSave
SaveSave
SaveSave
SaveSave