This sweet strawberry mango salsa is so fresh and fantastic! It's delicious with chips or on tacos or enchiladas, and it's the perfect side dish for summer!
If you've never made fresh salsa before, you are totally missing out! This strawberry mango salsa is so fresh, so delicious, and so easy to make. Once you've made it, you will want to eat it on everything! It's fantastic with chips, on tacos or enchiladas, on top of grilled meats, and even just eaten with a spoon. It will definitely be your favorite new condiment all summer long!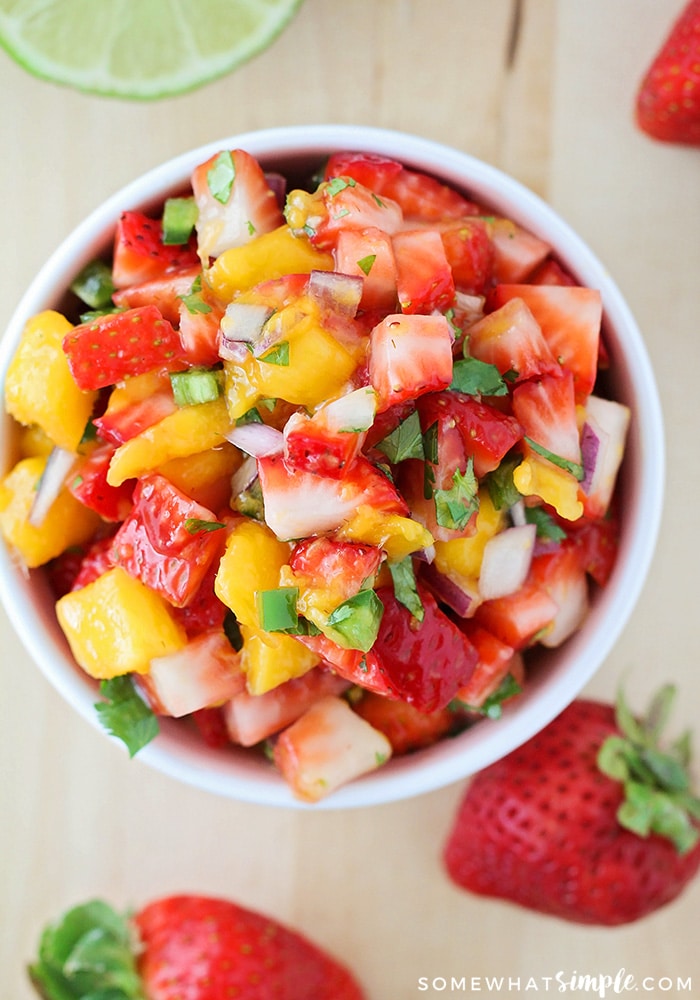 The sweet and juicy strawberries and mango blend nicely with the cilantro, red onion, and jalapeños, to make a delicious salsa that tastes just like summertime! My kids don't like things very spicy, so I cut out the seeds and ribs of my jalapeños, but if you like things spicier, you can definitely leave them in. You can also mix and match fruits according to your tastes. I think this salsa would be fantastic with peaches and/or pineapple as well.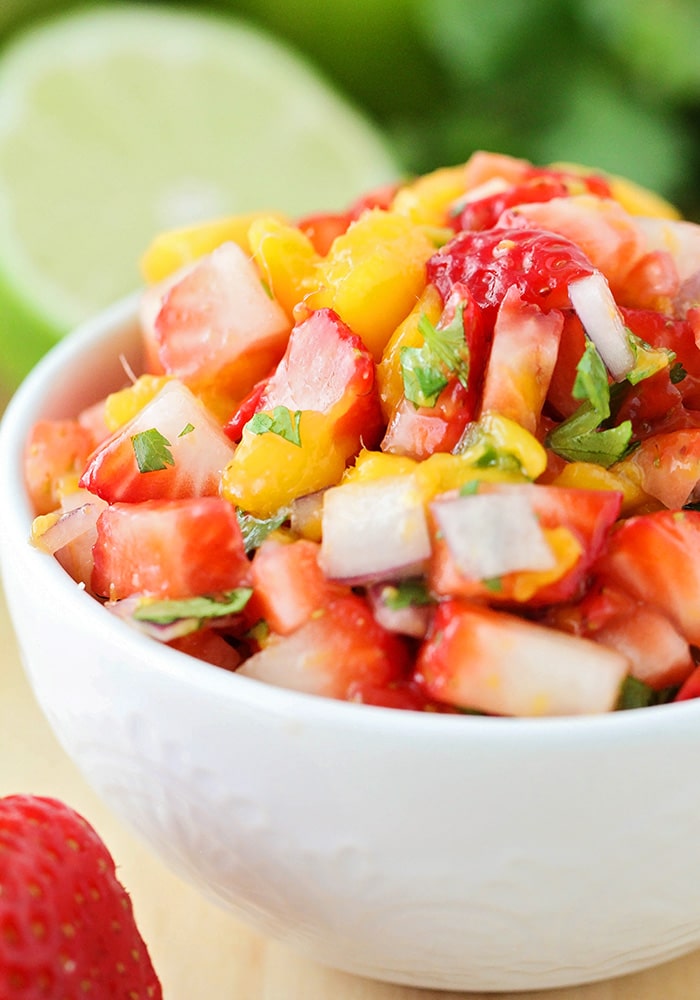 I seriously cannot get enough of this salsa! My plan is to make a fresh batch every week, so I have it on hand all through the summer. It will be awesome for when those late-night snack cravings hit, or as a healthy and delicious topping for grilled chicken and steak. You just need to make some for yourself, and then you will love it too!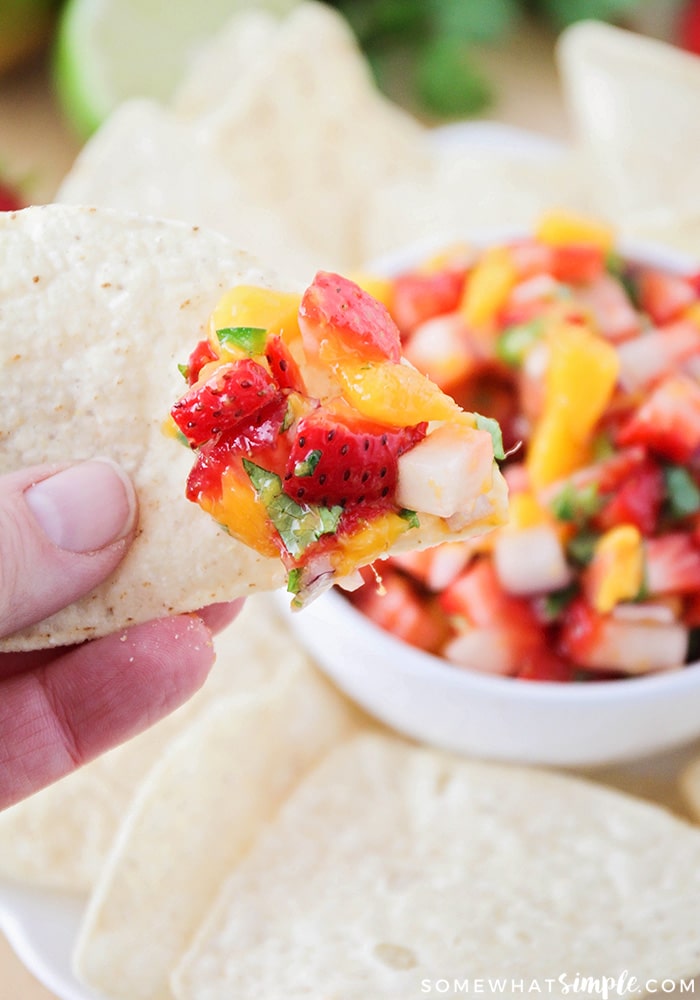 Strawberry Mango Salsa
INGREDIENTS –
1 pound fresh strawberries, hulled and chopped
1 fresh mango, peeled and chopped
1/4 cup diced red onion
1 jalapeño pepper, seeds and ribs removed, diced
2 tablespoons chopped cilantro
2 teaspoons honey
juice of one lime
pinch of salt
DIRECTIONS –
In a medium bowl, toss together the strawberries, mango, jalapeño, red onion, and cilantro.
In a small bowl of measuring cup, whisk together the honey, lime juice, and salt.
Pour the honey mixture over the strawberry mixture, and toss to coat. Refrigerate at least thirty minutes to let the flavors blend together.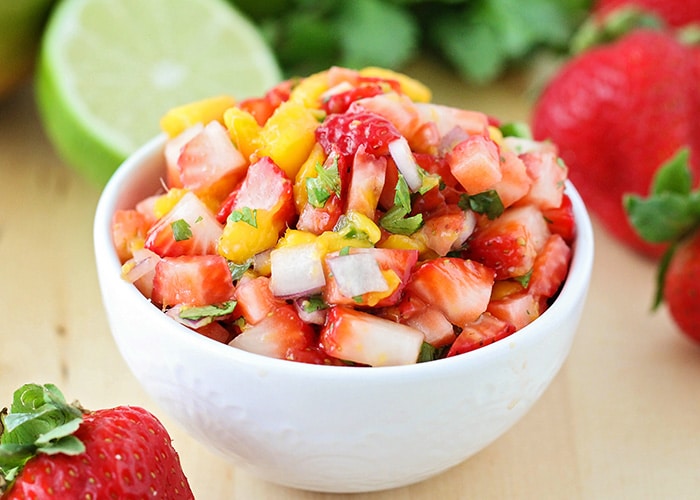 For more amazing homemade salsa recipes, check out some of our favorites below: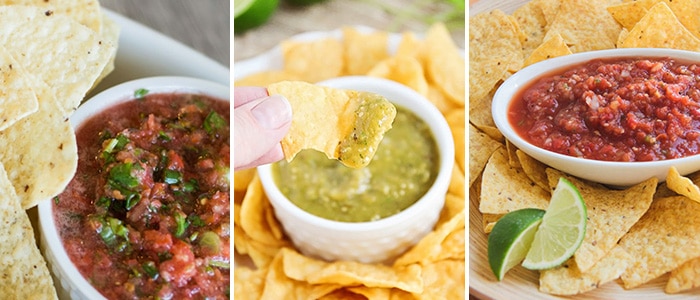 The Best Mild Salsa | Smoky Tomatillo Salsa | Restaurant-Style Salsa