This delicious sweet & smoky homemade barbecue sauce is a tasty addition to your summer grilling menu! It's quick and easy to make, and perfect for canning.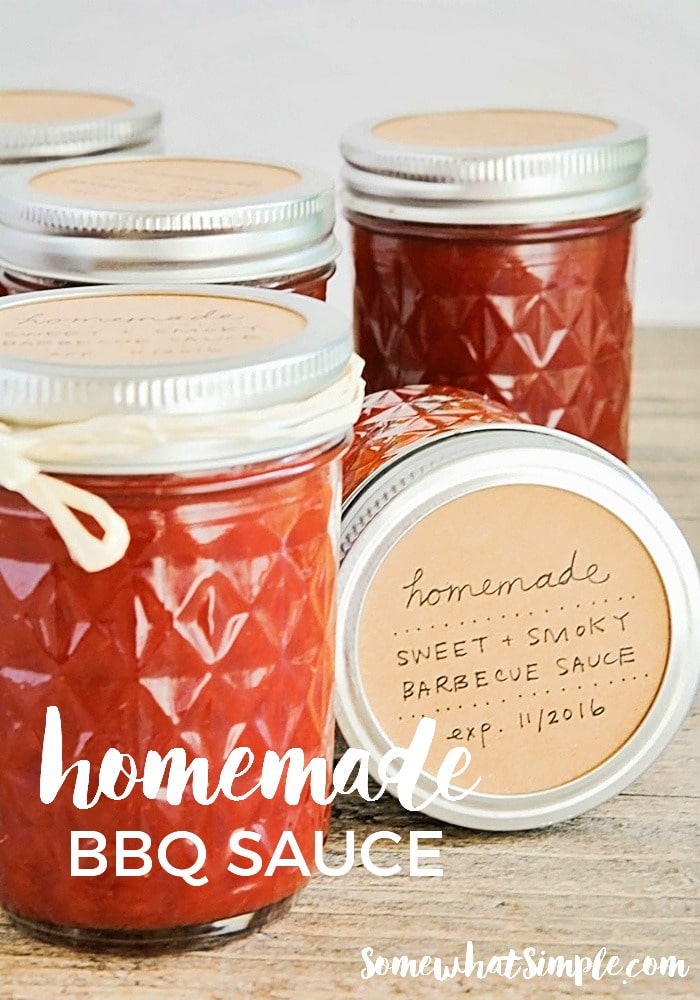 When I think of summer foods, I think of fresh fruit, delicious salads, and all the amazing grilling recipes! To me, what makes or breaks a grilling recipe is the barbecue sauce. I've been dying to try making my own homemade barbecue sauce, and I have finally discovered (through trial and error) the best barbecue sauce ever! It's rich and smoky and sweet, and goes perfectly with everything. It's delicious on any kind of grilled meat, and best of all, it's really easy to make!
You simply add all of the ingredients to a pot, stir them well, and bring the sauce to a simmer. 20 minutes later, it's thickened up and ready to go!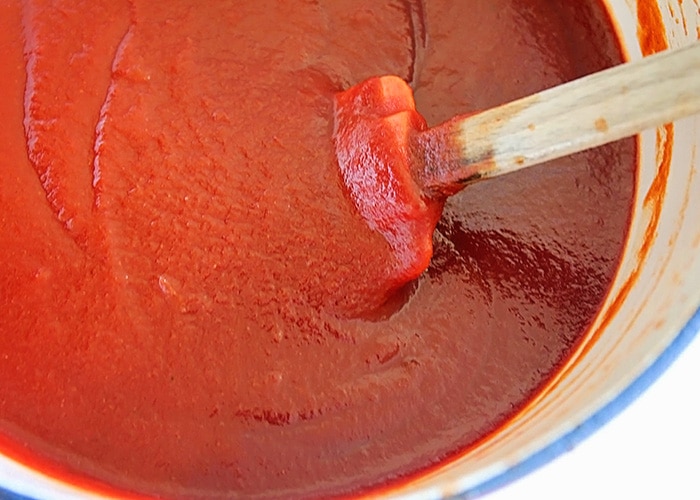 This recipe works perfectly for canning, but is also freezer-friendly if you don't want to go the canning route. The sauce will keep for up to six months (after canning or in the freezer), which means lots of delicious grilling is in your future!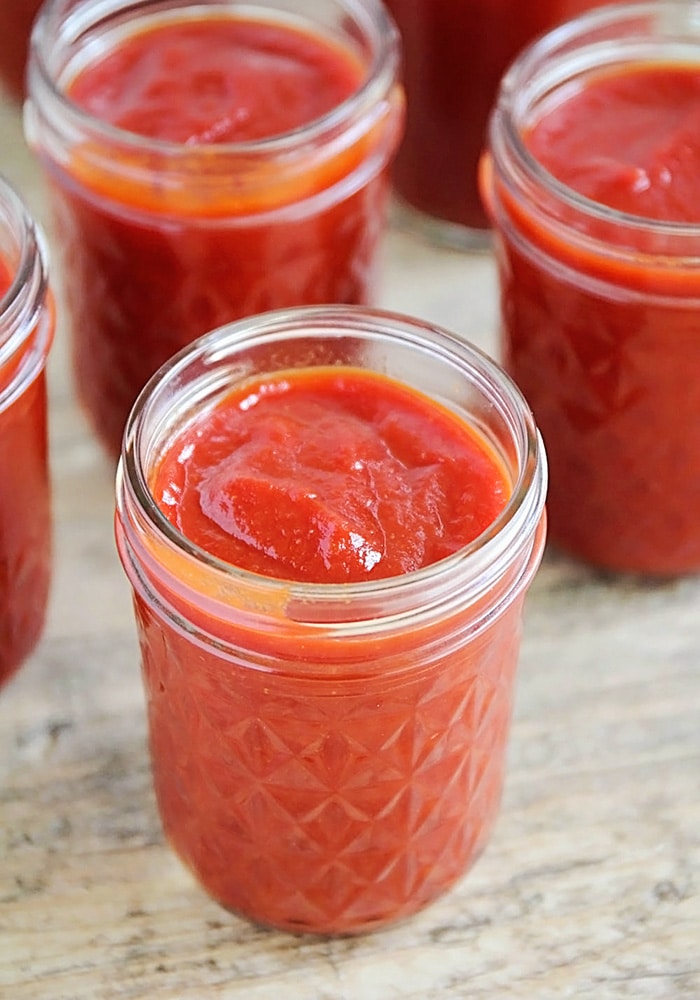 This homemade barbecue sauce is seriously the best. It's sweet and tangy, has a nice little hint of smokiness, and adds so much flavor to any recipe. It adds so much flavor to anything you use it with. It will be your favorite condiment all summer long!
This barbecue sauce also makes a fabulous gift! I made some simple handwritten labels (it's always helpful to include the expiration date!) and wrapped a little raffia around the jar, and voila! An adorable homemade gift that any grilling (or food) enthusiast will love. So cute and so easy, too!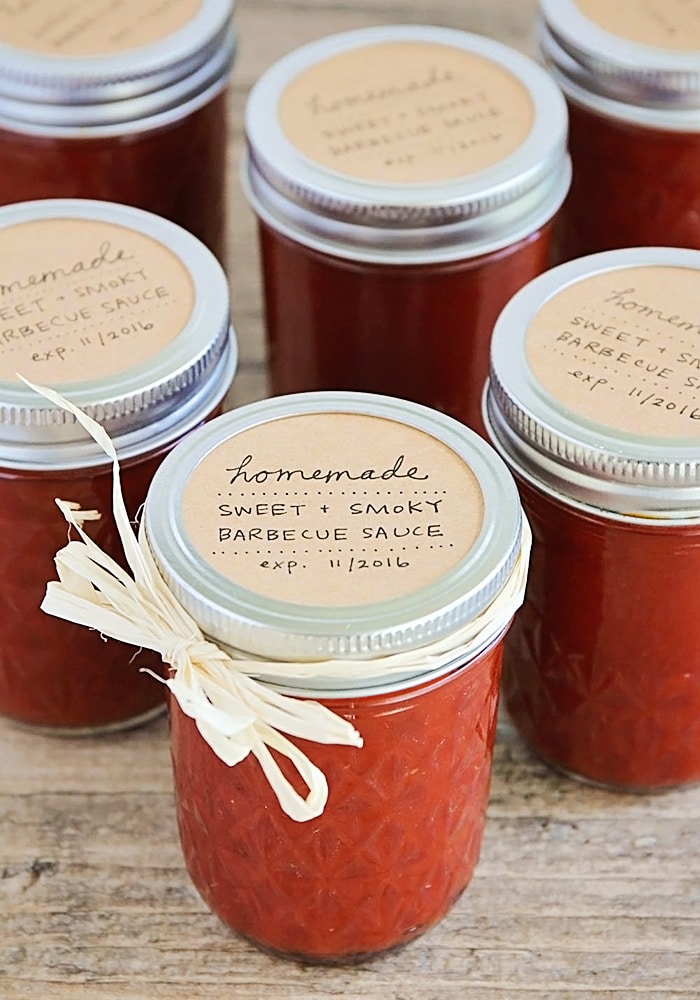 Homemade Barbecue Sauce
INGREDIENTS:
2 (15 ounce) cans tomato sauce
2 (4 ounce) cans tomato paste
1 cup

Apple Cider Vinegar

1/2 cup honey
1/2 cup molasses
1/4 cup brown sugar
1/4 cup Worcestershire
3 teaspoons liquid smoke
1/4 cup apricot jam
2 teaspoons salt
1 teaspoon pepper
1 teaspoon garlic powder
1 teaspoon paprika
DIRECTIONS:
Add all ingredients to a large pot. Bring to a simmer over medium heat, then reduce heat to low and simmer 20 minutes, stirring occasionally.
While the sauce is simmering, sterilize six half pint jars and six lids and bands in simmering water (do not boil).
Ladle into sterilized half pint jars, filling to 1/2 inch from top. Wipe any residue away from the tops of the jars, and add sterilized lids and bands.
Process the jars in a water bath canner for 20 minutes. Remove and let cool, then check that the jars have sealed. Store for up to six months. Alternatively, the sauce can be frozen for up to six months or refrigerated for up to two weeks.