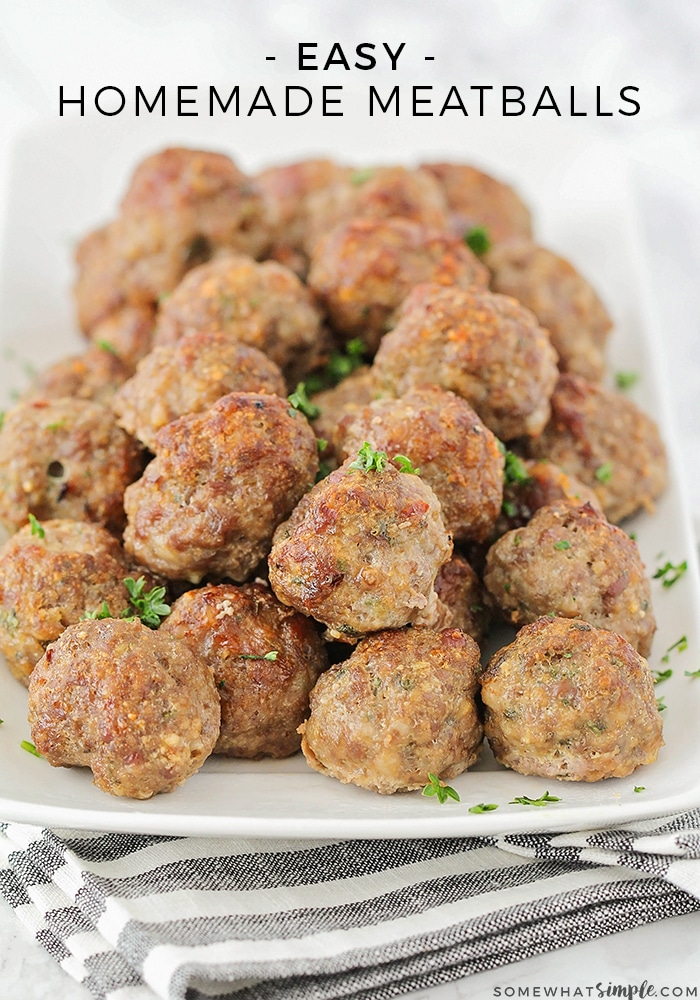 These delicious and savory homemade meatballs are so easy to make and take only 10 minutes to prepare! Meatballs are so versatile, they can be used in any recipe that calls for them. This meatball recipe also freezes well, making meal prep super easy!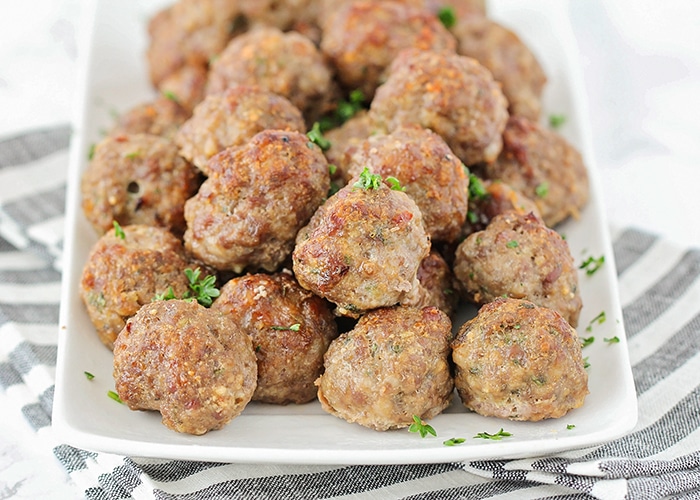 Easy Homemade Meatball Recipe
My whole family loves meatballs! My seven year old has become quite the picky eater in the last year, but no matter how picky she's feeling, she will always eat meatballs with a smile. We love to use homemade meatballs in so many different ways – in spaghetti and meatballs, Swedish meatballs, meatball subs… you name it!
As convenient as it is to buy frozen meatballs at the store, they can be super expensive. Enter these homemade meatballs! You can make a big batch of these homemade meatballs and freeze them in advance, and they're just as easy (and twice as delicious!) as the store-bought meatballs.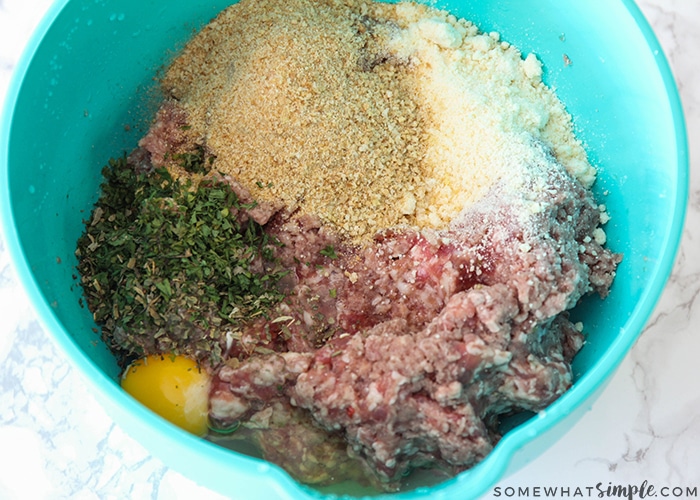 How to Make Homemade Meatballs
What's In It – I like to use a combination of ground beef and ground pork when I make my homemade meatballs. You could definitely use all ground beef, or even substitute mild Italian sausage for the ground pork. My mom made meatballs frequently while I was growing up, and always mixed her meatballs with her hands, so that's what I do too! It's oddly satisfying to feel the meat mixture squishing in between my fingers. 🙂
The Mixture – Once you've mixed together the meat, spices, and bread crumbs, it's time to shape your meatballs. I like to use a cookie scoop to make them all the same size (about one inch in diameter) and then just roll them between my hands to make a nice smooth ball. They will make quite a mess as they bake, so I always line my baking sheet with foil for easy clean-up.
Baking – Once you have placed your meatballs on your cookie sheet, it's time to bake them. Preheat your oven to 400 degrees F and then bake them for approximately 25 minutes or until they are golden brown.
Baking Tips
To ensure the meatballs bake evenly, you want to make sure they are all the same size. This is why I use the cookie scoop or a meat baller to measure them.
Spray cooking oil on the foil to keep them from sticking to the baking sheet
Don't go too lean on the ground beef. The higher the fat content, the more flavorful and tender the meatballs will be.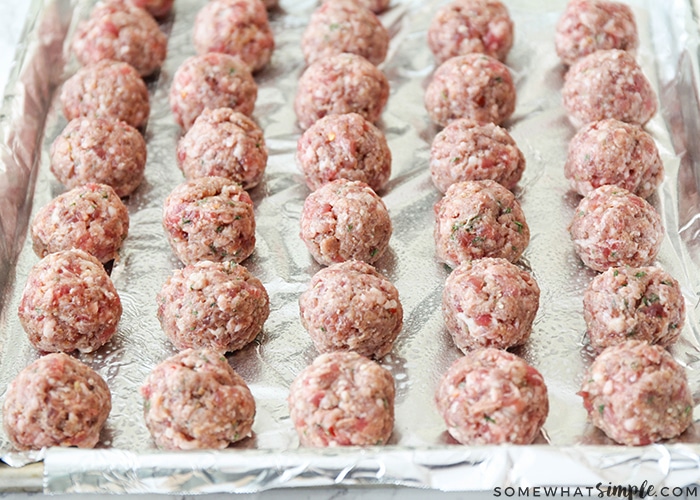 Recipes That Use Homemade Meatballs
Can You Freeze Them
Yes, you can easily freeze this meatball recipe! In fact, I always make an extra batch or two of these meatballs to save and use later. First, let the meatballs completely cool before you add them to an airtight container that is safe to put in the freezer. I usually just add as many meatballs as my family eats for a meal into multiple freezer bags, label it with the date, and then just throw it in the freezer for later.
Most recipes allow for the use of frozen meatballs so there's rarely a time that you'll need to defrost them before use. If you do need to defrost them first, simply leave them in the refrigerator over night,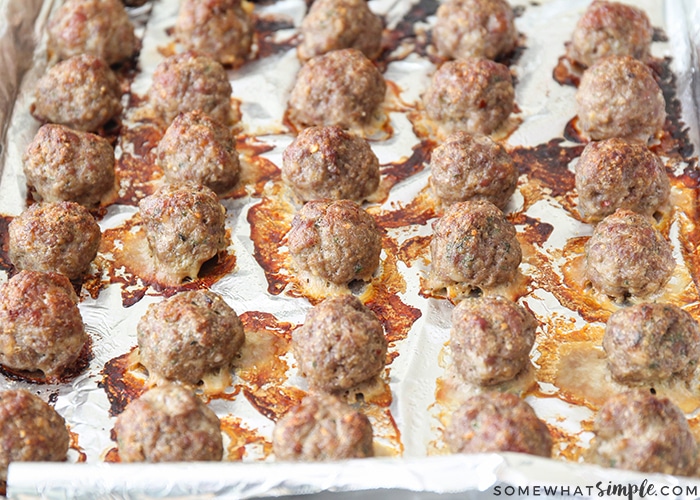 These really are the easiest homemade meatballs you can make – and don't they look delicious?! Now that you know how to make homemade meatballs, it's time to put your skills to the test! Leave us a comment below and let us know how they turned out and what other fabulous recipes you made using these meatballs.
Homemade Meatballs Recipe
These delicious and savory homemade meatballs are so easy to make, and so versatile! This meatball recipe also freezes well, making meal prep super easy!

Ingredients
1

pound

ground beef

1

pound

ground pork

1/3

cup

bread crumbs

1

egg

2

tablespoons

parmesan cheese

1

teaspoon

garlic powder

3/4

teaspoon

salt

1/4

teaspoon

pepper

2

teaspoons

dried parsley

1

teaspoon

dried basil
Instructions
Preheat the oven to 400. Line a baking sheet with foil and spray with cooking spray, then set aside.

In a large bowl, mix together the beef, pork, bread crumbs, eggs, parmesan, garlic powder, salt, pepper, parsley, and basil, until well combined.

Shape the meat mixture into one inch balls, and place on the prepared baking sheet.

Bake 25 minutes, or until golden brown.
Nutrition
Other Notes