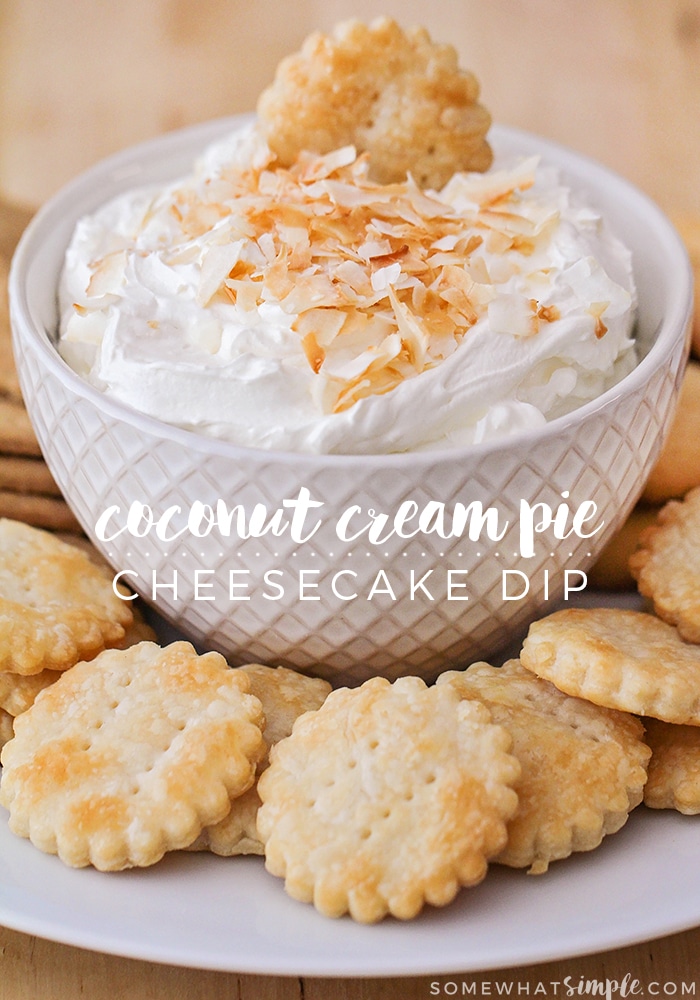 An easy Coconut Cream Pie recipe turned into a delicious Cheesecake Dip! (Your taste buds are going to thank you!)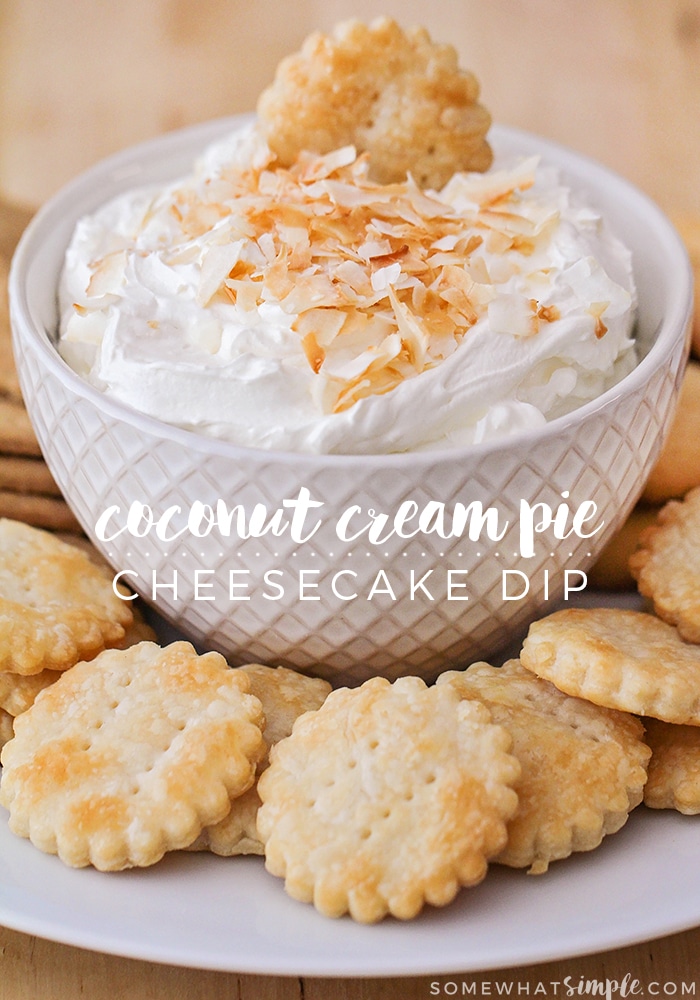 This cheesecake dip recipe makes a fun party food or sweet addition to any dessert spread! It's quick easy and uses just a few basic ingredients! Here is how to make it –
Easy Coconut Cream Pie
Cheesecake Dip
INGREDIENTS-
for the Pie Crust Dippers:
1 14-ounce package refrigerated pie crusts
* you could also use graham crackers or vanilla wafers – they both taste great!!!
for the Coconut Cheesecake Dip:
1 8-ounce package cream cheese, softened
½ Cup powdered sugar, sifted
½ Cup sweetened, shredded coconut
¼ teaspoon imitation coconut extract
1 8oz container Cool Whip
¼ Cup toasted coconut, for garnish (optional)
NOTES –
You can find Coco Reál Cream of Coconut right near the bottled margarita and piña colada mixes in your local supermarket or big box store. (After making this recipe you'll have quite a bit of Coco Reál left over to make piña coladas!)
If you don't want lumps in your dip, make sure your cream cheese is at room temperature and the powdered sugar is sifted.

DIRECTIONS:
for the Pie Crust Dippers:
Thaw the pie crust according to the package directions.
Preheat oven to 450 degrees F and line a baking sheet with parchment paper or a silicone baking mat.
Unroll the pie crust and cut using a favorite cookie cutter.
Prick the pie dough with a fork and bake for 8-10 minutes, or until golden.
for the Coconut Cheesecake Dip:
In the bowl of a stand mixer or in a large bowl, beat the cream cheese and Coco Reál on medium speed until smooth, about 1 minute.
Scrape down the sides of the bowl and add the sugar, shredded coconut, and coconut extract and beat on medium until smooth and combined, about 30 seconds.
Add the Cool Whip and beat until incorporated, about 1 minute.
Transfer dip to a serving bowl and top with toasted coconut. Cover and chill until ready to serve.
Serve with pie crust dippers, graham crackers and vanilla wafer cookies.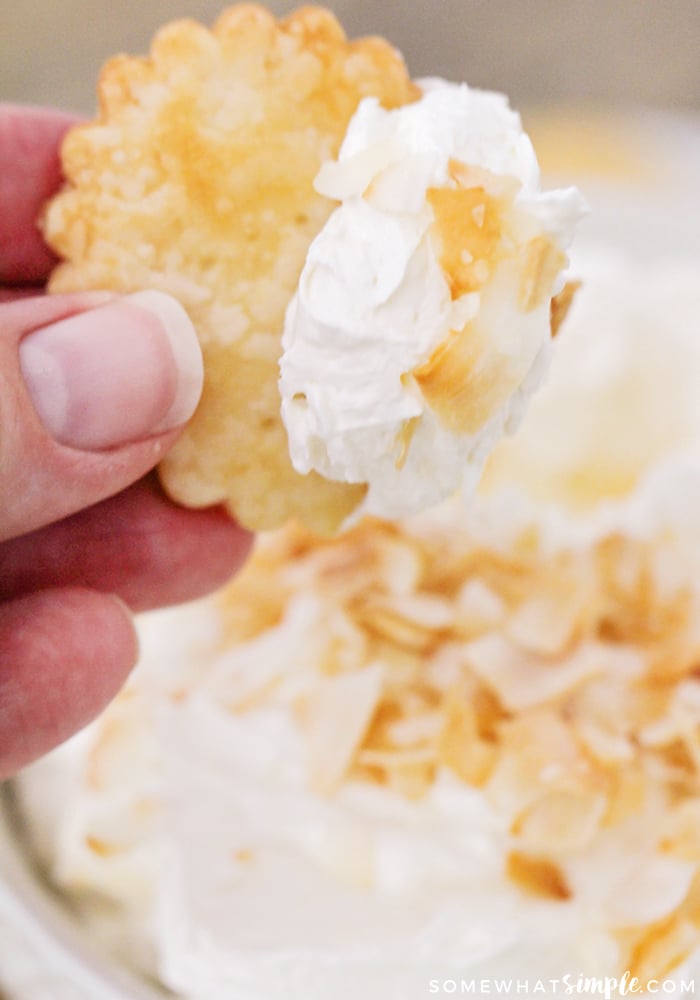 This Cheesecake Dip can be stored in an airtight container for up to 1 week in the refrigerator.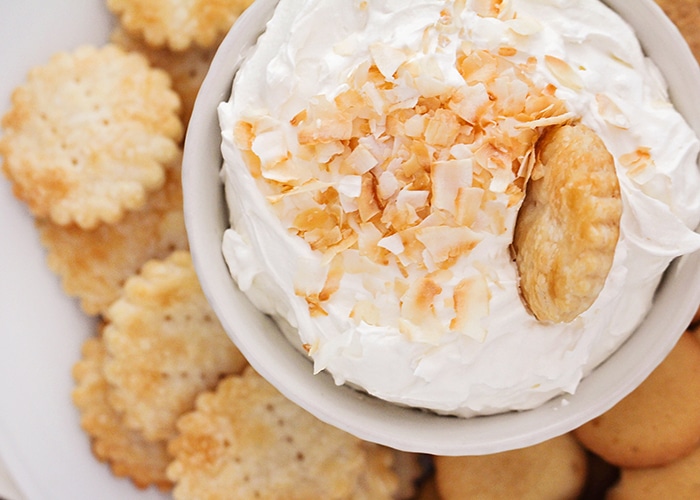 ENJOY!!!
ABOUT THE AUTHOR – Jillian was a part of the Somewhat Simple Creative Team in 2014. Her blog, Food Folks and Fun, focuses on sharing easy, delicious, crowd-pleasing recipes.
We originally published this post on Somewhat Simple in April 2014.