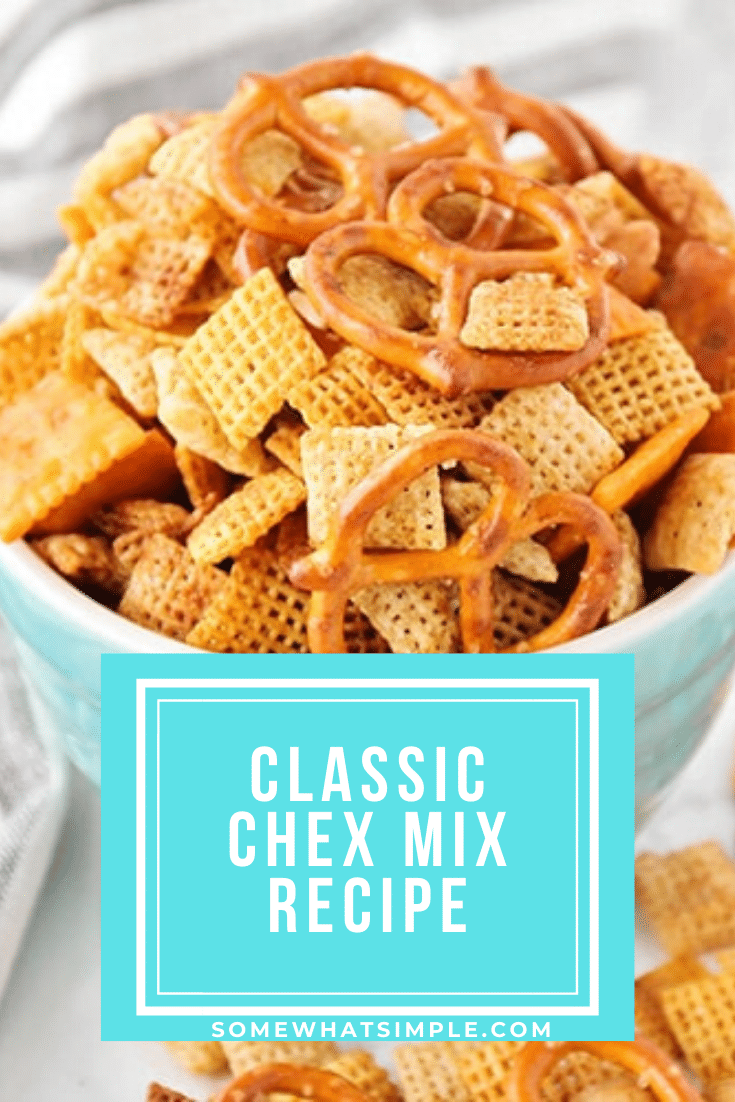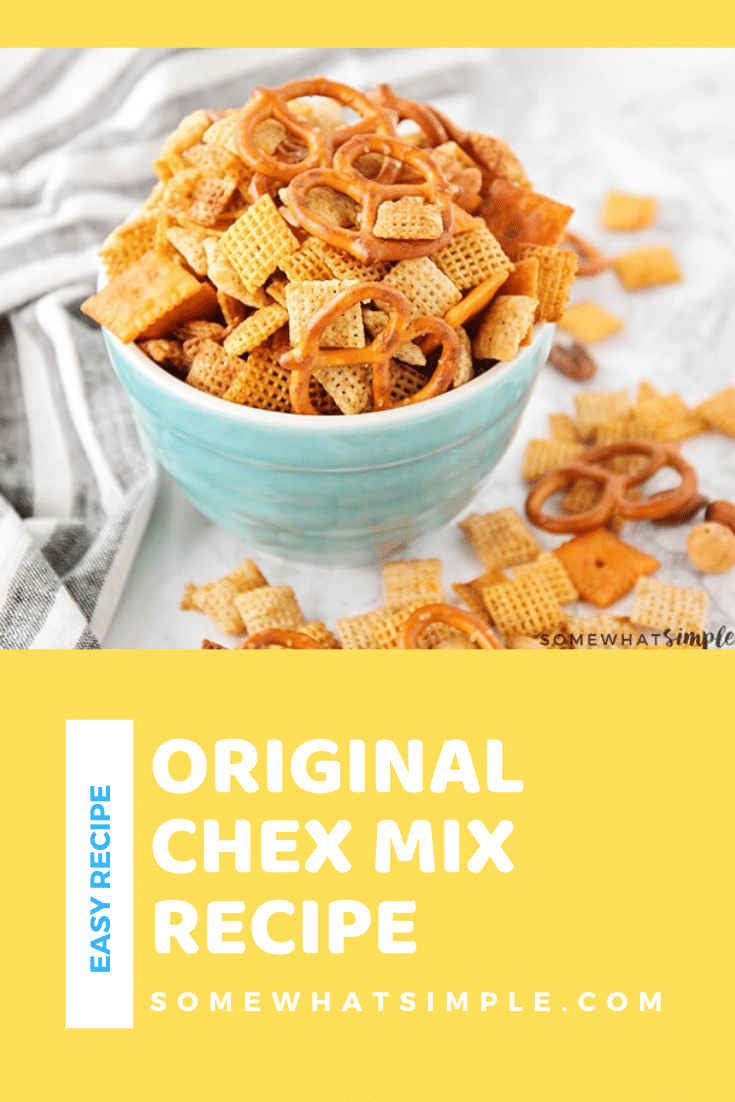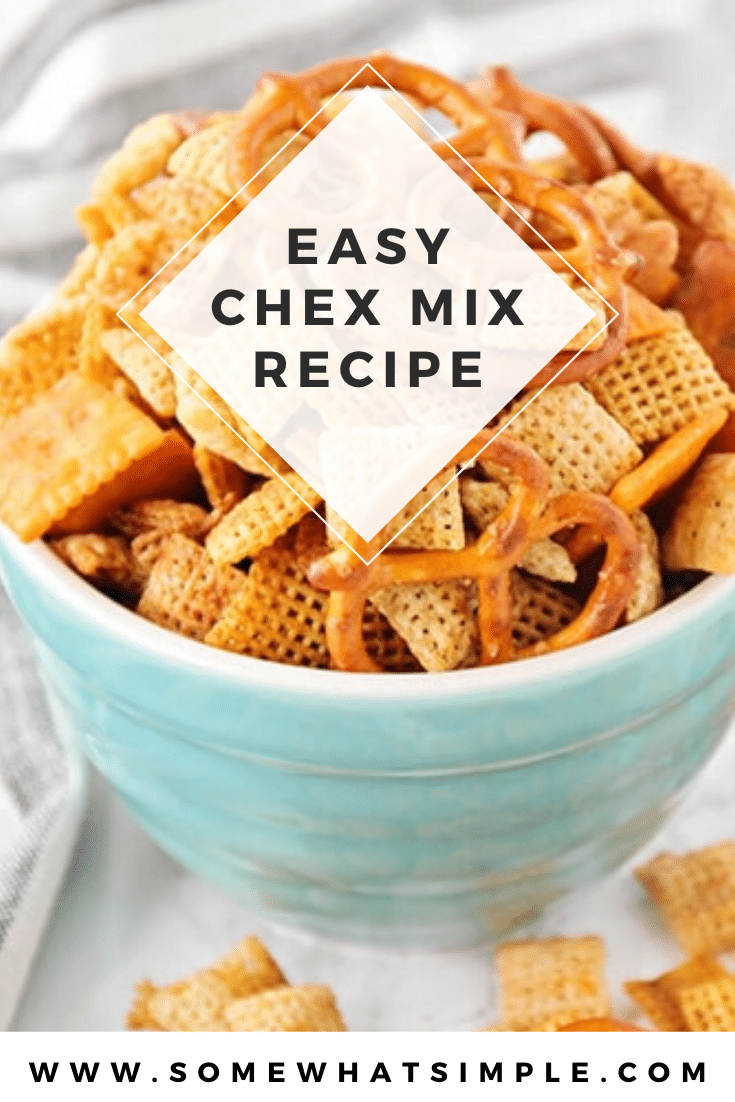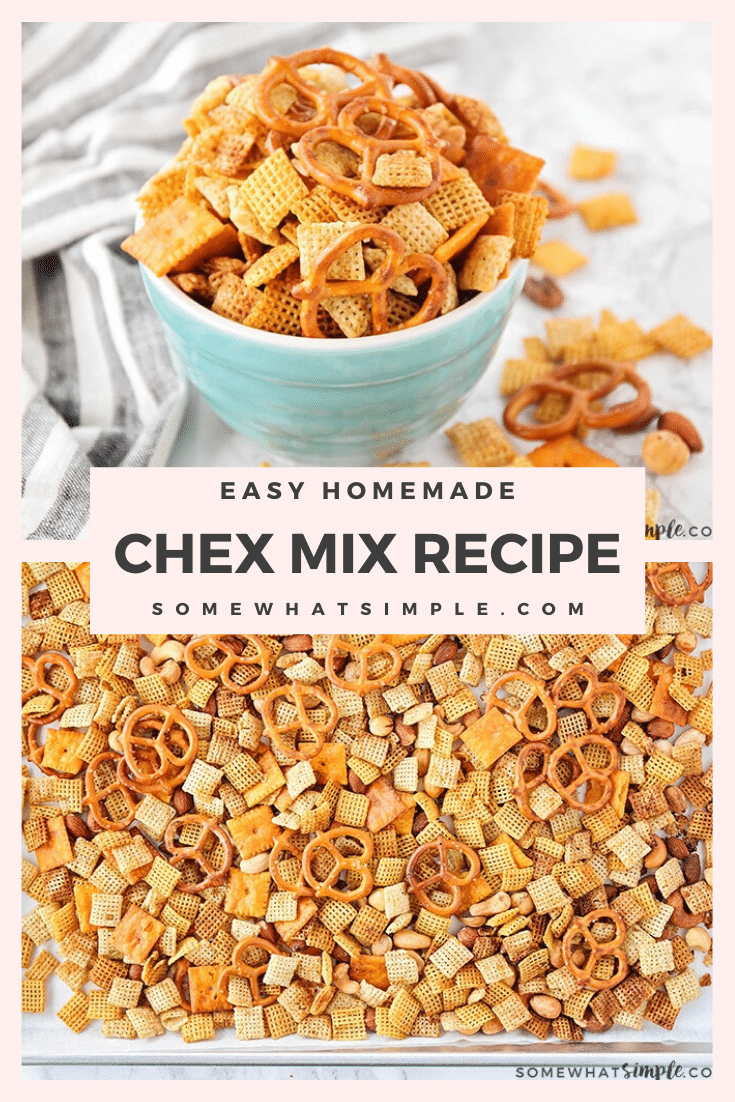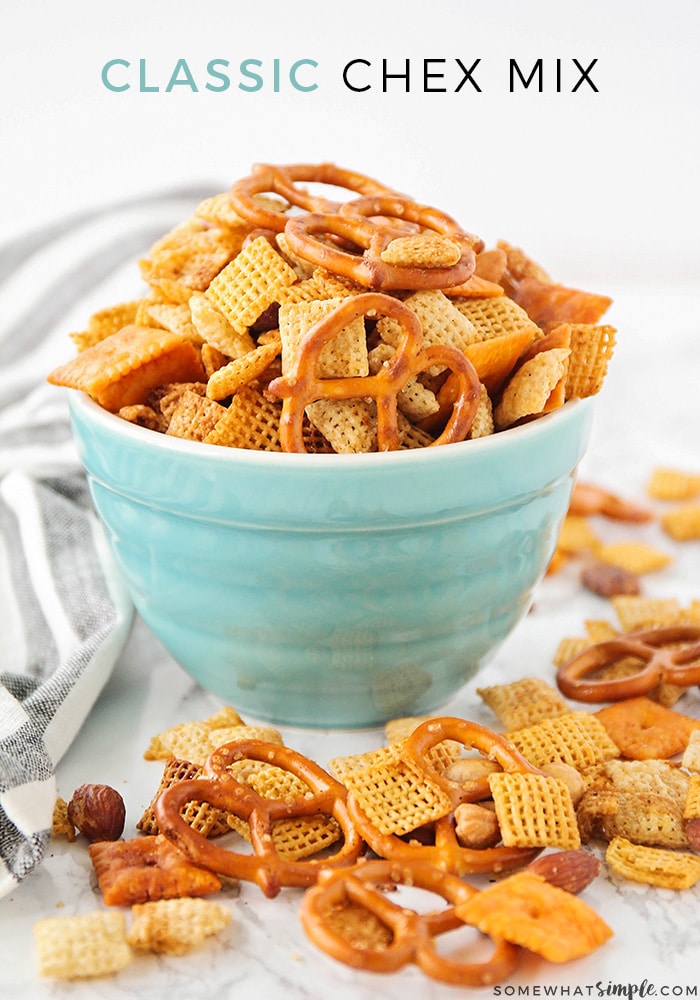 This classic homemade original Chex mix recipe is so quick and easy to make, and so addictingly delicious that you won't be able to stop snacking on it!
This Chex mix recipe is an easy appetizer that I love serving when we have friends over for a New Year's Eve Party, a Super Bowl Party or just a fun Snack to leave out on the counter.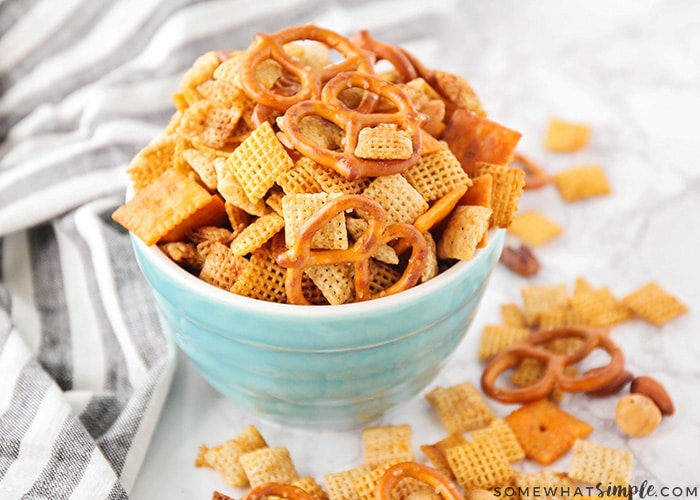 Easy Chex Mix Recipe
Who else is totally addicted to homemade Chex mix? I remember the first time that I tried it – I was at a party when I was a teenager. I grabbed a handful out of curiosity, and then was totally shocked by how delicious it was. Where had this savory, crunchy, addictively delicious snack been all my life?
Since then, I've tried a lot of Chex mix recipes, but I keep coming back to this original Chex mix recipe as my favorite. It's simple, delicious, and could not be easier to make. It's one of my very favorite snacks!
Items Used In This Chex Mix Recipe
How To Make Chex Mix In The Oven
Prep – To make this easy original Chex mix in the oven, start by preheating the oven to 250 degrees F.
Mixture – Pour the Chex cereal, nuts, pretzels and Cheez-Its into a large bowl and give it a good mix. Melt the butter in a smaller bowl and stir in all of the seasoning. Pour the butter mixture over the mixture and toss everything until everything has been coated.
Bake – After you have made your Chex mixture, pour it evenly into a roasting pan and bake it for one hour. You will need to stir the mixture every 15 minutes to keep it from burning.
How To Make Chex Mix In The Microwave
The original Chex mix recipe above required baking it in the oven and stirring it at intervals, but this new (and much easier) microwave recipe means that you can have homemade Chex mix in about 15 minutes! It's so simple and quick.
Prep & Mixture – Prep the mix of your Chex cereal and add-ins (we like to add pretzels, mixed nuts, and Cheez-It crackers), just like you did above.
Nook It – Microwave everything uncovered for about 4-5 minutes. You'll want to stir the mix after every minute so that it heats evenly.
Cool – Pour the mix out onto some parchment paper to let it cool for several minutes. Once cooled, enjoy it or store it in an airtight container.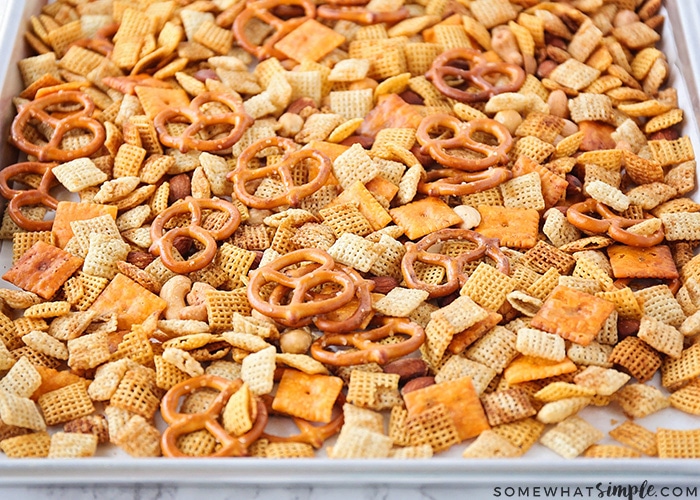 Tips For Making Original Chex Mix
Cool – It's a good idea to let the Chex mix cool before serving, because it does get pretty hot while it's cooking.
Keep An Eye On It – Be sure to watch it carefully, and stir every minute, to prevent burning.
Storage – Once you're done making this recipe you should store any uneaten Chex mix in an airtight container. Tupperware works great but I also have larger snack canisters in my pantry that are perfect for storing this party mix. If stored in an airtight container, this Chex mix can last around 4 weeks.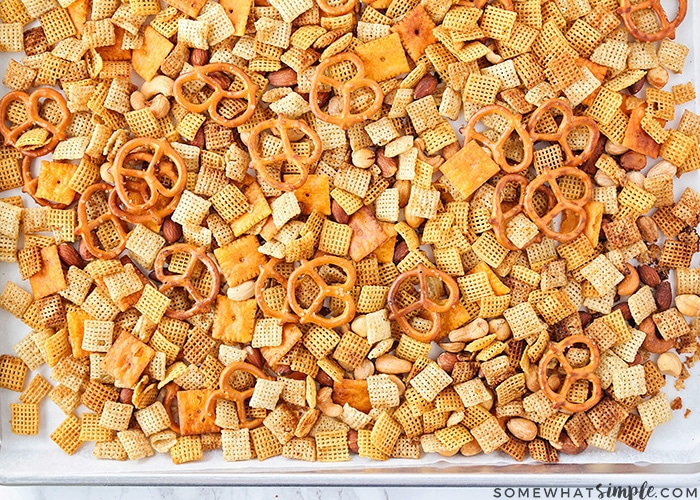 More Easy Chex Mix Recipes
This original Chex mix is a simple and quick snack that's perfect to enjoy any time!
Original Chex Mix
This Original Homemade Chex Mix Recipe Is So Quick And Easy To Make, And So Addictingly Delicious That You Won't Be Able To Stop Snacking On It!
Ingredients
3

cups

corn Chex cereal

3

cups

rice Chex cereal

2/3

cup

mixed nuts

2/3

cup

mini pretzels

2/3

cup

Cheez-It crackers

4

tablespoons

butter

1 1/2

tablespoons

Worcestershire sauce

1

teaspoon

seasoned salt

1/2

teaspoon

garlic powder

1/2

teaspoon

onion powder
Instructions
Making Chex Mix In The Microwave
In a large microwave-safe bowl, mix together the corn Chex, rice Chex, mixed nuts, pretzels, and Cheez-It crackers.

In a small microwave-safe bowl, melt the butter. Stir in the Worcestershire, seasoned salt, garlic powder, and onion powder. Pour the butter mixture over the cereal mixture and toss to coat.

Microwave uncovered on high for 4-5 minutes, stirring every minute. Watch carefully to prevent burning. Spread on paper towels or parchment to cool, then store in an airtight container.
Making Chex Mix In The Oven
Follow steps 1 & 2 above to prepare your original chex mix for baking

Preheat your oven to 250 degrees F

Spread your chex mix evenly into a roasting pan

Bake the chex mix for 1 hour

Stir the chex mix every 15 minutes to prevent the mix from burning

Let the chex mix cool for 10-15 minutes
Nutrition
Other Notes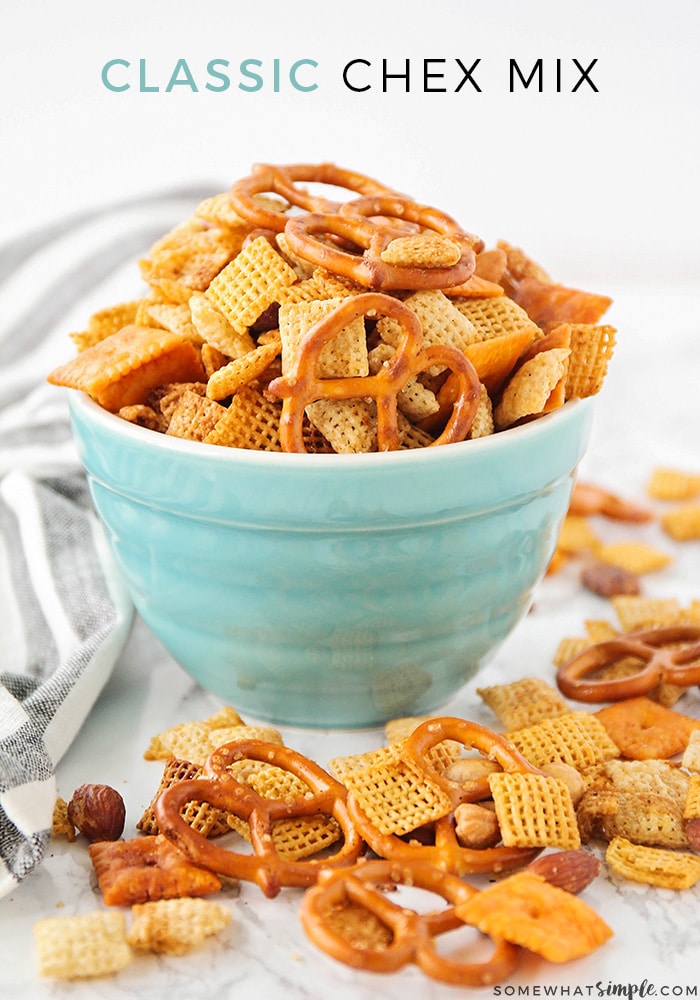 Enjoy!