Grab a tall glass of milk and get ready for these super delicious, super easy pumpkin cookies!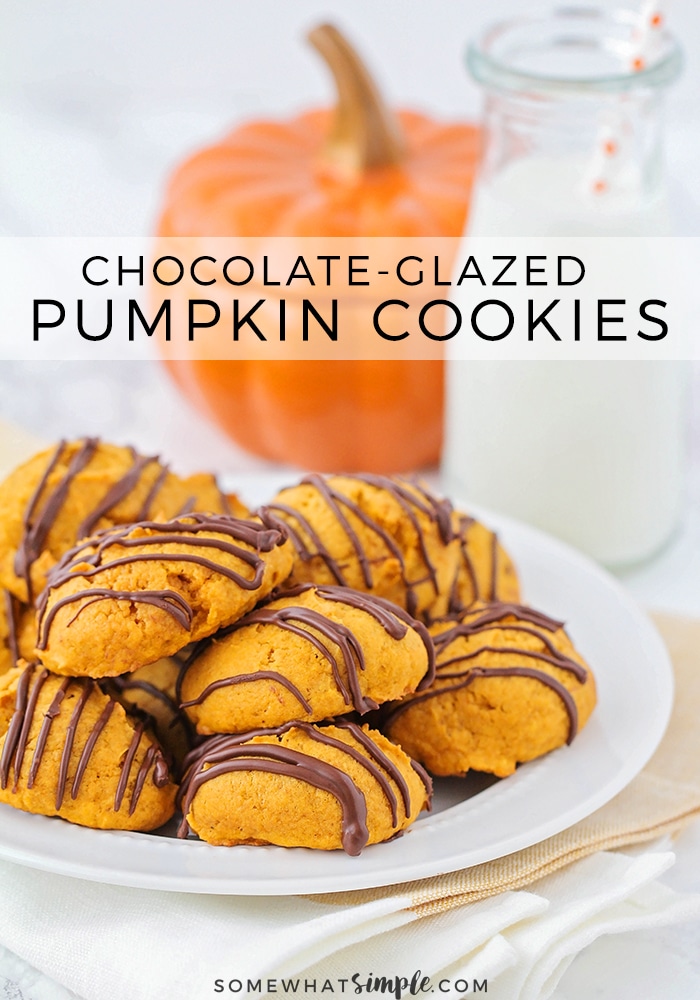 I am not a fan of pumpkin pie, but I love a good pumpkin cookie! So when my friend stopped by with a plate of these delicious cookies, I polished off a stack and then begged her for the recipe!
Not only do these taste ah-mazing, they are also SUPER simple to make. (Which is good, since I am not the best at baking!) I followed the recipe exactly and I must say, they turned out fantastic! (If I could do it, so can you!) See how good they look: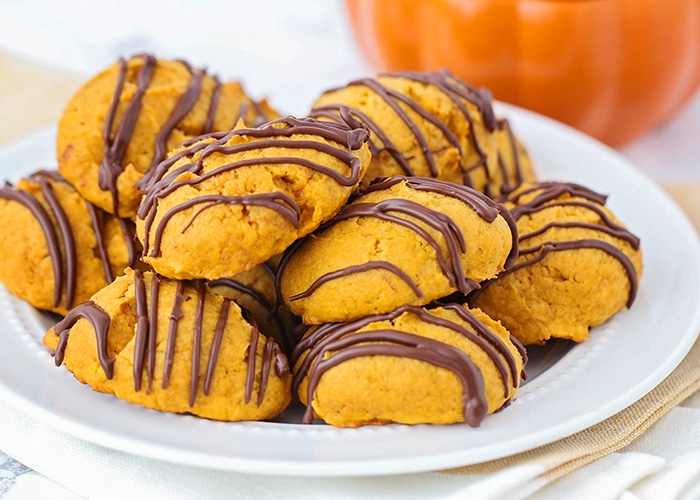 …and they taste even better. I ate probably 10. (I wish I was joking.)
The canned pumpkin puree makes them super soft and moist, and the extra flavors just scream "FALL!"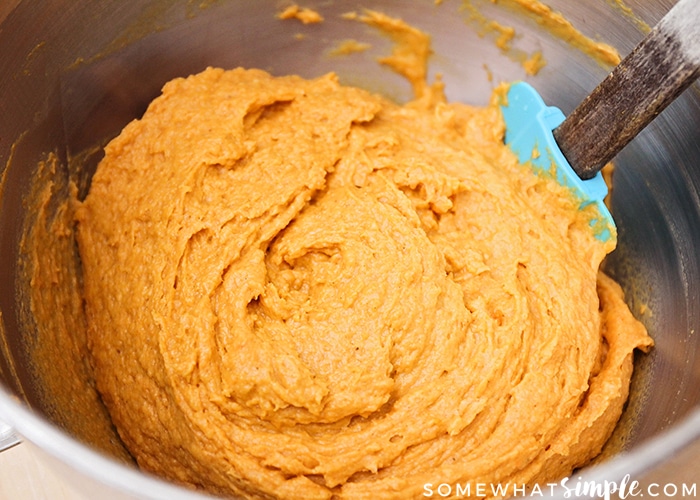 Ready for the recipe? Here you go!
Easy Pumpkin Cookies + Chocolate Glaze
Makes 3 1/2 dozen
Pumpkin Cookie Ingredients –
2 cups all-purpose flour, (spooned and leveled)
1/2 teaspoon baking soda
1/2 teaspoon baking powder
1/4 teaspoon salt
1/2 teaspoon pumpkin-pie spice
1/2 cup (1 stick) unsalted butter, room temperature
1 cup sugar
1 egg
15 oz can pure pumpkin puree
4 ounces semisweet chocolate, chopped
How to Make Pumpkin Cookies –
Preheat oven to 375 degrees.

Whisk together flour, baking soda, baking powder, pumpkin-pie spice, and salt; set aside.

In a separate bowl, beat together butter and sugar with an electric mixer, until light and fluffy.
Add egg; beat until smooth.
With mixer on low speed, alternately add flour mixture and pumpkin puree a little at a time. Mix just until combined (do not over mix).
Drop dough by heaping tablespoons onto two baking sheets, about 1 1/2 inches apart.
Bake for 8 minutes, then rotate the cookies in the oven to bake evenly.
Bake an additional 8 – 12 minutes or until edges are golden and cookies puff up.
Immediately transfer cookies to wire racks, and cool completely.
When cookies have cooled, set them (still on rack) over a baking sheet or waxed paper.
Melt the chocolate by placing it in a glass bowl over (not in) a saucepan of simmering water, stirring to make sure it is melting evenly.
Remove from heat and pour chocolate into a plastic bag. Snip off a corner and pipe chocolate over cookies.
Refrigerate for about 20 minutes or until chocolate is firm.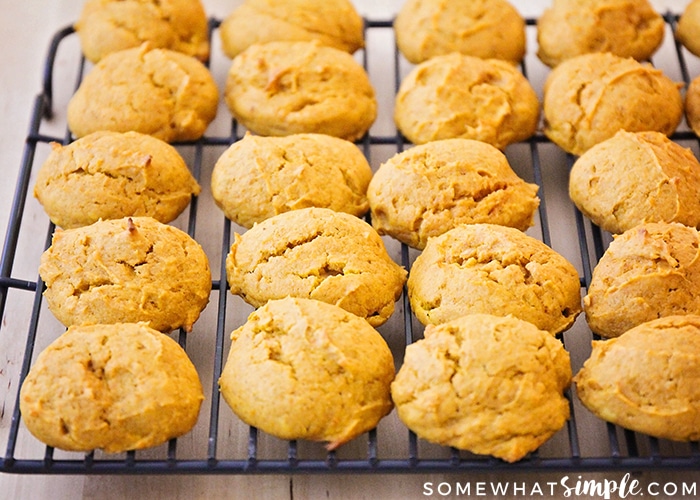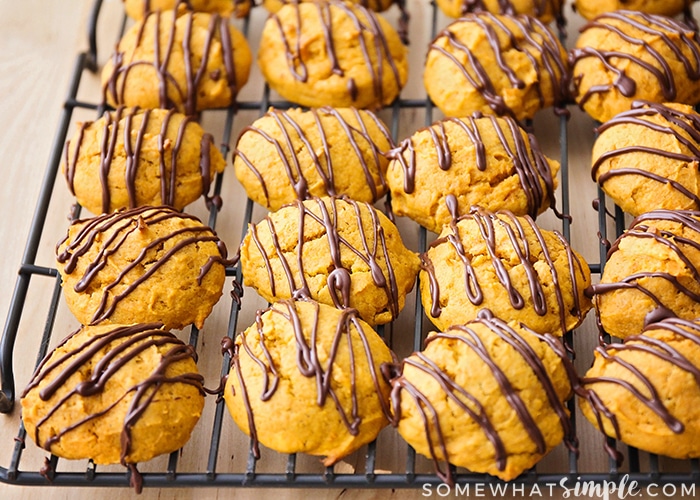 Since this recipe made so many cookies, I decided even though I probably could eat them all, it would be best for my waistline to give some away as gifts. So after they set in the refrigerator for 20 minutes and the chocolate hardened, I put them in cute little jars and added some ribbon.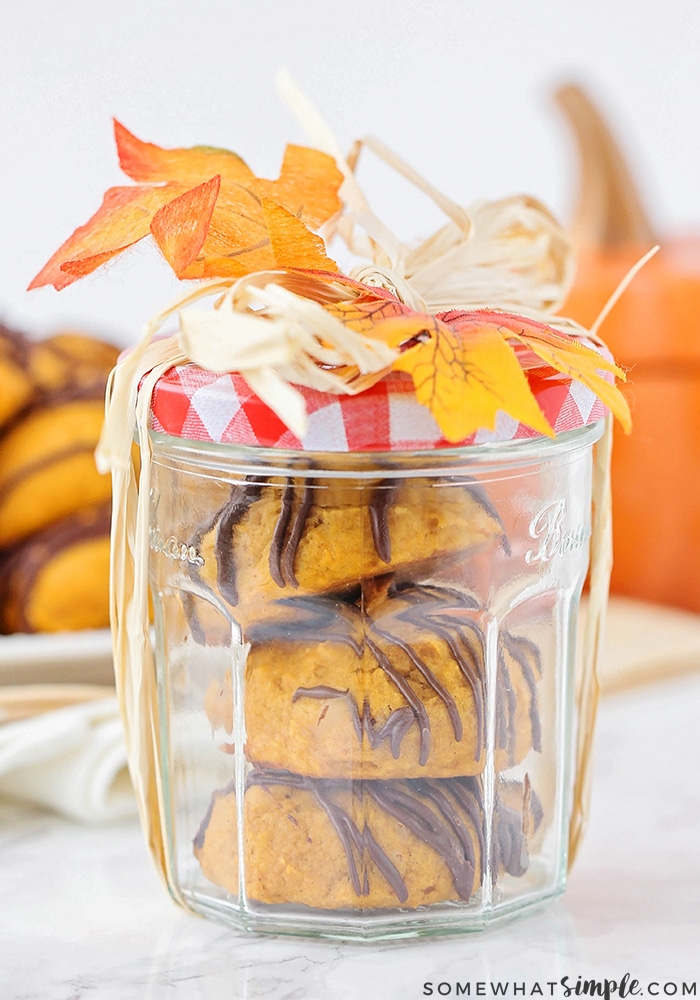 (This was a cuter alternative to the normal plate wrapped in cellophane, right?)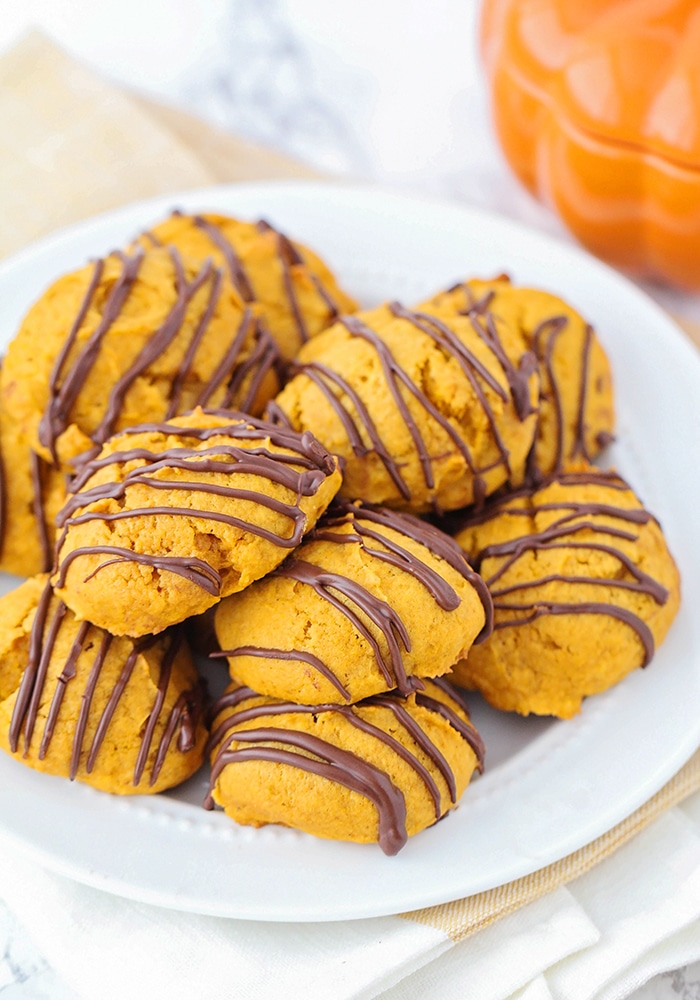 I hope you love them as much as I do!
xoxo,
Stephanie
This post was first published in December 2012.