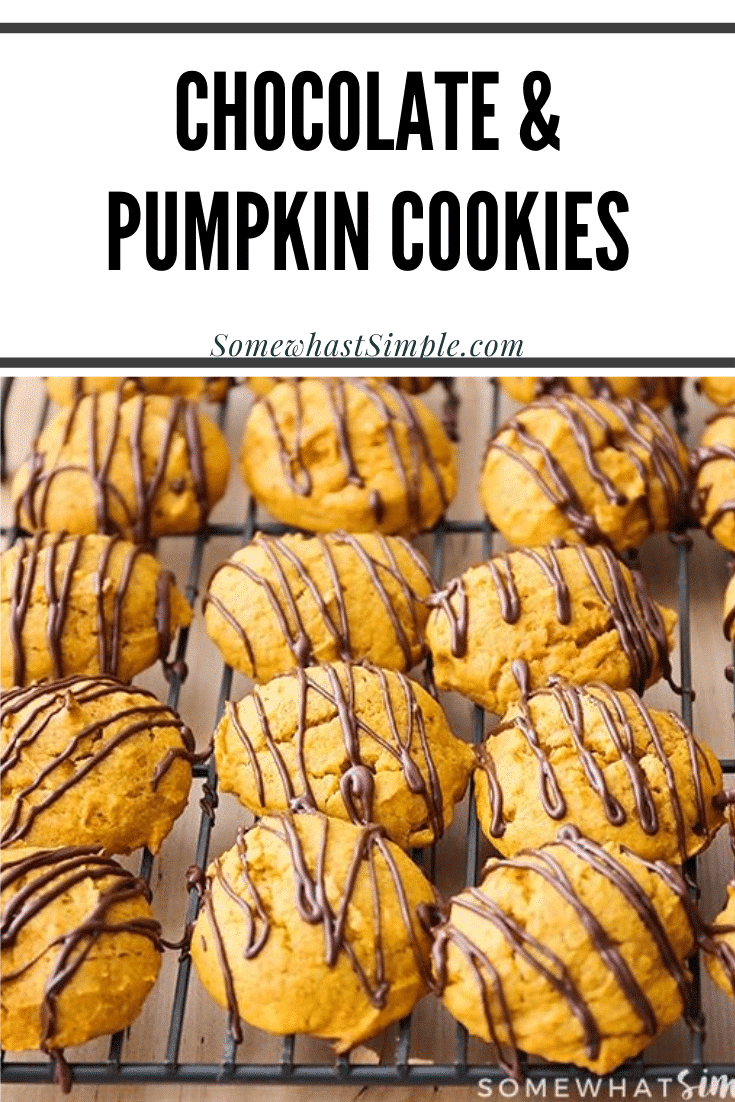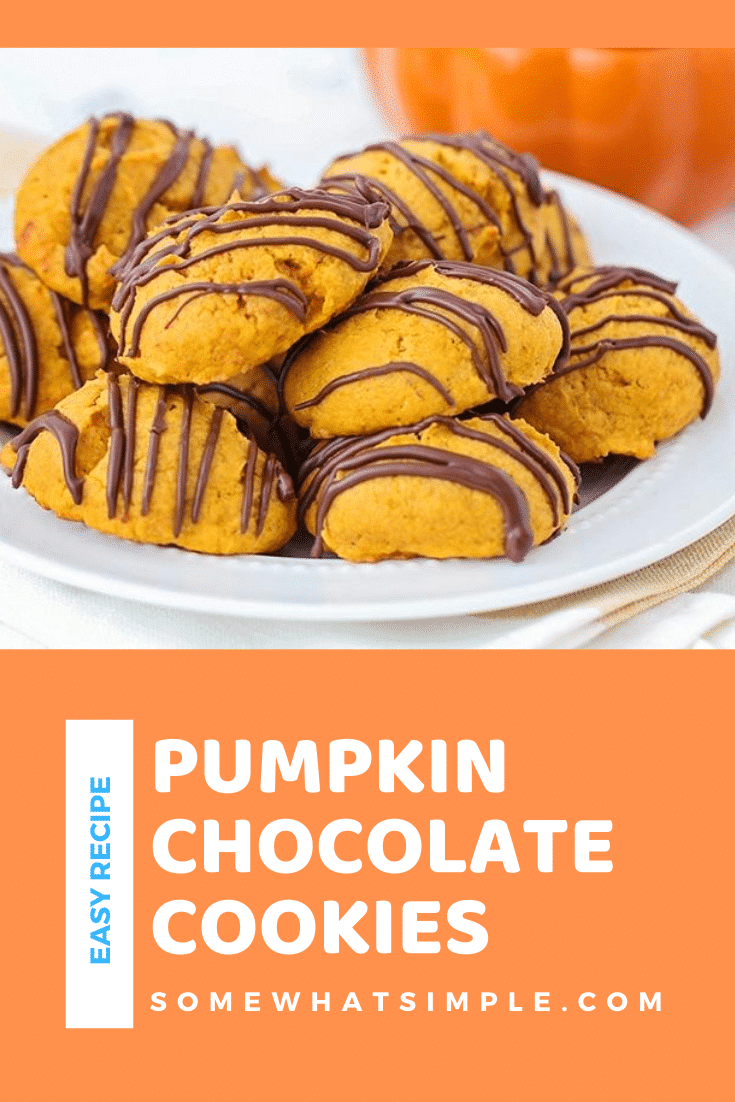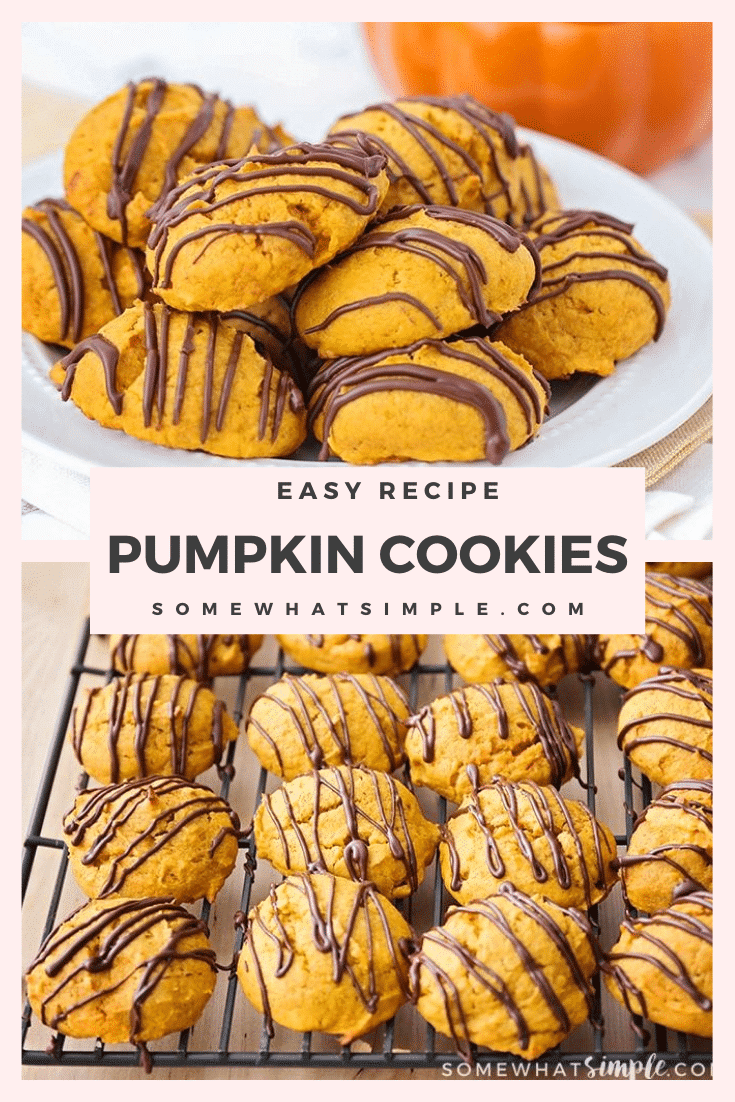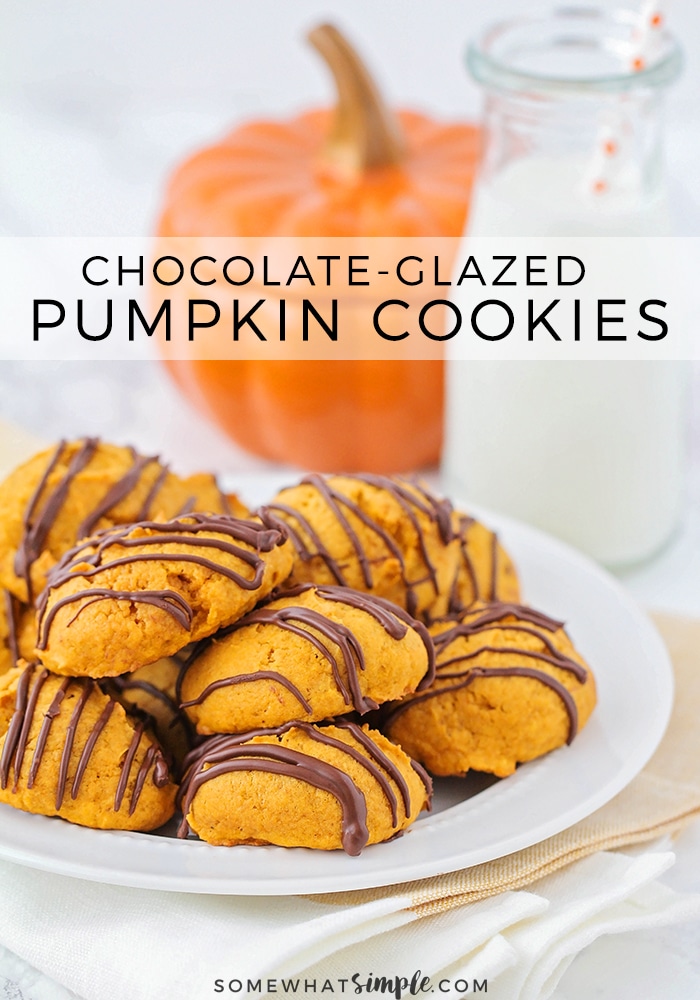 Grab a tall glass of milk and get ready for these super delicious, super easy chocolate glazed pumpkin cookies! Made from scratch, these cookies turn out soft and fluffy and filled with the delicious flavors of fall.
These cookies are some of my favorite cookies to enjoy the fall. However, if you want enjoy the same delicious flavors but are short on time, try these Cake Mix Pumpkin Chocolate Chip Cookies or these Pumpkin Cookie Bites.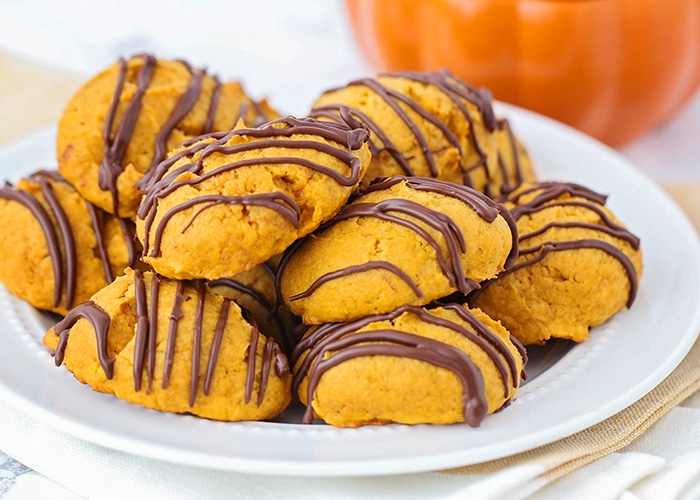 A Delicious Fall Treat From Scratch
I am not a fan of pumpkin pie, but I love a good pumpkin cookie! So when my friend stopped by with a plate of these delicious pumpkin cookies topped with a chocolate glaze, I polished off a stack and then begged her for the recipe!
Not only do these taste ah-mazing, they are also SUPER simple to make. Which is good because I know a lot of people are intimidated with baking! I followed the recipe exactly and I must say, they turned out fantastic! These tasty treats are perfect to enjoy throughout the fall and especially during Thanksgiving!
How To Make Chocolate Glazed Pumpkin Cookies
Dry Ingredients – In a large mixing bowl, you'll want to whisk together the flour, baking powder, baking soda, salt and pumpkin pie spice. Once you've whisked everything together, set it aside.
Wet Ingredients – In a separate bowl, beat the butter and sugar together until until it becomes light and fluffy. I like to use a standard hand mixer for this part. Next, add in the egg and continue beating until it's smooth.
Add Pumpkin & Combine – Using the low speed on the hand mixer, alternate adding in the pumpkin puree and the flour mixture. Do this until everything has just combined. Be careful not to over mix everything.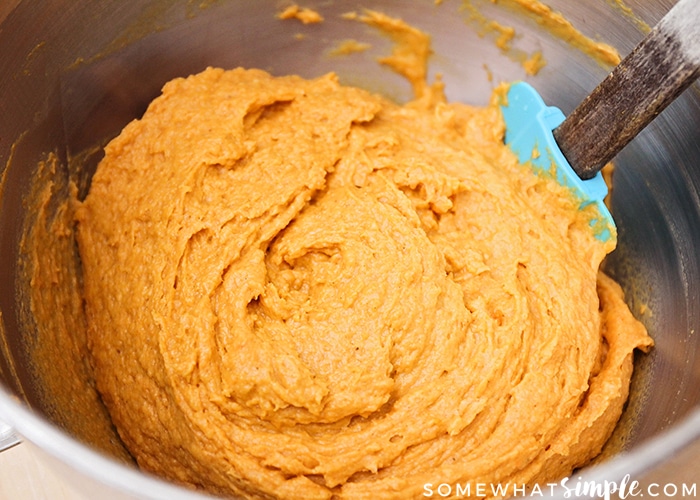 Scoop & Bake – Place heaping balls of dough onto a baking sheet lined with parchment paper or a baking mat. Be sure to leave about an inch or two between each ball to all them to spread out while baking. Place them in the oven at 375 degrees F and bake them for about 16-20 minutes. The cookies should puff up and the edges should be a nice golden brown color. Place the pumpkin cookies on a cooling rack until they cool completely.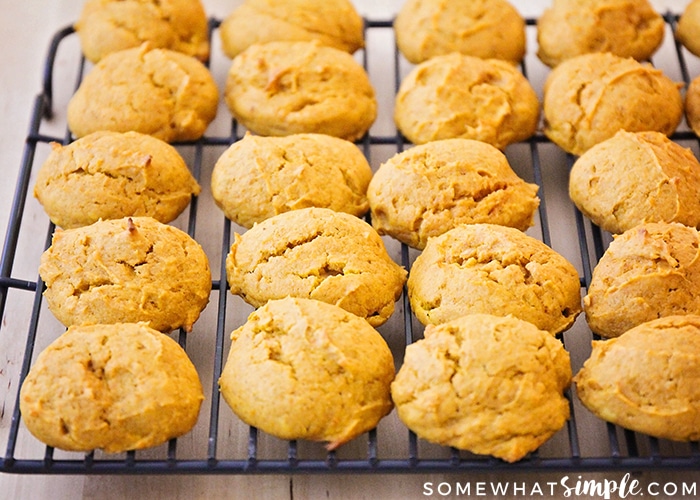 Glaze – To make the glaze, place the chocolate in a glass bowl and melt it in the microwave. If you don't want to use the microwave, you can place the glass bowl over (not in) a simmering saucepan of water. Stir occasionally so that everything melts evenly.
Drizzle – Place the melted chocolate into a plastic bag and then cut off a small corner of the bag. You'll also want to transfer the cookies to a sheet of parchment paper before adding the chocolate. Drizzle a desired amount of chocolate over the cookies.
Chill – Refrigerate the pumpkin cookies for about 20 minutes until the chocolate glaze has firmed up and then serve.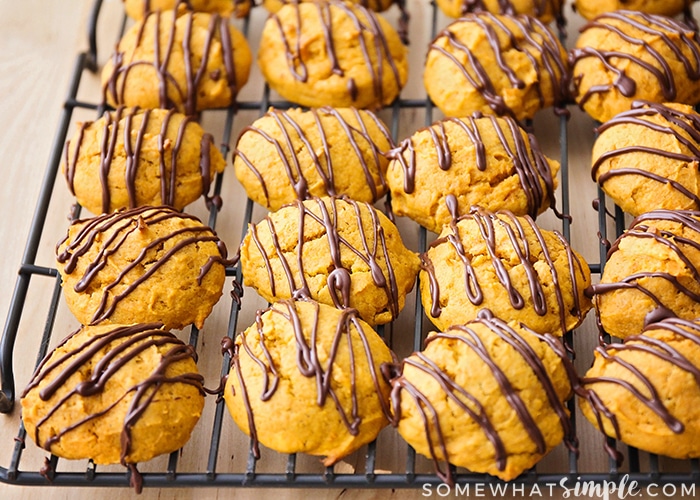 Cookie Jar Gift Idea
Since this recipe made so many cookies, I decided even though I probably could eat them all, it would be best for my waistline to give some away as gifts. So after they set in the refrigerator for 20 minutes and the chocolate hardened, I put them in cute little jars and added some ribbon. (his was a cuter alternative to the normal plate wrapped in cellophane, right?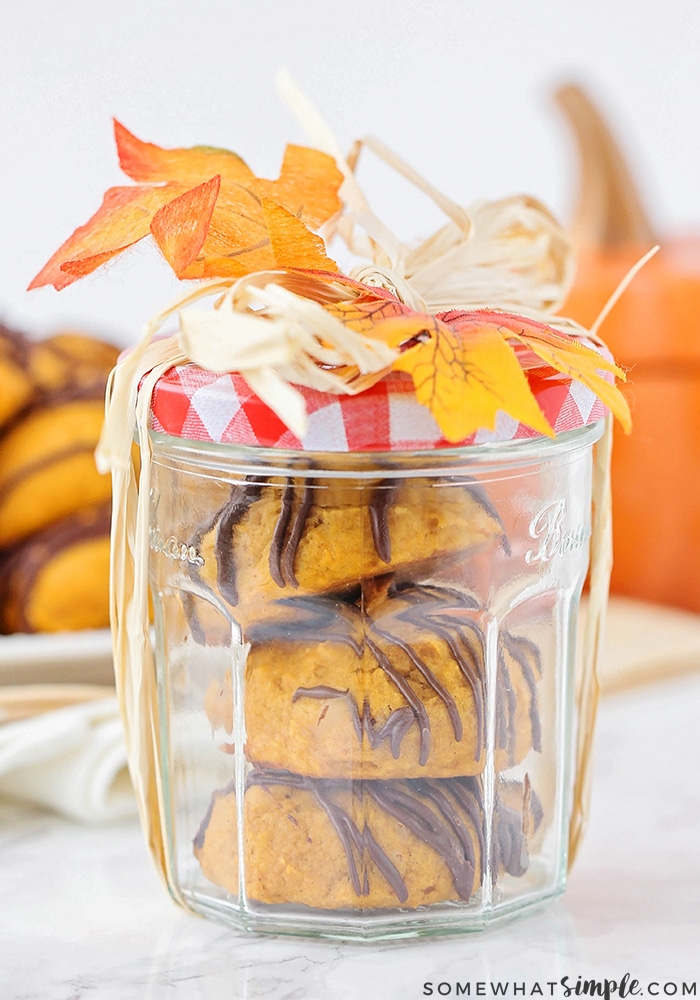 More Easy Pumpkin Recipes
I hope you enjoyed these chocolate glazed pumpkin cookies as much as I did! Leave us a comment below and let us know what you thought. Don't forget to follow us on social media so you can catch all of our latest recipes!
Chocolate Glazed Pumpkin Cookies Recipe
These chocolate glazed pumpkin cookies are a delicious fall treat made from scratch.
Instructions
Preheat oven to 375 degrees.

Whisk together flour, baking soda, baking powder, pumpkin-pie spice, and salt; set aside.

In a separate bowl, beat together butter and sugar with an electric mixer, until light and fluffy.

Add egg; beat until smooth.

With mixer on low speed, alternately add flour mixture and pumpkin puree a little at a time. Mix just until combined (do not over mix).

Drop dough by heaping tablespoons onto two baking sheets, about 1 1/2 inches apart.

Bake for 8 minutes, then rotate the cookies in the oven to bake evenly.

Bake an additional 8 - 12 minutes or until edges are golden and cookies puff up.

Immediately transfer cookies to wire racks, and cool completely.

When cookies have cooled, set them (still on rack) over a baking sheet or waxed paper.

Melt the chocolate by placing it in a glass bowl over (not in) a saucepan of simmering water, stirring to make sure it is melting evenly.

Remove from heat and pour chocolate into a plastic bag. Snip off a corner and pipe chocolate over cookies.

Refrigerate for about 20 minutes or until chocolate is firm.
Nutrition
Serving:
1
Cookie
·
Calories:
126
kcal
Other Notes