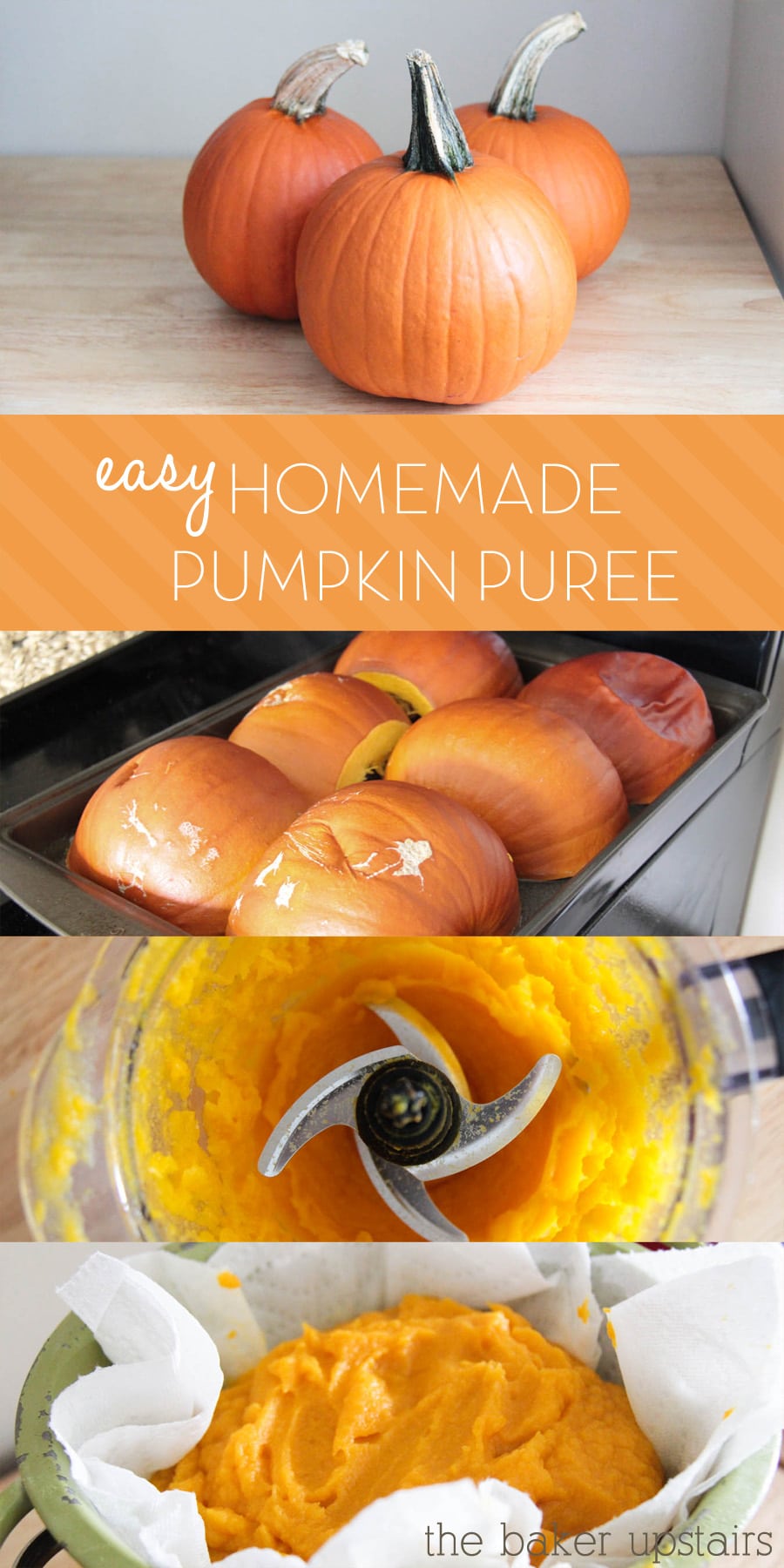 Who else is super excited about all the fall baking going on right now? I'm so in love with all the flavors of fall… apples, cinnamon, caramel, and most especially pumpkin! I started making my own homemade pumpkin puree a few years ago, and I'm excited to share this super simple method with you. The effort required is so minimal, and the payout is awesome!
Let's get started, shall we? You'll need some pie pumpkins. I've found them in a variety of places, for a variety of prices. My grocery store sells them for $3-4/each (which I find incredibly expensive) but I've found them at Trader Joe's for $1.99/each or at local pumpkin patches for $0.50 – $1. You want to make sure you're buying pie pumpkins (instead of the big carving pumpkins) because they're sweeter and easier to manage.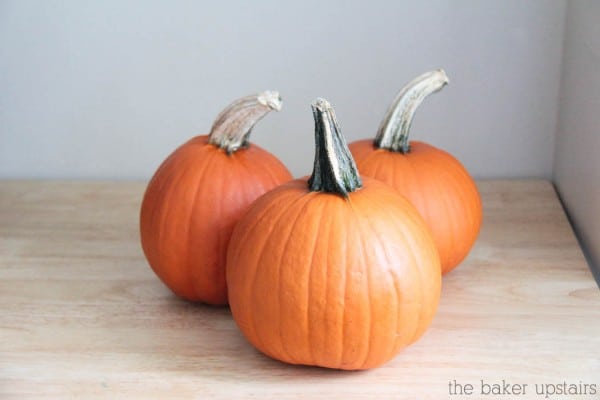 Start by lopping the tops off your pumpkins. It helps to have a sharp knife.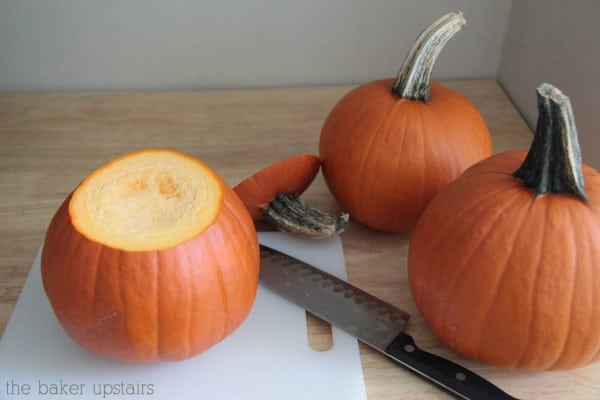 Cut the pumpkins in half, top to bottom.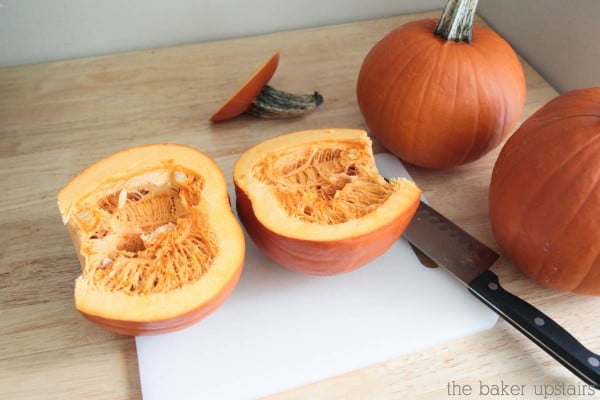 Scoop out the insides (and save your seeds to make roasted pumpkin seeds!). I used a cookie scoop for most of the insides and some kitchen shears for the tough stringy bits.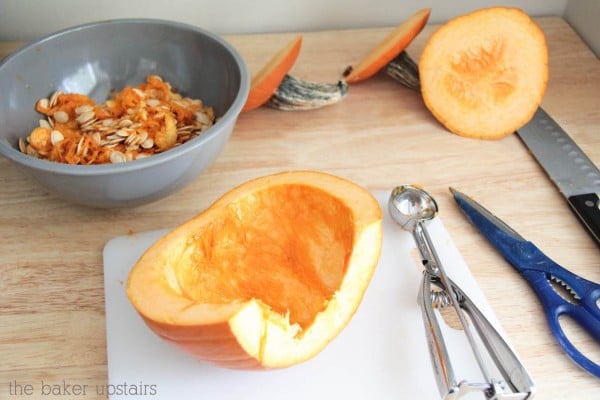 When they're all clean, put them face down on a baking sheet, and add about 1/4 inch of water around them (it doesn't need to be too precise). Bake at 350 for 60-90 minutes, checking periodically after 60 minutes.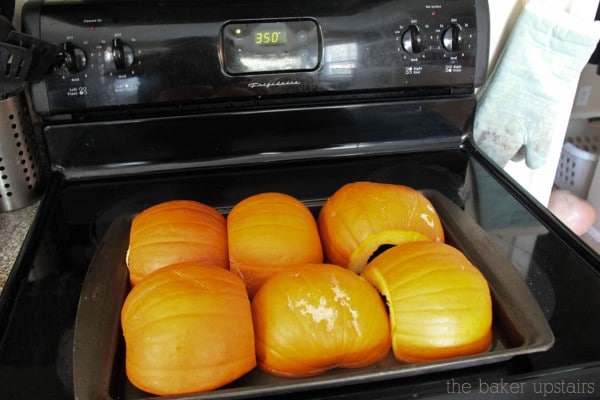 They are finished when a fork slides in easily. Mine were perfect after 70 minutes.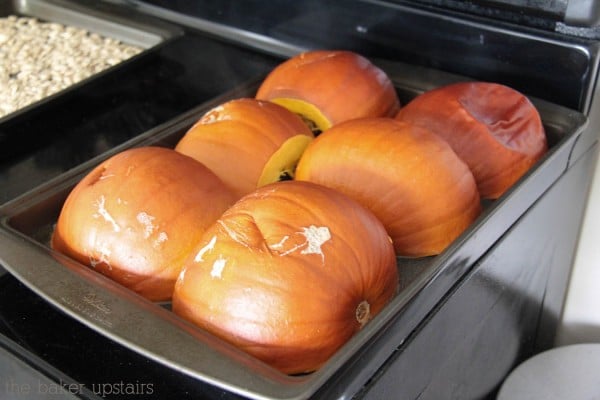 Let the pumpkin cool (this is important, as my burned fingers can attest!) and then scoop the meat out into a blender.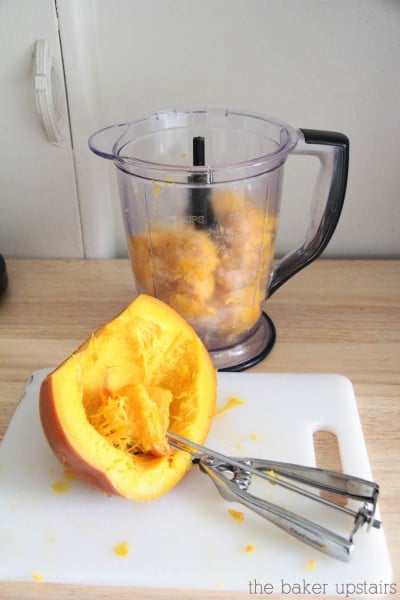 Blend until well-pureed, pulsing to break up any stubborn bits. If it's too thick and hard to puree, add a little water to get things moving.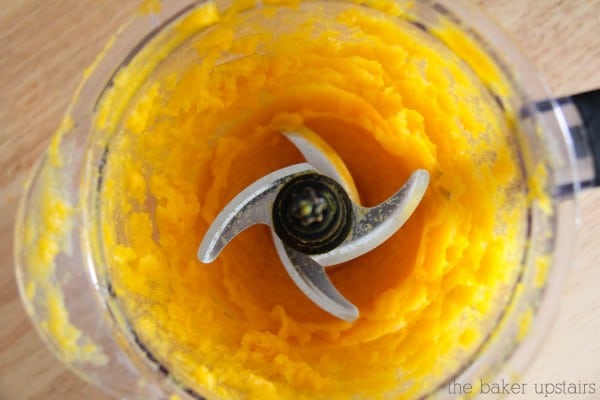 Depending on how watery your pumpkins were, you may have a lot or a little water to drain off. If you're happy with the consistency of your puree, by all means leave it as is! If you want it to be more like what you get out of the can, you can drain it in a colander set over a pot. I found that paper towels worked great for lining the colander. I let it drain for about 30 minutes and got about 1 1/2 cups of water out.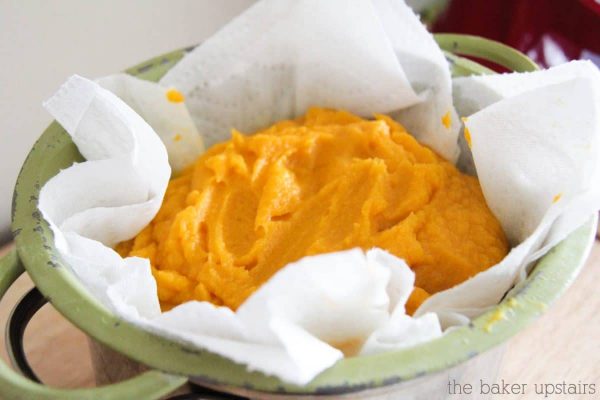 My three small pie pumpkins yielded about 7 cups of puree. My favorite way to store it is to add about 1 cup of pumpkin puree to a freezer bag, squeeze out all the air, flatten, and then freeze. They stack neatly in the freezer after they're frozen, and they're easy to pull out whenever I need pumpkin for a recipe. I either thaw them in the fridge overnight or in a bowl of cold water.
I usually let mine cool in the fridge overnight and then freeze it. Just like any other type of food, if you let it sit out, it will allow bacteria to grow. It keeps in the fridge for about a week, so if you're planning to use it right away, the fridge would be fine.
So now that you have your pumpkin puree, what are you going to make with it? Here are a few of my very favorite pumpkin recipes: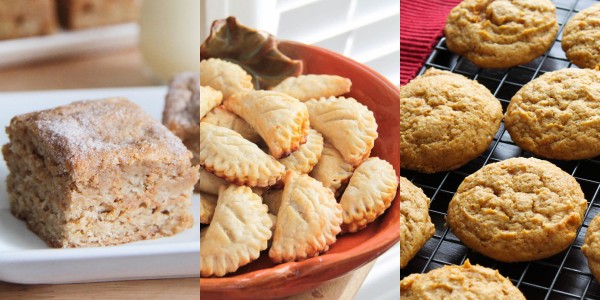 pumpkin cream cheese blondies   –   pumpkin pasties   –   soft pumpkin cookies
Happy fall baking!
DON'T MISS A THING!
Sign up for our newsletter to receive our FREE Home Organization Binder Printables + weekly updates filled with creative inspiration and exclusive freebies!
---