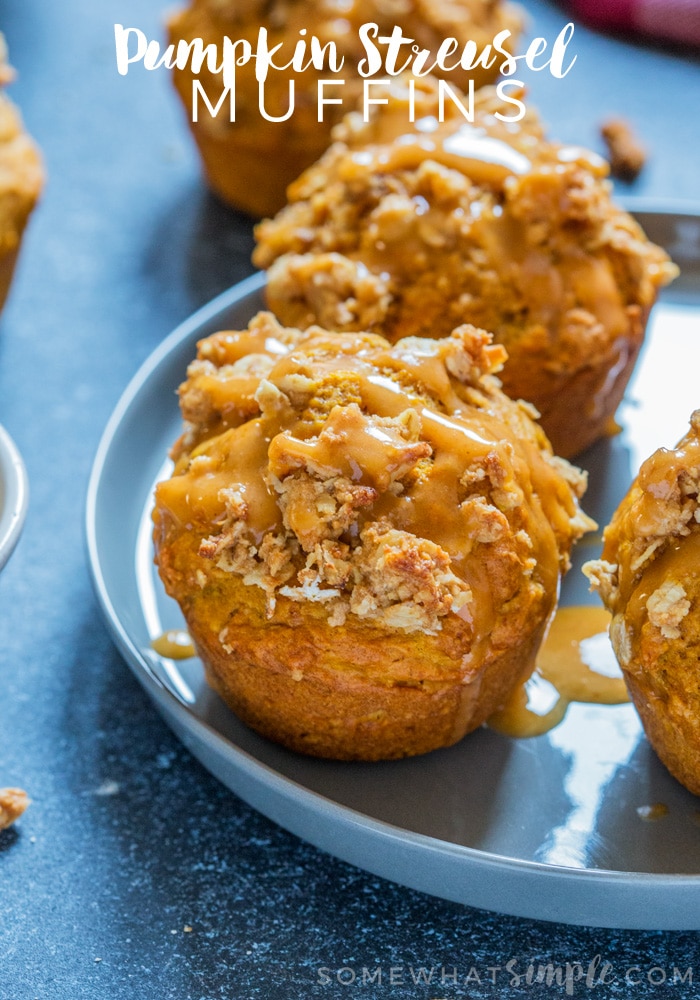 There's nothing better to wake up to than earthy, spicy and soft homemade Pumpkin Muffins. Add some streusel to the top and you have the perfect fall breakfast or afternoon snack!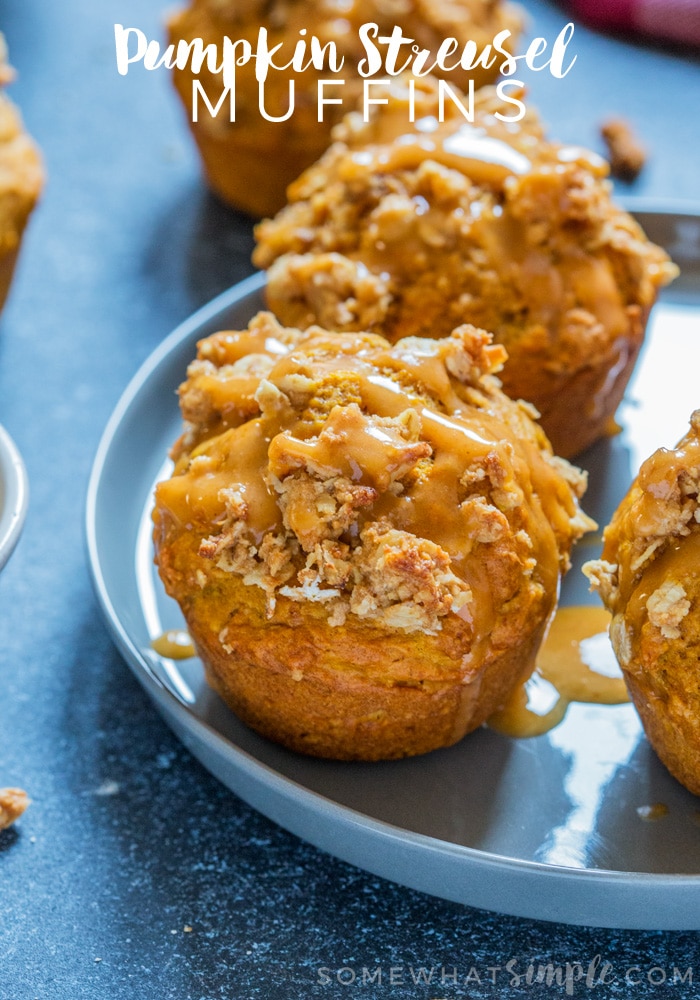 I swear it was just Summer, but I must've blinked and now we're well into Fall! I'm not going to complain about the season though, because Fall is my favorite! And since I'm so in love with pumpkin flavors this time of year, I thought it was high time I came up with a recipe that encourages pumpkin for breakfast – enter these Pumpkin Muffins with Streusel Topping.
A soft, spicy muffin filled with a whole can of pumpkin and topped with a crunchy, oaty layer of goodness – there's honestly nothing better in life. That juxtaposition between the soft muffin and the crunchy top is just sublime. Utter perfection!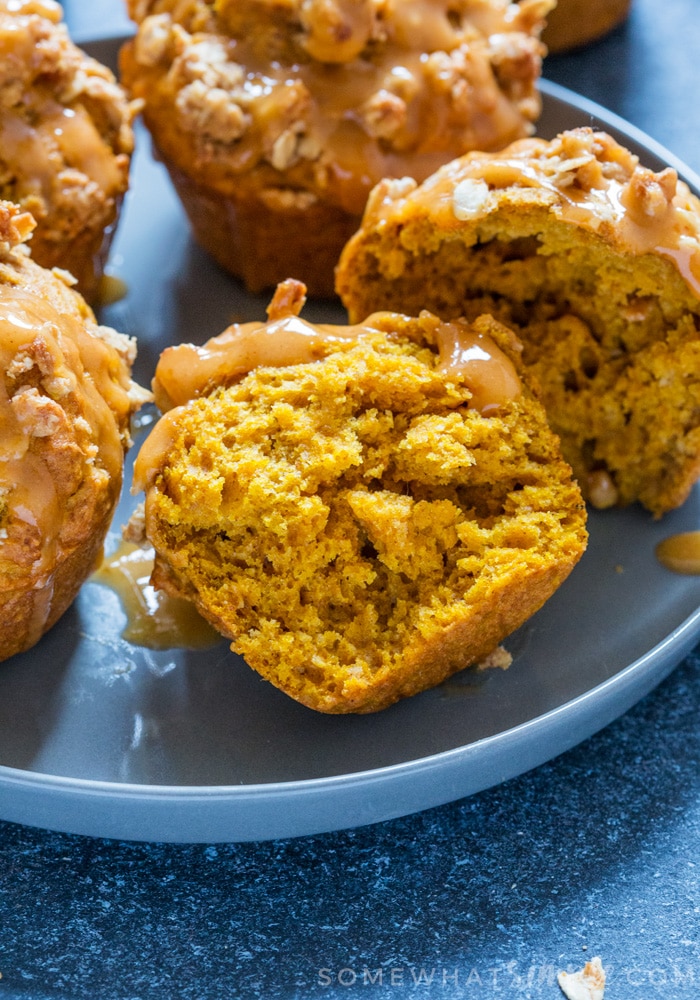 This is a really simple recipe to throw together; I do all the mixing by hand because it results in a softer muffin. I also made sure to use loads of pumpkin and spices to really ramp up the flavour.
There's not much fat in this recipe; only 1/2 stick of butter for the whole recipe. And there is sugar, but I think every once in a while we deserve a treat for breakfast! (Do you agree?)
Now let's talk about the fact that a streusel topping just makes everything better! Lumps of oats, sugar, flour and butter pressed into the top of the muffin and baked until crisp… pure heaven! These are great pumpkin muffins anyway, but with the topping? THE BEST.
Serve them warm slathered in butter, or grab one on the go at room temperature. Whichever way you you choose to indulge, you are bound to fall head over heels for these Pumpkin Streusel Muffins!
STREUSEL PUMPKIN MUFFINS
NOTES:
If you have extra streusel topping; place on a lined baking tray and bake for 10-15 minutes until golden and firm to the touch. I love streusel topping so much I just eat it plain, but you could use it to top yogurt etc.
You can also make a quick glaze for the muffins; place 1tbsp pumpkin, 1/2tsp cinnamon, 1/2 cup powdered sugar and up to 1tbsp milk and mix together in a small bowl. Add everything but the milk first, mix it and then see how much milk is required to get a consistency where you can drizzle it over the muffins.
Pumpkin Streusel Muffins Recipe
There's nothing better to wake up to than earthy, spicy and soft homemade Pumpkin Muffins. Add some streusel to the top and you have the perfect fall breakfast or afternoon snack!
Ingredients
Crumb Topping Ingredients
Pumpkin Muffin Ingredients
Instructions
Preheat the oven to 180C/350F and spray a 12 hole muffin tin with cooking spray.

Make the streusel topping: Place butter, sugar, flour and oats into a medium sized bowl and rub between your fingers until the butter coats everything and you have a coarse breadcrumb texture. If you have some lumps that are bigger, that's great too! Leave to one side.

Place flour, baking powder, baking soda, salt, spices and sugars into a large bowl and stir briefly to combine. Add the eggs, melted butter and pumpkin, then mix until you have a smooth, well combined mixture with no lumps of flour. Don't beat the mixture too much as you'll end up with rubbery muffins.

Divide the batter between your prepared pan; I use a heaping 2tbsp cookie scoop to fill each hole.

Sprinkle around 1tbsp of streusel topping onto the top of each muffin and just press the streusel topping ever so slightly into the batter.

Place into the oven for 14-18 minutes, until risen, golden and an inserted skewer into the centre comes out clean.

Leave to cool in the pan for at least 15 mins, before transferring to a wire rack to cool completely.

Pumpkin Streusel Muffins will keep in an airtight container, at room temperature for 4 days. The streusel topping will get softer on the second day. You can either serve them at room temperature or warm them in the microwave for 30 seconds and slather in butter!
Nutrition
Serving:
1
Muffin
·
Calories:
230
kcal
Other Notes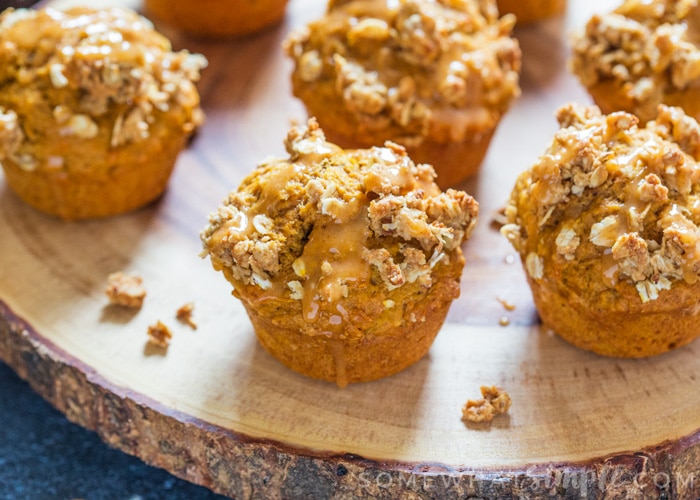 If you loved this recipe, you might like these ones too!

Chocolate Glazed Pumpkin Cookies // Pumpkin Dinner Rolls // Pumpkin Dinner Rolls