This Chicken Broccoli Tortellini Soup is a delicious, simple and nutritious meal that's ready in under thirty minutes. It's the perfect cozy dinner for a winter night!
This is a sponsored conversation written by me on behalf of Balance Your Plate and Buitoni. The opinions and texts are all mine.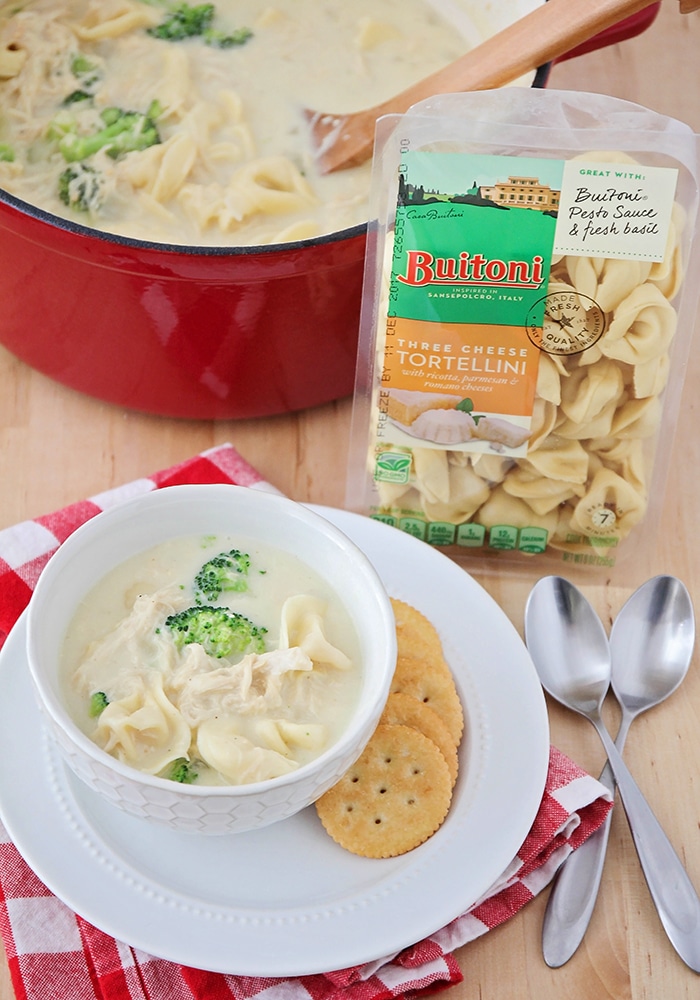 Now that we're heading into the colder months and the holiday season is fast approaching, it can be a real challenge to put nutritious food on the table. During the holidays, it seems like we have treats coming out of our ears! Not to mention, we're so busy with holiday activities and social events that we seem to end up picking up junk food all too often. It doesn't have to be that way, though. Prepared foods are a great time saver and there are so many new dishes and flavors to choose from. To build a balanced meal, use prepared foods as your base, and add fruits, vegetables, whole grains, and lean protein. It's easy to put together a complete meal in no time!
To help families meet their nutrition goals, Nestle has developed the Balance Your Plate educational program, which is designed to help you put together delicious and nutritious meals that incorporate both prepared and fresh foods. Research shows that Americans are only meeting MyPlate recommendations for vegetables, fruit, proteins, dairy and grains seven days out of 365, which is why this program is so important. Head on over to Balance Your Plate's website – it's easy and fun to use, and full of delicious recipes!
This delicious and quick Broccoli Chicken Tortellini Soup gets a head start using Buitoni Three Cheese Tortellini. It's delicious, fresh, and fast! (I sure love freshly made pasta without all the time and effort!) Buitoni helps create an enjoyable dinnertime experience for everyone! Next time you're at the grocery store, be sure to find Buitoni in the refrigerated section.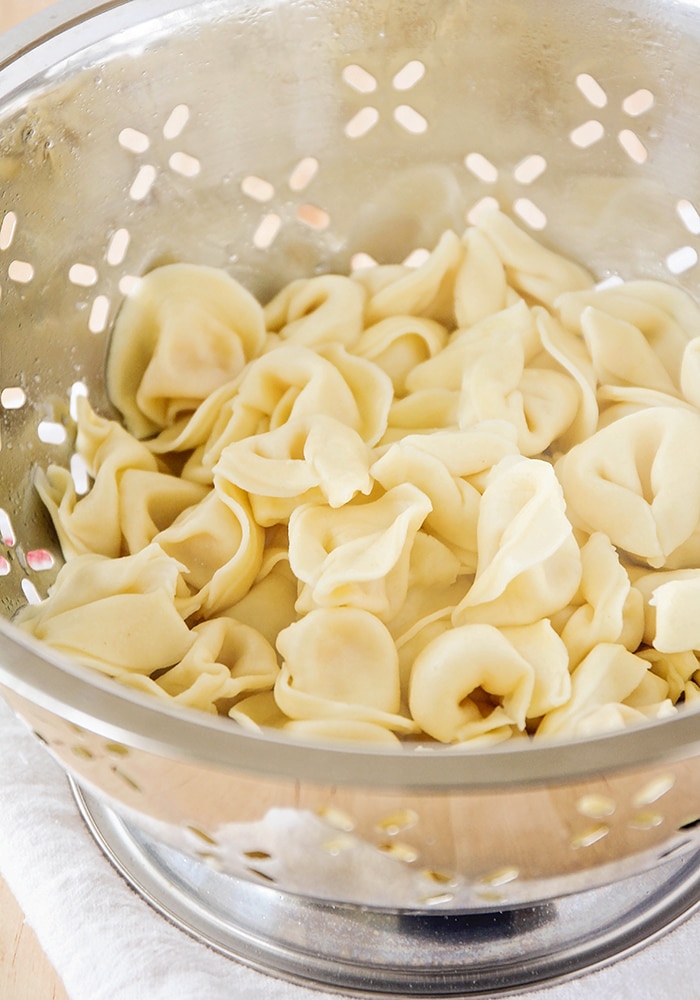 The tortellini cooks in just seven minutes, and you can make the rest of the soup while you're waiting for the pasta water to boil. The whole meal is ready in less than thirty minutes, which makes it perfect for busy families!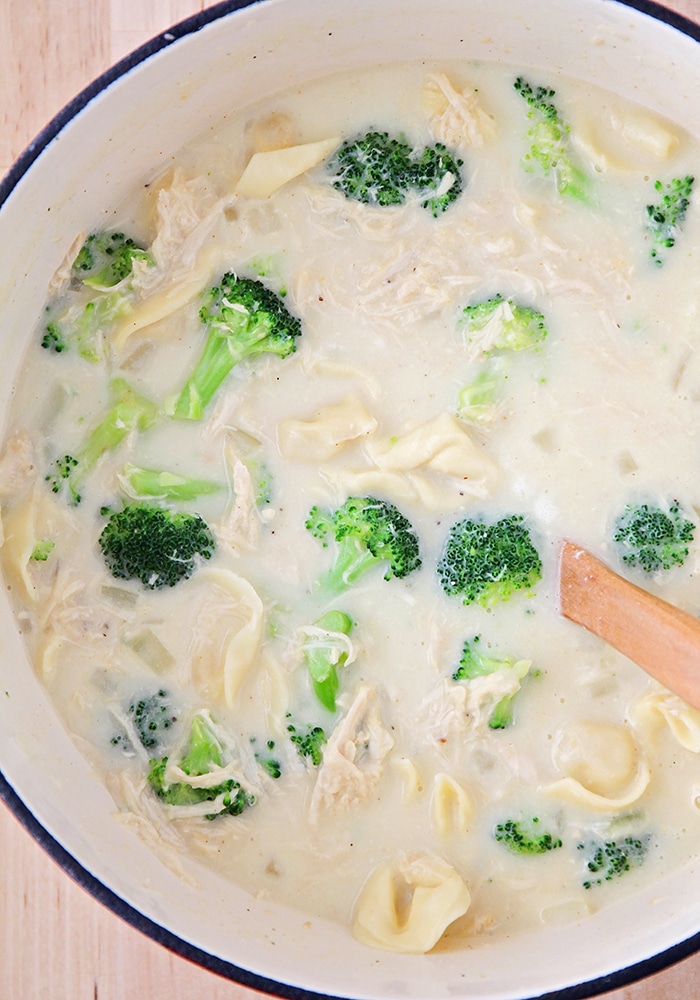 This Creamy Chicken Broccoli Tortellini soup is so delicious, and sure to be a favorite with the whole family. The chicken, broccoli, and tortellini combine to make a hearty and flavorful soup that's perfect for a cold night!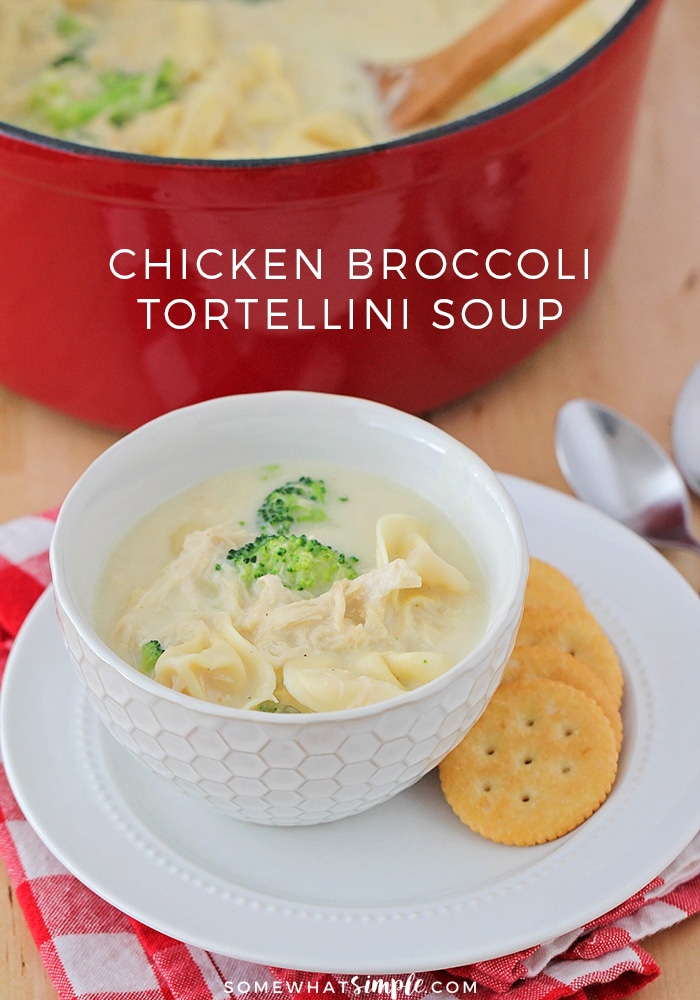 Chicken Broccoli Tortellini Soup
Ingredients for the soup –
1 package (8 ounces) Buitoni Three Cheese Tortellini
4 tablespoons butter
1/2 medium onion, chopped
1/4 cup flour
2 cups milk
3 cups chicken broth
2 cups shredded cooked chicken
3 cups chopped broccoli
3/4 cup shredded cheese
Pinch of salt
Pinch of pepper
Directions to make the soup –
Cook the tortellini according to the package directions, then drain and set aside.
While the tortellini is cooking, melt the butter in a medium pot over medium heat. Stir in the onions and cook 3-4 minutes, or until softened and fragrant. Stir in the flour to form a paste, and cook 3-4 minutes, or until golden and bubbly.
Slowly whisk in the milk, followed by the chicken broth, whisking to prevent any lumps. Bring the soup to a simmer, then add the chicken and broccoli. Cook 5-10 minutes, or until the broccoli is tender.
Remove the pot from the heat and stir in the cheese and tortellini. Add a pinch of salt and pepper, taste, and adjust seasonings as needed. Serve immediately.