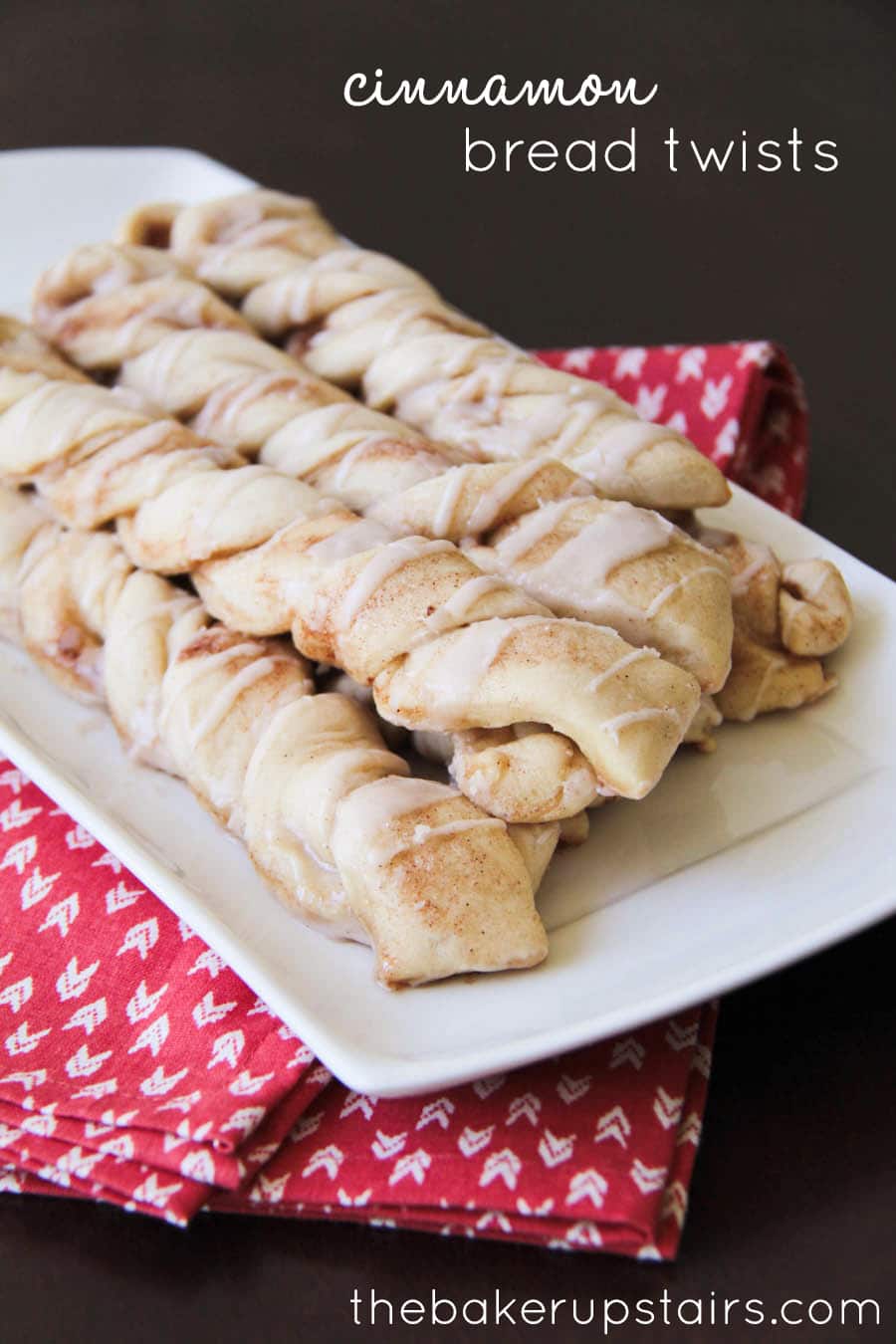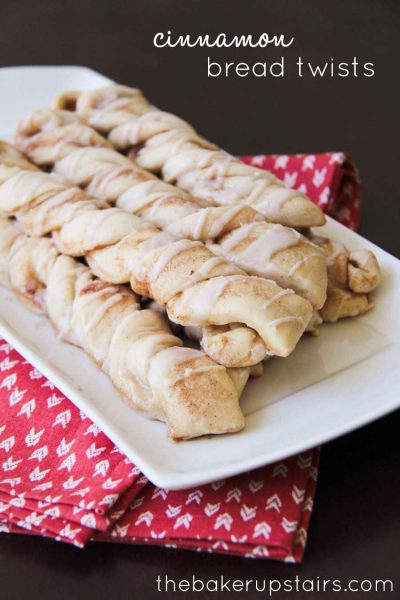 One of my favorite ways to spend my time is cooking with my little girls. The two year old can't help very much yet, but she loves to dump ingredients into a bowl for me, or to stir things with a wooden spoon. My kindergartener is getting to the point that she can actually help me, and it's super fun! These cinnamon breadtwists are a perfect recipe to make with a kid helper (or by yourself, if no kids are available!). My daughter helped added the ingredients, watched in wonder as the dough rose, and then helped me roll it out and sprinkle on the yummy cinnamon-sugar. I also think it's great because the dough comes together so quickly, so the kiddos don't lose their patience waiting hours for the bread to rise. This recipe has become a total favorite at our house!
The dough itself is pretty simple and straightforward. I found that I like it better when I add as little flour as possible, so the dough can stay flexible and soft. The magic comes after it rises for a few minutes, and then you get to add the good stuff! I usually try to roll the dough out into a rough rectangular shape, but there are no worries if it's not perfect. I've found that 4 tablespoons of butter work perfectly for the size I usually roll the dough out to, but feel free to use more or less to your taste. If I'm in a hurry (as I was when I photographed this recipe) I don't even bother to mix the sugar and cinnamon before sprinkling; I just sprinkle both on top separately, and it works great!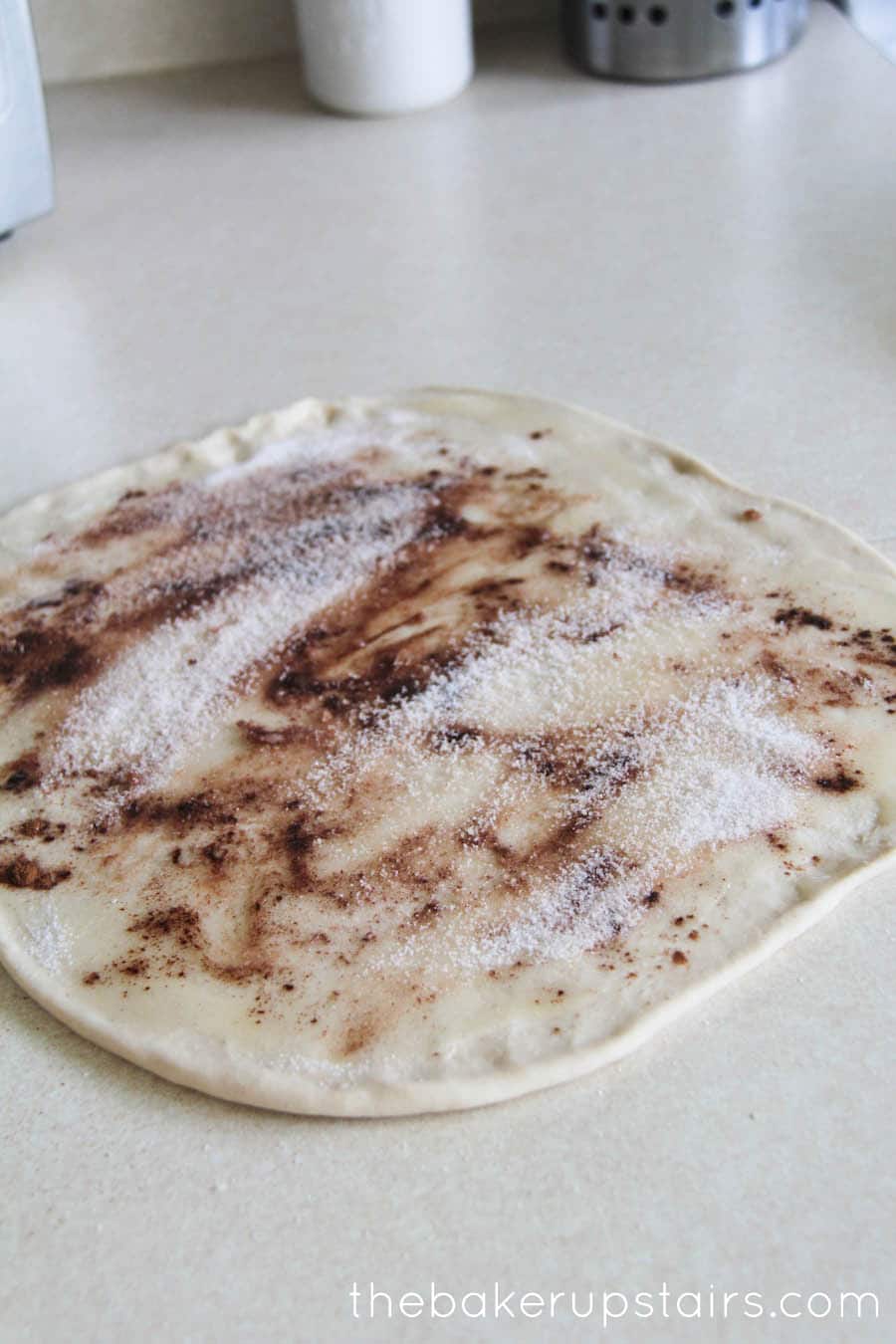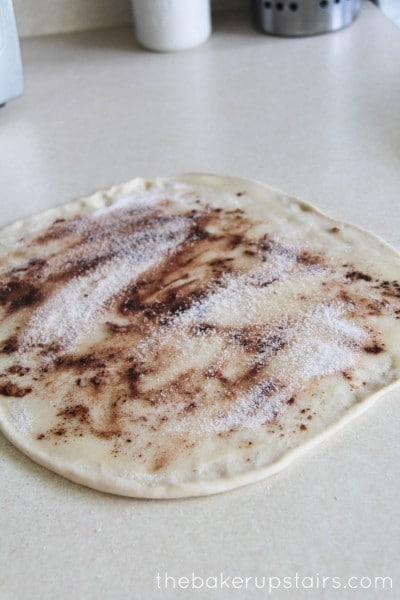 Once you've got your cinnamon sugar sprinkled, fold the dough in half with the cinnamon sugar in the middle, and cut into strips with a pizza cutter. I find a bench scraper usually helps with getting the dough off the counter.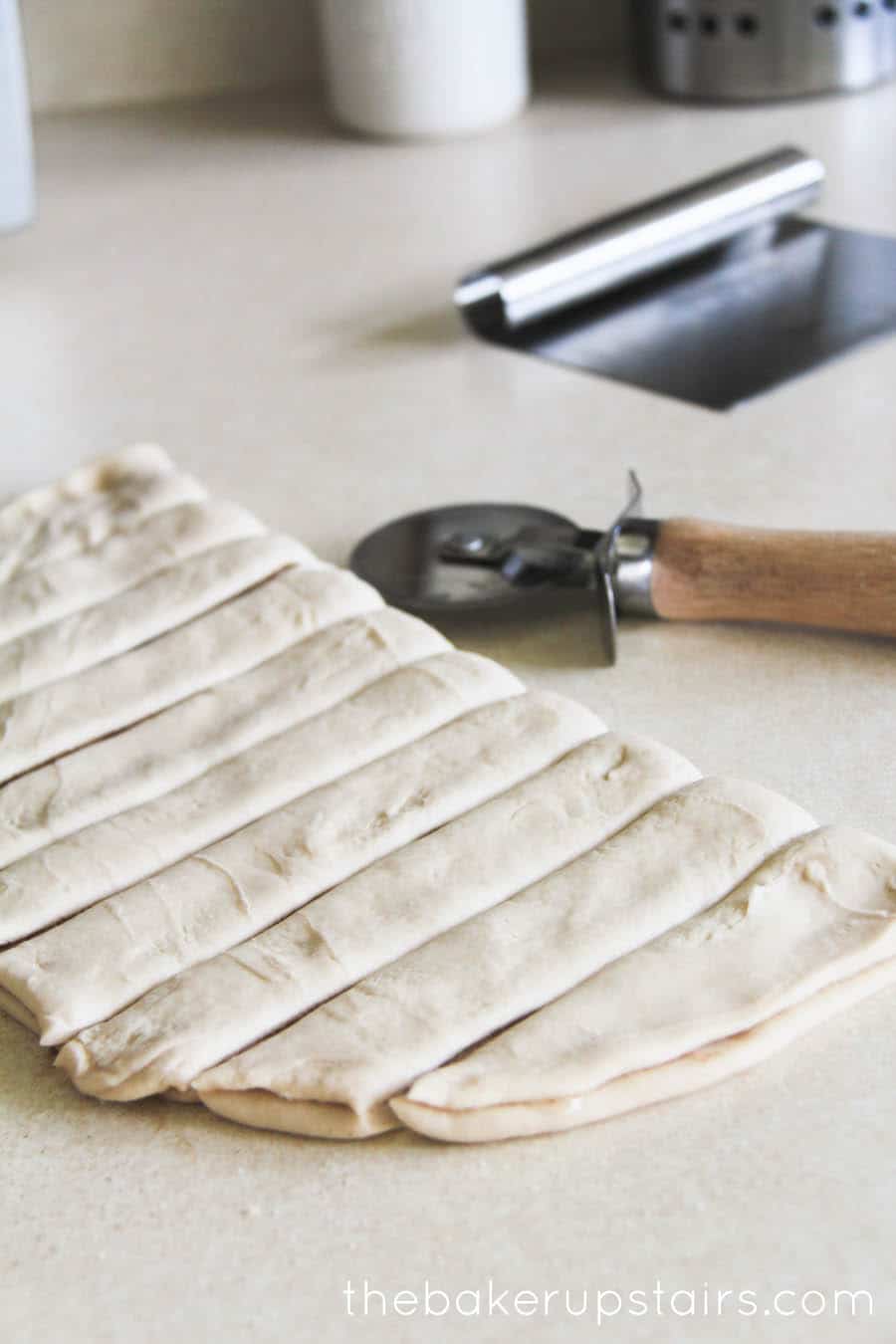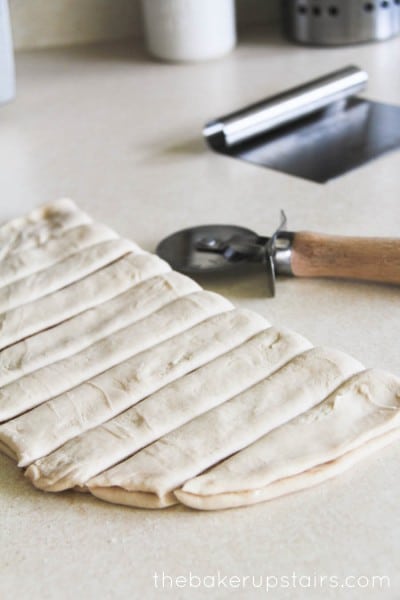 As far as twisting the breadsticks, you can either take the two sides and twist them around each other, or you can twist the whole thing. Either way works great! After they bake, let them cool for a few minutes, and then drizzle the glaze over the top while they're still warm. That's a pan of heaven, right there!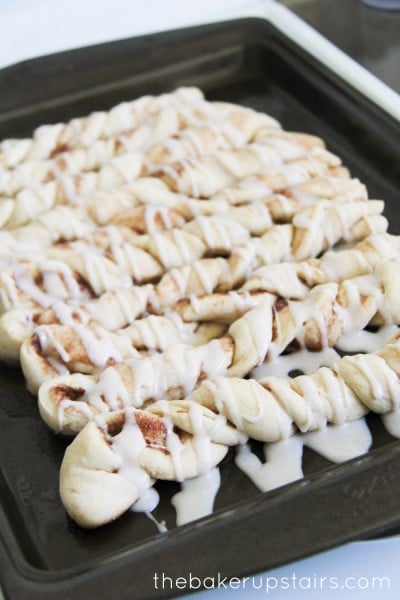 I hope you will enjoy this recipe as much as we do!
Cinnamon Bread Twists
for the bread twists:
1 1/2 cups warm water
2 tablespoons sugar
1 tablespoon yeast
3 1/2 cups flour
1 teaspoon salt
4 tablespoons butter, melted
1/4 cup sugar
1 1/2 teaspoons cinnamon
for the glaze:
1 cup powdered sugar
2-3 tablespoons milk
1/2 teaspoon cinnamon
Preheat oven to 400. In the bowl of a stand mixer or a large mixing bowl, combine warm water, sugar, and yeast. Let sit five minutes or until yeast is bubbly. Add flour and salt, and mix until a smooth dough forms. Let rise for 10 minutes. Roll out dough on a surface lightly sprinkled with flour to about 1/4 inch thick. Spread dough with melted butter, and sprinkle with cinnamon and sugar. Fold dough over onto itself, with the cinnamon sugar mixture in the middle. Using a pizza cutter, cut into strips about 3/4 to 1 inch wide. Twist each piece, then place on a lightly greased baking sheet. Let rest for 10 minutes. Bake 12-15 minutes, or until lightly browned. While the bread twists are baking, whisk together the powdered sugar and cinnamon, then add milk until the glaze reaches the desired consistency. Let the bread twists cool for about five minutes, then drizzle with glaze. Enjoy warm. Makes about 20 bread twists, depending on how you roll and cut your dough.