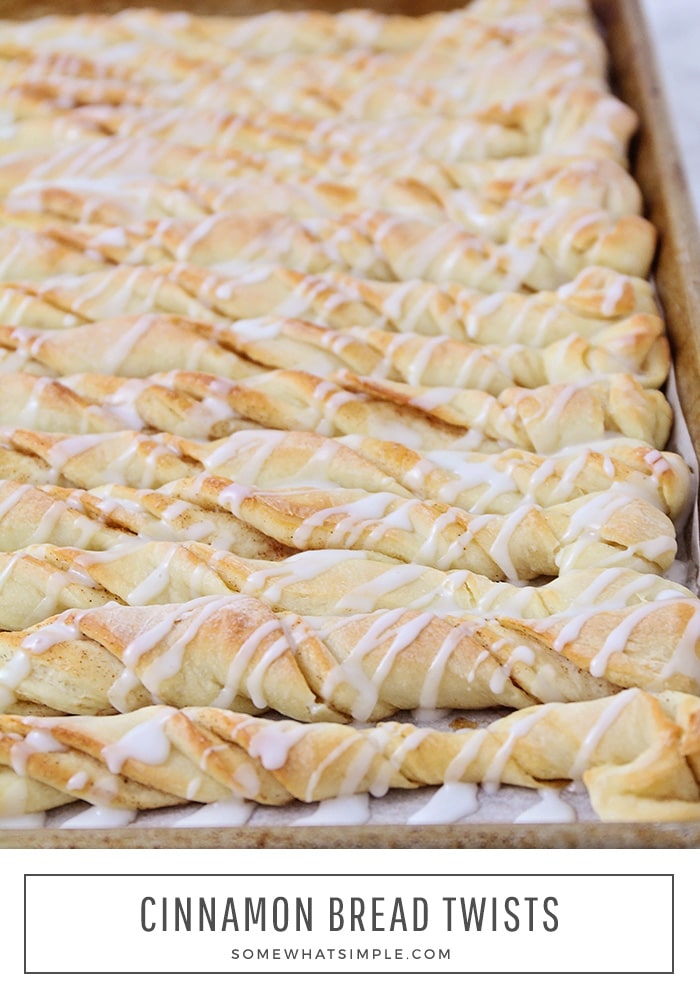 Cinnamon Bread Twists are deliciously simple and crazy addicting! They have all the flavors of a classic cinnamon roll but are ready to eat in less than an hour!
Here are a few more easy bread recipes we love – Crusty Artisan Bread, Orange Rolls with Cream Cheese Frosting, and Braided Strawberry Bread.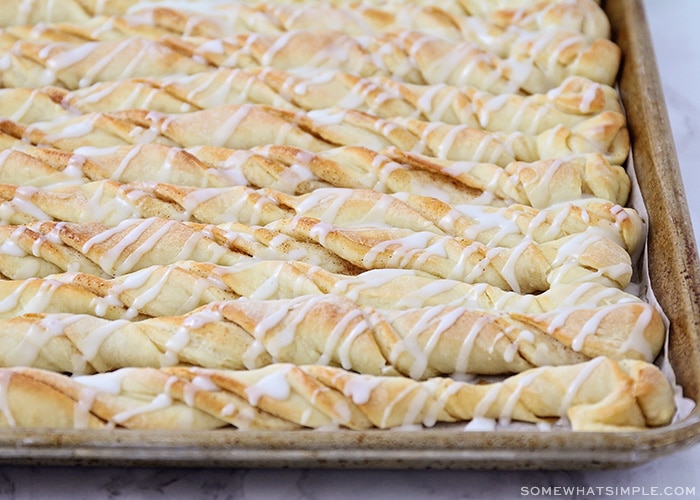 These cinnamon bread twists are a great recipe to make with a little helper, or you can whip them up by yourself in no time at all! The dough comes together quickly so the kiddos don't lose their patience while it rises. My 5-year old helped mix the ingredients, then watched in wonder as the dough rose. She helped me roll it out and sprinkle on the cinnamon-sugar, and waited in anticipation as they baked in the oven.
How to Make Cinnamon Bread Twists
Make The Dough – Mix together the warm water, yeast and sugar and let it sit for 5 minutes until it's bubbly. Next you'll add the rest of the ingredients and mix until the dough is nice and smooth. Then you'll let it rise for about 10 minutes.
Roll It Out – Roll out the dough until it's about a quarter of an inch thick. Spread butter on it and then sprinkle the cinnamon and sugar on top.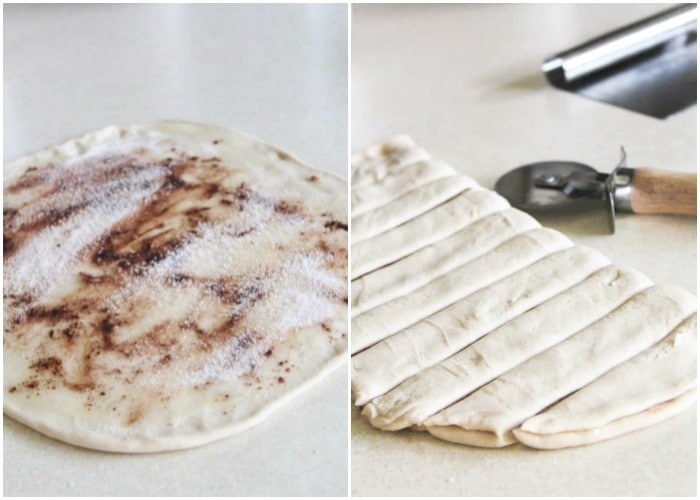 Fold & Cut – Fold the dough over and then cut them into strips about an inch wide. I like to use a pizza cutter but you can also use kitchen shears if you want.
Twist Them – As far as twisting the breadsticks, you can either take the two sides and twist them around each other, or you can twist the whole thing. Either way works great! After they bake, let them cool for a few minutes, and then drizzle the glaze over the top while they're still warm. That's a pan of heaven, right there!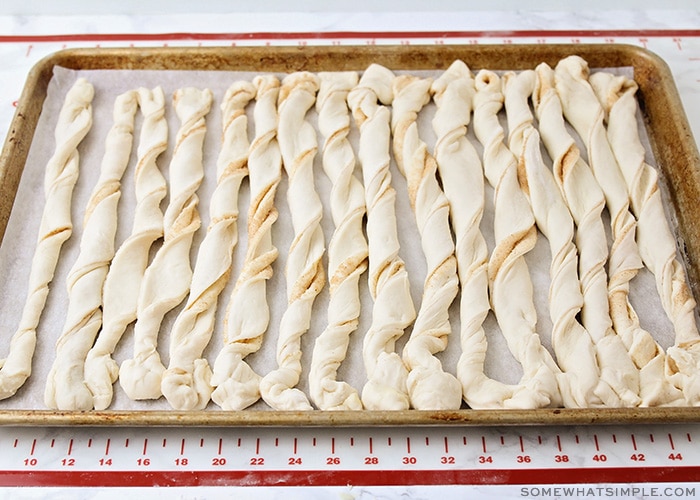 Bake – Bake the cinnamon bread twists for abut 13 minutes at 400 degrees or until they're golden brown.
Icing – While the cinnamon twists are baking, you should make the frosting. Once the twists are out of the oven and have cooled for a few minutes, drizzle the frosting over the top.
Cinnamon Twists Recipe Tips
Making the dough is pretty simple and straightforward, but here are a few tips I've discovered over the years –
I like it better when I add as little flour as possible so the dough can stay flexible and soft.
I usually try to roll the dough out into a rectangular shape, but no worries if it's not perfect.
4 tablespoons of butter work perfectly for the size I usually roll the dough out to, but feel free to use more or less to your taste.
I usually don't even bother mixing the sugar and cinnamon before sprinkling. I just sprinkle both on top separately, and it always works great!
Once you've got your cinnamon sugar sprinkled, fold the dough in half with the cinnamon sugar in the middle, and cut into strips with a pizza cutter. I find a bench scraper usually helps with getting the dough off the counter.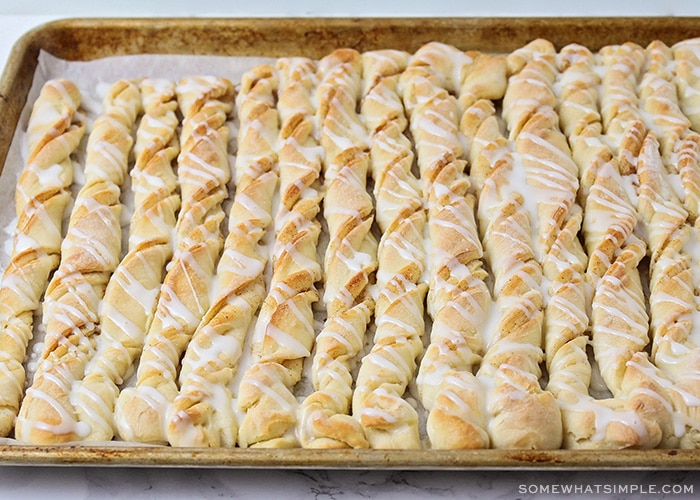 Every time we make these Cinnamon Bread Twists, they disappear in minutes!! What's not to love about butter and cinnamon sugar wrapped up in a hand-twisted dough? They are warm and delicious, so so easy to make! I hope you enjoy this recipe as much as we do!
More Sweet Cinnamon Recipes
Easy Cinnamon Bread Twists
Cinnamon Bread Twists are deliciously simple and crazy addicting! They have all the flavors of a classic cinnamon roll but are ready to eat in less than an hour!
Instructions
Preheat oven to 400. In the bowl of a stand mixer or a large mixing bowl, combine warm water, sugar, and yeast. Let sit five minutes or until yeast is bubbly.

Add flour and salt, and mix until a smooth dough forms. Let rise for 10 minutes.

Roll out dough on a surface lightly sprinkled with flour to about 1/4 inch thick.

Spread dough with melted butter, and sprinkle with cinnamon and sugar.

Fold dough over onto itself, with the cinnamon-sugar mixture in the middle.

Using a pizza cutter, cut into 1 inch wide strips.

Twist each piece, then place on a lightly greased baking sheet. Let rest for 10 minutes.

Bake 12-15 minutes, or until lightly browned.

While the bread twists are baking, whisk together the powdered sugar and cinnamon, then add milk until the glaze reaches your desired consistency.

Let the bread twists cool for about five minutes, then drizzle with glaze. Enjoy warm.
Nutrition
Serving:
1
stick
·
Calories:
139
kcal
·
Carbohydrates:
27
g
·
Protein:
2
g
·
Fat:
3
g
·
Saturated Fat:
2
g
·
Cholesterol:
6
mg
·
Sodium:
139
mg
·
Potassium:
27
mg
·
Fiber:
1
g
·
Sugar:
10
g
·
Vitamin A:
70
IU
·
Calcium:
8
mg
·
Iron:
1
mg
Other Notes