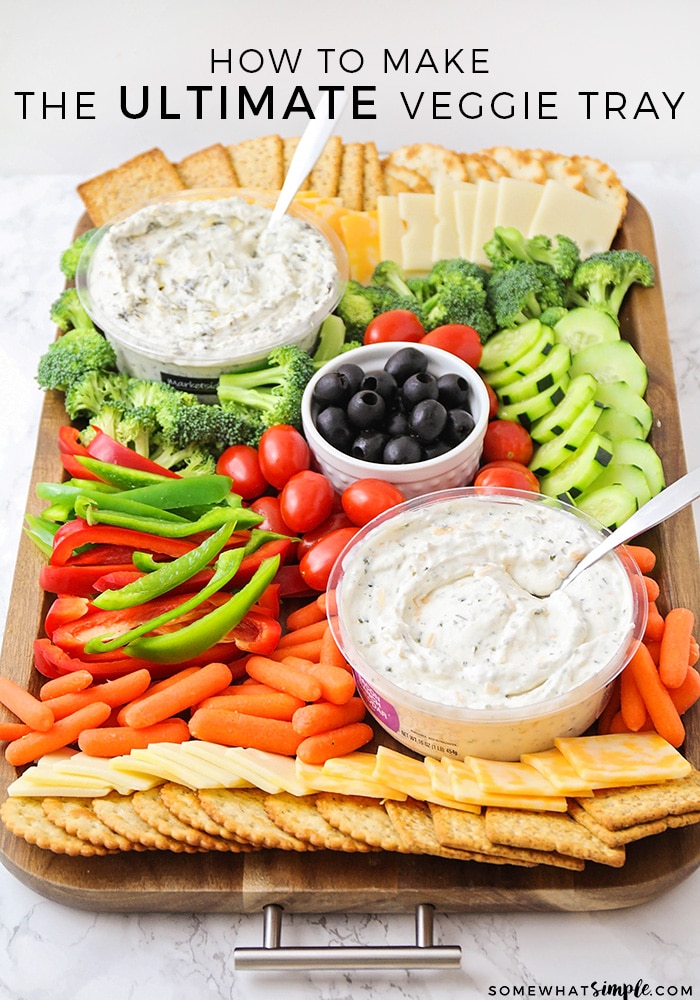 Impress your guests with this beautiful, festive and healthy veggie tray! This savory appetizer is a perfect compliment to any party. It's quick and easy to put together, and there's something for everyone to enjoy!
As much as I love cookies, fudge, and pastries, sometimes I need something savory (and, dare I say, healthy) to break up all of the sugar overload. That's where the veggie tray comes in! It's fresh and delicious, and makes you feel slightly less guilty about the 13 brownie bites you already ate.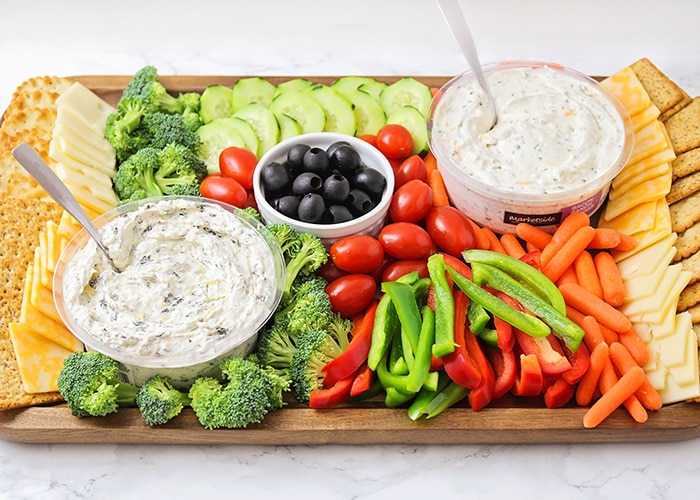 Ultimate Vegetable Tray
There's no need to resort to a boring and bland store-bought veggie tray. You can put together your own ultimate veggie tray in just a few minutes, and impress your guests with your gorgeous spread! And while making a veggie tray isn't exactly rocket science, making a fun veggie tray that people will actually be excited to eat can be a little more tricky.
I added some cheese and crackers for a little variety (and to keep my picky kids happy) and then arranged the vegetables. I love all of the bright colors together. They're so pretty and festive!
This is one veggie tray that's going to get eaten just as fast as the sweet treats at your next party. With flavorful and savory dips, bright and colorful veggies, and cheese and crackers for good measure, this ultimate veggie tray is irresistible!
How to Make a Veggie Tray
Start with a cute serving tray or platter (This acacia wood tray from Walmart is one of my favorites!)
Next, think about placing an irresistibly delicious dip or two on the tray. (Because we all know that you need something fantastic to dip those veggies in, right?) I like to set out the dips on the tray first, then decorate with a variety of fresh veggies around them.
Now add the veggies! Remember, variety is key! Pick up several different veggies in an array of colors.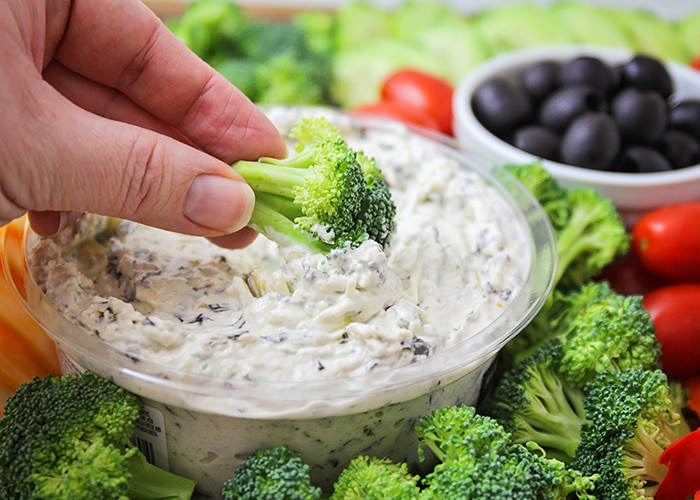 Veggie Tray Ideas
Here are some of our favorite veggies and foods to use in our veggie tray. Feel free to mix and match as you please:
Broccoli
Baby carrots
Bell peppers
Cherry or grape tomatoes
Cucumbers
Olives
Snap peas
Jicama strips
Celery
Radishes
Crackers and slices of your favorite cheeses *optional
If it's close to the Holiday season, take a look at our fun and festive Christmas Tree Veggie Tray for a unique way to dress up your vegetable tray.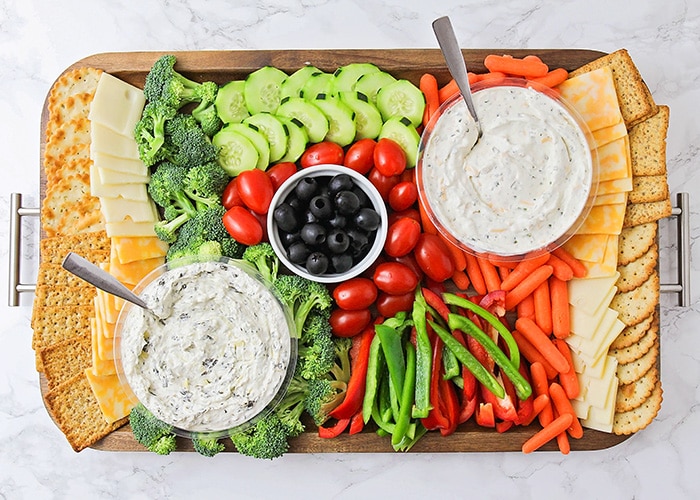 How To Store A Vegetable Tray
Store any leftover vegetables in an airtight container and keep them in the refrigerator until you're ready to use them again. I like to store each vegetable separately to keep the root vegetables from getting soggy. Depending on when you purchased the vegetables, they should stay fresh in the refrigerator for about a week.
More Easy Vegetable Recipes
Go ahead, give this fun recipe a try. Leave us a comment below and let us know when you made this fun vegetable tray or tag us on social media and show us when you served it because we love to see what you've been up to in the kitchen!
Ultimate Vegetable Tray Recipe
Impress your guests with this beautiful, festive and healthy veggie tray!
Instructions
Cut your vegetables into smaller pieces that are perfect for dipping

Place your dip(s) on the tray

Using a variety of fresh vegetables with different colors, organize and place them around the dips

Keep in the refrigerator until you're ready to serve
Nutrition
Other Notes