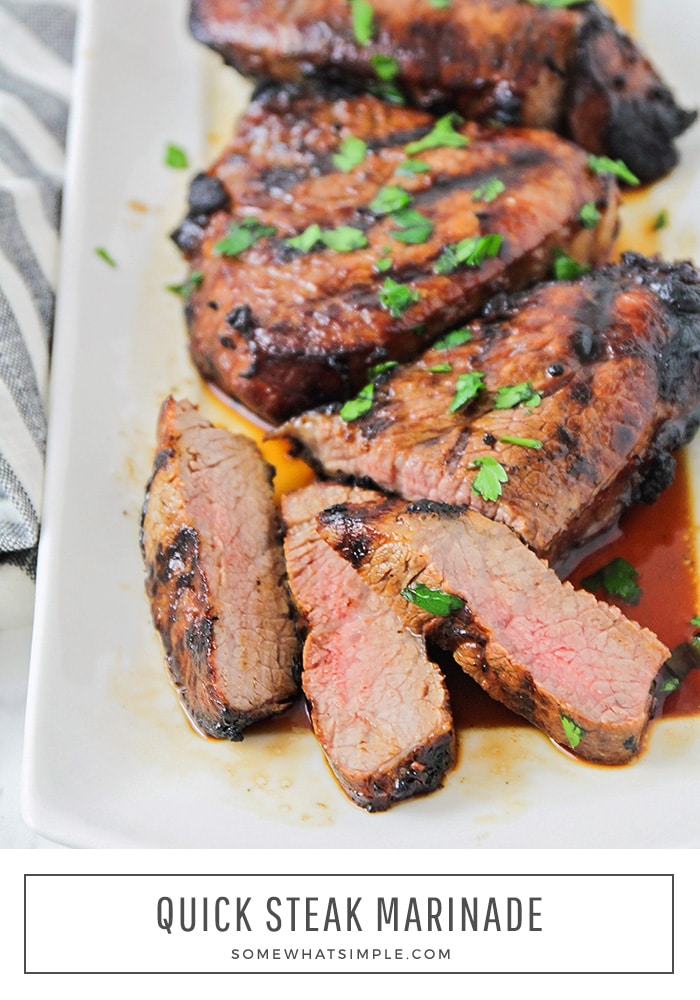 This quick and easy steak marinade is so simple to make and your steaks turn out tender and delicious every time! Made with just five basic ingredients and can be used on any cut of meat, it's the perfect marinade for summer grilling!
This marinade is perfect to use any time you're having a Summer BBQ. Some of my favorite sides to serve with a steak hot off the grill are these recipes for Cream Cheese Mashed Potatoes, Fruit Salad and Potato Salad.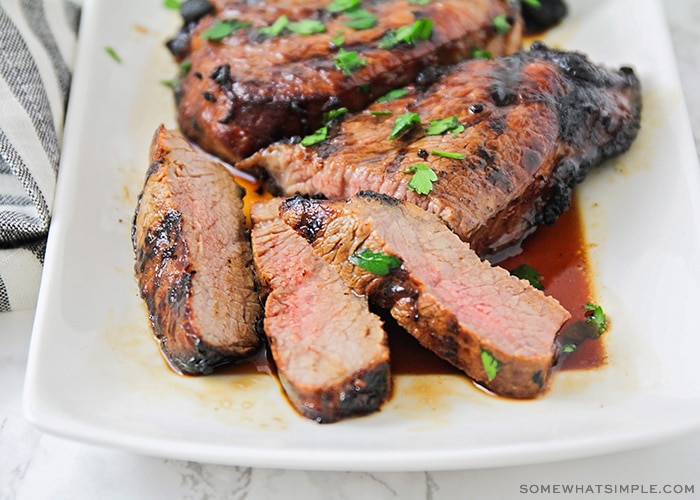 Easy Steak Marinade
The weather is starting to get warmer, and I am so excited for all of the summer grilling! It's so nice to be able to cook a delicious dinner without heating up the whole house, and cooking on the grill is so versatile and fun. I love that you can cook just about anything on the grill, from vegetables to pizza, and make it as simple or elaborate as you like.
One of my family's favorite meals on the grill is steak, and using this easy steak marinade makes it super delicious every time! It adds so much flavor, and results in the most tender, juicy, and delicious steak you've ever eaten. It's a simple way to take your summer grilling up a notch!
This quick steak marinade is made with pantry staples that I always have on hand, so it's easy to mix up whenever we want a nice steak dinner. It's pretty amazing that these five simple ingredients can combine to create such a delicious flavor! I used a tri-tip steak this time because it was on sale at the grocery store, but this marinade will work with pretty much any cut of steak. It's even delicious on chicken or fish!
How To Make An Easy Steak Marinade
This recipe is so simple to make, you'll be amazed at how quick you can throw it together. Simply follow these couple of steps.
Place your steak in a large Ziploc bag or in a container that has a lid
Whisk the canola oil, soy sauce, brown sugar, apple cider vinegar and garlic together in a small bowl
Pour the marinade over the steak and seal it in the container
Let it marinade in the refrigerator for at least 30 minutes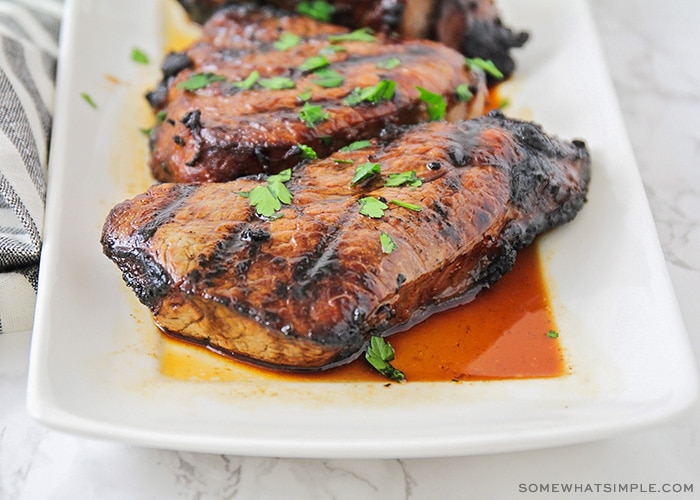 Marinating Tips
What Should I Put The Steak In While Marinating – I usually just use a large Ziploc bag for marinating my steak because it's easy and doesn't require washing another dish. If you use a dish, just be sure it has a lid on it because I may or may not have spilled marinade all over the floor when I took it out of the fridge while kids were running around the kitchen.:)
How Long Should I Marinade The Steak – One of the best things about this marinade is that it only needs to marinate for about 30 minutes, so you can prep the steaks, heat up the grill, and have a delicious dinner ready in under an hour. You can let it marinate longer if you like but 30 minutes is sufficient.
Does Marinating The Steak Make It More Tender – The reason you marinate a steak is to make it more flavorful because it allows the marinade to soak into the meat so each bit tastes amazing! Unfortunately, marinating it doesn't do much to tenderize it.
Can I Use This Marinade On Other Meats – You most definitely can! While steak is my favorite, I love using it one both chicken and fish as well.
How Long Do I Cook My Steak – The cooking time will vary depending on how you like your steak cooked and the cut of beef you're using. Generally I cook it for about 7 minutes on each side. Be sure to use a meat thermometer to make sure your steak has reached the desired internal temperature.
More Easy Grilling Recipes
Quick Steak Marinade Recipe
This quick steak marinade recipe will change the way you cook steak from here on out! We love to see you try one of our recipes, so the next time you're out grilling a steak this summer, take a picture of all the fun you're having and tag us on social media!
Easy Steak Marinade Recipe
Made with five simple ingredients this marinade takes only minutes to prepare and can be used with any cut of steak!
Ingredients
1 1/2

pounds

steak

1/2

cup

brown sugar

1/2

cup

canola oil

1/4

cup

apple cider vinegar

1/4

cup

soy sauce

2

teaspoons

minced garlic
Instructions
Add the steak to a large plastic bag or a container with a lid.

In a small bowl or measuring cup, whisk together the brown sugar, canola oil, apple cider vinegar, soy sauce, and garlic.

Pour the marinade over the steak, seal the bag, and refrigerate for 30 minutes.

Toward the end of the marinating time, preheat a grill or broiler. Cook the steak for 7-8 minutes on each side, or until the desired level of doneness is reached.
Nutrition
Other Notes