These spicy stuffed grilled chicken breasts are the perfect summer meal! So delicious and flavorful, and so easy to make on the grill!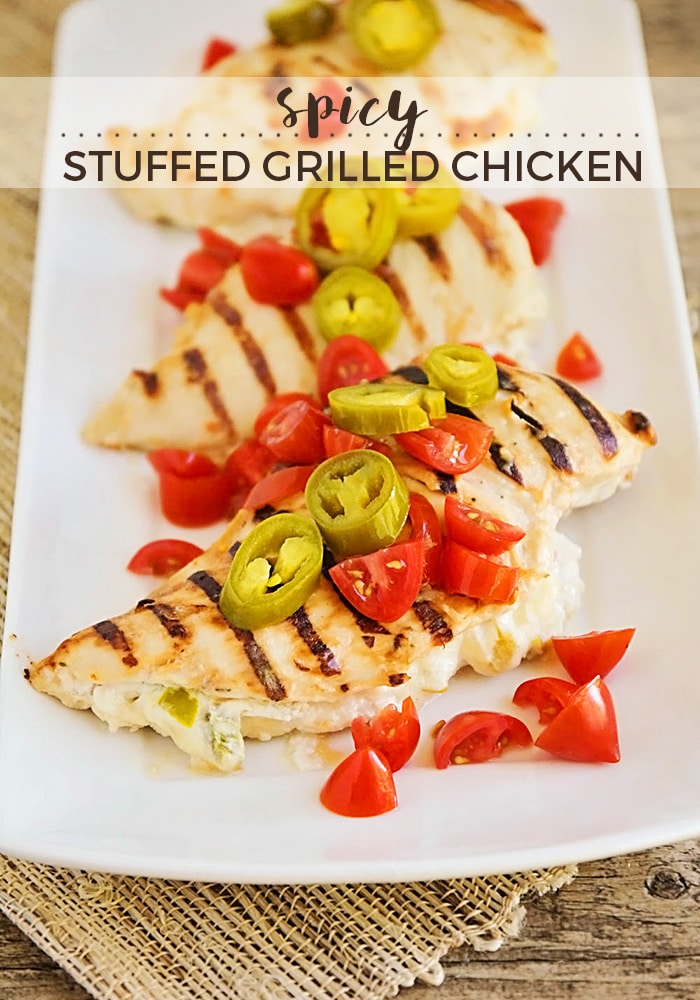 Grilling is definitely one of my favorite things about summer! When it's too hot outside, I don't want to heat up the kitchen by turning on the stove or the oven, so cooking on the grill is the way to go. These spicy stuffed grilled chicken breasts are a new favorite dinner at our house! They are so savory and flavorful, with a delicious filling made of cheese and peppers. They're also quick and easy to make, and made with just a few ingredients.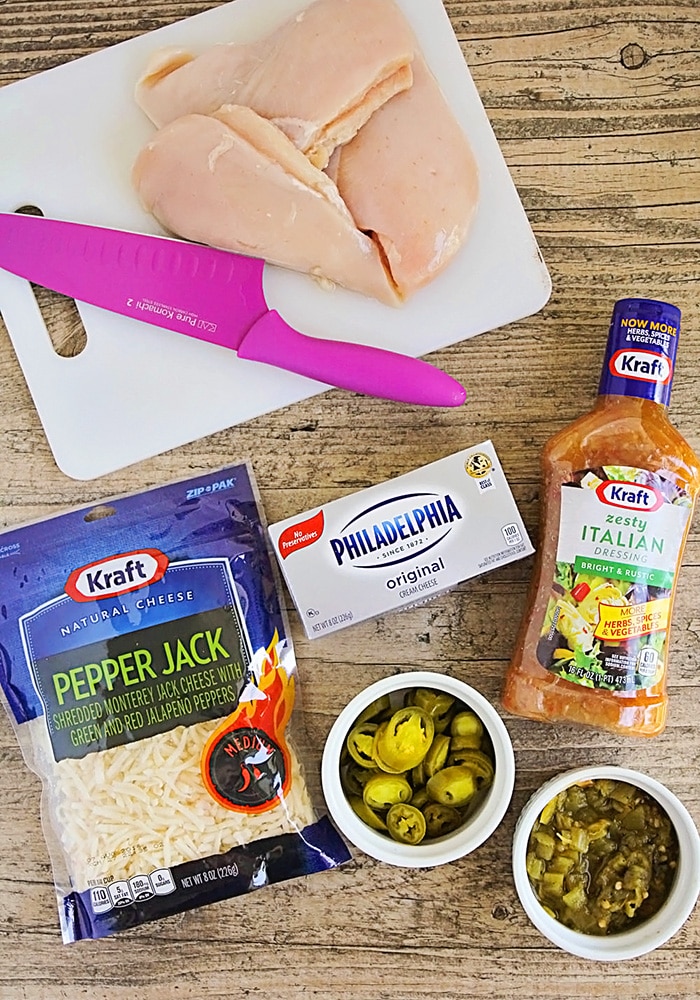 I wanted my chicken to be extra flavorful and tender, so I marinated it quickly in some Kraft Zesty Italian dressing. I then mixed together some Philadelphia cream cheese, Kraft pepper jack cheese, green chilies, and jalapeños to make a delicious spicy filling. If you want the filling to be milder, you could use mild jalapeños and mild green chilies. Then comes the fun part – stuffing the cheese into the chicken!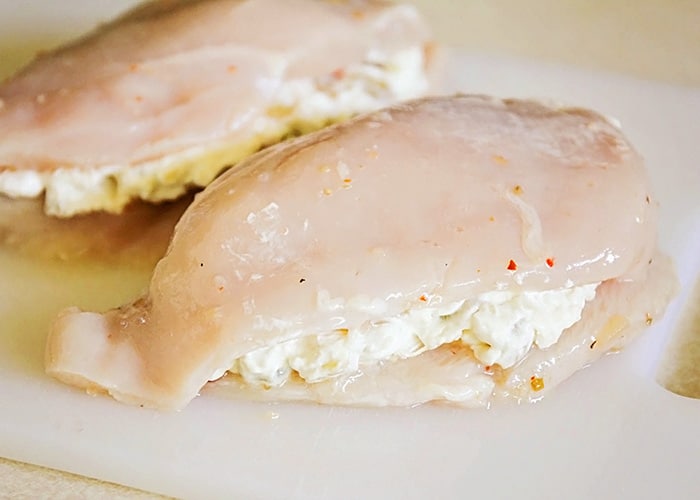 From there, you'll grill the chicken for about 8-10 minutes per side, or until cooked through. I served mine with some fresh diced tomatoes and jalapeños on top, which made for a festive and fun presentation. Seriously, don't they look delicious?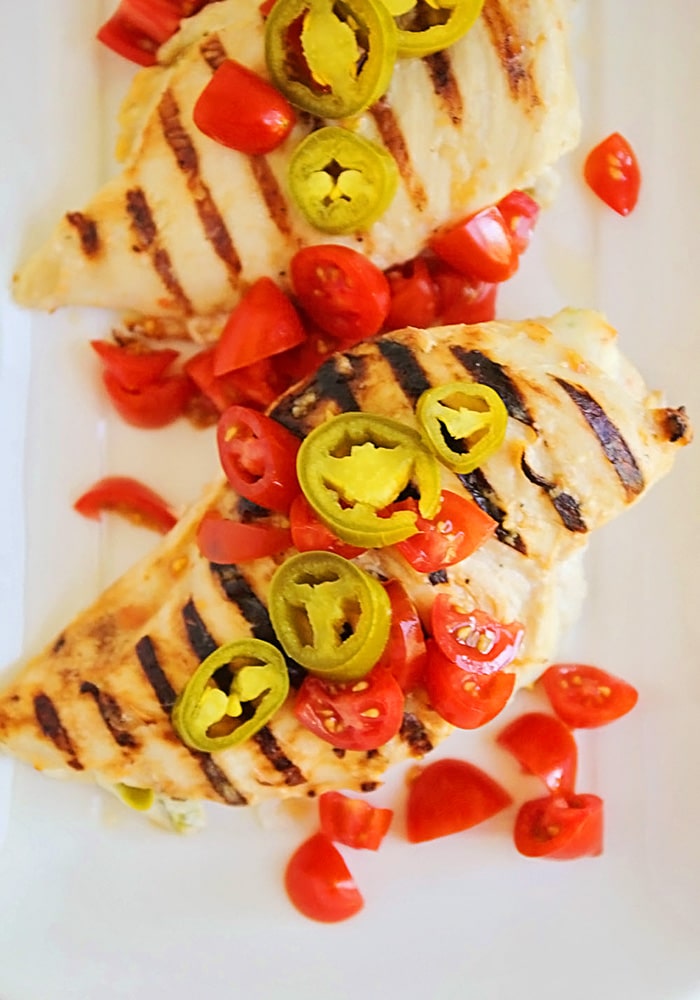 The best part, of course, is that spicy and cheesy filling. Yum! I am so looking forward to a summer full of grilling.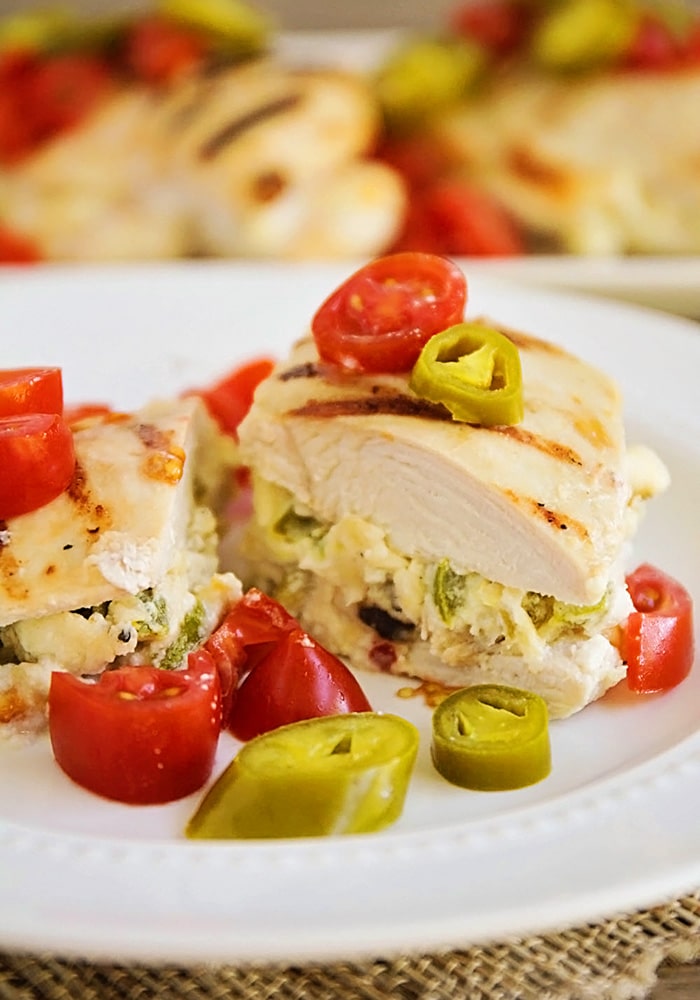 Spicy Stuffed Grilled Chicken Breasts
INGREDIENTS: 
4 medium chicken breasts, trimmed
1/2 cup Kraft Zesty Italian dressing
8 ounces Philadelphia cream cheese, softened
1 cup Kraft shredded pepper jack cheese
1/4 cup canned diced green chilies
2 tablespoons canned jalapeños, chopped
DIRECTIONS:
Slice the chicken lengthwise, being careful not to cut all the way through, to make a pocket in the chicken.
Place the chicken in a container or zipper bag, and pour the Italian dressing over the chicken. Allow to marinate for 20-30 minutes.
In a medium bowl, mix together the cream cheese, pepper jack, green chilies, and jalapeños. Spoon the cheese mixture into each of the chicken breasts, being careful not to overfill.
Preheat the grill. Grill the chicken 8-10 minutes per side, or until cooked through.