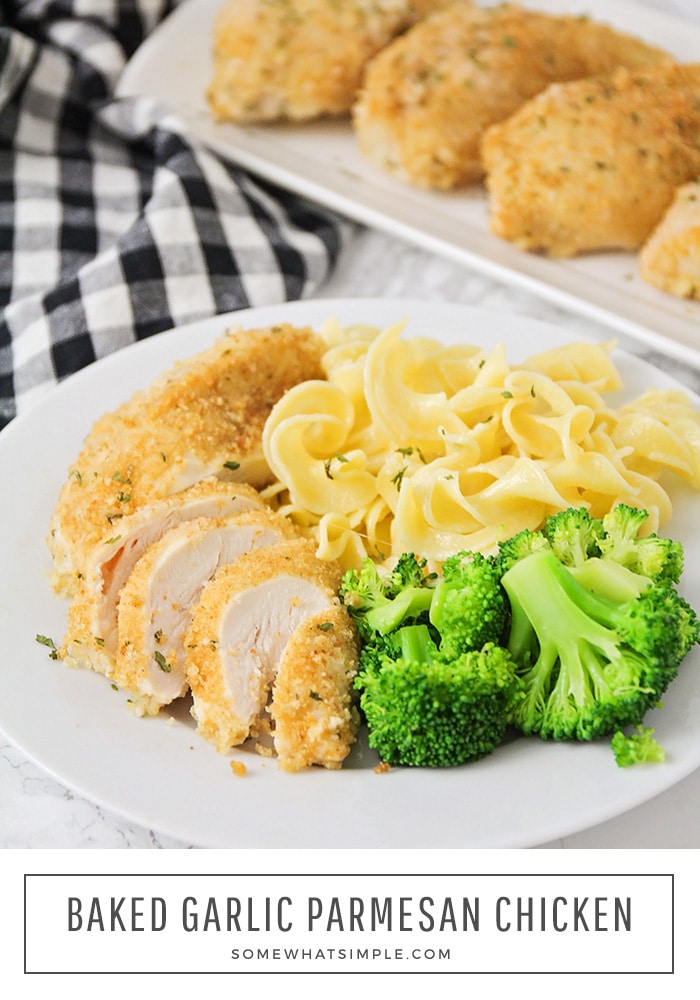 Baked garlic parmesan chicken is the perfect dinner full of amazing flavors! Made with tender chicken breasts covered in an incredible blend of garlic, parmesan cheese and spices, it will make your mouth water from the start. Ready in about 30 minutes, this easy recipe will be on your table in no time!
To round out the meal, I love serving this parmesan chicken dinner with a side of Cream Cheese Mashed Potatoes, Roasted Vegetables or a fresh Spinach Salad.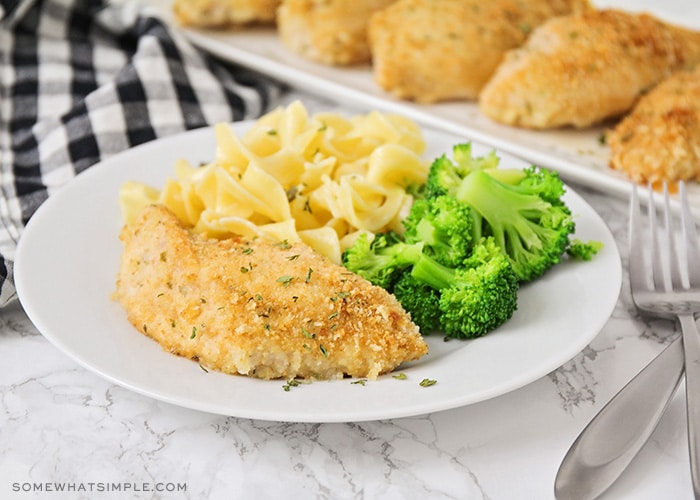 Baked Garlic Parmesan Chicken
When it comes to savory flavors, I think garlic and parmesan are definitely one of my top flavor combinations. The two flavors work so well together, and they can make just about anything delicious. From garlic bread, to chicken wings, to this savory baked garlic parmesan chicken, everything just tastes better with garlic and parmesan added!
I make this garlic parmesan chicken for dinner regularly, and it is always a favorite with my kids. They are not always the most adventurous of eaters, but they love this chicken! I love that it's simple and quick to make, using ingredients I nearly always have on hand, so it's the perfect meal for a busy weeknight. I've made it for guests several times as well, and it is always a hit!
How To Make Garlic Parmesan Chicken
This garlic parmesan chicken is so easy to make! Just follow these easy steps:
Preheat your oven to 400 degrees F (205 degrees C)
Like your baking sheet with parchment paper or a silicone baking mat and then spray it with cooking spray
You'll start by cutting your chicken breasts into serving-size pieces (I got three good-sized pieces from each large chicken breast)
Drizzle the chicken in olive oil and then toss it until they have been fully coated
In a shallow dish, whisk together the bread crumbs, parmesan cheese, garlic powder, salt and parsley
Next, dip each piece of chicken into the bread crumb mix, pressing gently, to coat
Place on the baking sheet and then spray the tops with cooking spray
Bake the chicken for 20-25 minutes until it is golden brown and crispy
To make sure it is fully cooked, use a kitchen thermometer to ensure the internal temperature has reached 165 degrees F (74 degrees C)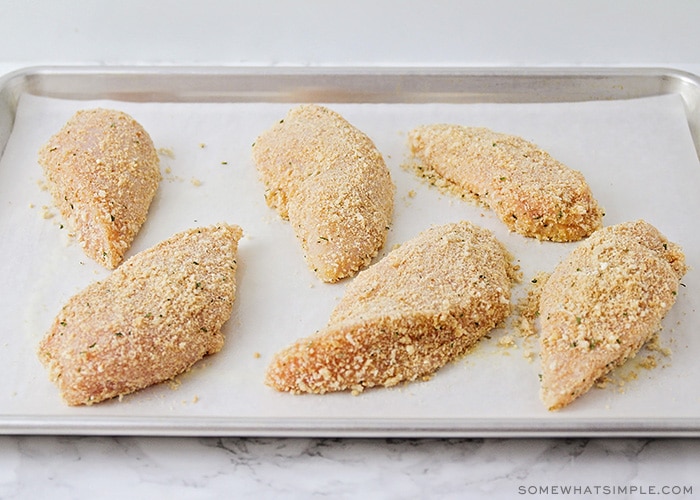 Baked Parmesan Garlic Chicken Ingredients
2 large breasts of chicken
3/4 cup of bread crumbs
2 teaspoons of olive oil
1/2 teaspoon of salt
2 tablespoons of grated parmesan cheese
1 teaspoon of garlic powder
1 teaspoon of dried parsley
Cooking spray
Tip For Making Garlic Parmesan Chicken
Cooking the chicken at a higher temperature helps it get nice and crispy and brown. The chicken also smells so good while it's baking that my kids always interrupt me repeatedly to ask when dinner will be ready. They can't wait for a bite of the deliciousness!
Make extra chicken breasts and then cut them up to use in other recipes; like pasta or salad dishes
I like to serve this garlic parmesan chicken with buttered noodles and steamed vegetables on the side. It's an easy and delicious dinner that my whole family loves! This chicken is so flavorful and tender, and the leftovers are just as delicious!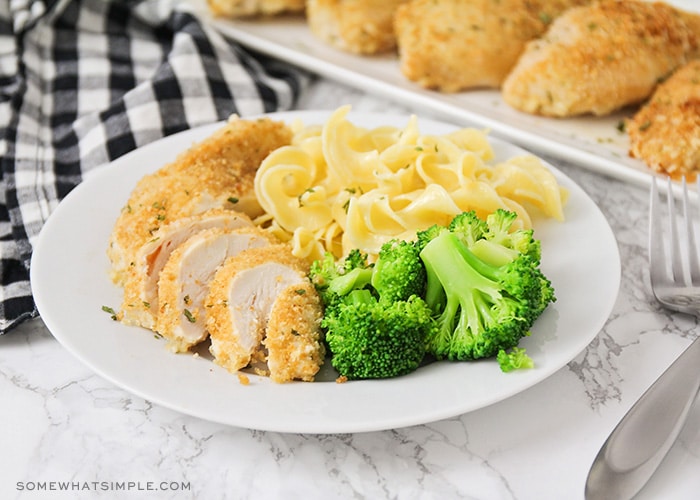 Can You Freeze Baked Garlic Parmesan Chicken
Yes, you can freeze this chicken recipe for later. First, you must wait until the chicken has completely cooled before you put it in the freezer. Once it has cooled, you can either tightly wrap the baking pan in plastic wrap and then cover with aluminum foil or place them in a large freezer bag. These can be stored in the freezer for about 2-3 months. When you're ready to use it, place the chicken in the refrigerator the day before and let it thaw overnight.
More Easy Chicken Recipes
Crispy Parmesan Garlic Chicken Recipe
Now that I've shown you how easy this chicken recipe is to make, it's time for your to give it a try. Leave us a comment below and let us know how it went or tag us on social media after you make it because we love to see what you've been up to in the kitchen!
Garlic Parmesan Chicken
Baked garlic parmesan chicken is an easy dinner full of amazing flavors that's ready in about 30 minutes.
Instructions
Line a baking sheet with parchment or a silicone liner, then spray with cooking spray.

Drizzle the chicken breast strips with the olive oil and toss to coat.

In a shallow dish or large plate, whisk together the bread crumbs, salt, garlic powder, parmesan, and parsley.

Dip the chicken strips in the bread crumb mixture, pressing gently to coat.

Place on the prepared baking sheet, and spray the tops with cooking spray.

Bake 20-25 minutes, or until golden brown and crispy, and cooked through.
Nutrition
Other Notes