This recipe for Blueberry Greek Yogurt Donuts is simply amazing!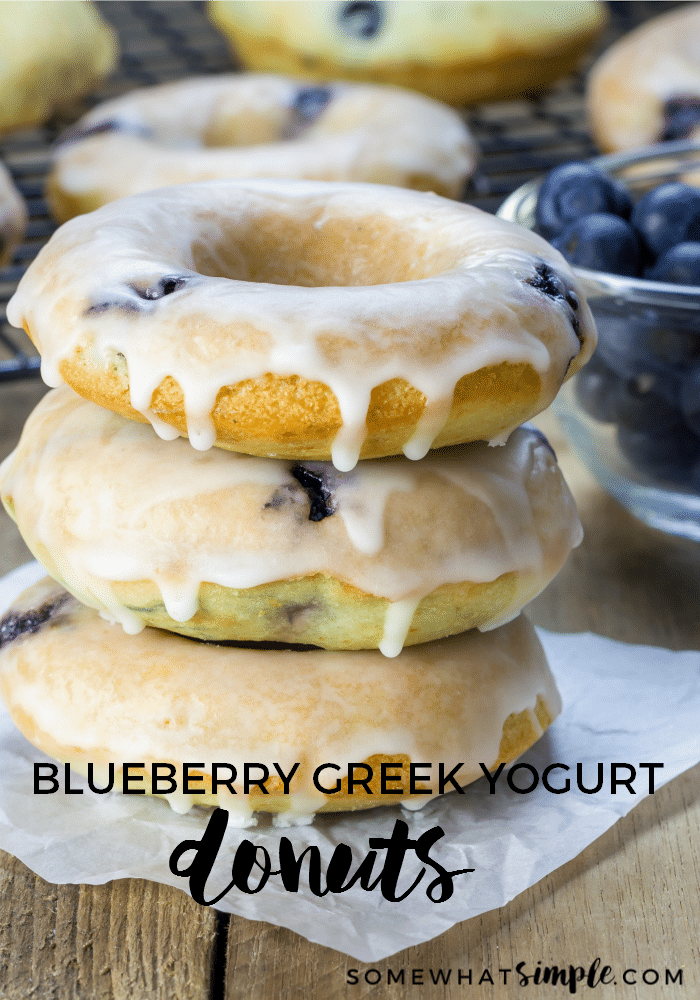 Nothing beats a warm, fluffy, glazed- covered donut. My mouth just drools thinking about them! The other day I came across an old-fashioned donut recipe that seemed easy, but almost immediately I thought of some ways to revamp the recipe. (I tend to do that sometimes.)
My revamp? Instead of the sour cream called for in the recipe I used Greek yogurt…but not just any Greek yogurt. BLUEBERRY Greek yogurt. The result was amazing! Here is the recipe:
Blueberry Greek Yogurt Donuts
INGREDIENTS: 
For the Donuts-
2 1/4 cups all-purpose flour
1 1/2 tsp baking powder
1 tsp salt
3/4 tsp ground nutmeg
1 /2 cup white sugar
2 TBS shortening
2 large egg yolks
2/3 cups Blueberry Greek Yogurt (about 2 containers)
oil for frying
Simple Glaze-
2 cups confectioners sugar
1/4-1/3 cup milk (depending on how thin you want it)
1 tsp vanilla
1/2-1 tsp lemon juice
DIRECTIONS: 
To make the donuts, mix the dry ingredients in a medium bowl and set aside.
In a mixer, mix the sugar and shortening for about a minute on low. Add the egg yolks and mix for another minute on medium speed. Make sure to scrape the sides of the bowl so no one is getting left out.
Add dry ingredients to the wet ingredients ALTERNATING between yogurt. So basically, 1/3 third of the flour mixture, then 1/2  of the yogurt, 1/3 flour, 1/2 yogurt, and end with the last third of the flour mixture. Combine on low speed until just combined. It will be a sticky dough.
Transfer dough to a clean bowl and cover with plastic wrap and refrigerate for at least 45 minutes.
When it is time to make your donuts, start heating up the oil in a large pot or high-sided frying pan. You will want the oil to get to 325 degrees to fry the donuts.
While the oil is heating up, roll out the chilled dough on a floured surface to about 1/2″ thickness. Cut as many donuts out as you can fit. There are donut cutters, however I always use a cup and then I find a smaller circle to cut out the hole. Save the holes. You can gently fold up and roll out dough again, or fry them up and make donut holes!
Add donuts to the hot oil a few at a time. Once the donuts float let them fry for 15 seconds and then gently flip them over. Fry for another minute to minute and half until golden brown and slightly cracked. Then flip and fry the first side for another minute. If the donuts are cooking too fast and getting dark brown quickly, check your oil temp. You don't want them cooking too fast.  Transfer to a cookie rack that has been placed over paper towels.
Mix glaze ingredients together until sugar is fully incorporated. PS My glaze recipe is kind of a throw it all together until it tastes how I like. Use any glaze recipe you normally use if you want to, but I HIGHLY recommend throwing a little lemon juice in there to compliment the blueberry.
Drizzle the glaze over the donuts, or you can also dip the top of your donuts into the glaze. Let it dry just for a tad…no really, just long enough for you to grab a napkin and maybe a glass of milk.
Then enjoy!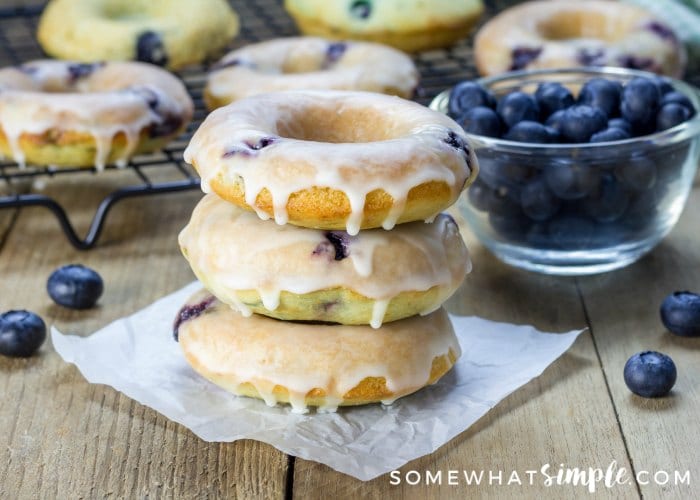 Donuts are a girls best friend…at least they are this girl's best friend!
. . . . .
About the Author: Larissa is a mom of 4 boys who likes to cook and create. The former Food Contributor on Somewhat Simple (2011), she now shares her creative adventures full-time on her own blog Just Another Day in Paradise.
This post originally published on Somewhat Simple in February 2012