This spudnuts recipe is super easy to make and they're delicious!  Spudnuts are donuts made with mashed potatoes. If you've ever had potato bread, imagine those in donut form.
Making fried doughnuts is not as hard as you might think! This Spudnuts recipe I am sharing with you today is really easy and super delicious. What are "Spudnuts" you ask? Spudnuts are doughnuts made with mashed potatoes. If you've ever had potato bread, imagine that in doughnut form- YUM!
Here is a step-by-step video so you can see exactly how to make these doughnuts from beginning to end, including how to know when your dough is just right, and how to fry the doughnuts:
TIPS BEFORE WE GET STARTED:
You don't have to make mashed potatoes especially for this recipe – just use your leftover spuds from dinner! Your mashed potatoes can have salt and pepper and other flavors in them and your Spudnuts will still turn out as tasty as ever!
For this recipe, I suggest using an electric skillet if you have one. Electric skillets let you set the temperature, and they keep that temperature constant. You don't have to worry about turning your stove up and down and guessing about the correct temperature. If you have a fryer, you can also use that, but you won't be able to make as many doughnuts at a time.
When I cut out the doughnuts, I just use a large cup, and then I use a medicine cup (the kind that comes with Children's Tylenol) for the holes.
I sprinkled about half my doughnuts with powdered sugar and made a chocolate glaze for the other half.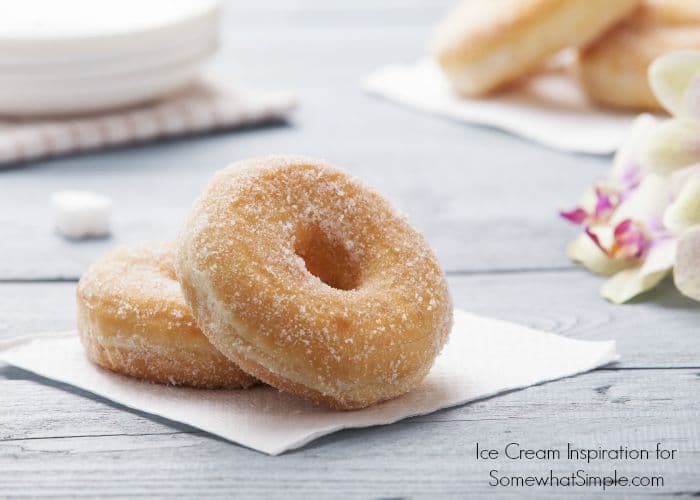 Spudnuts Donuts Recipe
Yields about 15 doughnuts plus holes.
SPUDNUTS INGREDIENTS:
1 1/2 tsp. yeast
1/2 cup warm water
1/2 cup sugar
1/3 cup butter
1/2 cup hot mashed potatoes*
1/2 cup scalded milk
1 egg, beaten
3/4 tsp. salt
1 cup flour, plus 2 1/2 to 3 cups more
*If your mashed potatoes are REALLY salty, you may want to add a little extra sugar to the doughnuts. Otherwise, no worries!
DIRECTIONS:
Mix the yeast and warm water and leave to proof.
Mix together your butter, sugar, hot mashed potatoes, and scalded milk. (I reheat my mashed potatoes with the butter so that the butter will melt).
Mix your yeast and water, egg, salt, and one cup of flour. Beat well.
Add your mixture of butter, sugar, potatoes, and milk. Blend well, then add an additional 2 1/2 to 3 cups of flour. Mix well until you have a slightly sticky, but very soft dough.
Cover the dough and allow to rise for about 1 1/2 hours.
Punch down dough and roll out about 1/2-inch thick onto a heavily floured surface.
Cut out doughnuts and doughnut holes. Remove excess dough, roll out, and cut out more doughnuts and holes until all dough is used.
Let doughnuts rest for about 30 minutes while the oil heats up.
Add about an inch of oil into an electric skillet. Heat to 375 degrees.
Carefully add doughnuts to the oil. When bottom begins to brown (after 30 seconds to a minute), flip doughnuts and cook until lightly browned on both sides. Use tongs to remove from the oil and place on a paper towel-lined plate.
Sprinkle sugar, powdered sugar, or drizzle your favorite glaze over the top. Serve & enjoy!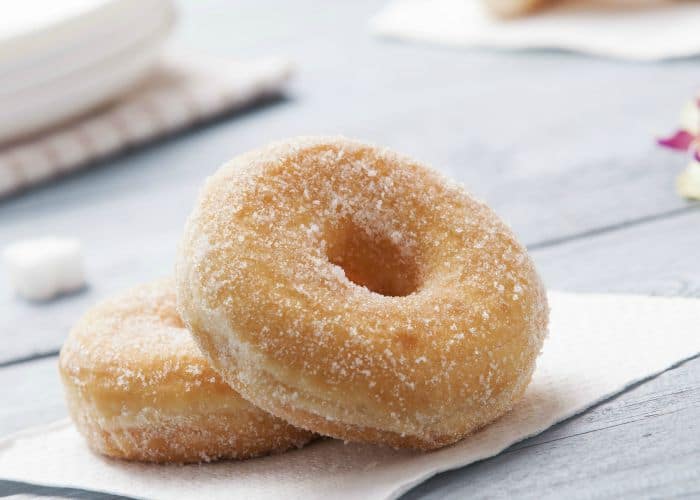 . . . . .
If you love baking, be sure to check out these other amazingly delicious recipes!

Best Brownies Recipe | Easy Orange Rolls | Peanut Butter Cream Sandwich Cookies