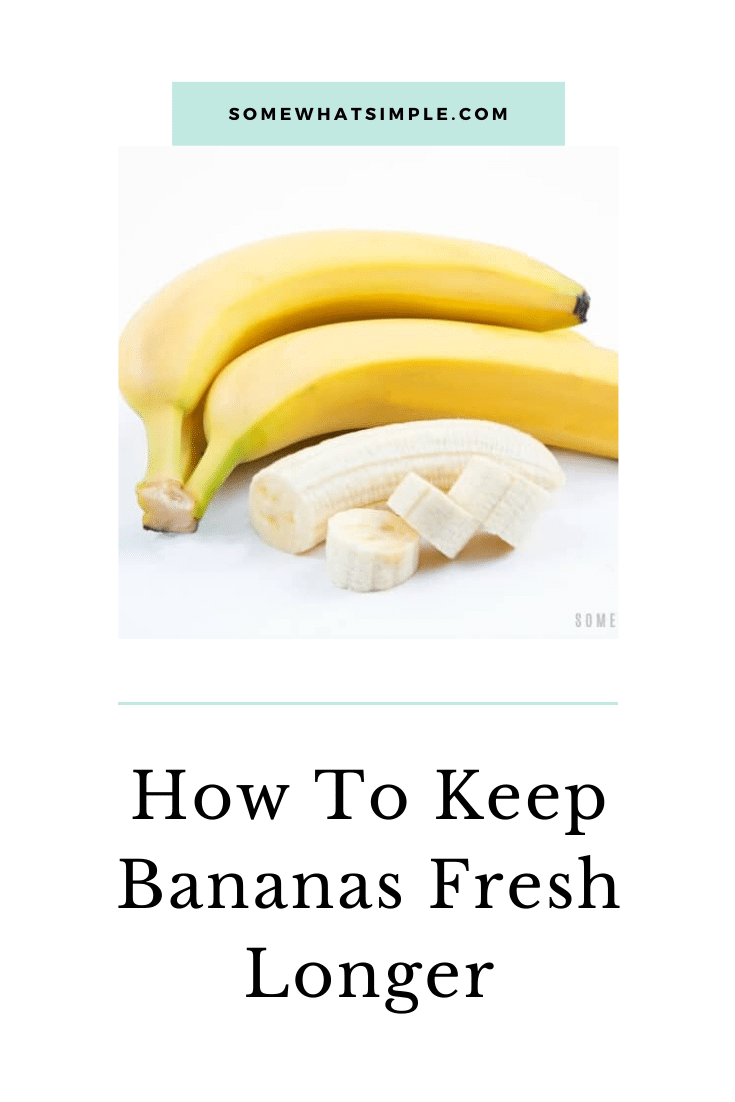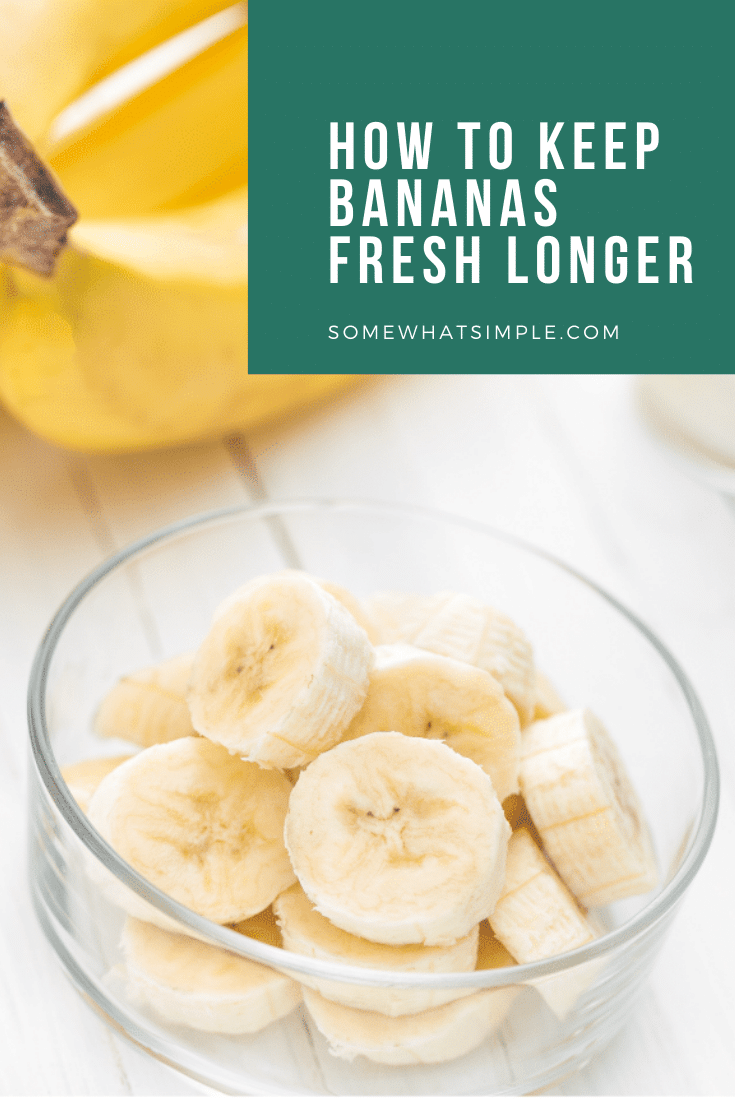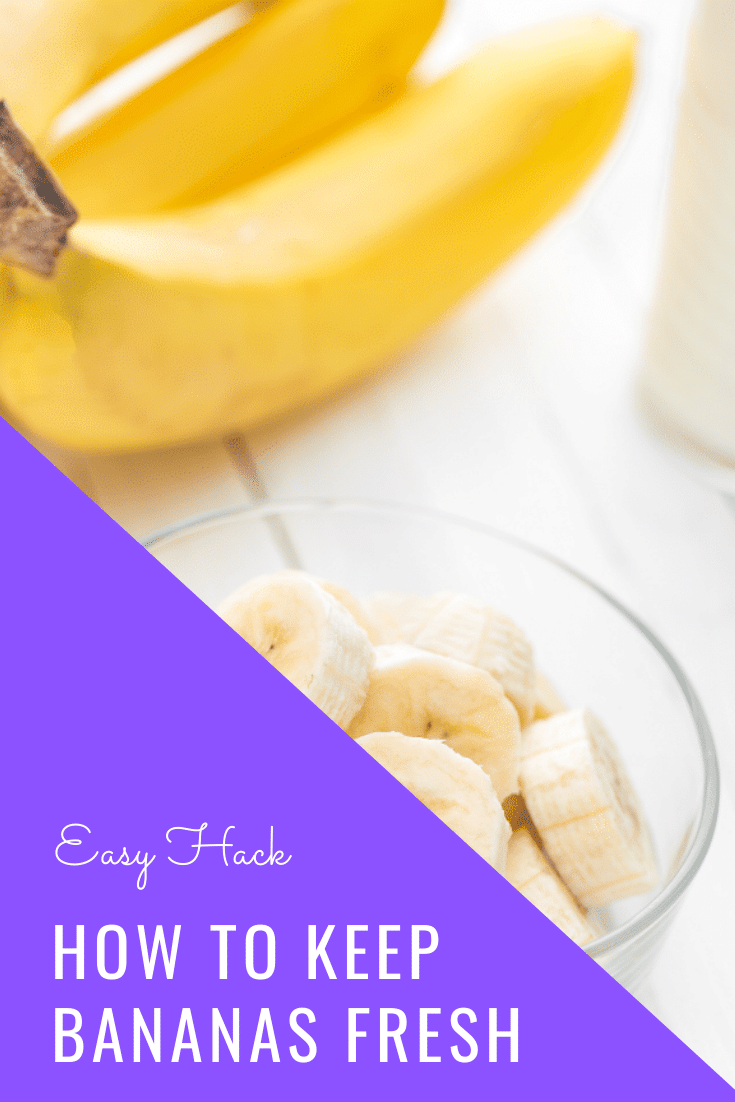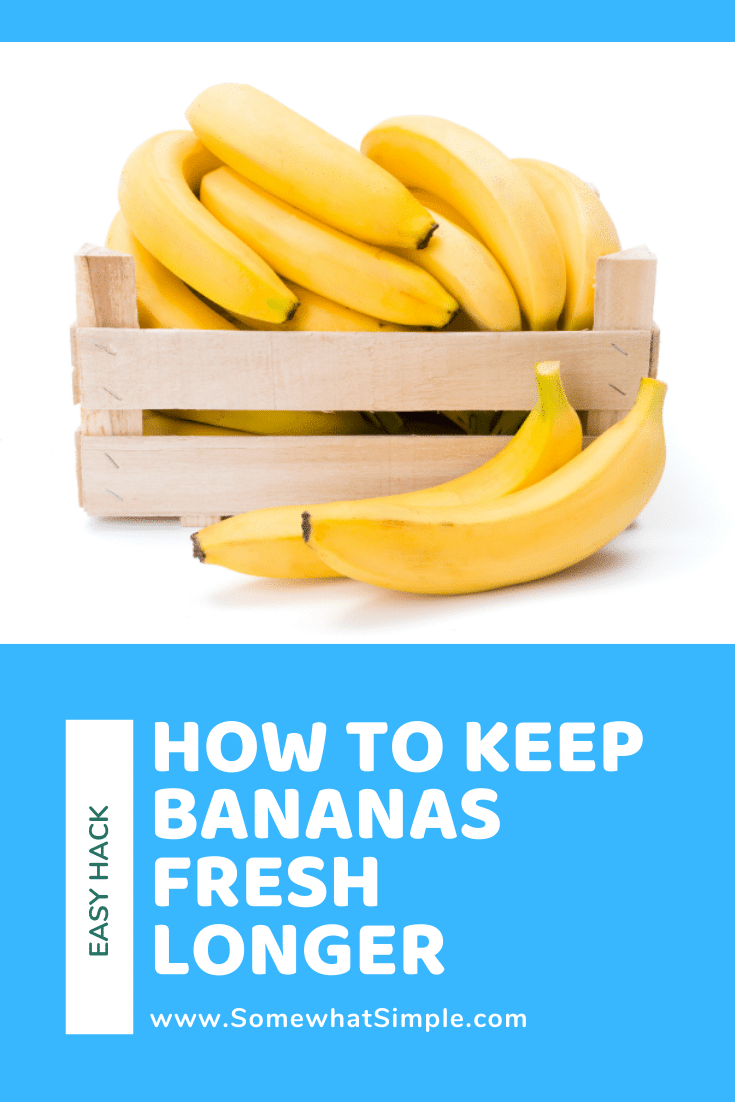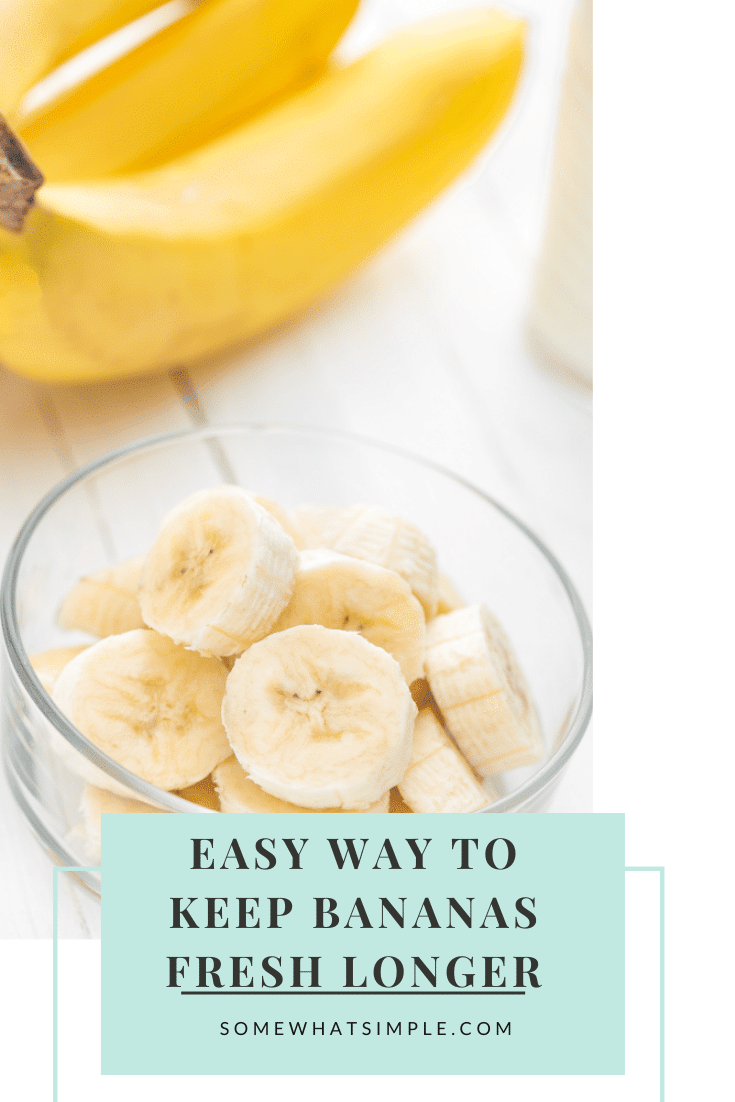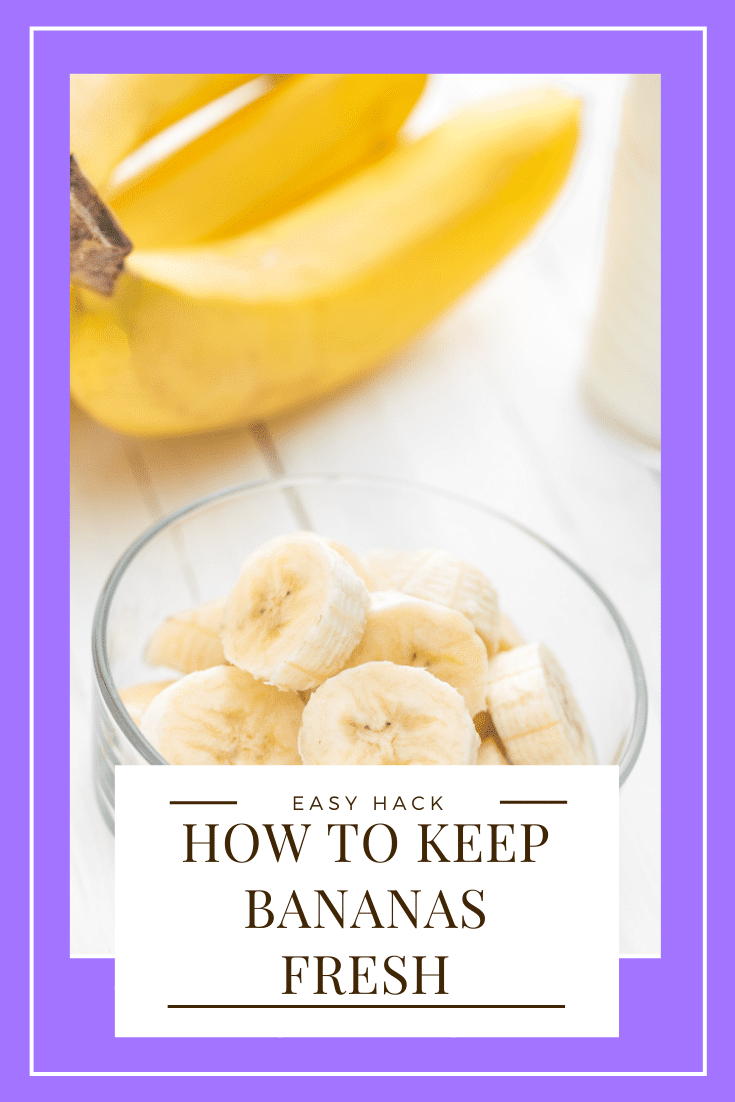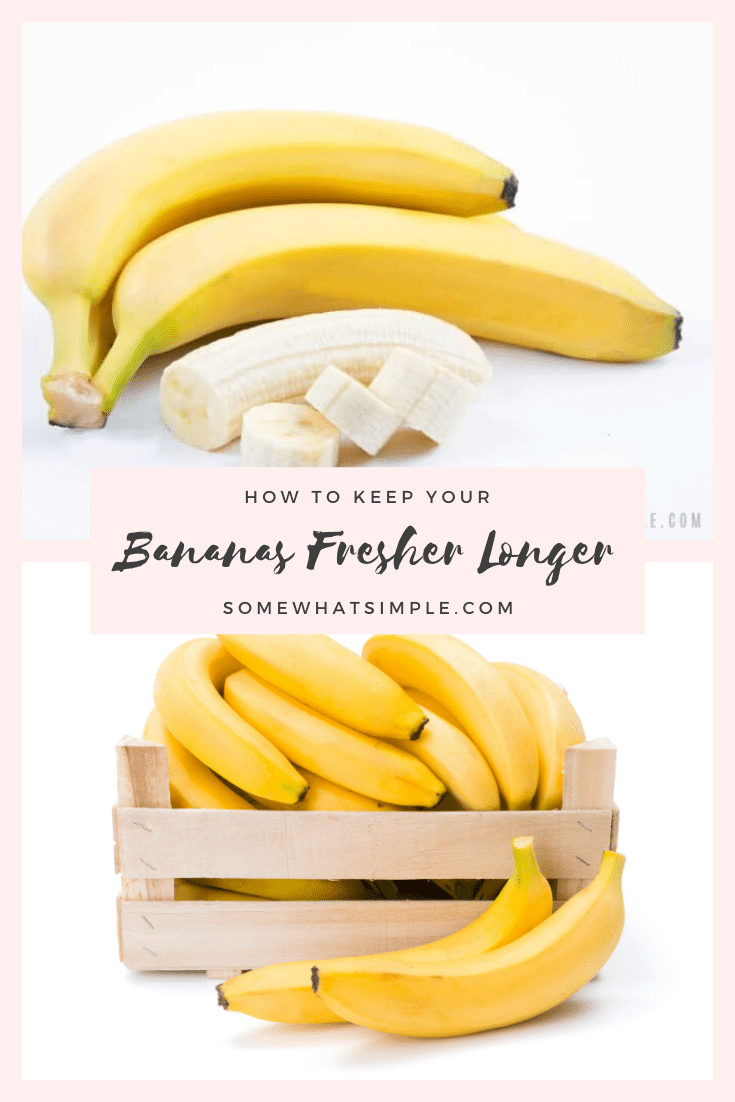 Make the most of your bananas' shelf life with one simple tip on how to keep bananas fresh and store them properly.
Kitchen Hacks are some of our very favorite shortcuts in life! We've mastered how to de-seed a pomegranate, how to get rid of fruit flies, and how to keep water from boiling over the pot. Today we're going to show you a few banana tips we think are super helpful. (Your next bunch of bananas is sure to thank you!)
How to Keep Bananas Fresh Longer
As a mom of five kids who happen to LOVE fruit, it can be hard to gauge how much fruit the kids will eat. Some weeks the fruit bowl is empty 2 days after I go grocery shopping. On other weeks the basket is full of overly-ripe fruit at the end of the week.
I usually buy green bananas from the store just to give us a little more time before they turn brown and mushy. But somewhere along the way, the ripening process takes place and I'm usually left with a bunch of bananas, too ripe to eat but no plans in the near future to make banana bread!
In an effort to save my bananas, I tried an experiment on how to keep bananas fresh… and it totally WORKS! Here is how to do it –
How to Keep Bananas Fresh
MATERIALS –
1 bunch of bananas
plastic wrap
DIRECTIONS –
Separate each banana from the bunch.
Wrap banana stems individually in plastic cling wrap.
…simple enough, right?
Banana Science
Wrapping your banana stems in cling wrap will help slow the ripening process and keep your bananas fresh for 3-4 days longer than if you don't wrap them. And I am not just making this stuff up, here is the science behind it:
Bananas, like many fruits, naturally release ethylene gas that controls browning and ripening. Much of the gasses escape from the stems, or the crowns, so by wrapping the crowns, you are able to slow down the ripening process a bit.

Paraphrased from an article found on LifeHacker
Best Ways To Store Bananas
Whether you store them on the counter or in the fridge, here are a few tips on how to store bananas to keep them fresher, longer!
Storing Bananas On The Counter
Take the bananas out of the plastic produce bags as soon as you get home. Keeping them in the bags will cause moisture to build up and the bananas will rot.
Avoid placing the bananas in direct sunlight or in a fruit basket next to other ripening fruit or veggies.
Storing Bananas in the Refrigerator
Have you ever tried refrigerating bananas? If you don't care about the peels looking brown or even black, give this method a try! The peels will turn brown much faster, but the fruit itself lasts WEEKS longer! They stay firm and fresh and they taste delicious!
Store bananas in the fridge after they are fully ripe.
Keep SLICED bananas fresh by putting them in an airtight container and then covering the slices with lemon or pineapple juice.
Storing Bananas in the Freezer
When thawed, you can use your bananas in several recipes – including banana bread and breakfast smoothies. But here are some things to keep in mind –
Peel the bananas before freezing them. If you try to peel them after they have been frozen, the peels won't come off. And if you wait until the bananas defrost, you'll be left with a mushy mess!
Put the peeled bananas into plastic bags or Tupperware containers. It is a good idea to freeze portions together that are the perfect amounts for your desired recipes.
Frozen bananas will last in the freezer for several months.
How To Ripen Green Bananas
Store them at room temperature. The warmer the room, the sooner they will ripen.
Place them close to other ripe fruit.
Put them into a brown paper bag with an apple or tomato.
20 Banana Recipes
Looking for a few new recipes to use those ripe bananas? Here are a few of our favorites:
Frozen Banana Treats
Banana Baked Goods
Banana Drinks + Smoothies
Banana Bread Recipes
Banana Snacks