If you've never made pudding cookies before, you're in for a special treat! These Banana Split Pudding Cookies are a new family favorite!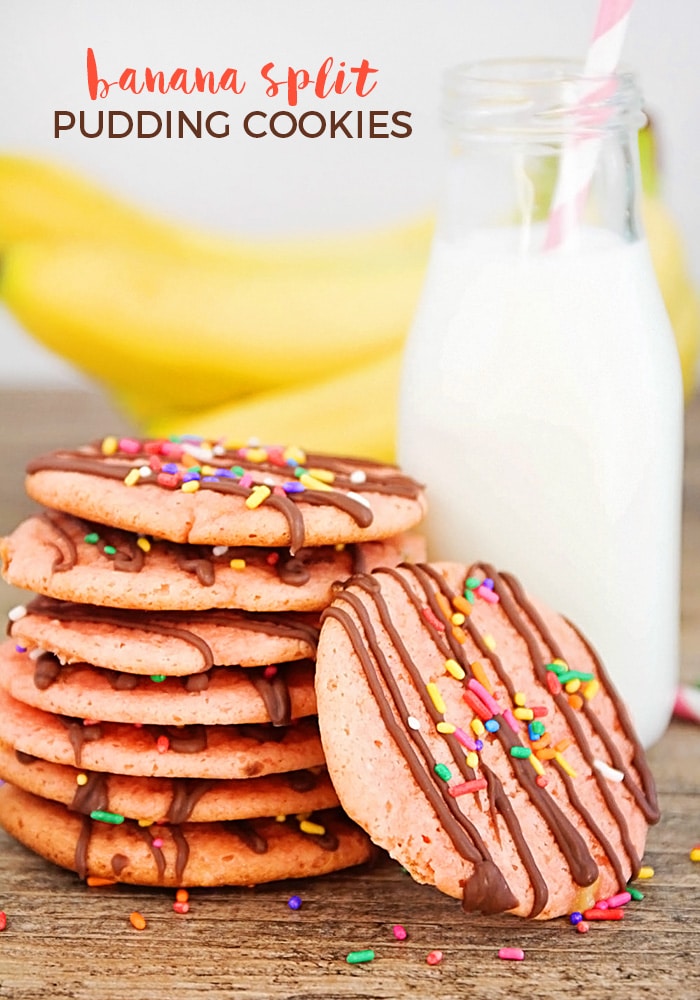 Pudding cookies are one of my favorite cookies to make because they come together so quickly and they are super soft and moist.
These banana split pudding cookies are your basic cake mix/pudding cookies, but with an extra-ripe chopped up banana thrown in.  (If you're like me, you almost always have a pile of brown bananas hanging out on your kitchen counter…and what better way to use 'em up than in cookies?)
To give these the chocolate "topping" that we all love on top of our banana splits, I simply melted some chocolate chips and drizzled it over the tops of the cookies. And, since we love sprinkles at my house, I added some of those as well!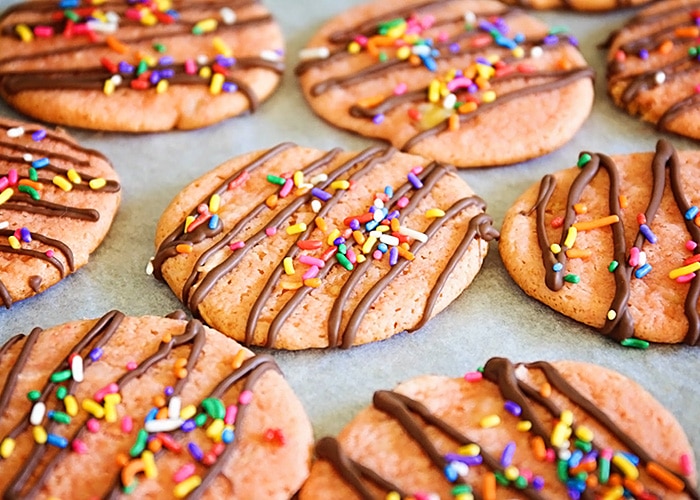 Banana Split Pudding Cookies
Makes approximately 24 cookies.
INGREDIENTS: 
1 box strawberry cake mix
1 box (4-serving size) vanilla instant pudding mix
1/2 cup vegetable oil
2 eggs
1 banana, chopped
1/2 cup semi-sweet chocolate chips
sprinkles, optional
DIRECTIONS: 
Preheat oven to 350.  Line baking sheets with parchment paper or use a Silpat.
In a medium bowl, combine the cake mix, pudding mix, oil and eggs, stirring until combined.
Gently fold in the chopped bananas.
Drop dough by tablespoonfuls onto prepared baking sheets, about 2 inches apart.
Bake for 8 to 10 minutes, or until cookies just start to brown around the edges – the centers will still be soft when you remove them from the oven.
Allow them to cool for approximately 2 minutes on the baking sheets and then remove them to a cooling rack.
Once the cookies are completely cool, melt the chocolate chips in a small microwave-safe bowl on high for approximately 30 seconds or until the chocolate is softened and can be easily stirred smooth.
Drizzle chocolate over cookies and top with sprinkles.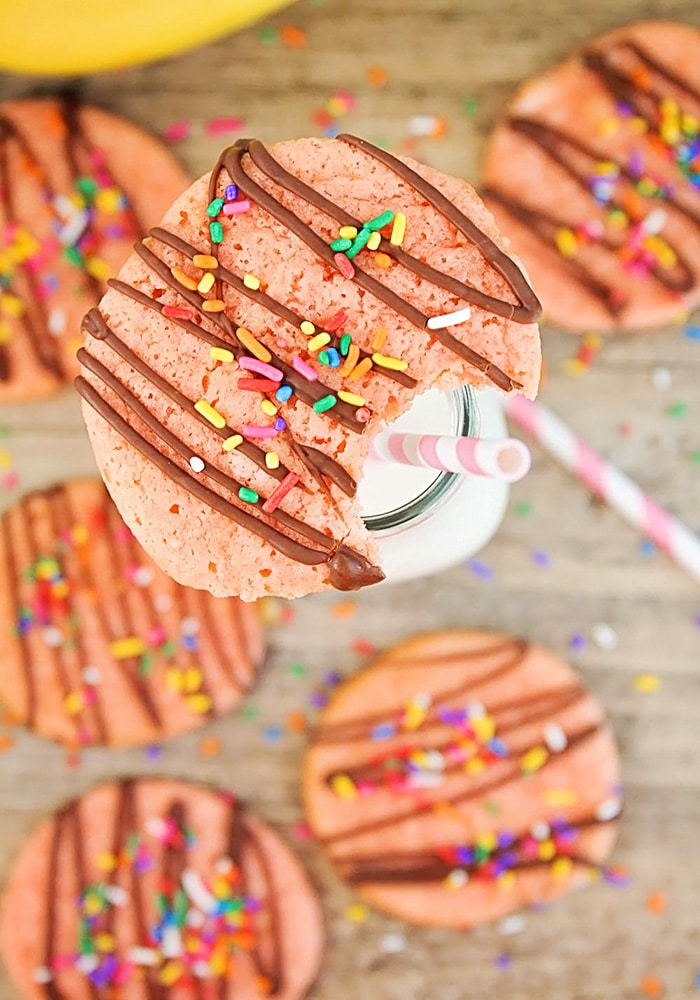 These cookies will keep for up to 5 days in the refrigerator if stored in a tightly lidded container.
ENJOY!
ABOUT THE AUTHOR: Ashley is the fabulous food blogger from Kitchen Meets Girl. She is a full-time working mom who spent some time on the Somewhat Simple Creative Team in 2013.
This post originally published on Somewhat Simple in May 2013.