Pomegranates are delicious and juicy, but they can often be messy and hard to open. Until now! Here is fantastic kitchen hack that will show you how to cut open a pomegranate easily and without a mess!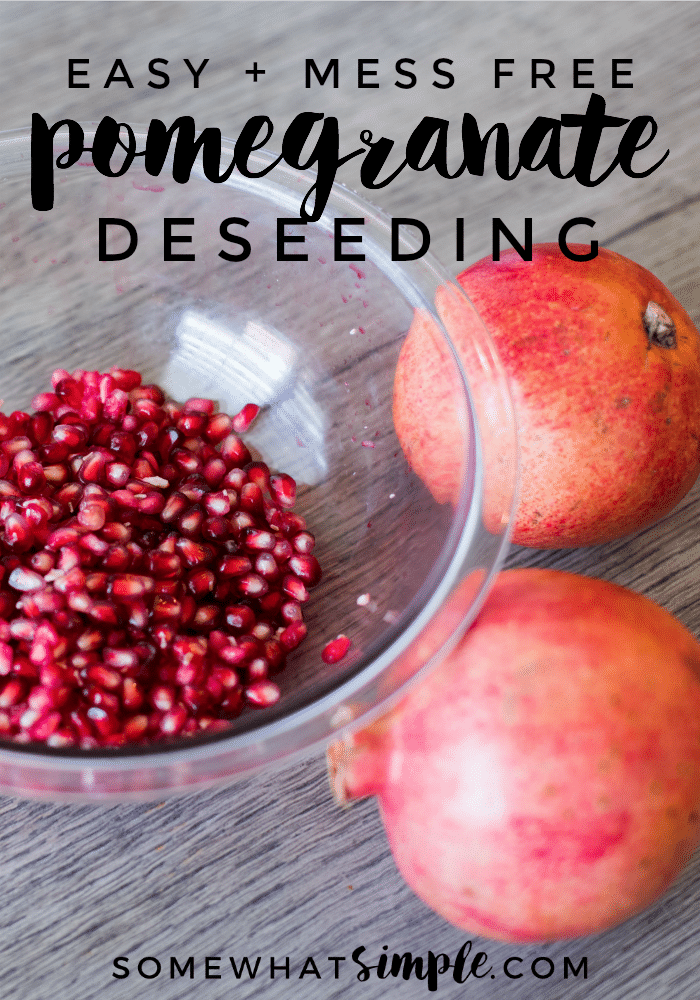 When I was a kid we had a neighbor with a big pomegranate tree that hung over his fence and onto the sidewalk. He gave all the neighborhood kids permission to pick as many as they could while they were in season. I LOVED those pomegranates… but my mom wasn't a huge fan!
Not because they weren't delicious (because they were!) but they were hard to open, and terribly messy! I ruined a number of shirts because I didn't know how to open a pomegranate without making a mess.  As a little girl trying I tried cutting and deseeding them by myself – that juice sure can stain!
I passed on my love for pomegranates to my kids – they can literally eat them like candy! But until a few years ago, just like my mom, I used to feel like they were more effort than they were worth! Cutting a pomegranate was time consuming, and getting all the seeds out was sooooo messy.
Cutting A Pomegranate Hack
And then one day I stumbled across a kitchen hack that would forever change the way I viewed pomegranates. We can cut, deseed and eat a these delicious fruits with no mess, and in no time at all!
Here is the simple tutorial showing this easy hack so you'll know how to cut open a pomegranate without making a mess –
How To Cut Open A Pomegranate
Materials to Extract the Pomegranate Seeds –
1 ripe pomegranate
1 small bowl
1 sharp knife
1 wooden spoon
How to Open a Pomegranate –
Using a sharp knife, score a shallow cut around the perimeter of the rind. You just want to cut it deep enough to go through the membrane without piercing any of the fruit on the inside.
Carefully pull the pomegranate apart with your hands.
Hold your hand over the bowl and the place 1/2 of the pomegranate, fruit-side down, in your palm. Hit the rind with the wooden spoon so that the seeds fall into your hands and then into the bowl. Continue hitting the rind until all the seeds have fallen out.
Repeat with the other half.
There might be chunks of the membrane that fall into the bowl with the seeds, but this deseeding method ensures that the chunks are big and easy to pick out.
Eat all the seeds and enjoy!
When Are Pomegranates In Season?
If you're like me, you can never remember when pomegranates are in season.  It seems like I'm always looking for them in the grocery store but can never find them.  If you live in North America, pomegranates are in season between approximately September and February.  Mark your calendars and bookmark this kitchen hack so you'll always know how to easily open a pomegranate so you can spend more time enjoying them and less time opening them.
More Great Kitchen Hacks