This rich chocolate tart topped with pomegranate seeds is an easy and beautiful dessert to bring to any holiday party!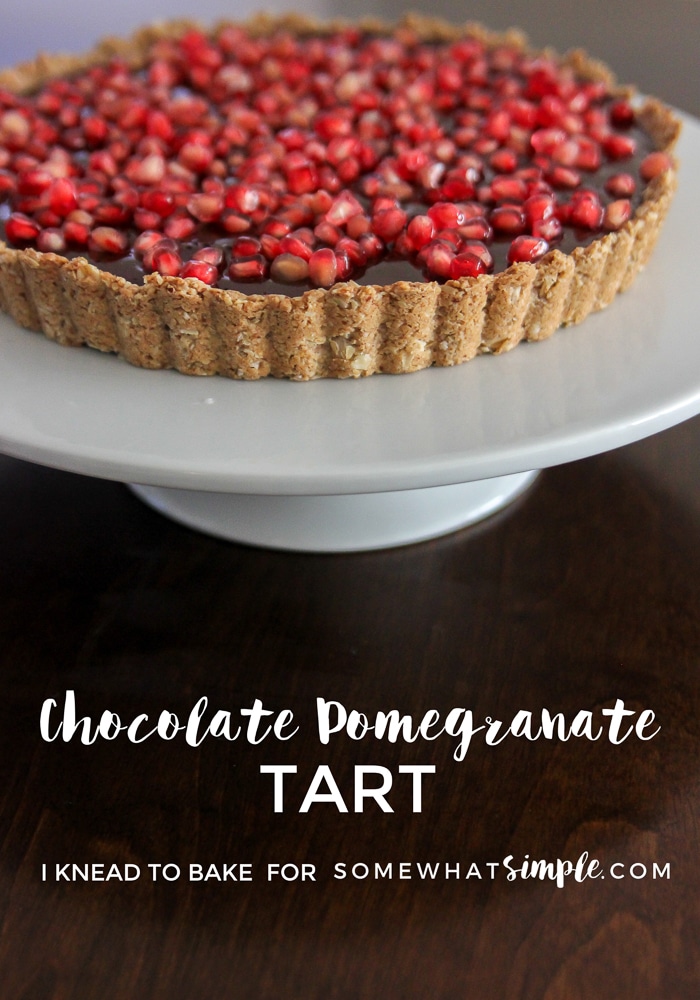 This tart not only looks beautiful, it tastes amazing! Plus, the oat and pecan crust is gluten-free and the filling can be made vegan with one quick substitution! It is literally crowd-pleasing!
Begin building your chocolate pomegranate tart by pressing your crust mixture into a 9 inch tart pan and bake until lightly golden brown.
Instead of traditional cream this filling utilizes a combo of chocolate chips and coconut cream to make it rich and thick. If you are looking for a vegan filling simply swap the semi-sweet chocolate chips for a dairy-free variety.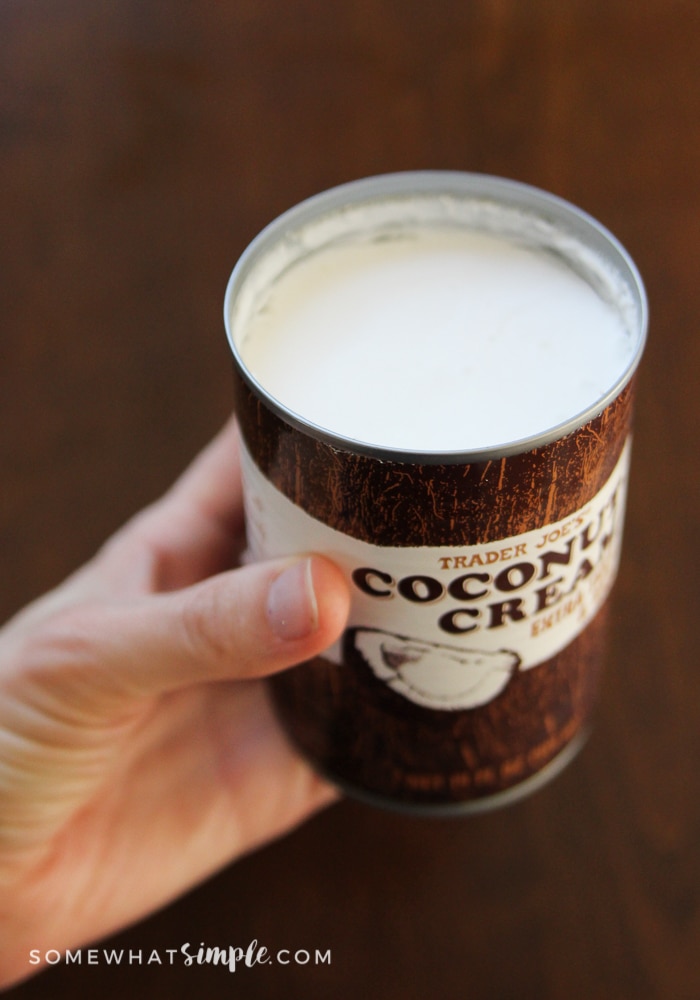 Once the filling is beginning to set, top it with handfuls of pomegranate seeds for a bright contrast of flavor and texture.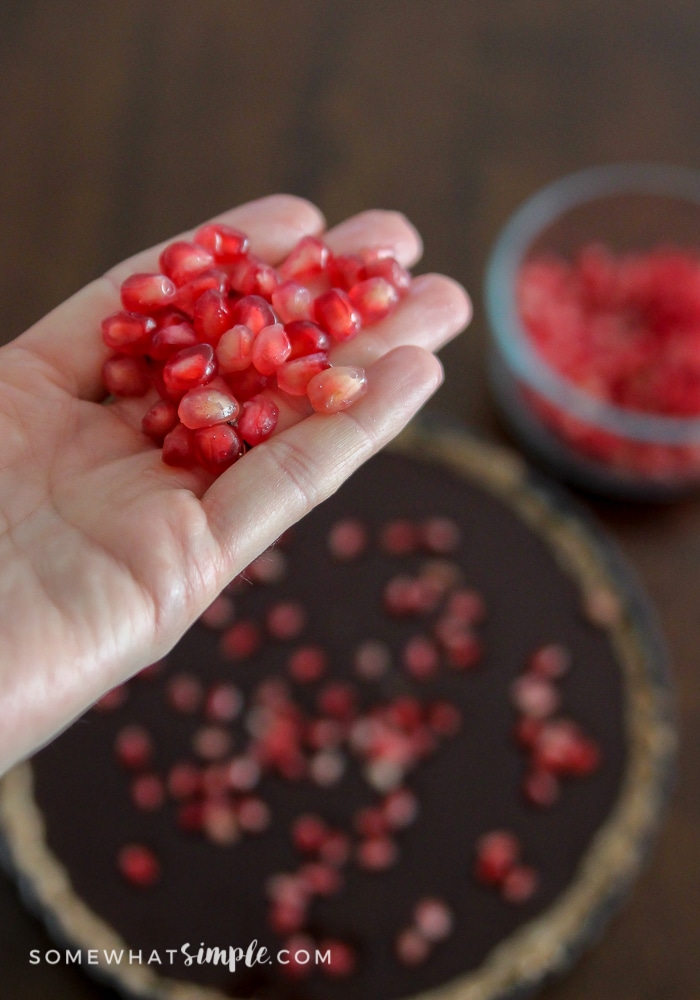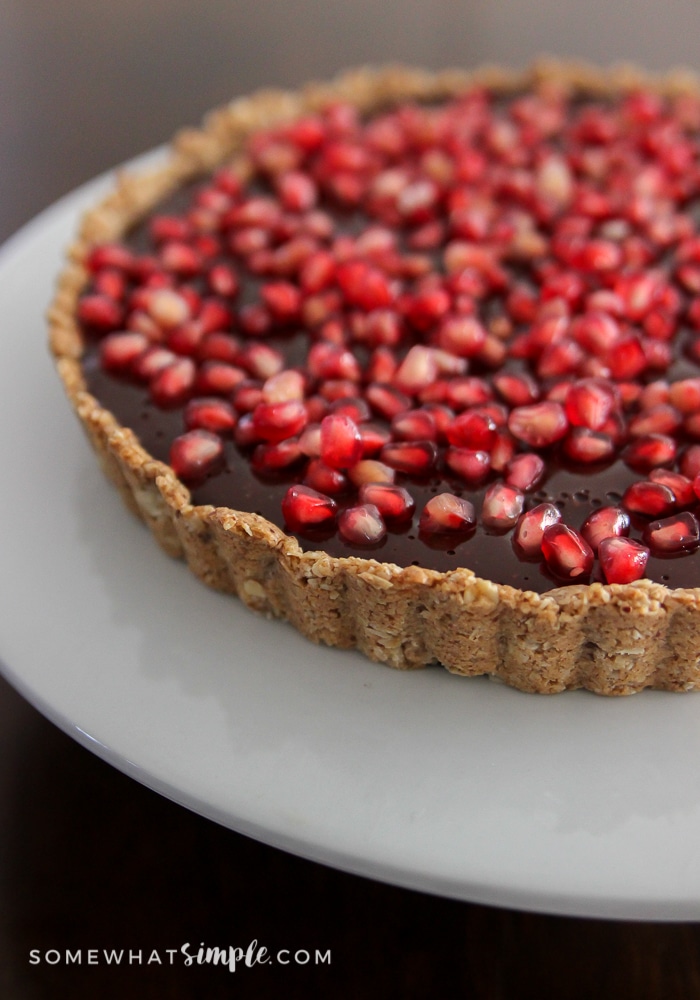 Allow the filling to finish setting in the fridge and remove from your tart pan once you're ready to serve.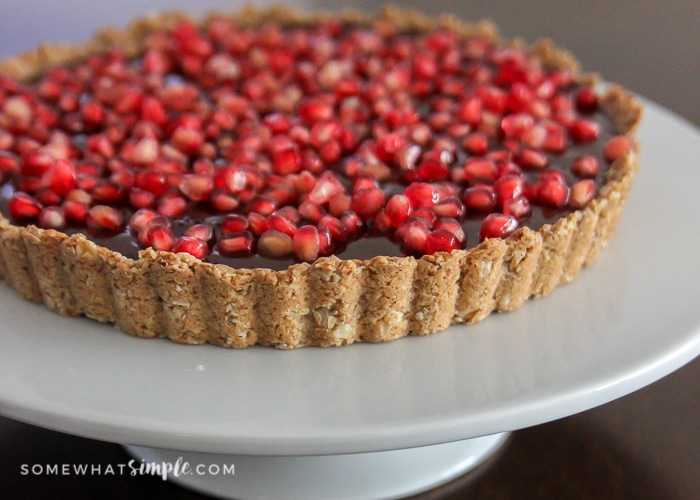 Chocolate Tart with Pomegranates
Makes: one 9 inch tart
INGREDIENTS:
for the crust-
3/4 cup pecans
1/4 cup coconut oil, melted
3 Tablespoons pure maple syrup
1/4 teaspoon sea salt
1/2 cup oat flour
1 cup rolled oats
for the filling-
2 cups semi-sweet chocolate chips
14 ounce can of coconut cream, chilled in the fridge overnight
2 Tablespoons of pure maple syrup (optional)
1 teaspoon vanilla extract
for the topping-
Seeds from 1 Pomegranate, patted dry
DIRECTIONS:
Preheat your oven to 350 degrees F.
Spray a 9 inch tart pan with non-stick spray (I used coconut oil spray.)
In a food processor, grind pecans until they look like coarse sand.
Add the oat flour, sea salt, syrup, and coconut oil. Process until combined.
Finally add the rolled oats. Pulse until the oats resemble quick oats and all the ingredients are evenly combined.
Press the dough into your prepared tart pan. Using a fork, pierce the dough a few times to allow the air to escape while baking.
Bake for 10-13 minutes or until the crust is lightly golden brown.
Allow the crust to cool at least 30 minutes.
Open the coconut cream and scoop out the coconut cream (thick and white) and discard any remaining coconut water (thin and colorless).
Prepare the chocolate filling by combining the chocolate chips and the reserved coconut cream in a medium saucepan over medium heat.
Keep over the heat and continue to stir frequently until the chocolate chips are completly melted.
Remove the saucepan from the heat and stir in the optional sweetener and vanilla extract.
Pour the filling into the crust and chill in the fridge for about an hour or until the filling is beginning to thicken up.
Top the chocolate filling with pomegranate seeds.
Continue to allow the completed tart to set in the fridge for another 2 hours or until you are ready to serve it.
Serve cold.
Notes: This recipe may be prepared a day in advance.
Adapted from: Oh She Glows
Here are a few more desserts you might enjoy-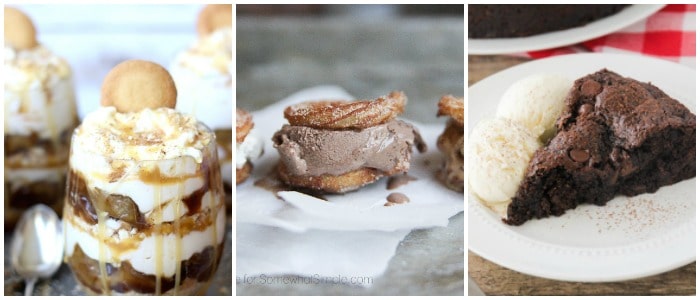 Caramel Apple Cheesecake Trifle || Churro Ice Cream Sandwiches || Chocolate Gingerbread Cake