After the Thanksgiving turkey, potatoes, rolls, and pies have been eaten and a food induced coma has ensued, we wake up and it is officially the Christmas season. Christmas comes with a whole new kind of cooking and baking. We bake Christmas cookies for our neighbors, for friends, co-workers, teachers, Santa, and ourselves. I can remember as a girl the painstaking time my mom put into the baking of the Christmas goody plate. Six plus different kinds of cookies/treats made in mass production. Then divided and assembled between way too many plates because no one could be left out. I love this memory and I have enjoyed partaking of this same holiday craziness as an adult.
To kick of the holiday baking season I thought I would share with you a great cookie to make for friends, family, and neighbors: Gingersnaps with Dark Chocolate Chips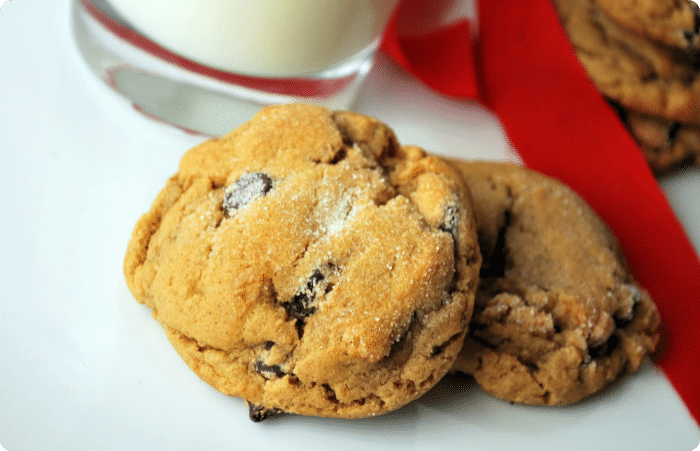 The smell of ginger totally reminds me of the spiciness and warmth of Christmas. I took a favorite ginger cookie recipe I have used for years and added a dark chocolate twist. These cookies are the perfect combinations of chewy and crispy. The perfect combination of sweet and spicy. LOVE. That is all there is too it.
Ingredients:
3/4 cups shortening
1 cup sugar
1 egg
1/4 cup molasses
2 cups flour
1 1/2 tsp ginger
1/2 tsp salt
2 tsp baking soda
1 tsp cinnamon
1 cup dark chocolate chips
Directions:
1. Cream shortening and sugar together. Add egg and molasses until well combined.
2. Combine dry ingredients in a separate bowl.
3. Slowly incorporate dry mixture into wet mixture.
4. Stir in chocolate chips.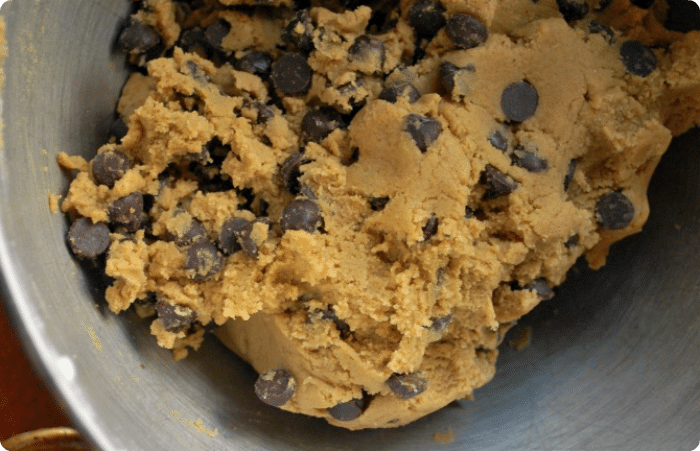 Now you have a lovely dough which you could always package up with the recipe for a neighbor gift.
If you want cookies, let's keep going.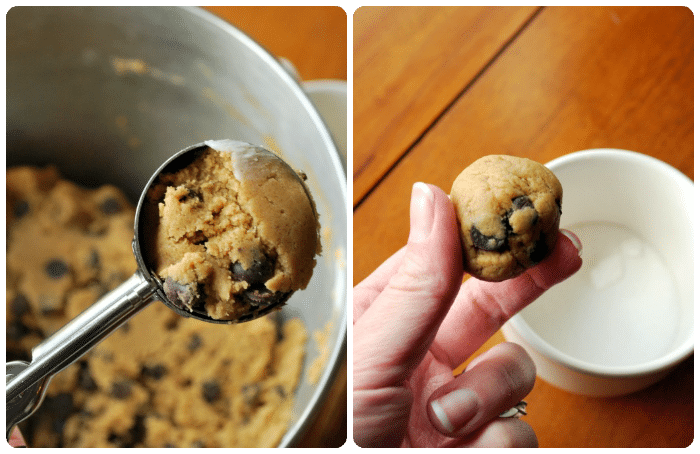 5. Preheat oven to 350 degrees.
6. Scoop out uniform sized balls of dough. (I like to use a cookie scoop.)
7. Roll the scoop into a ball.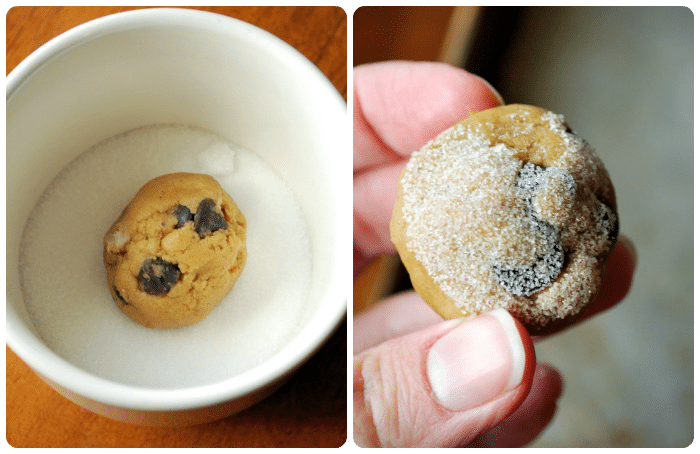 8. Drop the ball into a small cup of sugar, coating just one side.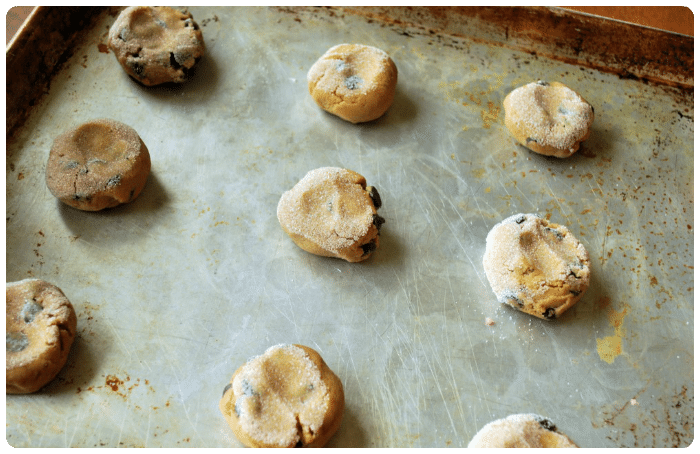 9. Place ball onto a cookie sheet, sugar side up. Using one to two fingers, slightly press the ball flat.
10. Cook for 12-15 minutes until slightly golden. Remove and let cool on pan for 5 minutes. Then remove cookies onto a cooling rack.
Once completely cool, you can wrap them up sweetly and give them to just about anyone who loves cookies.
Or you could give into your craving, pour a glass of milk and eat a couple yourself!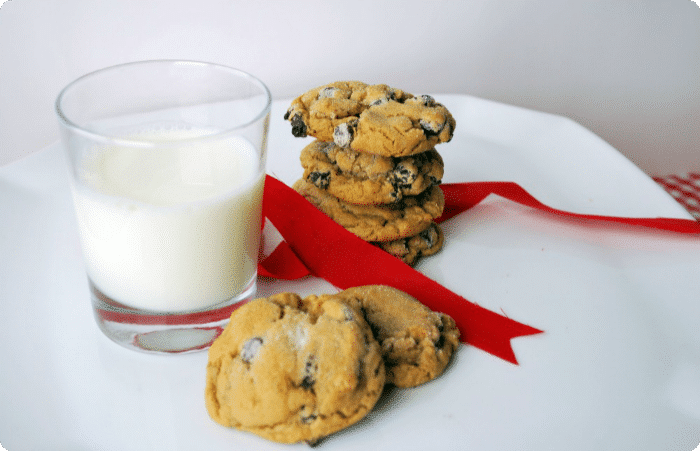 Here are two of my other favorite cookie recipes also perfect for holiday goody plates.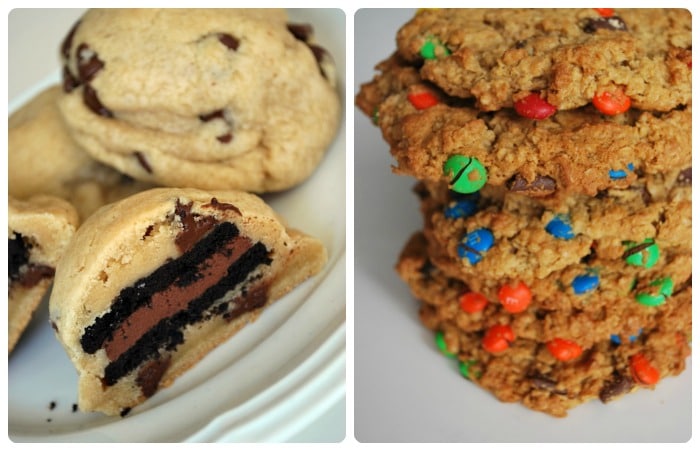 Oreo Stuffed Chocolate Chip Cookies // Monster Cookies
Happy holidays & happy cookie-baking!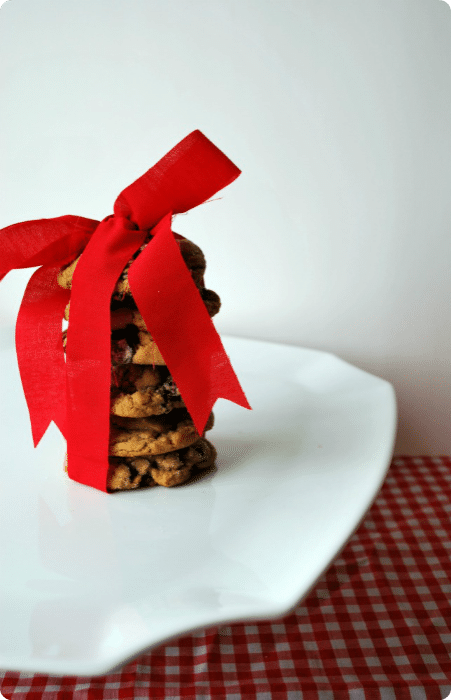 About the Author: Larissa is a mom of 4 boys who likes to cook and create. The former Food Contributor on Somewhat Simple (2011-12), she now shares her creative adventures full-time on her own blog Just Another Day in Paradise.
This recipe originally featured on Somewhat Simple in December 2012.