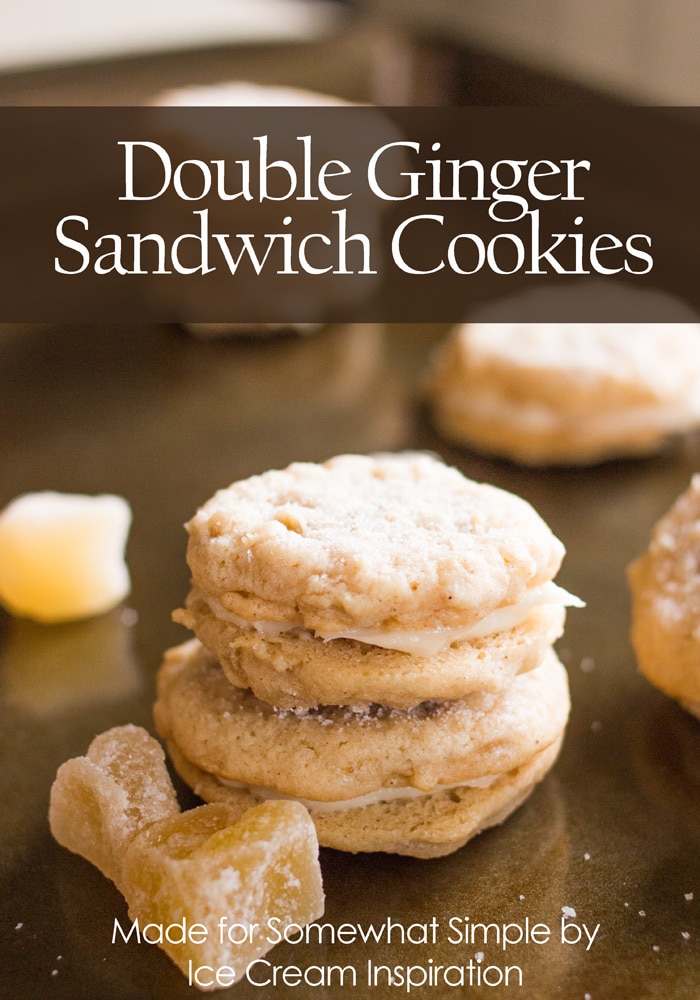 Have you ever tried crystallized ginger? You can find it at most stores that carry health food, like Sprouts, Whole Foods, or Vitamin Cottage. It's like ginger candy. Soft and chewy, it adds an amazing punch of flavor to these ginger cookies. You can eat these cookies alone, or make delicious cookie sandwiches with a sweet cream cheese filling.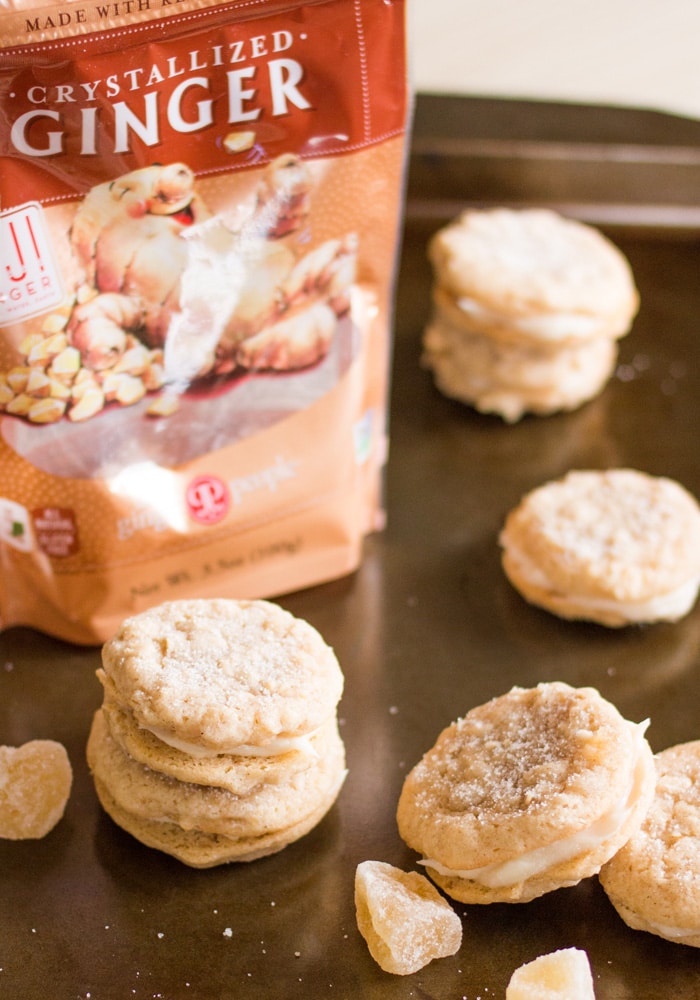 Here's a picture of the package of crystallized ginger I found. In some places, you can just buy it in bulk in their spices section. If you have trouble finding it, be sure to ask a store employee, because it really gives these cookies something unexpected and special! To make these cookies look sparkly on top, just dip a glass in sugar and press down lightly right when the cookies come out of the oven. These would be great to bring to any fall pot-luck or family celebration!
Double Ginger Sandwich Cookies
Recipe adapted from the book Lemon Tart by Josi Kilpack.
INGREDIENTS:
1 cup (2 cubes) butter
1 1/2 cups granulated sugar
3 Tbsp. light corn syrup
2 eggs
3 cups all-purpose flour
1 cup quick oats (or regular oats)
1/2 tsp. salt
1 tsp. cinnamon
1 tsp. ground ginger
1/4 tsp. ground cloves
1/4 cup crystallized ginger, finely chopped
DIRECTIONS:
Cream butter and sugar. Add corn syrup and eggs and mix well.
Add the flour, salt, cinnamon, ground ginger, and cloves, and mix well. Add the oatmeal and mix well.
To easily chop the crystallized ginger, pulse in a food processor or blender. Be careful not to overdo it, or your ginger will become mushy and clump together. Alternately, you can just chop it with a knife. After chopping, add the crystallized ginger to the cookie dough and incorporate throughout.
Using a small cookie scoop, place the dough on un-greased cookie sheets, stoneware, or cookie sheets lined with baking mats. Bake at 350 degrees for about 10 minutes, or until bottom edges are barely browned.
Remove from oven and press lightly with a glass dipped in sugar. (You can make the sugar stick to the glass by spraying the bottom with cooking spray before your first "press." Dip glass into sugar for each press. You should not need to spray the glass again).
Put cookies on wire racks to cool.
FOR THE CREAM CHEESE FROSTING;
INGREDIENTS:
1/2 cup butter, slightly softened
8 oz. cream cheese, slightly softened
1/2 tsp. vanilla
1 1/2 cups powdered sugar
DIRECTIONS:
Cream butter and cream cheese. Add vanilla and mix until smooth. Add powdered sugar until desired consistency is reached.
When cookies are cool, spread between two cookies.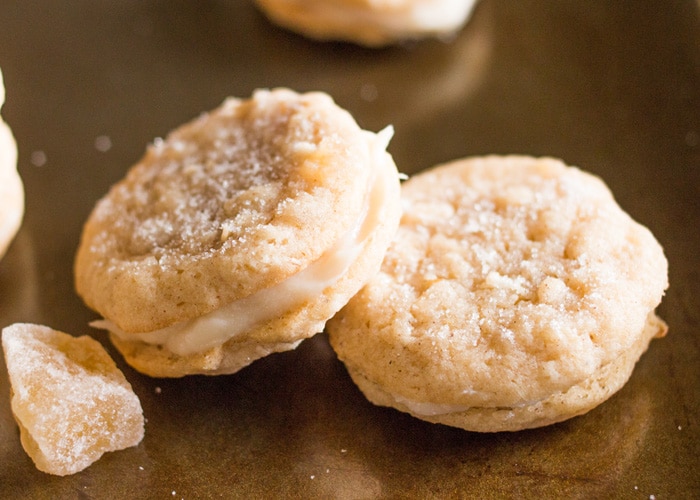 Enjoy!
You might also love these cookies!


Orange White Chocolate Macadamia Nut Cookies / White Chocolate Candy Cane Drop Cookies / Peanut Butter Cream Sandwich Cookies