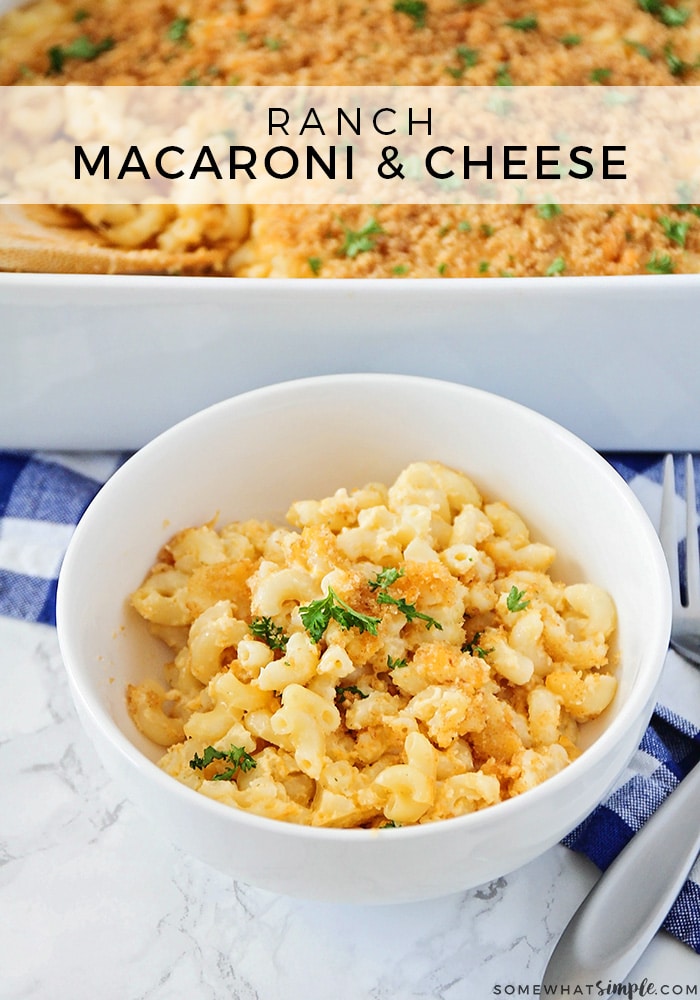 Baked macaroni and cheese is tasty twist on a classic comfort food recipe! Tender macaroni, topped with your favorite cheese and bread crumbs will quickly become a family favorite.
Easy pasta dishes are hands-down one of my favorite ways to feed my family! Chicken Broccoli Pasta, Taco Stuffed Pasta Shells, Easy Chicken Tetrazzini… they are filling, flavorful and so easy to make! This Ranch Macaroni and Cheese recipe fits right in with the best of 'em!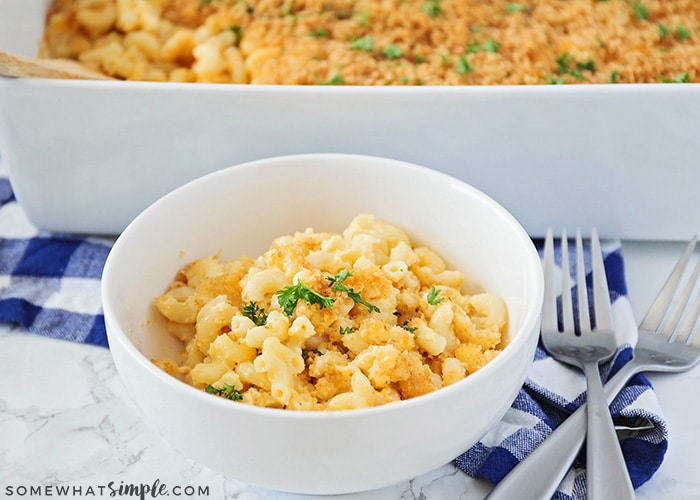 Easy Baked Macaroni and Cheese
When I was a freshman in college, I tried making a box of macaroni and cheese. In true "Stephanie fashion", I didn't read the directions carefully, so I added all of the ingredients; powdered cheese, milk and butter into the boiling pot of pasta, water included!
When I realized my mistake, I tried to salvage my dinner by draining the water, then adding another packet of the powdered cheese from a different box. I thought this would totally work since most of the first packet was drained when I rinsed the pasta. But it was a pasty, chalky, inedible mess that my boyfriend, who is now my husband, witnessed.
So now my kids like to tease me about it. In fact, it has been kind of a running joke in my family that I can cook anything else in the world, just not macaroni and cheese! Until I made this recipe, that is.
No one said anything about my lack of macaroni and cheese making skills because they were too busy stuffing their faces and finishing off the entire pan of this delicious baked macaroni and cheese. It has been requested several times since then, so it looks like I've finally conquered my food nemesis once and for all.
How To Make Baked Macaroni and Cheese
Preheat the oven to 350 degrees F
Cook the macaroni pasta according to the directions on the package
Lightly grease the bottom of a 9 x 13 casserole pan using nonstick cooking spray
Using a large mixing bowl; combine the eggs, ranch dressing and evaporated milk
Whisk everything together until it has fully blended and the mixture is smooth
Gently fold in the cheese and then add in the cooked pasta
Spoon the mixture into the casserole pan
Melt the butter
Mix the bread crumbs with the butter in a small bowl and then sprinkle over the top of the macaroni
Bake for 20 – 25 minutes or until the macaroni and cheese is heated throughout and the top is a golden bown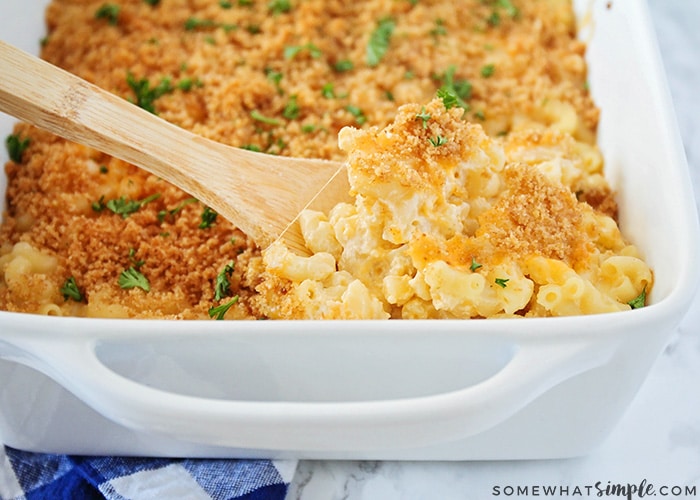 I mean seriously. How good does that look?!
Tips For Baked Mac and Cheese
Whichever type of cheese you decide to make, use a block of cheese and shred it yourself. Don't use any pre-shredded cheese in a bag because it is has a coating that keeps it from sticking together in the bag that won't allow it to melt like shredded cheese from a block.
Cook your pasta about one minute less than what the package recommends. This will allow the pasta to finish cooking in the oven and the macaroni noodles won't turn out soggy.
How To Store This Recipe
If you have any leftovers, you can store them in the refrigerator inside of an airtight container like Tupperware. It'll stay fresh this way for about 5 to 7 days. If you don't plan on eating it that quickly, you can also freeze this recipe. Just be sure to place it in a container that is safe for the freezer.
This recipe can also be made ahead and is an excellent freezer meal. To freeze it, transfer the baked macaroni and cheese into a disposable casserole pan. Then wrap the pan tightly with plastic wrap and then cover it with aluminum foil before freezing. This macaroni and cheese can be stored in the freezer for up to two months. When you're ready to eat it, unwrap the pan and then bake it in the oven at 350 degrees for 45-60 minutes or until the center reaches 165 degrees F.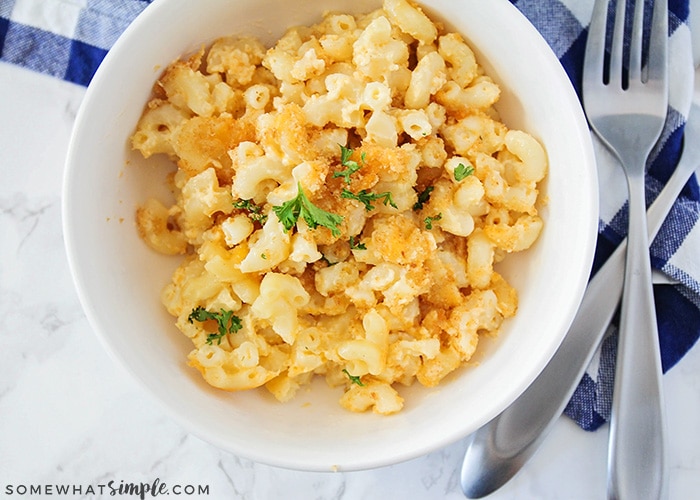 More Easy Recipes Using Macaroni
Baked Macaroni and Cheese Recipe
If you want to take your homemade macaroni and cheese skills to the next level, give this a try! Leave us a comment below, or tag us on social media to let us know how much you love it!
Homemade Baked Macaroni and Cheese Recipe
A tasty twist on a classic comfort food, this Baked Macaroni and Cheese has become a family favorite!
Ingredients
3

cups

of macaroni noodles

,

uncooked

1.5

ounce

can of evaporated milk

2

eggs

,

beaten

1

cup

of ranch dressing

3

cups

of shredded cheese

,

cheddar, Asiago, Colby or Mozarella all work well!

1/2

cup

of bread crumbs

2

tablespoons

of butter

,

melted
Instructions
Preheat oven to 350 degrees. Lightly grease the bottom of a 13x9 casserole pan with nonstick cooking spray.

Cook pasta according to packages directions.

Combine evaporated milk, eggs and ranch dressing in a bowl and whisk until well blended and smooth.

Gently fold in the cheese and then add the cooked pasta.

Spoon mixture into your casserole pan.

Mix bread crumbs and butter in a bowl, then sprinkle over the top of the macaroni.

Bake for 20-25 minutes or until heated through and the top is golden.
Nutrition
Other Notes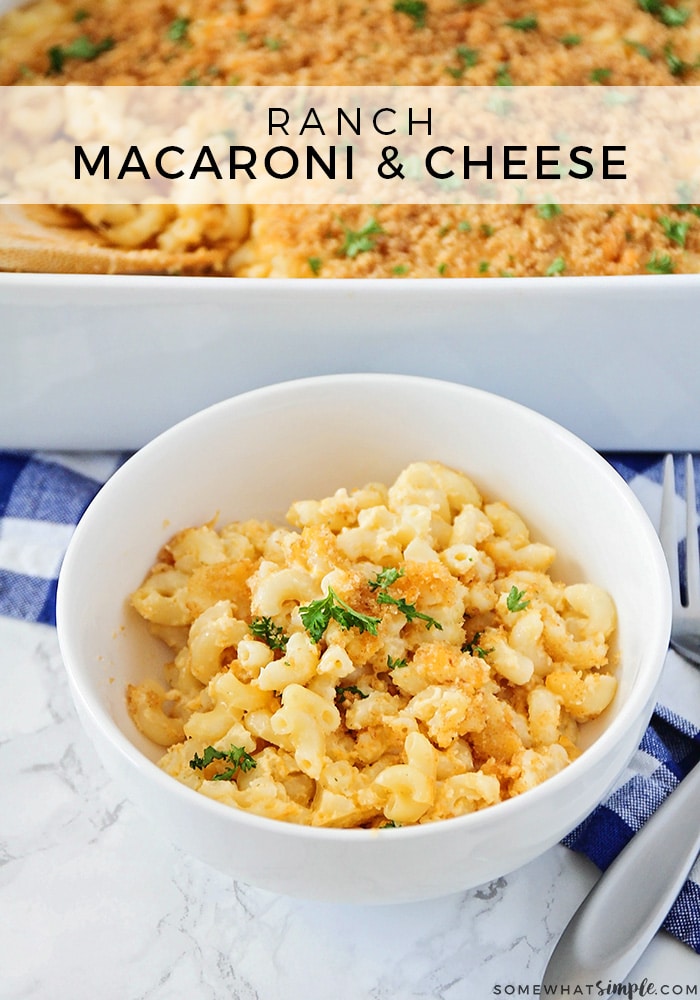 Enjoy!