This delicious and indulgent five cheese bacon mac and cheese recipe is quick and easy to make, and always a family favorite!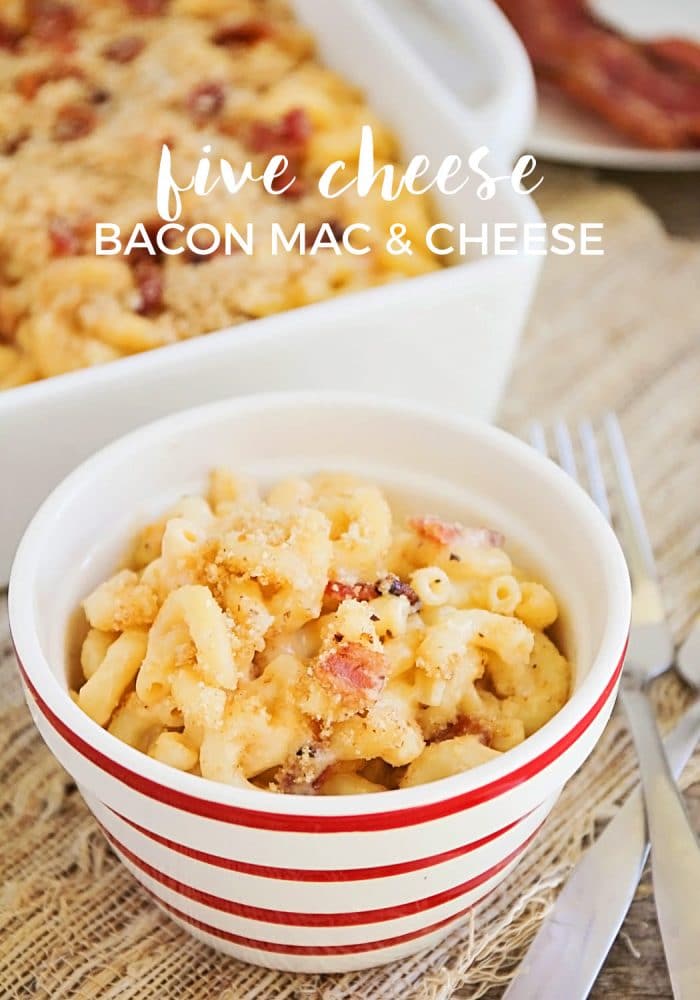 As much as I consider myself a foodie, and I love trying new and exotic foods, there's something pretty wonderful about a simple and delicious mac and cheese recipe. Mac and cheese is perpetually popular with my kids, but it's also one of my own favorite comfort food meals. At the end of a long day, there's really nothing better than a big bowl of cheesy goodness. This five cheese bacon mac and cheese recipe is a huge favorite at our house, and gets rave reviews every time I make it!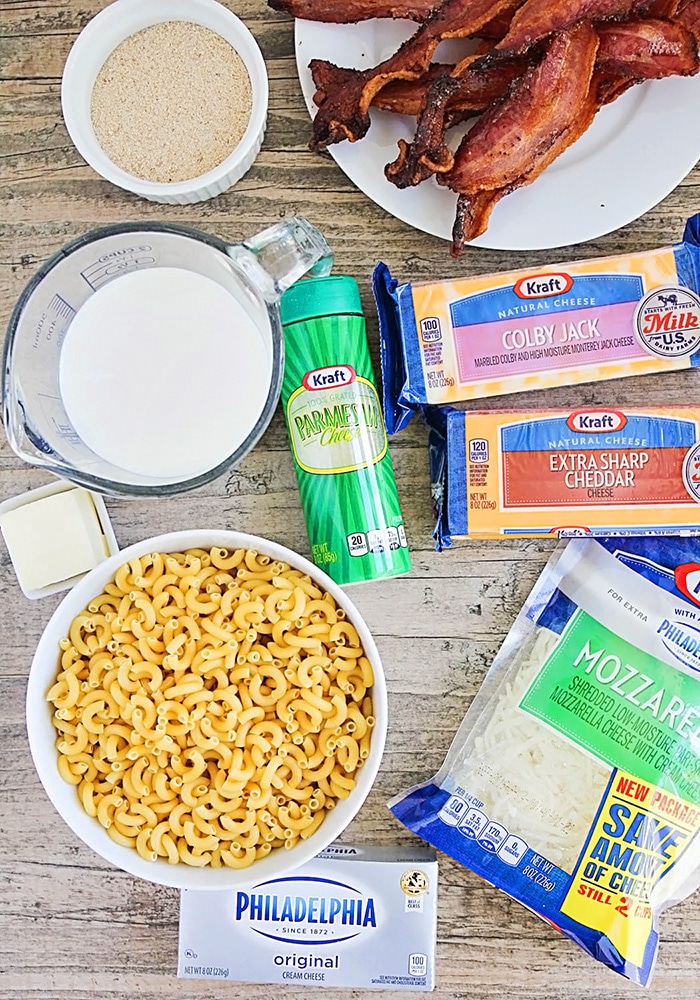 Although the ingredient list is a little long, that's mostly because of the FIVE delicious cheeses in the sauce. I used a mix of cream cheese, cheddar, colby jack, mozzarella, and parmesan, which blended together perfectly. Feel free to substitute and mix and match cheeses. There's really no way to go wrong!
Making your own cheese sauce is simple and easy (and so delicious!), but it does take a little practice to get the knack of it. It's important to make sure that the flour is cooked in the butter before adding any liquid, to avoid a grainy/floury tasting sauce. You'll start by melting the butter in a large skillet, then whisking in the flour. Let the mixture bubble and turn golden before adding the liquid.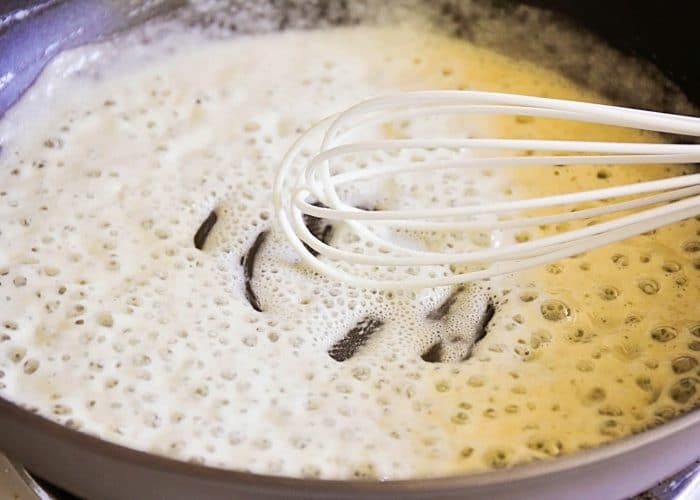 The key is to add the liquids (milk, half and half, and chicken broth) slowly, while whisking constantly to prevent any lumps. Adding the liquid a little at a time helps to maintain the thickness of the sauce.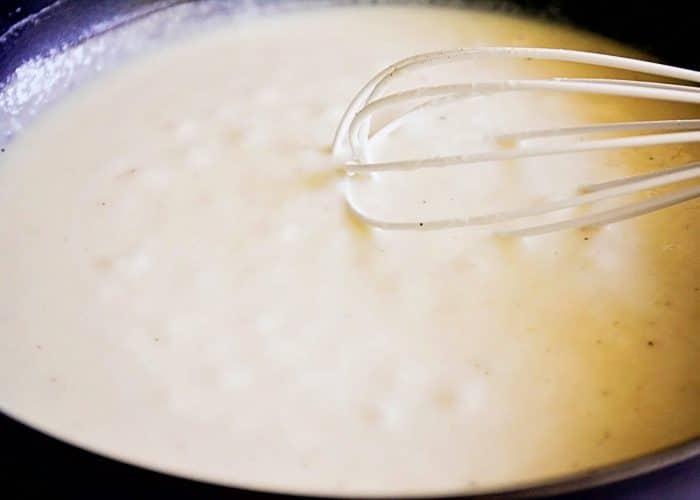 Another helpful tip is to add the cheeses to the sauce while the skillet is off the heat. If you add the cheese while the skillet is still on the burner, sometimes the cheese can separate and make the sauce grainy. I love the combination of five delicious cheeses, and how creamy and savory they make the sauce!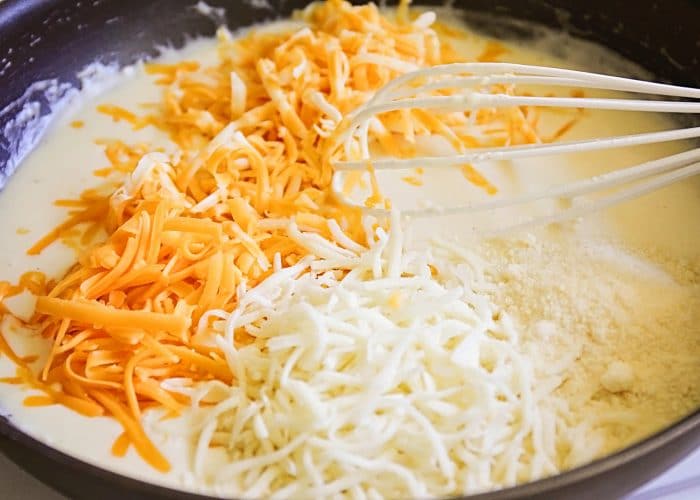 Seriously, look at this glorious cheesy sauce! I could eat it with a spoon, but it's even better when made into mac and cheese. 🙂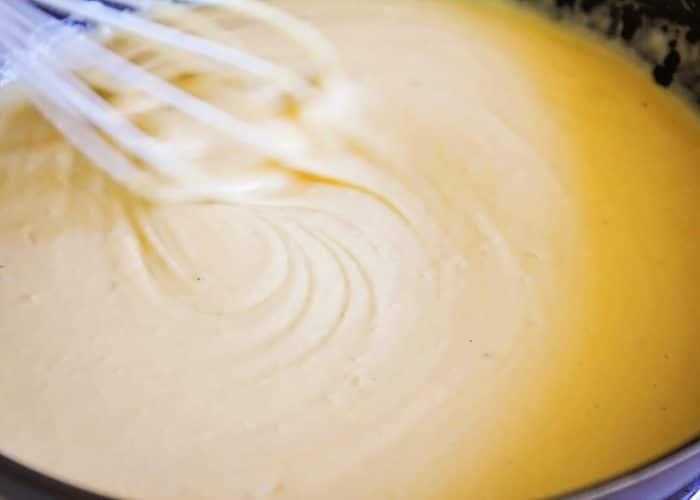 Once the sauce is complete, you'll add some cooked macaroni noodles. You could definitely stop there if you're short on time, but adding a tasty bread crumb topping and baking the macaroni makes it even more special and delicious!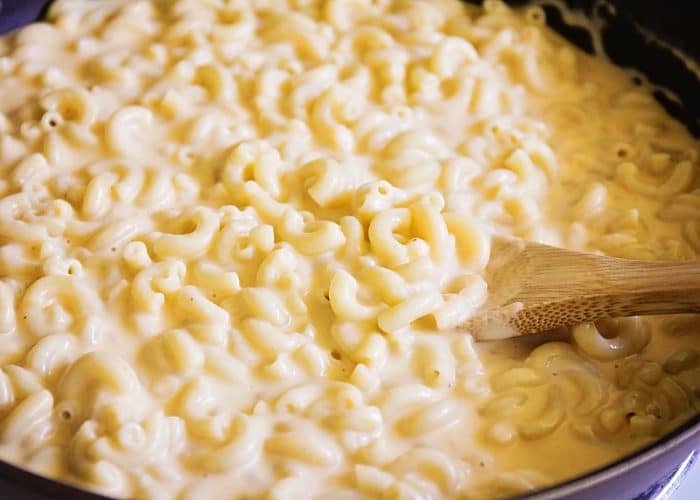 I think the crunchy bread crumb, parmesan, and bacon topping is my favorite part! It's savory and buttery, and adds such great texture to the dish.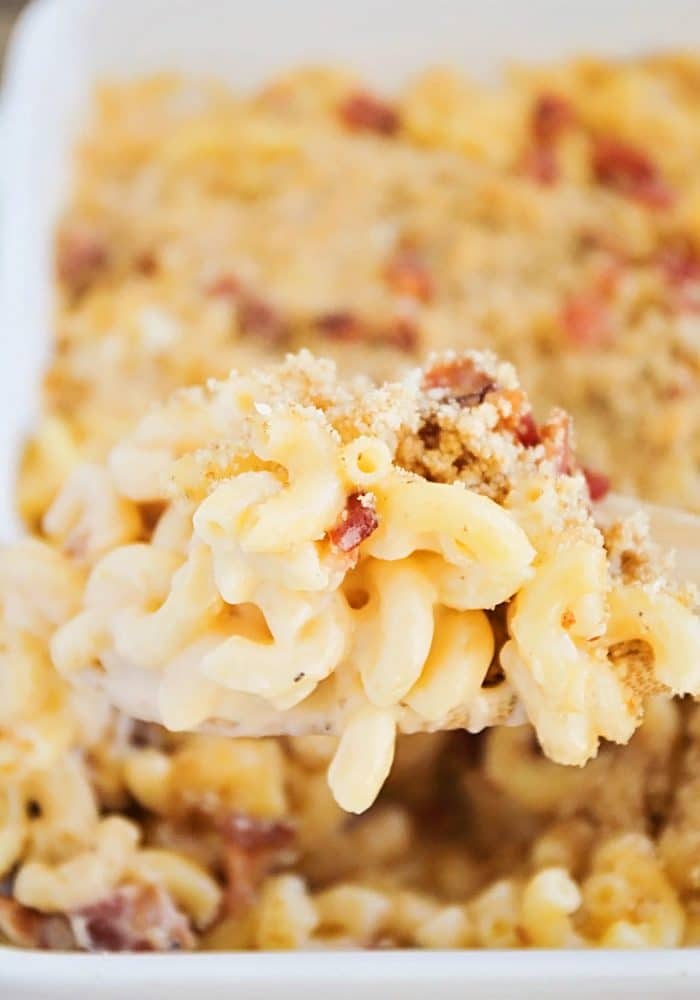 This five cheese bacon mac and cheese recipe is one of my family's very favorite meals, and one that my kids ask for frequently. It's rich and creamy, and perfect for any night when you're craving some delicious comfort food.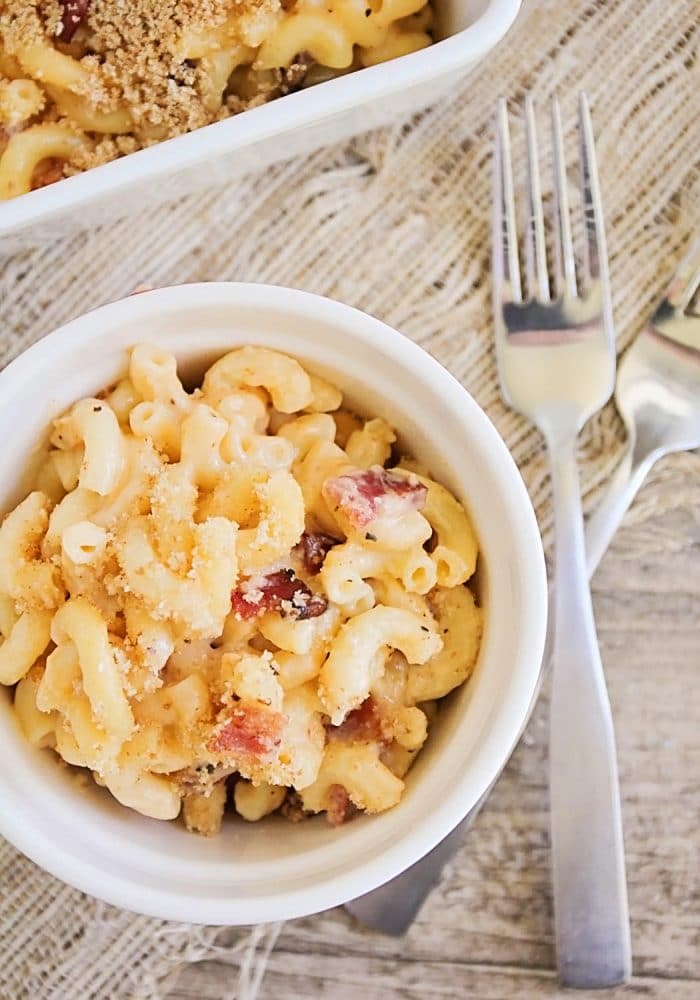 Five Cheese Bacon Mac and Cheese Recipe
INGREDIENTS:
12 ounces elbow macaroni
4 slices of bacon, cooked and crumbled, divided
4 tablespoons butter, divided
2 tablespoons flour
1 cup milk
1/4 cup half and half
1 cup chicken broth
1/2 teaspoon salt
1/4 teaspoon pepper
2 ounces (1/4 bar) Philadelphia cream cheese
1/2 cup shredded Kraft extra sharp cheddar cheese
1/2 cup shredded Kraft colby jack cheese
1/2 cup shredded Kraft mozzarella cheese
3 tablespoons Kraft parmesan cheese, divided
1/2 cup bread crumbs
DIRECTIONS: 
Preheat the oven to 350. Cook the macaroni according to the package directions. Drain and set aside.
While the pasta is cooking, melt 3 tablespoons of butter in a large skillet over medium heat. Whisk in the flour, and cook 2-3 minutes, or until slightly golden and bubbly.
Slowly add the milk, followed by the half and half, whisking constantly to prevent lumps. Let the mixture bubble and thicken, then slowly add the chicken broth while continuing to whisk. Let cook 3-5 minutes, until thickened. Stir in the salt, pepper, and cream cheese, and cook until the cream cheese has melted.
Remove from heat and stir in the cheddar, colby jack, mozzarella, and 2 tablespoons of parmesan cheese. Whisk until the cheese has melted. Stir the cooked pasta into the cheese sauce, then add the crumbled bacon, reserving about two tablespoons.  Pour the pasta mixture into an 8 x 8 baking dish.
Melt the remaining 1 tablespoon of butter in a small bowl, and whisk together the melted butter, bread crumbs, and remaining 1 tablespoon of parmesan cheese. Sprinkle the bread crumb mixture over the pasta, and top with the remaining bacon pieces.
Bake 15 minutes, or until the bread crumbs are toasted and the cheese sauce is bubbly. Serve hot.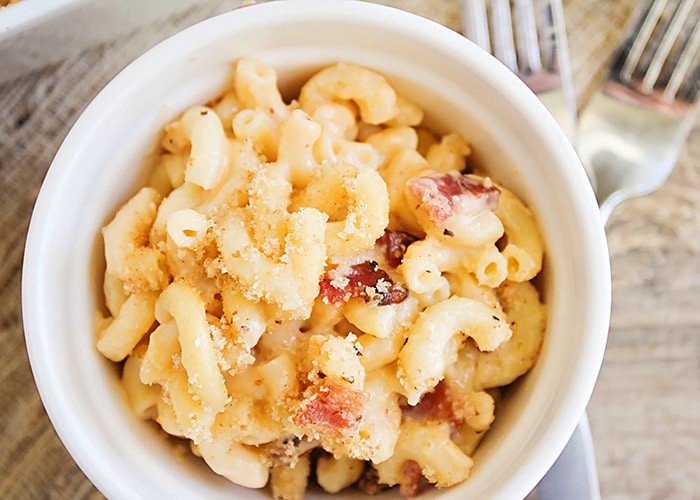 This post is sponsored by Kraft/Heinz. All opinions are my own.