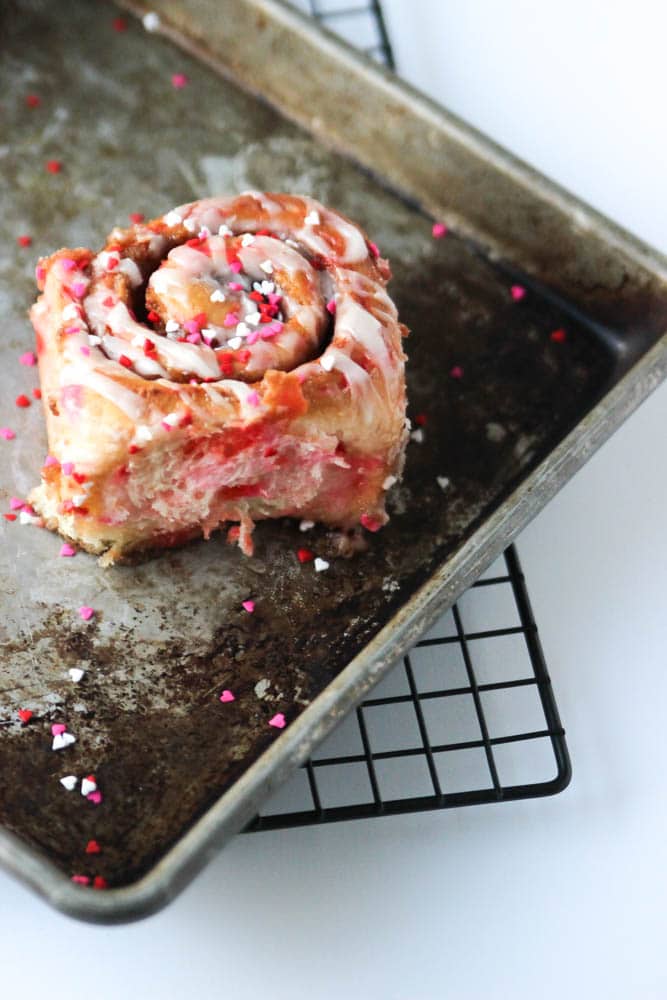 These funfetti Valentine cinnamon rolls make for a super festive and delicious holiday treat!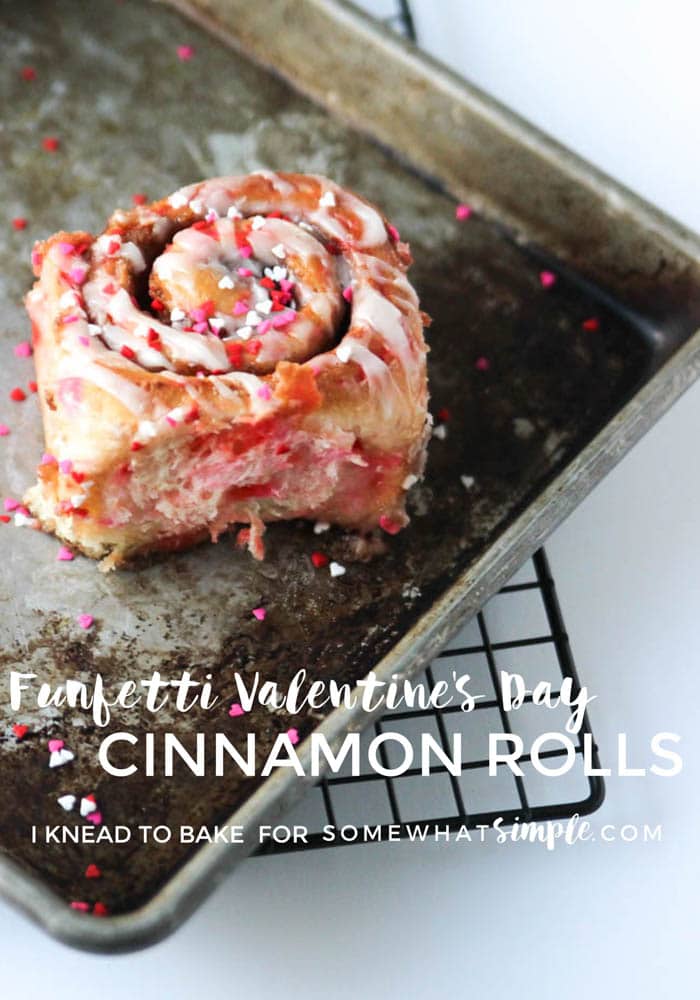 Time for a confession: I have an obsession with sprinkles and is an obsession I am proud to say I have passed on to my children. Now what could be better than sprinkles you ask? How about sprinkles inside cinnamon rolls? And not just any sprinkles, Valentine's sprinkles! Who's with me?!
First start by making your dough.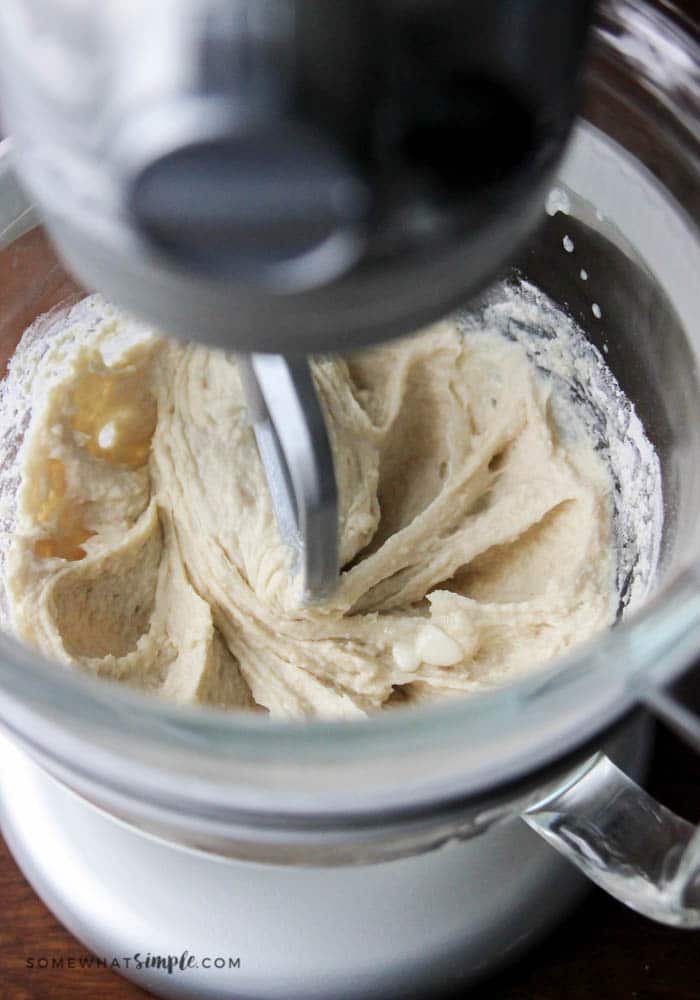 Once the dough is completed and has finished kneading, its time to add some holiday cheer – cue the v-day sprinkles!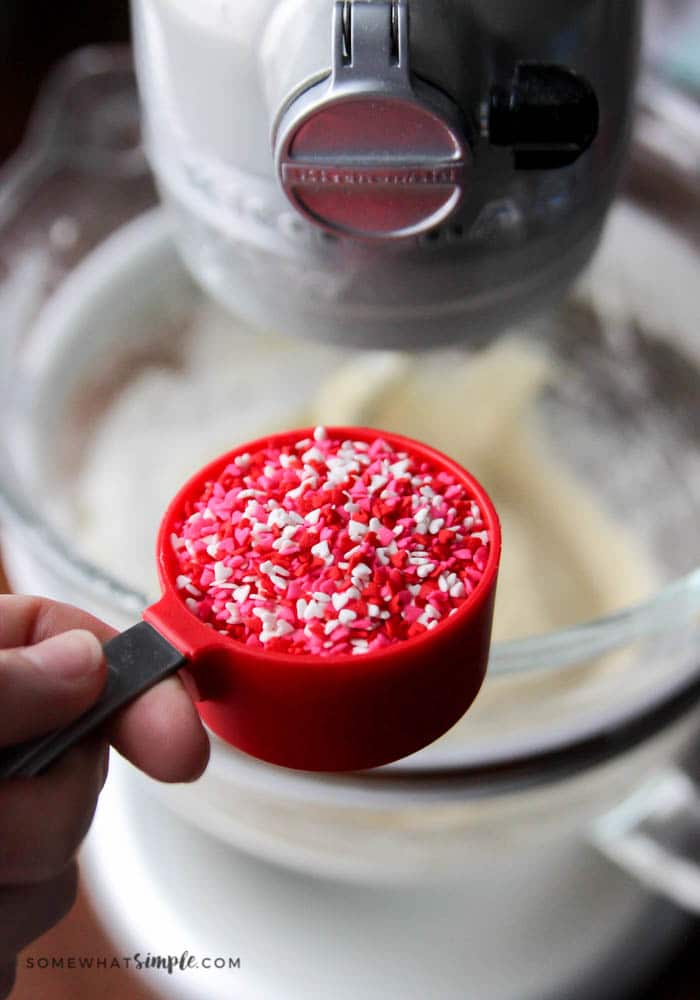 Once you add the sprinkles to your dough, I found it easiest the incorporate them by hand. The more you knead, the more the color will bleed into your dough. After the dough is finished, roll it out, coat it a buttery sweet cinnamon filling and roll. Cut into 12 individual servings.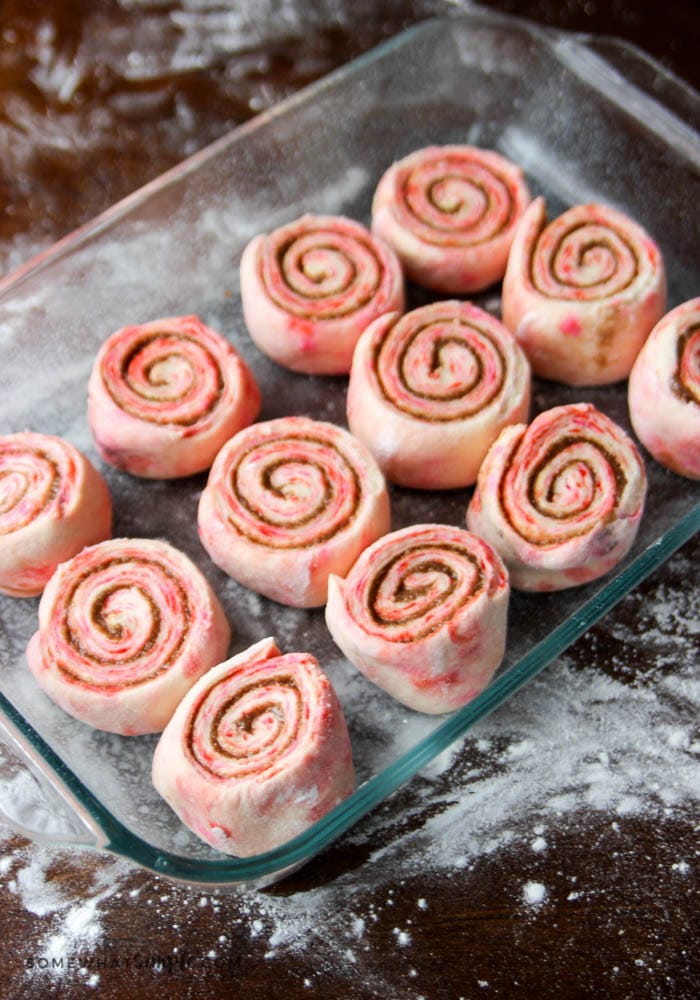 And allow them to rise. When they are ready, bake them until they are starting to brown on the top, about 20 minutes. Finally coat them in icing and of course…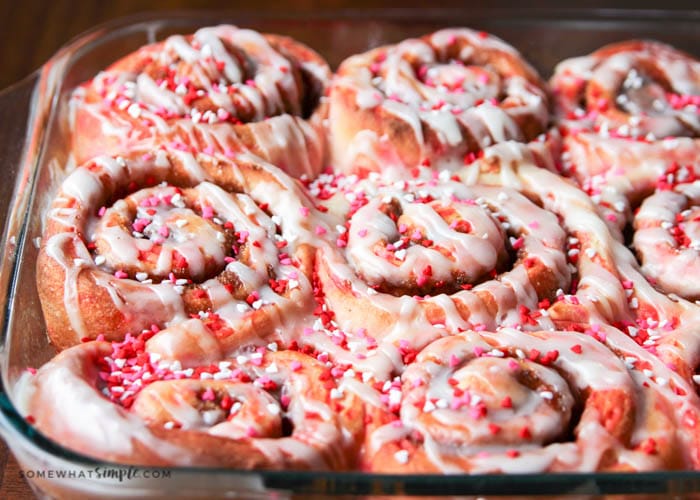 … more sprinkles!!
Funfetti Valentine Cinnamon Rolls
Makes 12
Ingredients:
for the dough-
1 cup milk
4 Tablespoons butter
3 1/4 cup bread flour
2 1/4 teaspoon yeast
1/4 cup sugar
1/2 teaspoon salt
1 egg
1/3 cup sprinkles*
for the filling-
1/2 cup butter, softened
1 cup brown sugar
4 teaspoons cinnamon
for the topping-
1 1/2 cup powdered sugar
2 Tablespoons butter, melted
1/2 teaspoon vanilla
2 Tablespoons milk
sprinkles for garnish
Directions:
Begin making the dough by placing the milk and 4 Tablespoons of butter in a microwave safe bowl. Heat for 1 minute and 30 seconds. Stir and set aside.
Whisk together yeast, white sugar, salt, and 2 cups of flour in the bowl of a stand mixer.
Add the milk and butter mixture. Mix to combine.
Add the egg and beat slowly for 30 second to 1 minute.
Using a dough hook add 1 cup of flour and knead until combined. Add the remaining 1/4 cup if needed.
Add the sprinkles and mix on low with a dough hook or knead in by hand.
Allow the dough to rest 10-20 minutes.
Next make the filling by combining the softened butter, brown sugar, and cinnamon.
Now roll the dough into a large rectangle, roughly 12 x 14 inches.
Spread the rolled dough evenly with the cinnamon/sugar/butter filling.
Roll up from the longer (14 inch) side of the rectangle. Pinch the edges closed and score the roll into 12 equal pieces.
Cut using thread or dental floss by slipping the floss under the roll, crossing over the top and pulling tight across.
Place the finished rolls in a greased 9×13 inch baking pan.
Cover and allow the rolls to proof.
Once they have risen, bake at 350 degrees F for about 17-20 minutes.
In a small bowl combine the melted butter, milk, vanilla, and powdered sugar.
Spread the prepared icing over the warm rolls and garnish with sprinkles.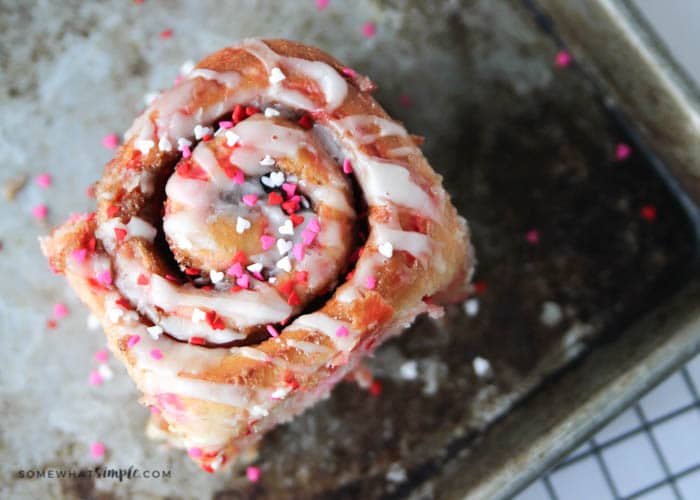 Notes: Avoid using non-perils in place of sprinkles. They typically bleed their color more.
Recipe adapted from: Our Best Bites
Here are a few other recipes you will LOVE –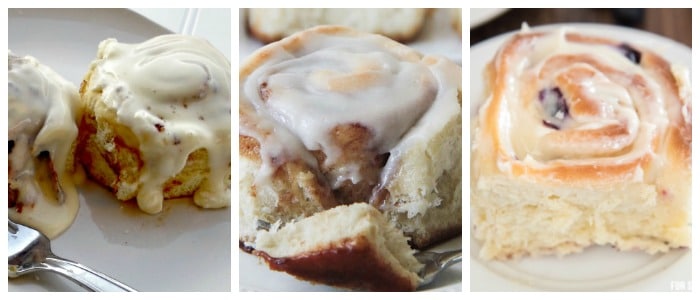 Copycat Cinnabon Cinnamon Rolls || Brown Sugar Cinnamon Rolls || 1-Hour Blueberry Sweet Rolls