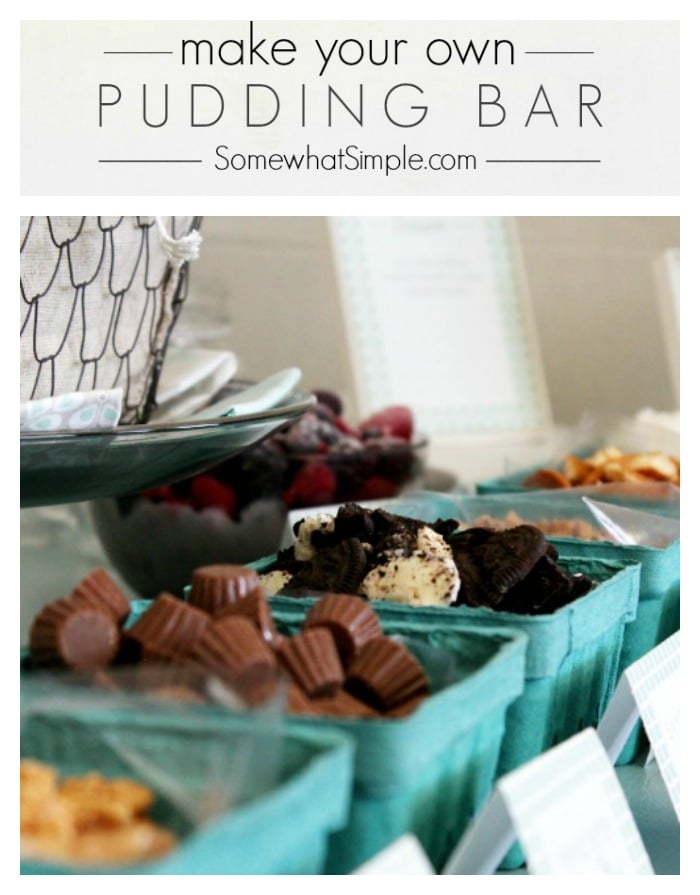 Summer is here and it's time to celebrate! In honor of National Chocolate Pudding Day, (coming up on June 26!) I'm going to show you how to make your own pudding bar for a sweet, decadent dessert that only takes seconds to prepare! Moms- put the kids to bed, call your girlfriends to come over and get ready for a night of simple deliciousness!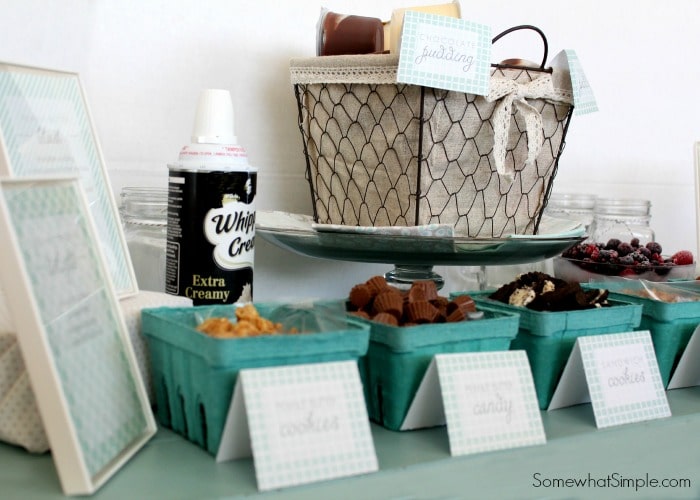 My family doesn't have any big vacations planned this summer, so this is the perfect time to treasure all the simple summer moments- small gatherings with family and friends, BBQ's, picnics, afternoons at the pool, day trips, play dates etc.
But its not fair for the kids to be the only one with play dates, right? Hosting a girls night IN is a perfect way to unwind and reconnect with good friends. And I am convinced that the key to a successful girls night is to keep it casual, which is why this pudding bar is such a great idea. You can make something so delicious look festive and fun without a ton of work! Here is how: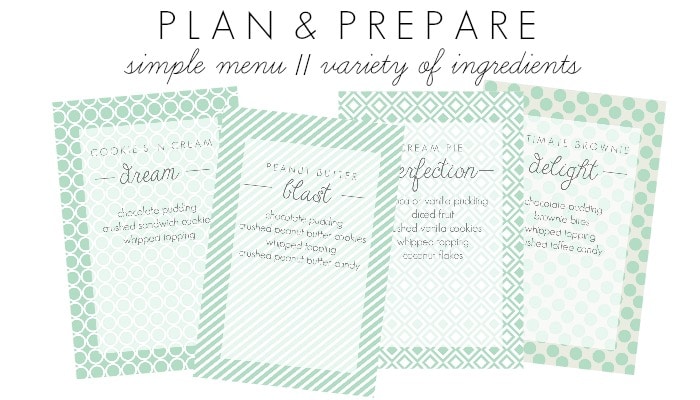 I wanted to come up with 3-4 example recipes to give my friends an idea of how to build the perfect pudding trifle. This also made it easy for me to come up with a shopping list of ingredients for our pudding bar. Here are the ideas I came up with:
Ultimate Brownie Delight
Chocolate Pudding
Brownies
Whipped Topping
Crushed Toffee Candy (such as Heath)
Peanut Butter Blast
Chocolate Pudding
Crushed Peanut Butter Cookies (such as Nutter Butters)
Crushed Peanut Butter Candies
Whipped Topping
Cream Pie Perfection
Tapioca or Rice Pudding
Fruit
Crushed Vanilla Cookies (such as Nilla Wafers)
Coconut flakes
Whipped Topping
Cookies n' Cream Dream
Chocolate or Rice Pudding
Crushed Sandwich Cookies (such as Oreos)
Whipped Topping
Most of my friends followed one of the recipes above, but some of them made their own pudding treats with their favorite ingredients on the table.

I made each of these example recipes into 4×6 printables to frame and put around the table. I also made topping place cards to set out in front of each ingredient. To download your free copies*, click the links below.
pudding bar recipes cards // pudding bar ingredient tags
*Personal use only. Printables may not be sold or claimed as your own.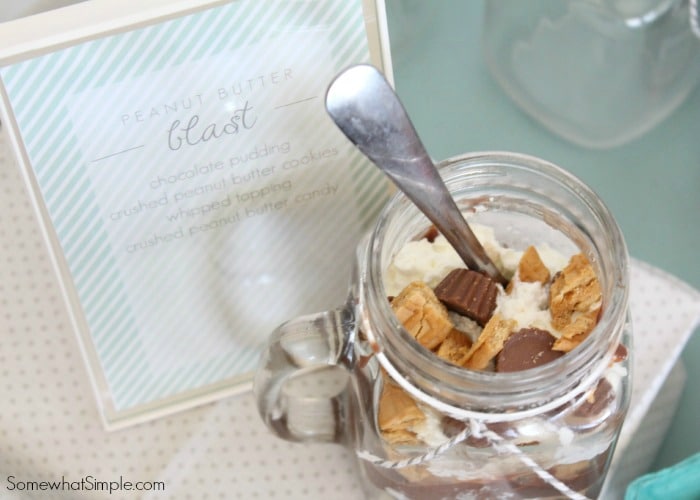 My very favorite pudding creation was the Peanut Butter Blast. Made with Kozy Shack Chocolate Pudding, crushed peanut butter cookies, whipped cream and peanut butter candies- if heaven had a taste, this would be it!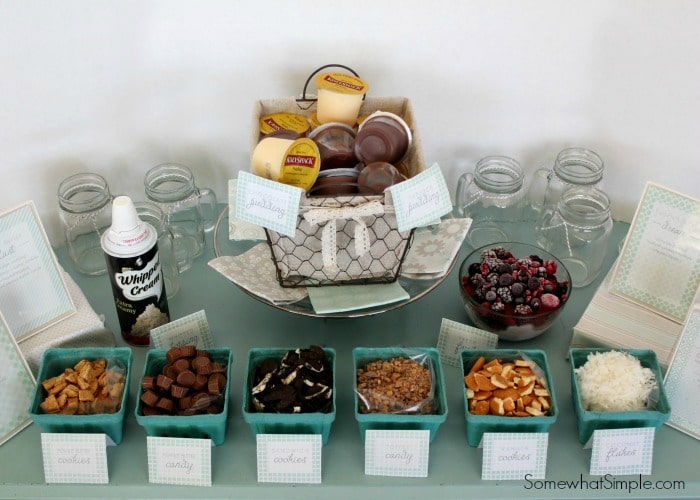 Seriously, looking at these pictures makes me wish I had leftovers for breakfast this morning!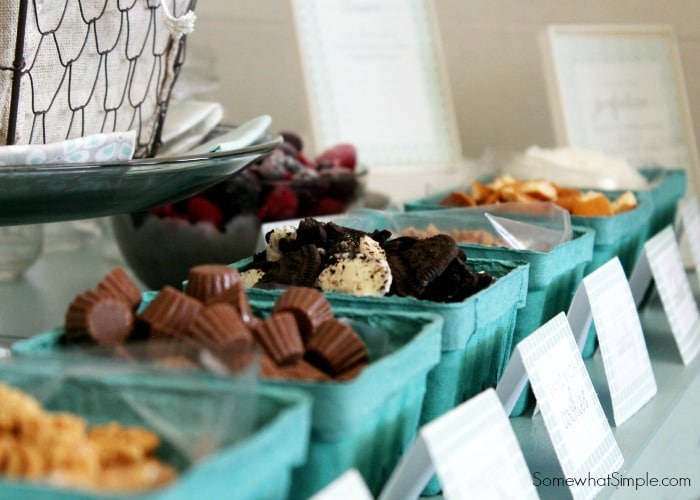 Good food, good friends, great summer!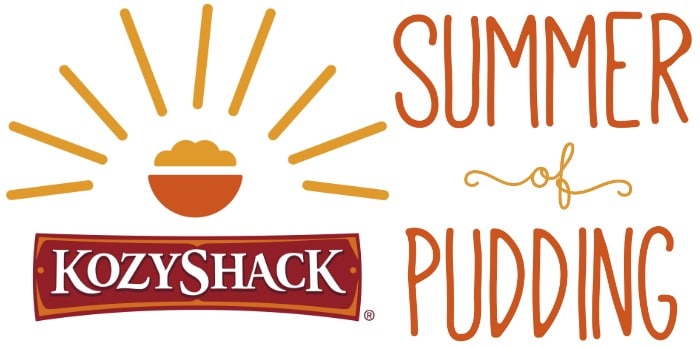 I'm teaming up with Kozy Shack® Pudding to celebrate The Summer of Pudding- a celebration that starts now and continues all summer long! We are kicking off all the fun with National Chocolate Pudding Day on June 26, followed by National Tapioca Pudding Day on July 15 and ending with National Rice Pudding Day on August 9. So grab a spoon and kick up your feet- let's get this summer started!!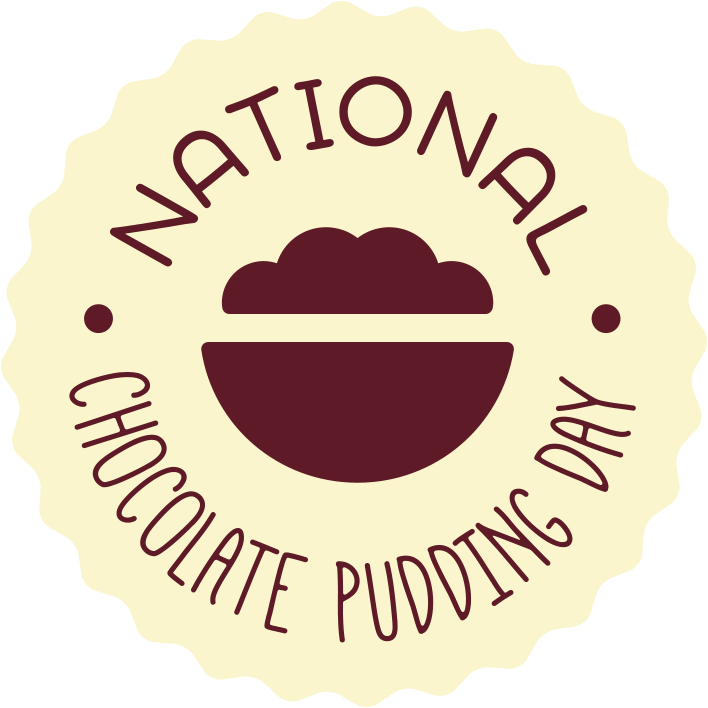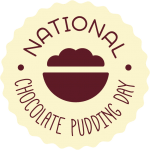 Kozy Shack® Chocolate pudding is rich and chocolatey and made with real cocoa. All Kozy Shack® products are made with simple, wholesome, ingredients, so they're simply delicious. Real milk, no preservatives or hydrogenated oils- these puddings are a good source of calcium and are also gluten free.
Learn more about Kozy Shack and Summer of Pudding and share your memories and ideas with the hashtag #SummerofPudding and #KozyShack at:
Website // Facebook // Instagram // Twitter // Pinterest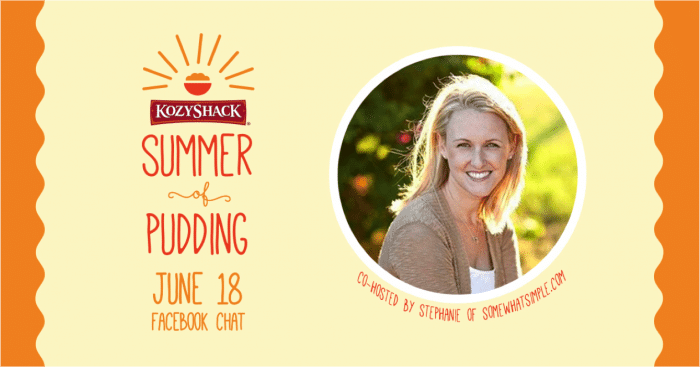 Join me and the Kozy Shack team next week for a fun Facebook chat about summer celebrations and how you can make this the BEST summer ever! There will also be giveaway prizes up for grabs- so don't miss it!! (Thursday, June 18 @ 10am PST on the Kozy Shack Facebook Page)
I am excited to participate in the Summer of Pudding- but I want to know, what YOU are doing to make this the best summer ever?!
This is a sponsored post in support of Kozy Shack® and Summer of Pudding. All opinions and ideas expressed here are 100% my own. Thanks for supporting our sponsors so we can continue to provide creative content to Somewhat Simple.