This easy tutorial will show you how to make a diaper cake in a few easy steps.  Turn a simple baby necessity into something fun and cute for the new mom! These diapers cakes are a perfect gift idea for any baby shower.
Diaper Cake Gift Idea
Not only are diaper cakes a perfect baby shower gifts, but they also make awesome center pieces at a baby shower too!  Diaper cakes are completely customizable and totally practical – what new mom wouldn't LOVE more diapers, right?! The instructions below are to make the specific cake I made, but feel free to change anything and customize it to your liking. 🙂
Diaper Cake Tutorial
Now that you've seen the video tutorial, here is a list of the supplies you'll need as well as step by step instructions to make your own diaper cake.
Diaper Cake Supplies –
rubber bands
elastic
scrapbook paper
ribbon
scissors and/or paper cutter
silk flower
embellishments and glue, optional
Diaper Cake Instructions –
Begin by rolling each diaper and secure with a rubber band.
Cut a piece of elastic that will stretch to the size of circle you want for your base. Tie the elastic in a knot. Then start putting diapers in the elastic circle and filling it up. Repeat for the middle and top tiers.
Cut strips of scrapbook paper to go around the tiers and secure them with a piece of tape.
Add ribbon around each layer and any embellishments you'd like.
Stack each layer on top of one another. Secure them together by sticking a couple dowels into the layers from the top to the bottom.
For the diaper cake topper, I added a simple silk flower, but I've used baby toys and baby supplies that also look really cute! (A yellow rubber ducky is darling!)
The diaper cake is now ready to display or give as an adorable gift for a baby shower!
Isn't it adorable?!
Addie wanted to get in on the action too –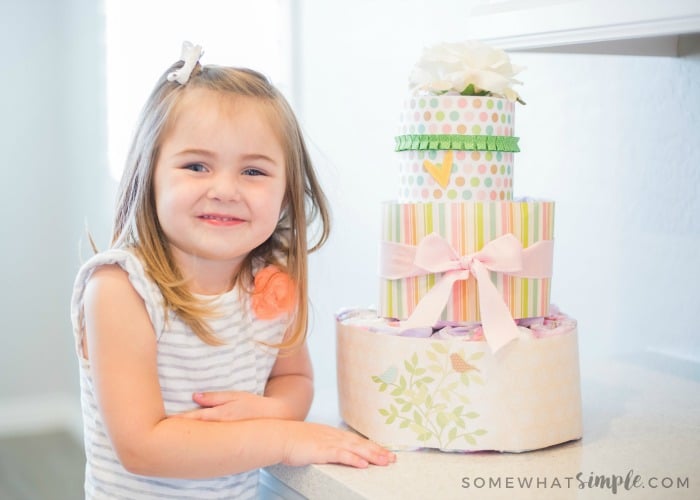 Such a fun, easy and useful baby shower gift!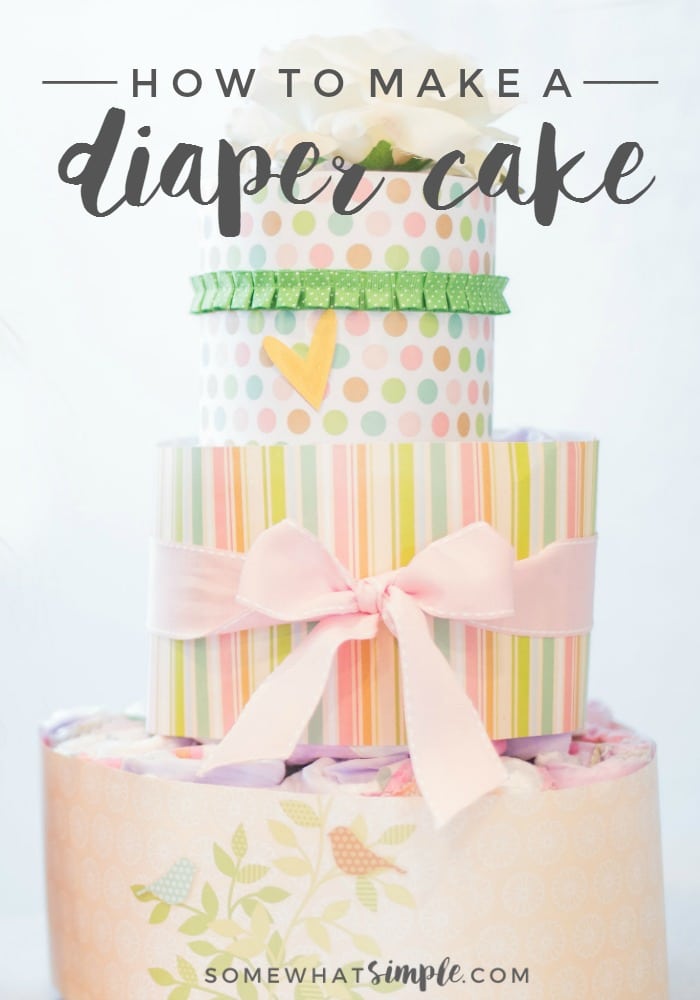 More Baby Shower Ideas
Did you love this crafty diaper cake idea for a shower gift?  Check out some of our other favorite Baby Shower Gift Ideas that are so easy to make and the mom-to-be will absolutely love!