We recently wrote a post about Summer Skin Care and Huggies Little Movers Plus Diapers. We're excited to announce that we've partnered together to bring you tips and advice on the newest premium baby care items like new Huggies Little Snugglers Plus Diapers and Huggies Little Movers Plus Diapers – brand new at Costco. Stay tuned throughout the summer for more posts about our experiences using these great products in our daily summer adventures. And of course we'll make sure you're aware of some awesome deals to help you stock up and save!
Summer is our favorite time of year! We love to play and create and learn, especially outside. With all the active kids running around our house, we're always looking for something new and fun. These ice pop paints were a great activity! My little Sierra especially loved them, she kept asking for more paint! I made our ice pop paints with washable tempera paint (which you can find at any craft store), but just to be safe, I took her down to her diaper to avoid any paint getting on her clothes. We've been loving these new Huggies Little Movers Plus Diapers that let her run and play and sit and twist without any worries about leaks thanks to their trusted leak lock system that offers up to 12 hours of protection!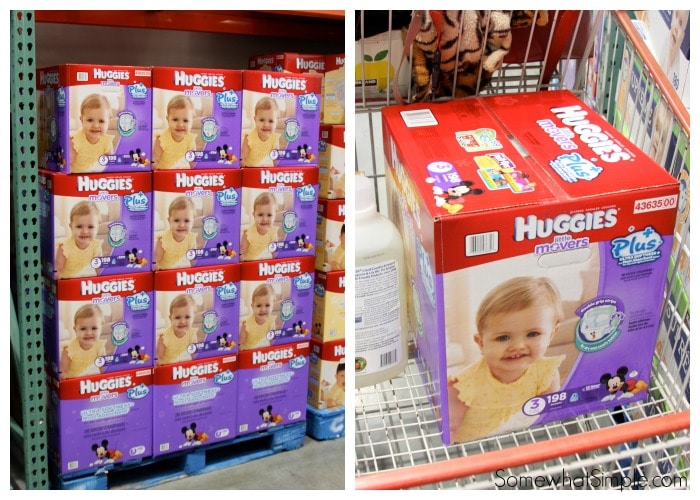 I found these Huggies Little Movers Plus Diapers at Costco (my most favorite store ever!). Grab a box for your little one the next time you're there (which is weekly, if you're anything like me) and try them for yourself! They are the most absorbent diapers for day and night protection, and I love that Sierra can play outside all day without having to come in for a diaper change.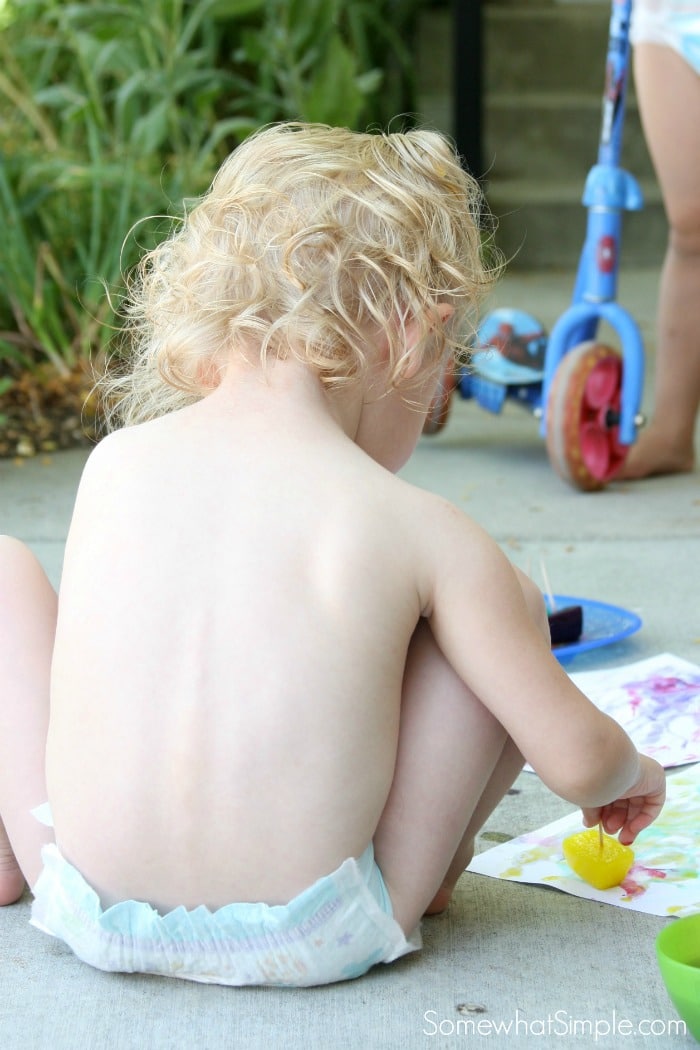 These simple ice pop paints are best if you make them the night before. Then they'll be ready to go as soon as you are! The measurements listed below are perfect for a dixie cup. If you're going to use an ice cube tray, you may want to double the amounts. I had red, yellow and blue, which I also used to make orange, green and purple! The colors were fun and vibrant and looked like a grainy watercolor. It was a really cool effect!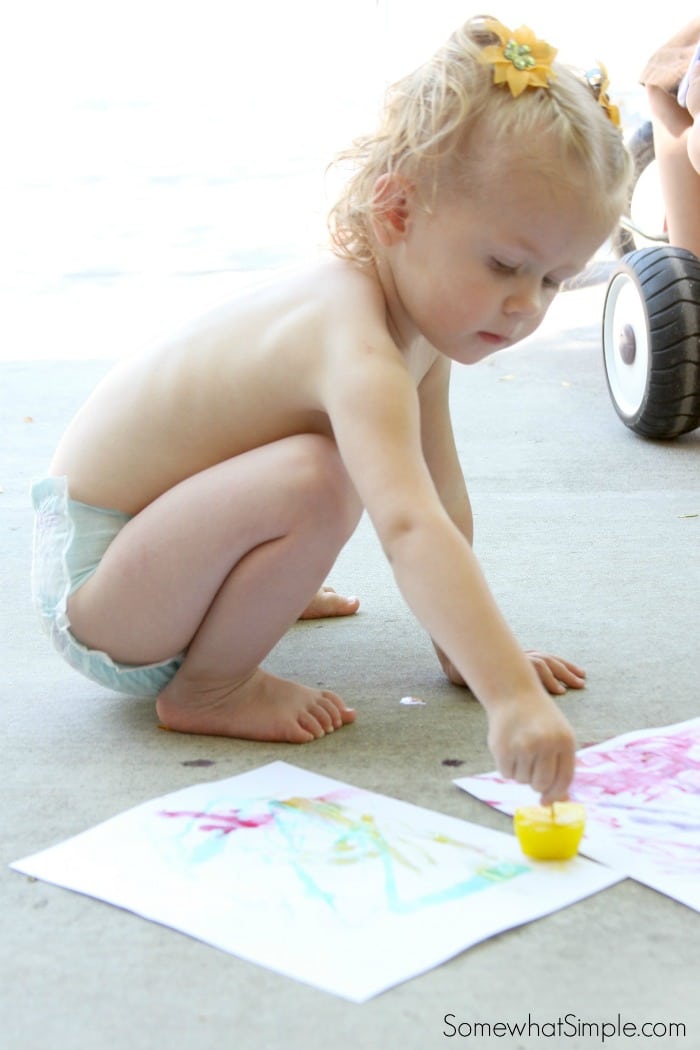 Ice Pop Paints
Mix together:
1/4 cup water
1 tsp tempera paint
Pour into a dixie cup OR ice cube tray. Cover tightly with plastic wrap and insert a craft stick or toothpick. Freeze until solid. When you're ready to paint, just dip the ice pop paints into some water, and create your masterpiece! (It was warm outside when we did our painting, so we only needed to dip the paints once or twice. Once they start thawing, you won't need to dip them in the water.)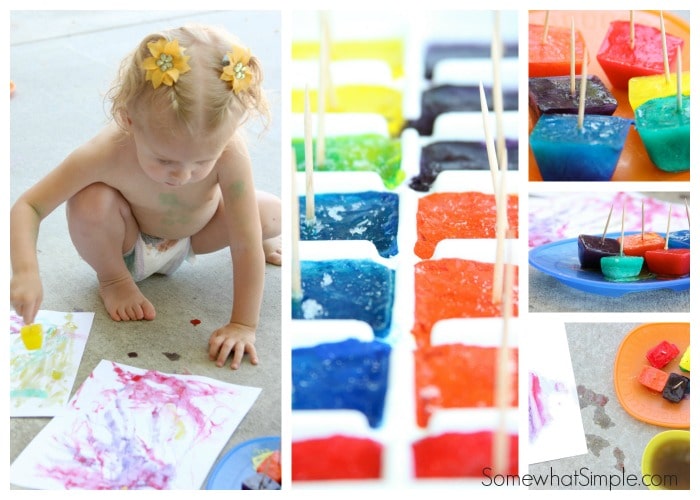 And when you're cleaning up from the ice pop paint mess, don't forget to use Huggies Natural Care Plus Wipes, also brand new at Costco. They are more cushiony soft, which I know my little Sierra's sensitive skin loves. And I couldn't be happier because they are Huggies simplest formula ever made with 99% water! Huggies Natural Care Plus Wipes are thicker and more durable for life's messes, which is perfect for us because Sierra loves playing outside and can't help but get into some sort of mess. They were a total lifesaver after these ice pop paints!
Some of our other favorite summertime activities are:
Drawing a target with sidewalk chalk and throwing water balloons at it
Playing at the park in the morning before it gets too hot
Playing tag in the back yard
Toddler baseball (use a cardboard paper towel tube and a balloon!)
Building a fort and having story time in it
Bowling (use empty plastic bottles and a rubber ball)
Making a treat together
Freezing small plastic toys inside ice cubes and using a squirt gun to get them out
Drawing shadows on the driveway with sidewalk chalk
Running through the sprinklers/going to a splash pad
PRODUCT LINKS MENTIONED IN THIS POST:
Huggies Little Snugglers Plus Diapers // Huggies Little Movers Plus Diapers // Huggies Natural Care Wipes Plus
This is a sponsored post for Huggies® written by me. All opinions are my own. Thanks for supporting our sponsors so we can continue to provide creative content to Somewhat Simple.