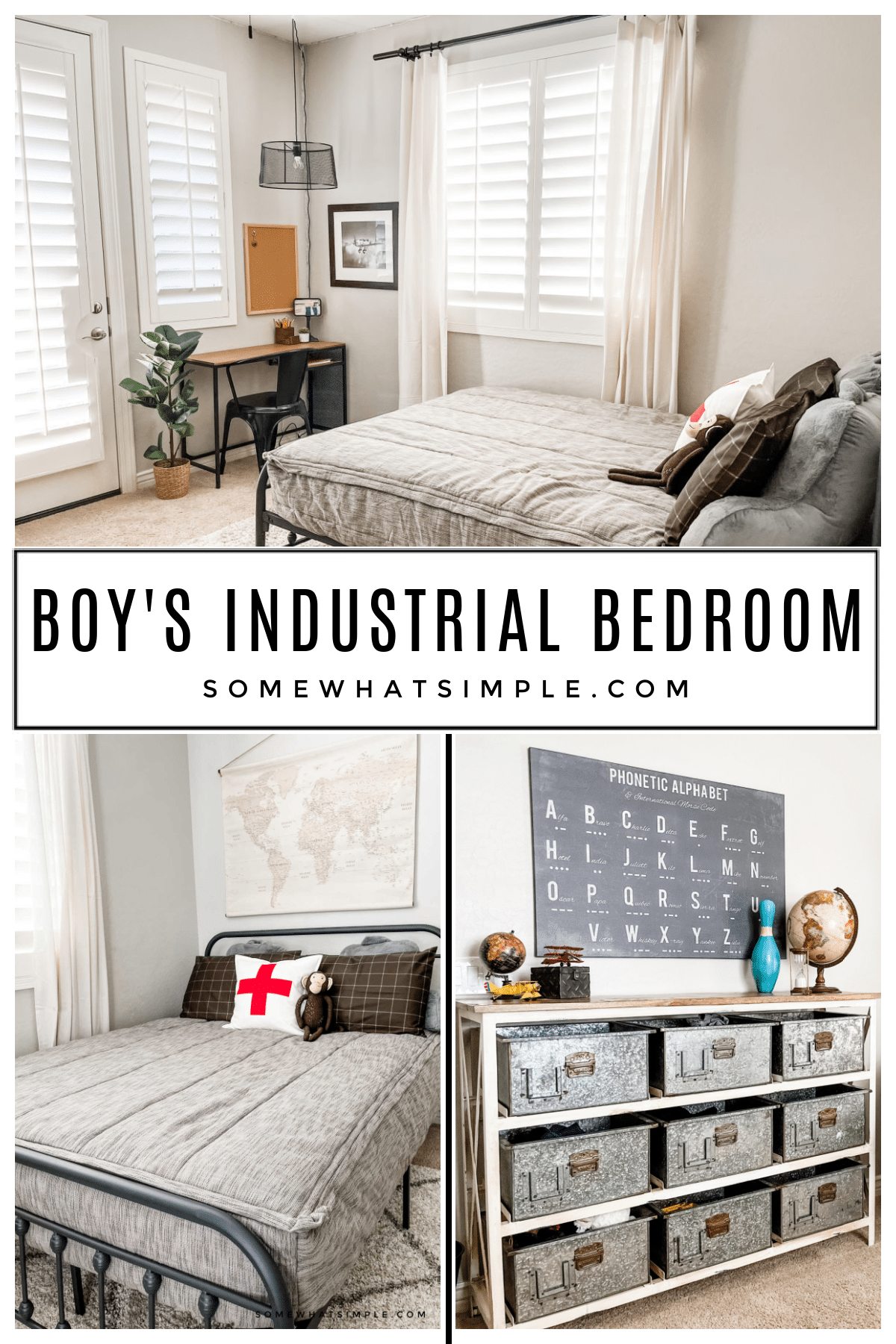 With a few bold pieces and some well-placed home accessories, you can achieve a vintage industrial bedroom makeover that's both cozy and modern.
Here are a few more boy's bedroom ideas you might like – Ethan's Teen Boy Bedroom, Ryan's Industrial Hockey Room, and Mason's Vintage School Bedroom.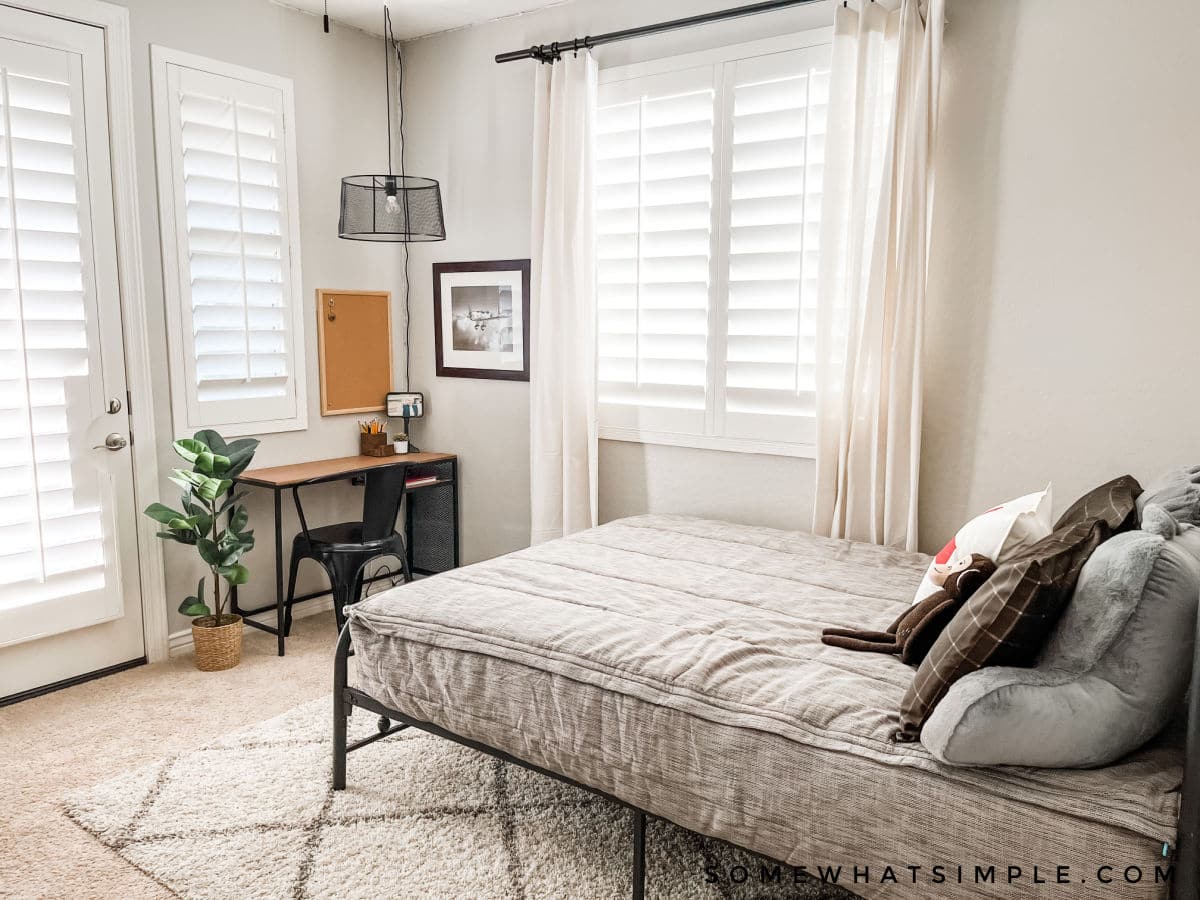 I am a big fan of industrial-style decor and I think it works especially well for bedrooms because you can achieve a modern look while keeping things comfortable and cozy.
Decorating in industrial style is simple—think natural materials with a cool loft or warehouse vibe using any of the following –
pipes
beams
concrete walls and concrete floors
exposed brick walls (red brick walls or white brick walls both work well!)
hard lines
high ceilings
light fixtures with big Edison bulbs
worn leather
distressed wood
wooden ceiling
copper
exposed ductwork
Mix the modern with the cozy by using-
soft linens – solid gray, black, or white bedding work very well in industrial design
gray walls
a neutral color palette
flowy window treatments
pops of plants + greenery
a plush rug
open space
This month I finished updating Mason's room to a more industrial look and I absolutely LOVE how it turned out! It's functional, minimalist, and masculine, and it didn't take much time or money to achieve this modern bedroom look!
Here's a closer look at all the bedroom decor details.
(Links to products I used are at the end of this blog post.)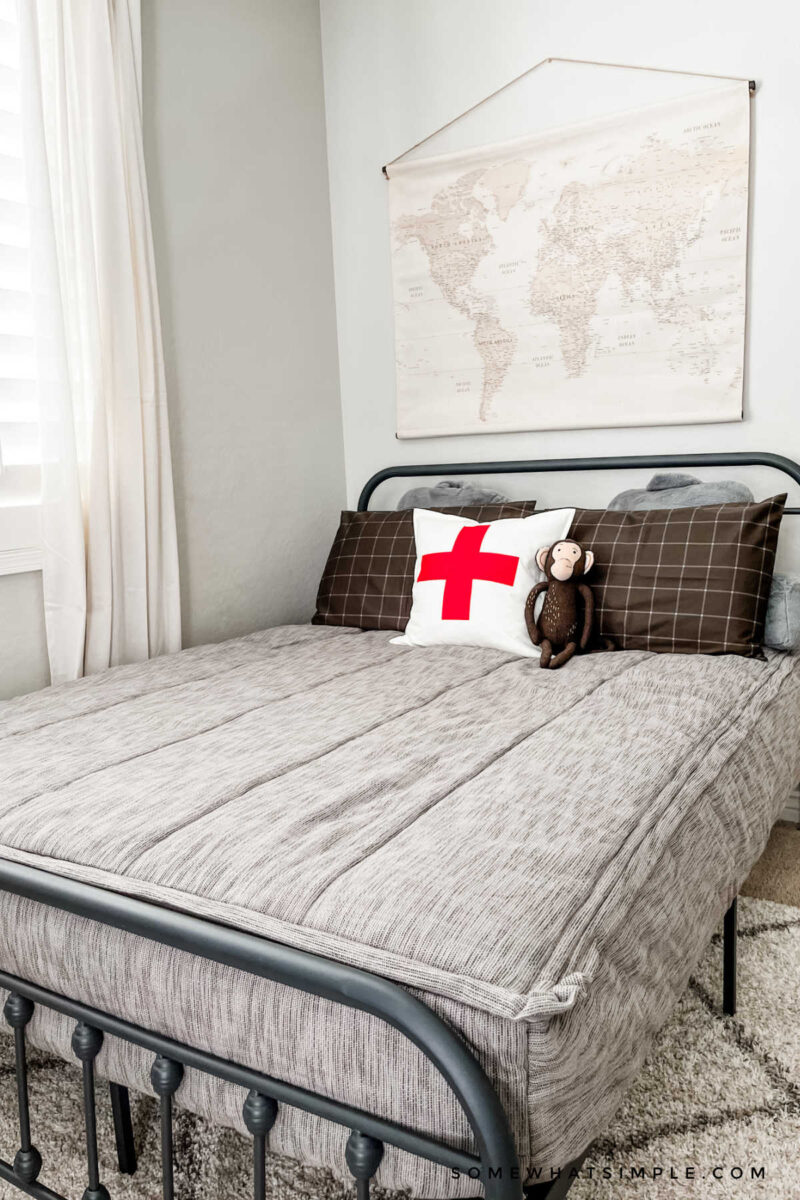 Industrial Bedroom Design
Industrial Bed and Bedding – I kept this section of his room very simple with a black metal bed frame and gray bedding from Beddy's. I love the subtle pattern of this set (called Tweedstorm) and the black pillowcases are perfect! (Use code "StephanieD for 15% off your beddy's order!) #affiliate
There wasn't any space for nightstands, but I think it works to leave the platform bed by itself in this instance.
Rug and Curtains – I used a cream-colored rug that's soft and fluffy, and some cream curtains to draw your eyes up so this space isn't so bottom-heavy. A cream-colored vintage canvas map hangs above his headboard that complements the curtains and the area rug.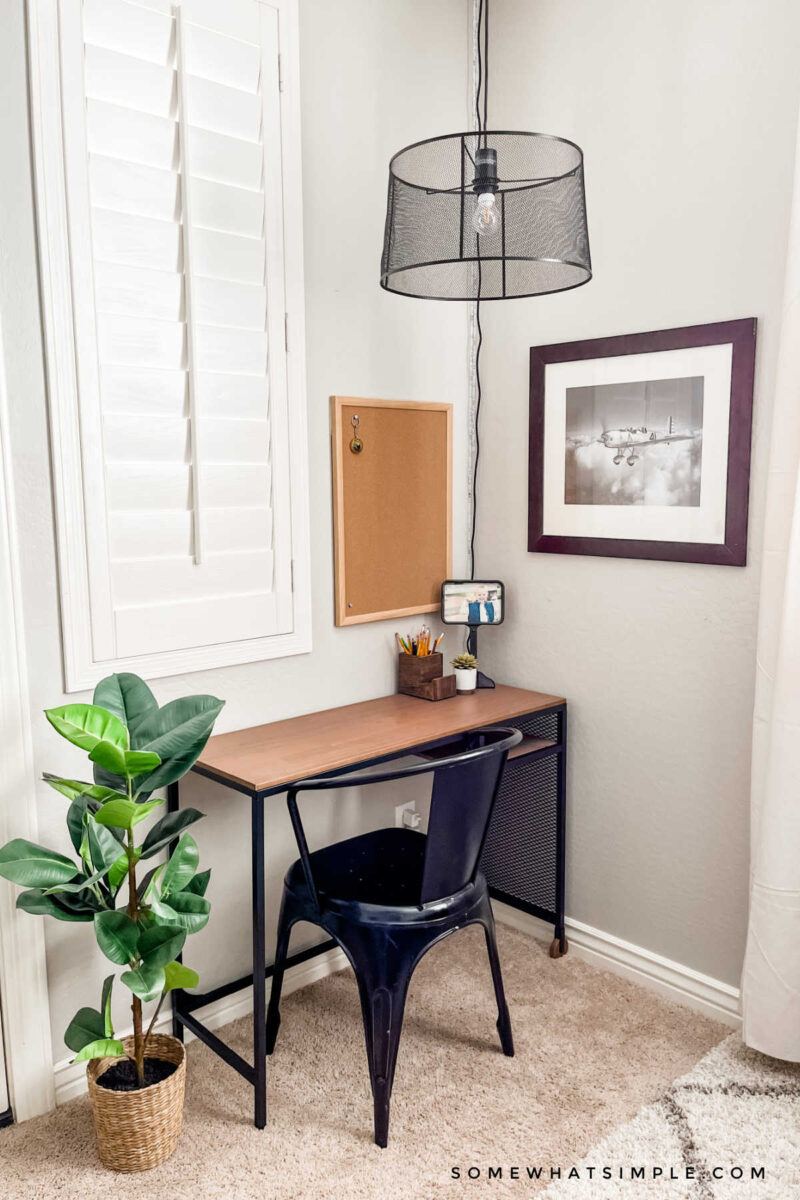 Industrial Bedroom Desk – A simple wood + metal desk with straight lines looks perfect in the corner, accompanied by a metal chair and metal hanging lamp. To warm up this space, I added a standing plant and some art and accessories.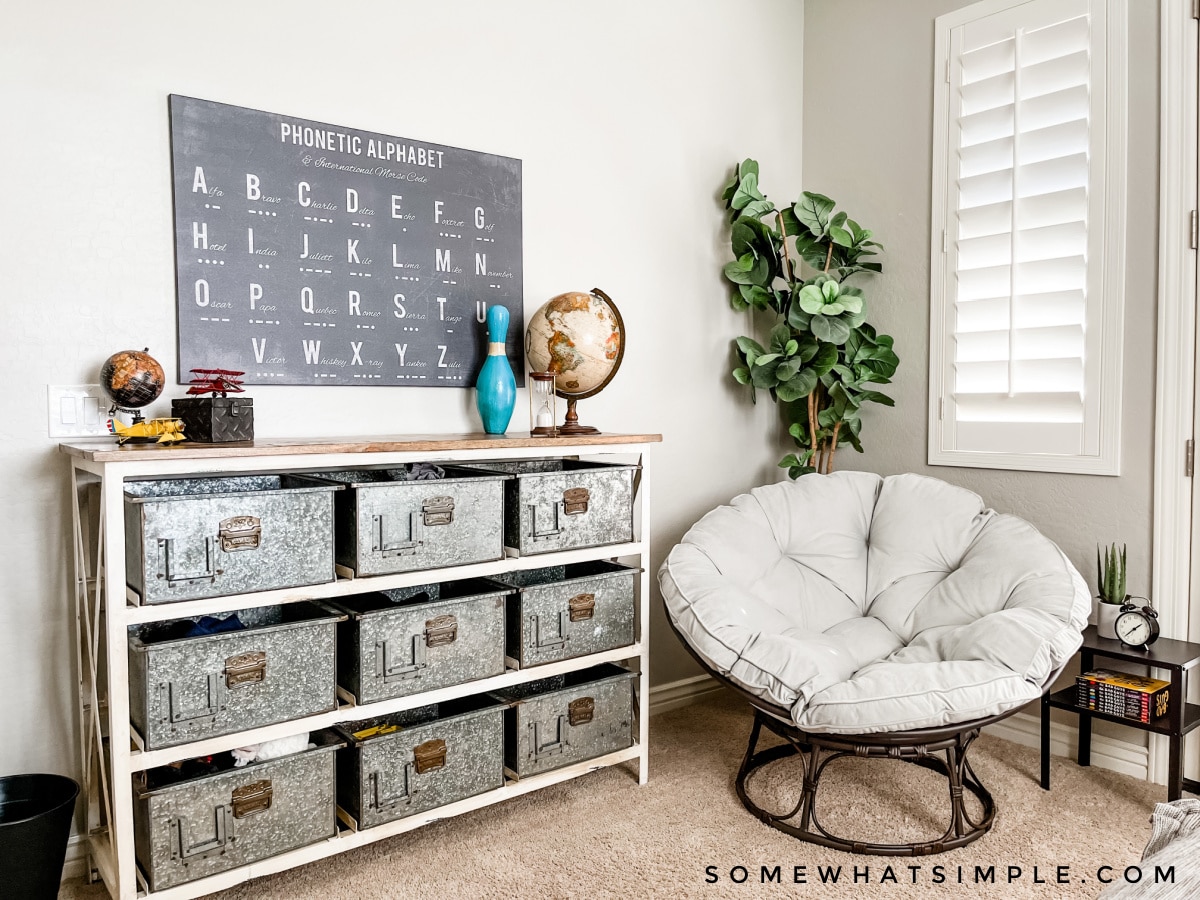 Sitting Area + Dresser – On the opposite corner, I added a big, cozy Papasan chair next to a small table where he can keep his books. I love the look of a big metal bookcase, but with the big dresser, I think it would've been too much weight. Another plant in the corner adds both color and height to this space, while his metal-drawer dresser adds texture and variety.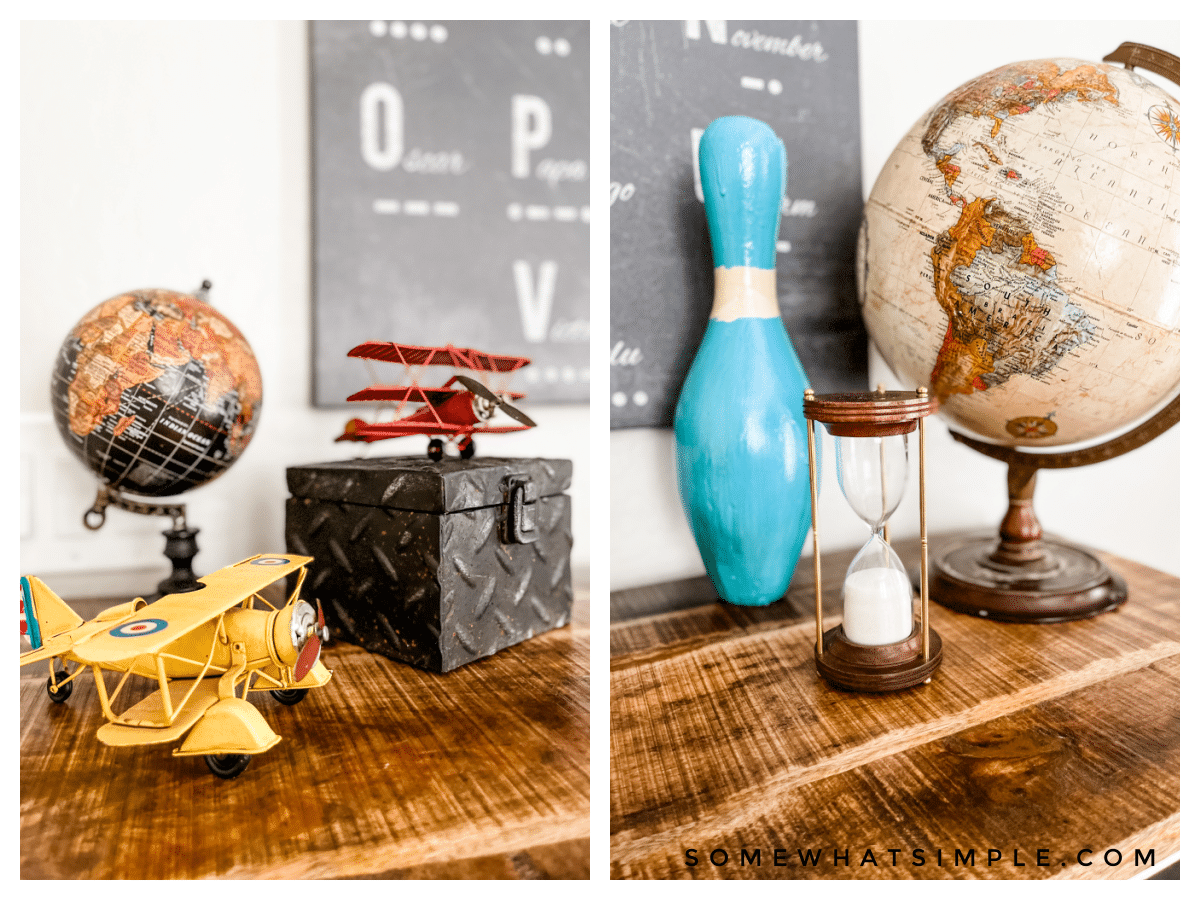 Industrial Accessories – When it comes to kid's spaces, less is more! The fewer knick-knacks and decor you have, the less messy and cluttered it will look. I kept the top of his dresser very simple, and I think the simple canvas artwork on the wall looks perfect!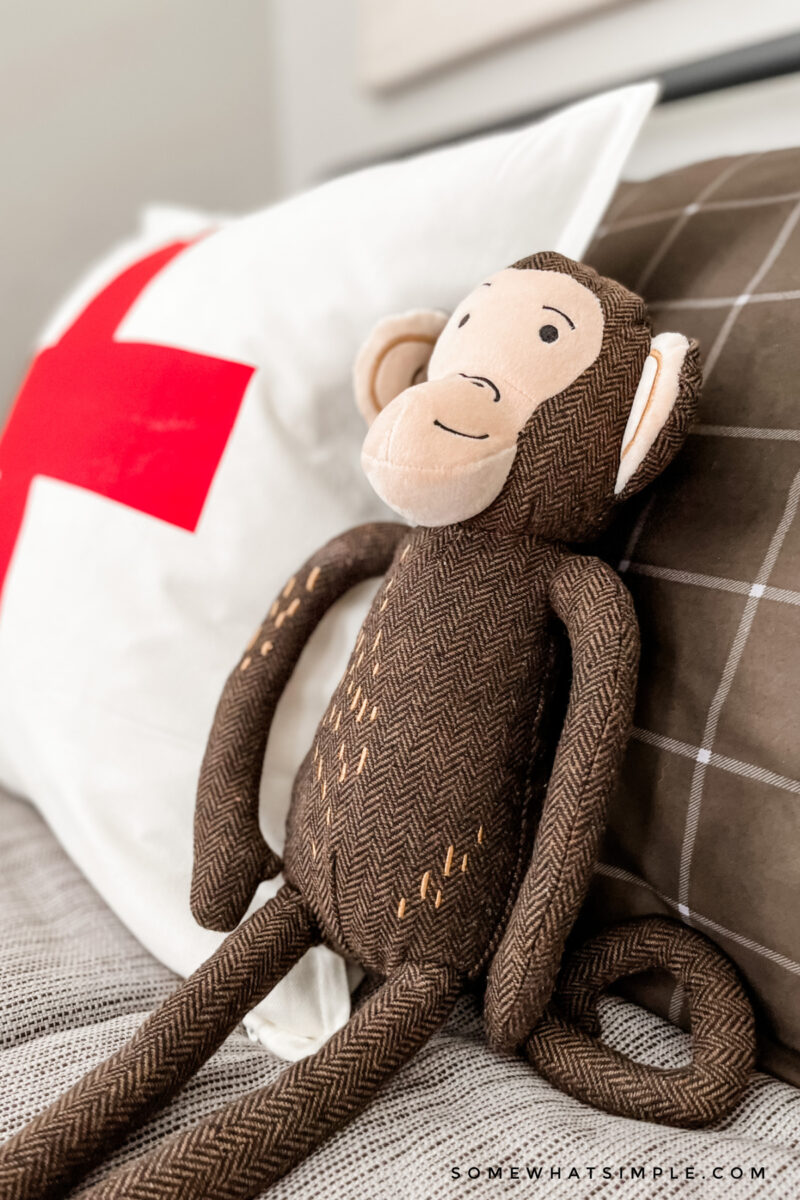 That's it! Cozy, simple, and such a fun space for Mason to hang out!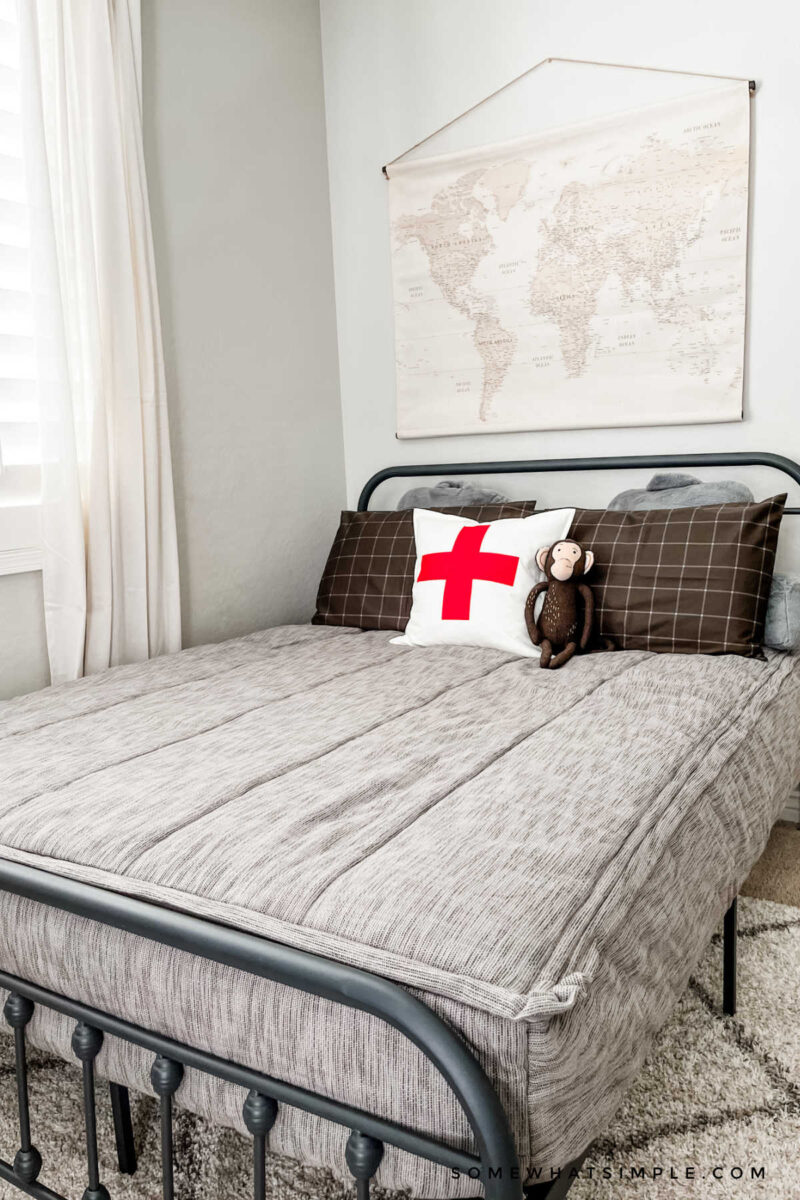 Bedroom Product Affiliate Links