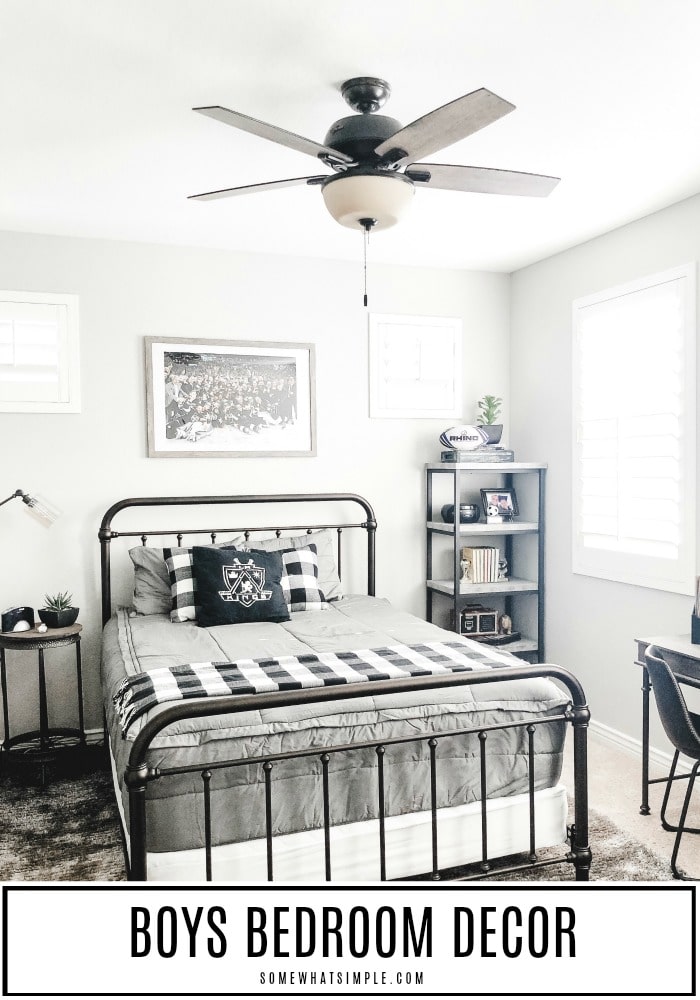 It's time to upgrade your little guy's space with a design that both of you will LOVE! Take a look and see how we created a boys bedroom that is simple, practical, and totally his style!
This post is in partnership with American Furniture Warehouse. All opinions are my own.
I've been working my way through furnishing and designing each space in our house, one room at a time! If you're following along with our #SimpleSpacesChallenge, you've already seen Ethan's Room, Leah's Tween Bedroom, and our fun Teen Loft. Today I want to show you how I designed Ryan's room – a space that totally makes both of us smile!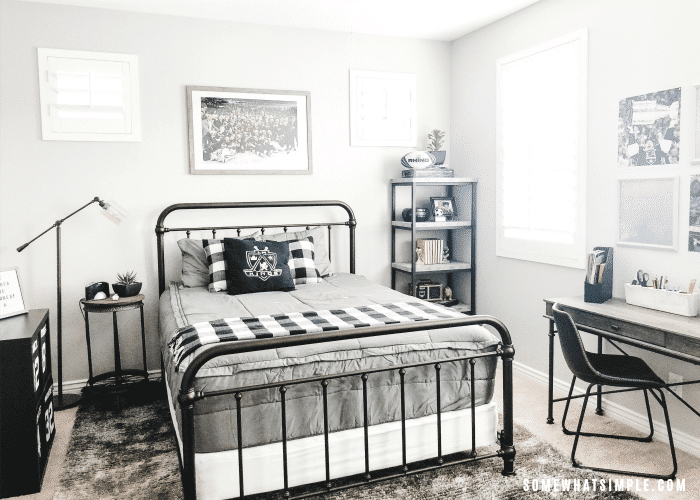 Boys Bedroom Decor
If you've been watching my Instagram stories this past month, you've seen some of the details on how we split our boy's shared Hockey Room into two spaces that they can each enjoy on their own. I shared Ethan's Room last month, and today I'm here to show the full reveal of Ryan's room!
Ryan turns 11 in just a few weeks, and at 5'5″ he has all but outgrown his twin-sized bed. In our chat about what he wanted his new space to look like, he only had 3 requests:
Keep some of the hockey stuff from his last hockey bedroom.
Keep the colors of the LA Kings (black, white, and gray)
Get a queen-sized bed.
Sounds easy enough, right?
Boys Bedroom Furniture
We've partnered with our friends at American Furniture Warehouse for the furniture and accent accessories for this space, and it all came together so well!
Pause here for a second.
Not only does American Furniture Warehouse have an amazing product selection with affordable prices, I just wanted to mention how much I LOVE the staff at the Gilbert, AZ store. The sales representatives, the cashiers, and the warehouse guys are seriously so friendly and helpful!
*All the furniture and decor that we used in this space will be linked at the end of this post.
So without further ado, here is Ryan's bedroom!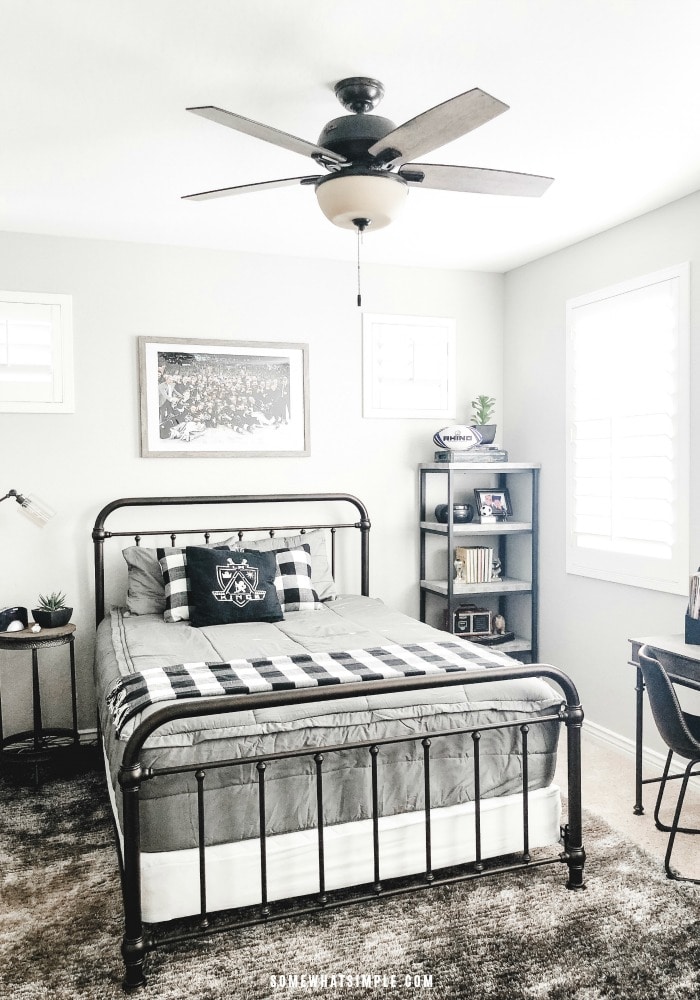 Such a fun space, right?
I honestly could not be happier with how this boy's bedroom turned out. Let's take a look at all the details –
First, let's talk about the bed!
I have had my eye on this bed for several months now – I just LOVE it. I love the industrial feel, and I love how solid and sturdy it is. When I showed this bed to Ryan online, he didn't love it. In fact, he didn't like it at all.
Because this is his room, I definitely wanted him to pick a bed he loved… no matter how much it crushed me to walk away from this one.
So we went to the store together and as we browsed the selection of queen-sized beds, he finally came to this one and said, "Mom, I actually do like this one. It is my favorite!"
And suddenly all was right in the world again.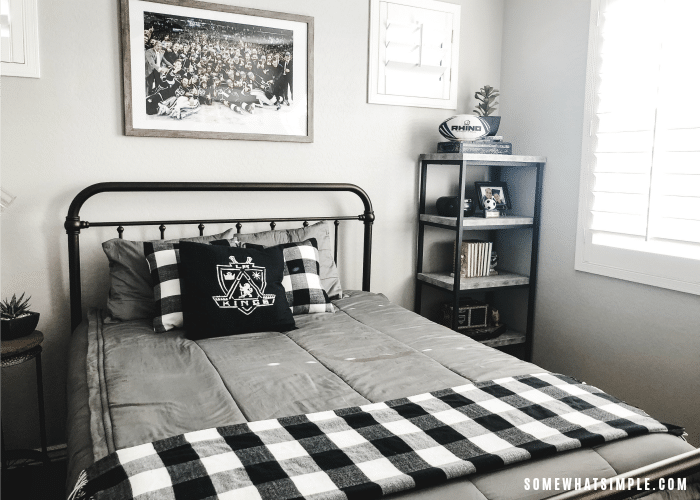 He chose the most comfortable bedding ever – Modern Gray zip bedding from Beddy's.
3 of my 5 kids have been using Beddy's Zip Bedding for 3 years now, and while they do cost more than I would normally spend on bedding for my kids, I've come to realize they are worth every penny!
The bedding we have had for 3 years still looks brand new. Beddy's are easy to wash and ours have held up perfectly! Beddy's zipper design makes it incredibly easy for my kids to make their beds each morning. Their rooms look put together without a lot of fuss, and that sure makes me happy!
I added some buffalo check pillows and a throw blanket to the bed and I seriously LOVE how it looks!
Ryan also chose the softest rug I've ever felt to go under his bed. If his bed weren't so comfy, he might've chosen to fall asleep on the floor every night!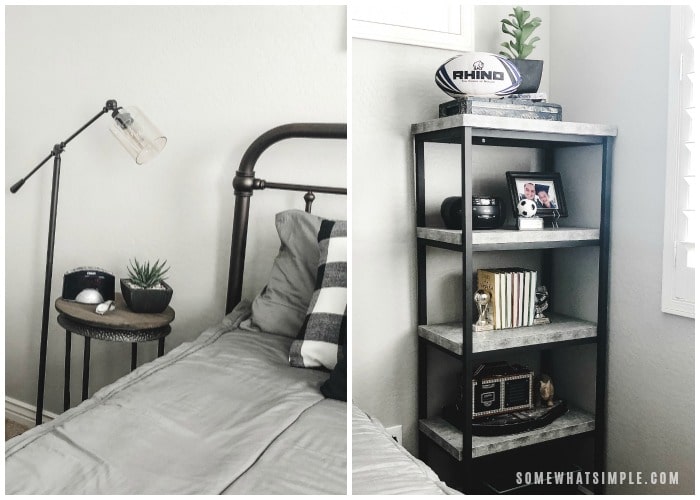 On one side of his bed, I have an industrial standing lamp and a round side table for his alarm clock. On the other side, I added an industrial-type bookcase that holds his radio, a few favorite books, his trophies, and some other "things" that look neat and tidy.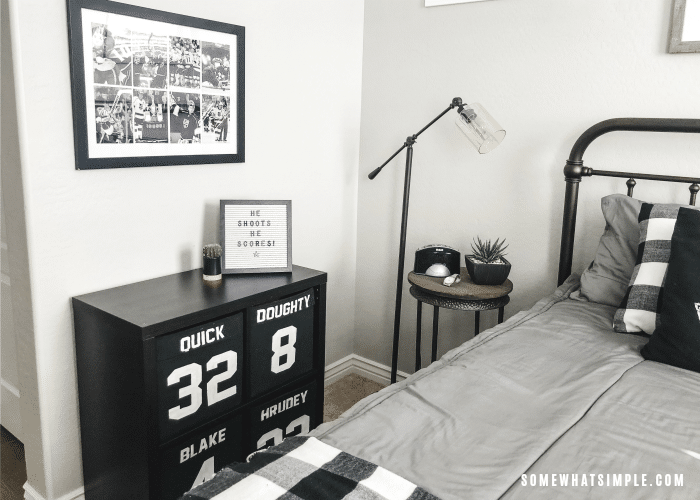 Because not all of Ryan's things are neat and tidy, I also used a cubby shelf with some bins I made to look like his favorite hockey players' jerseys. This definitely conceals the rest of his "stuff" and keeps the room looking clean and uncluttered. (Click HERE for the tutorial on how to make your own Jersey Shelf)
Ryan's desk area is his favorite part of the whole room! I love how the metal frame on the desk works with the distressed wood top, and the black leather chair is seriously perfection! The desk, the chair, the table lamp, the plant, and the cool utensil holder are all from American Furniture Warehouse. The magnet boards are from Target's Dollar Spot, and the 2 pictures are of his favorite players on the LA Kings. (I printed them on a sticker canvas material years ago and the company has since gone out of business.)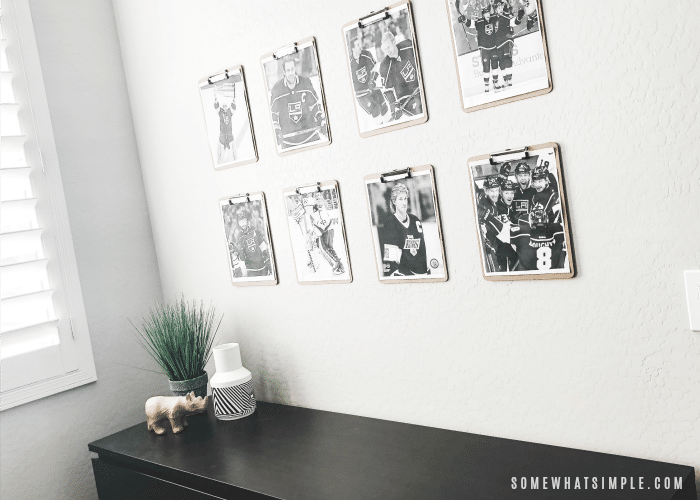 His long black dresser is one we've had since he was a baby, but I wanted some fun elements around it that could bring in some texture and dimension. I grabbed 8 clipboards from the dollar store and printed some black and white hockey pictures from my computer. They are mounted on the walls with Command Strips and I seriously LOVE how it looks!
What do you think? Do you like Ryan's Boys Bedroom?
If you're thinking about updating any room in your home with new furniture or accessories, I highly recommend that you visit American Furniture Warehouse. American Furniture Warehouse delivers to most places within the continental United States and the product selection and prices cannot be beat!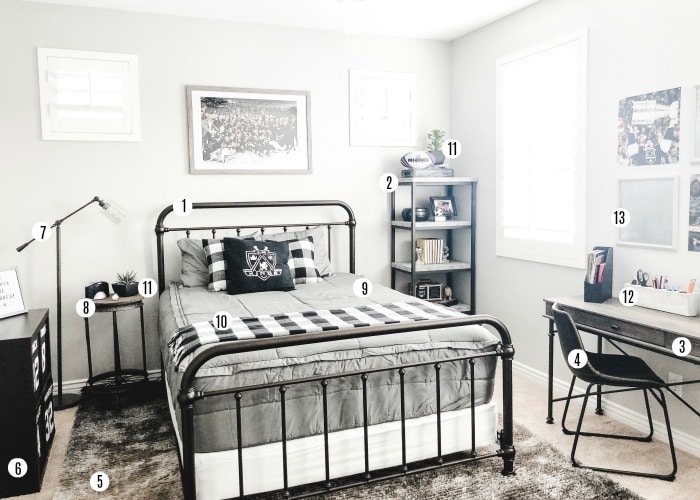 Shop this Boys Bedroom Decor –
black cubby shelf, (similar)with black fabric bins (similar). Painted jersey details on Somewhat Simple.
industrial floor lamp, (similar) *The Thornton Floor Lamp that is shown in my space has sold out.
buffalo check throw pillows, (similar) throw blanket (similar)
plants, various
utensil holder – 5 Hole White Sugarmold
– not pictured –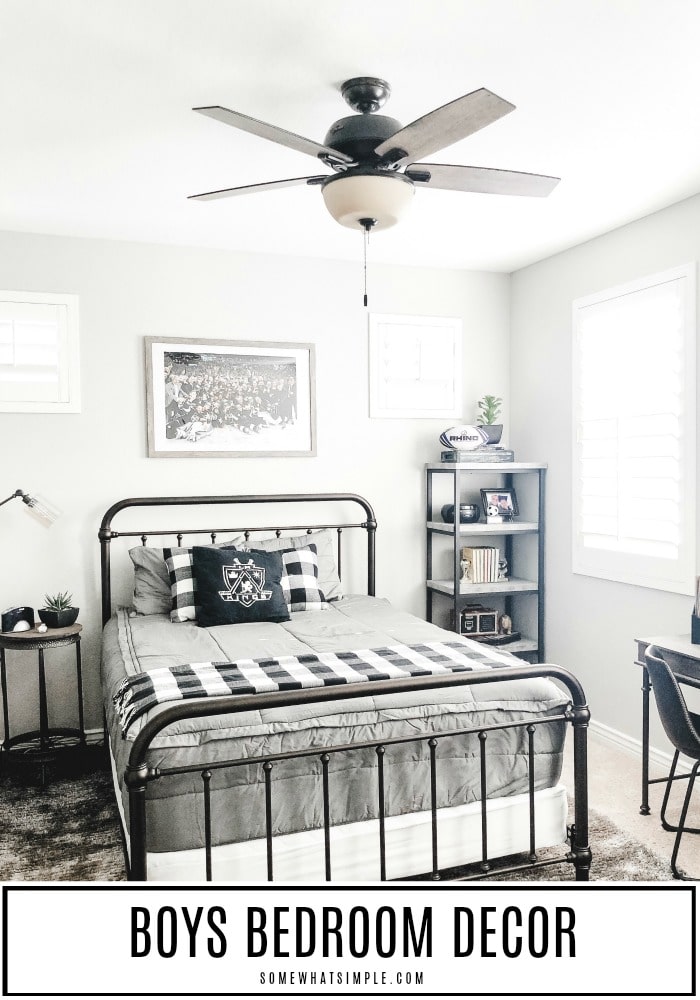 Styling / Design / Photography| Stephanie, from Somewhat Simple
Sponsored by | American Furniture Warehouse