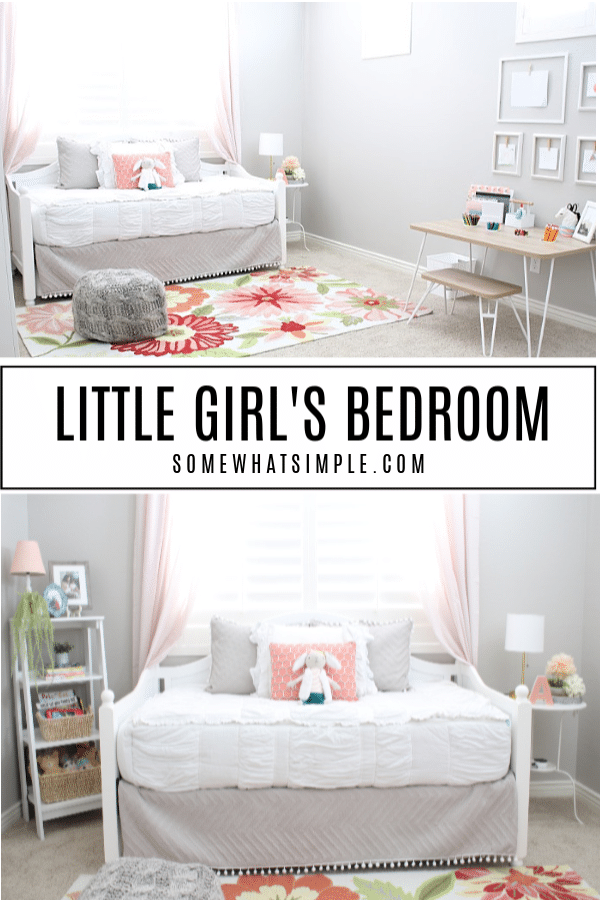 Addie's Little Girl's Bedroom reveal is in partnership with Office Depot. All opinions are 100% my own.
A darling daybed and brightly colored rug, plus a simple art station and reading corner – Addison's Little Girl's Bedroom is the perfect place for her to play, relax, and be creative with her little friends!
I've absolutely LOVE designing spaces just for my kids. Our playroom under the stairs, Ryan's industrial bedroom and Leah's tween girl bedroom are some of my favorite spaces! This month I was finally able to tackle Addison's room, and for the first time in her 5 years of life she has a darling bedroom that couldn't be any more perfect for her!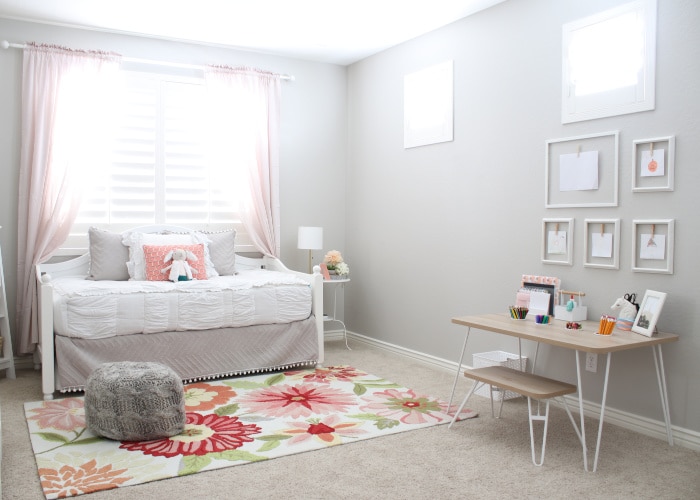 Little Girl's Room Idea
I have to say, decorating a little girl's room is always so much fun! Depending on their personality, you can go as sophisticated or girly as you want, and the color options are endless!
When it came time to design Addie's room, I asked her what she really wanted for this space. Her only response was that she wanted a desk with school supplies so she could do her homework from Kindergarten and art projects with her friends. (Did I mention she just started Kindergarten last week? Where does the time go??)
With this in mind I got to work, and it was so fun to see Addie's pure joy and excitement with every piece completed! Let me give you a little tour –
*Affiliate links to products shown here are included below for your shopping convenience.
Little Girls Bedroom Decor
I bought this bed a while ago and it reminded me of the daybed I had when I was a little girl! I always envisioned it pink and frilly and full of pillows… but my practical side struggled with this! (If you watched any of my stories on Instagram, you saw the struggle!)
While I absolutely love the look of a bed full of pillows, for a kid's room it just doesn't work! It might make a really great Pinterest image, but I couldn't imagine a 5-year old making her bed each morning with 17 pillows! (Let's be honest, those pillows would spend their days all over the floor!)
So I went minimal with just a few pillows + a darling stuffed bunny I found at Target. And I love it.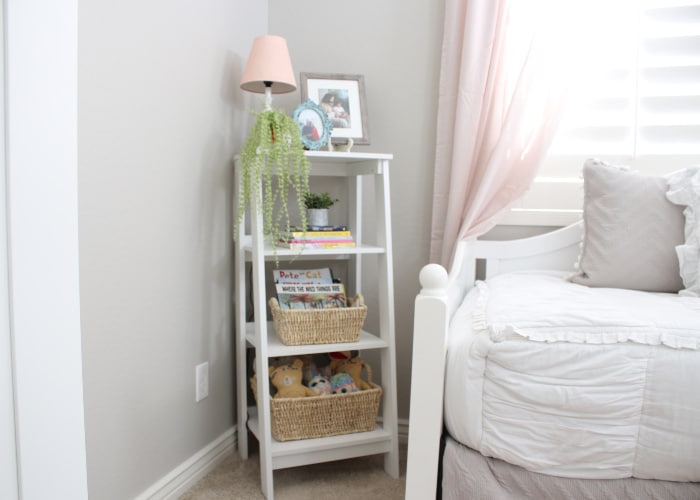 Next to her bed, I added a shelf….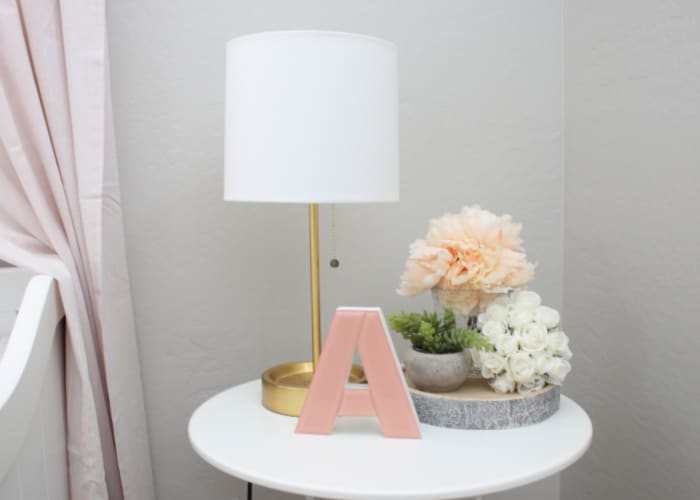 …and a round side table.
I kept both of these pieces very minimal so it doesn't look crowded or cluttered.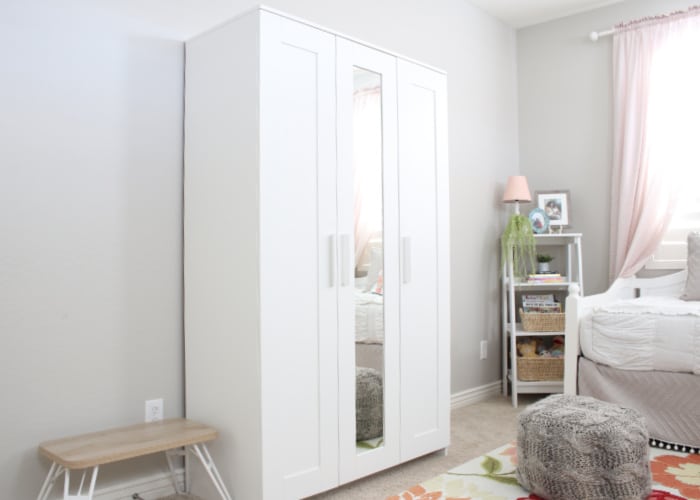 Addie's room is actually considered a media room in the floor plan of our home, so it's a big empty space that's wired for surround sound, but it doesn't have a closet! A quick trip to IKEA fixed that issue with this big wardrobe that Addie loves!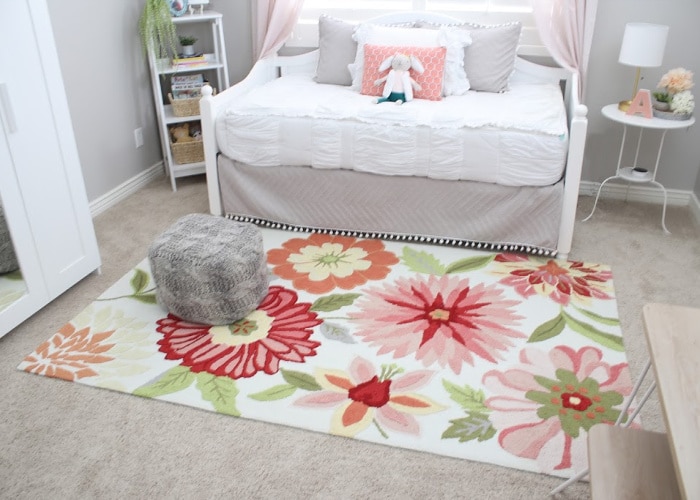 Can we talk about this rug for a quick minute? This rug is everything! The colors, the design, the texture… it is soft and gorgeous and completely sets the tone for the whole space! (And the price was AMAZING!! Such a great deal!)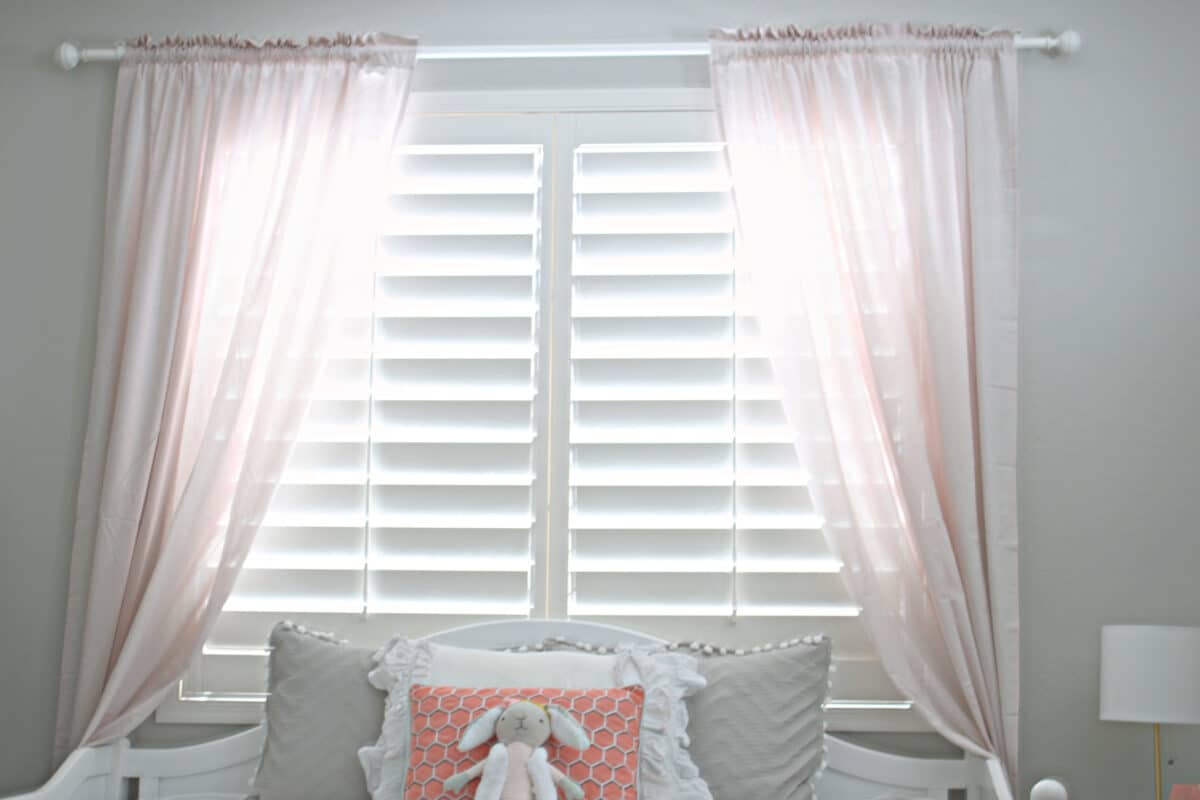 Everything around the bed was coming together so nicely, but it all felt very bottom-heavy. So I added some pale pink curtains to draw the eyes upward and it was the perfect finishing touch to this whole bed situation!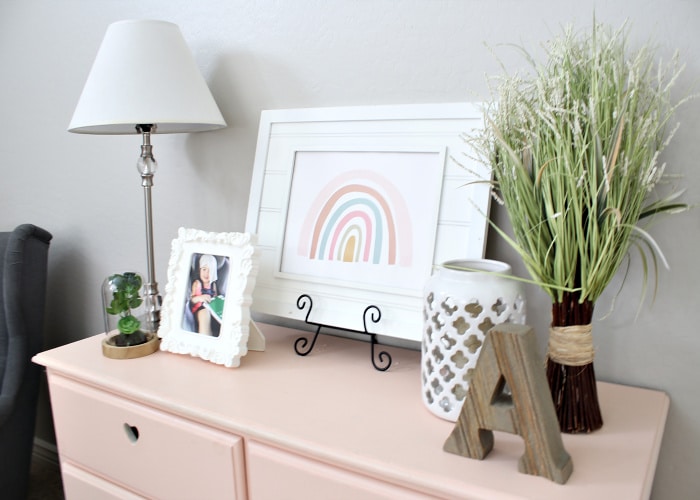 On the opposite wall, I have this darling dresser that has been in our family for years! It was my sister's before she gave it to me when Leah (now 13) was a toddler. It was brown, then white, then cream, and now it's pink! The pictures and things on this dresser are very simple, kid-friendly, and pretty!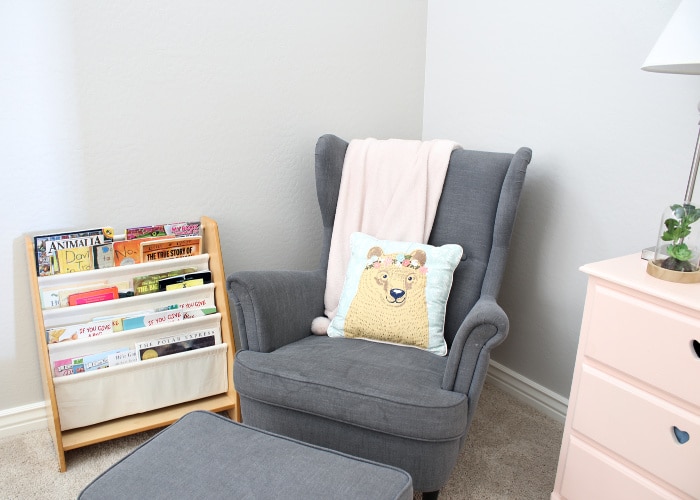 Next to the dresser is Addie's reading corner + bookshelf. She was very excited to have all her books in one spot!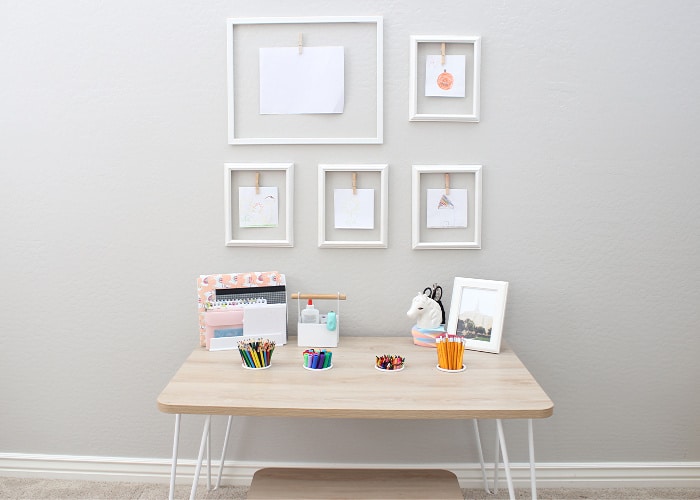 And last, but definitely not least, is Addie's very own Art + Homework Station (you know, for all that homework Kindergarten requires!) This is by FAR Addie's favorite part of this entire room, and she has already used it SO MUCH! This girl LOVES art and projects, and I love that she has a place to showcase her creativity! A few simple frames + command strips + clothespins, and we created the perfect place to display her masterpieces!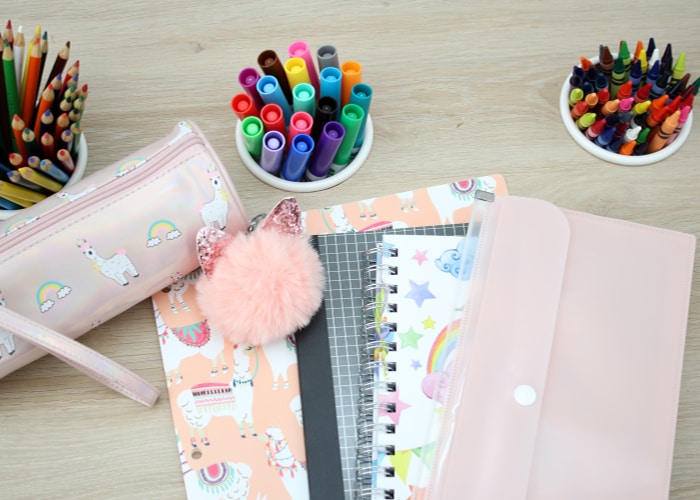 I surprised Addie one afternoon by filling her cute table with some fun art supplies. Back to School time is the BEST time to grab all you need for projects and crafts, so the timing on this was perfect! I went to Office Depot and found a darling line of Llama-print supplies that match this space so well!
Office Depot is a great place to go Back to School Shopping – their prices are as good as or better than other places I've priced, and their selection is SO GOOD! (They keep their stores stocked and so organized – I absolutely love it!)
For more Back to School inspiration and deals, be sure to visit Office Depot in-store or online, and follow them on social media-
Website || Facebook || Twitter || Instagram || Pinterest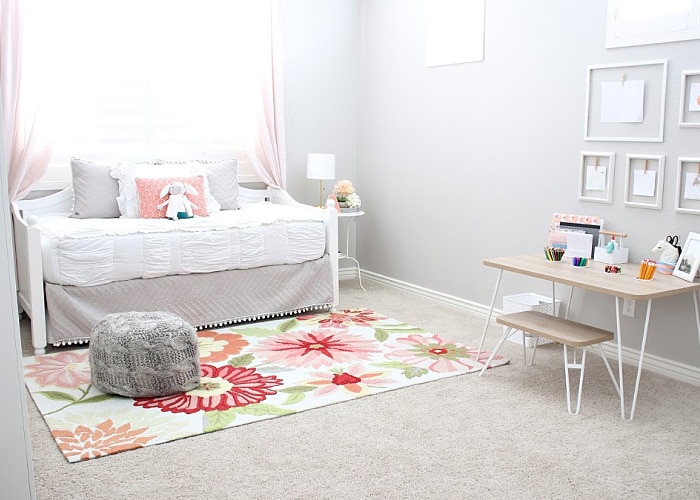 Don't mind me, I'll just be sitting in the corner chair staring at this space for a bit longer. I absolutely love it!
Shop this Space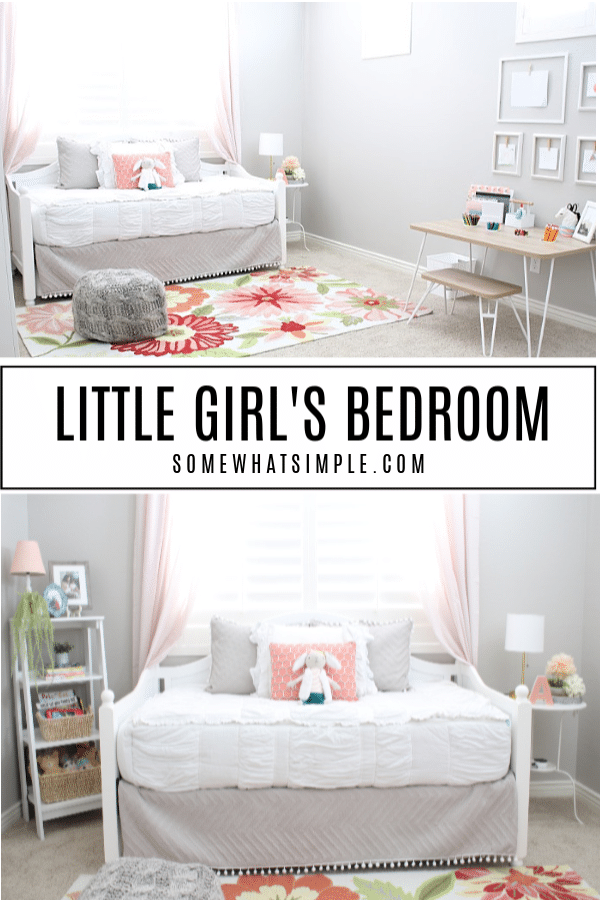 What do you think? Is Addison the luckiest little girl in the whole world?
If you're shopping for back-to-school supplies, or if you're thinking about updating your office with new supplies or accessories, I highly recommend that you visit Office Depot. Their in-store and online selections are amazing, and Addie couldn't be happier with her very own art station!