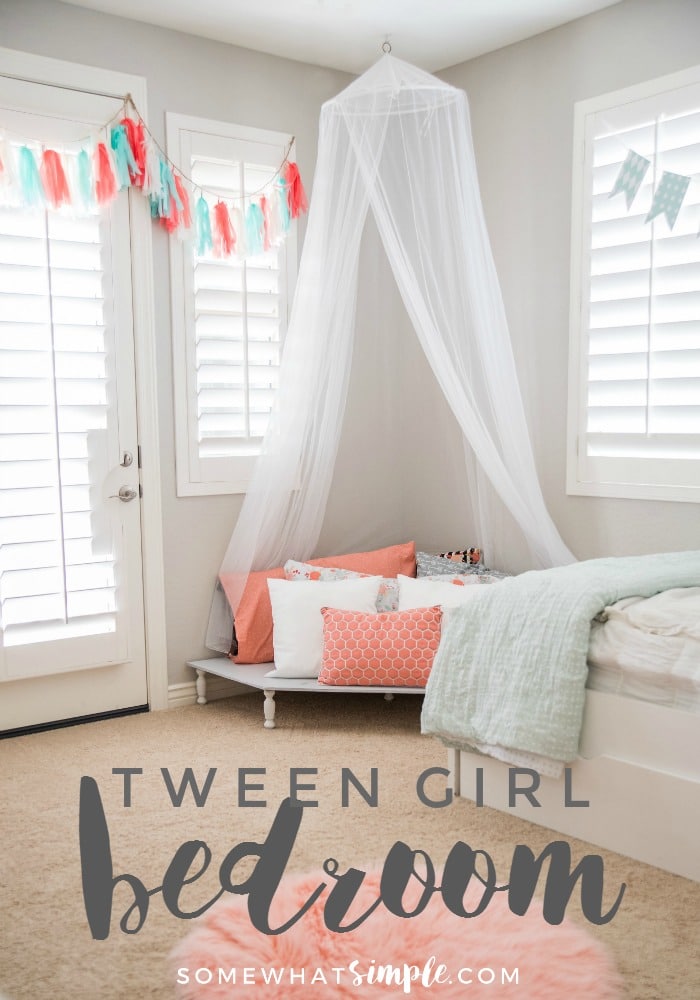 As much as I hate to admit that my little girl is growing up, it was high time to take down the lady bug decor from Leah's little girly bedroom and let her 10-year-old personality shine! Decorating this tween girl bedroom was a ton of fun!
Here are a few more kid's bedroom designs – Addie's Little Girl Bedroom, Mason's Vintage School Bedroom, Ryan's Industrial Boy's Bedroom, and Ethan's Teen Boy Room.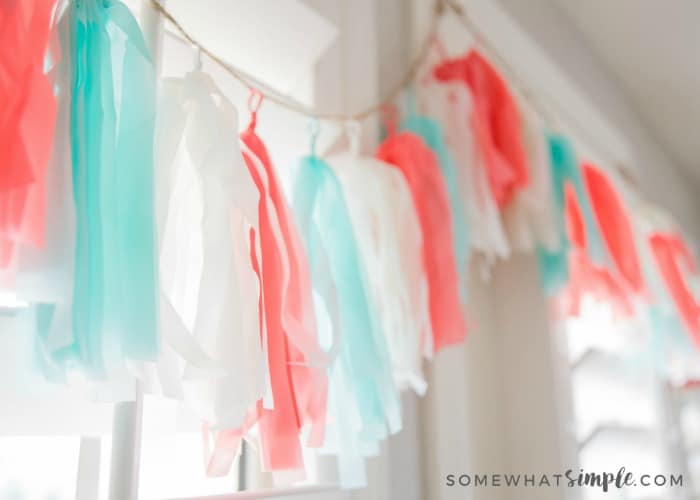 Leah's Tween Girl Bedroom Tour
*** Links to products will be included at the end of this post. ***
Leah and I were shopping one day and she fell in LOVE with all the coral and teal bedroom accessories at Hobby Lobby. They all happened to be on sale, so we purchased a few things and decided to use them for inspiration and design her entire room around this color scheme!
Tween Room Makeover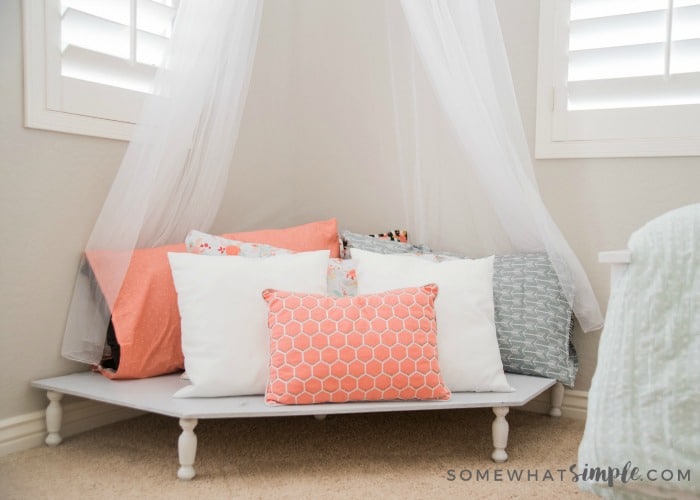 One of the things Leah wanted for her new bedroom once we moved was her very own stage. She has a karaoke machine and microphone stand that she brings out when her friends come over, and she thought it would be fun to have a place for them to perform.
Leah and I built the corner stage together in about an hour (not counting paint drying time) and she absolutely LOVES it! (I do too!!!)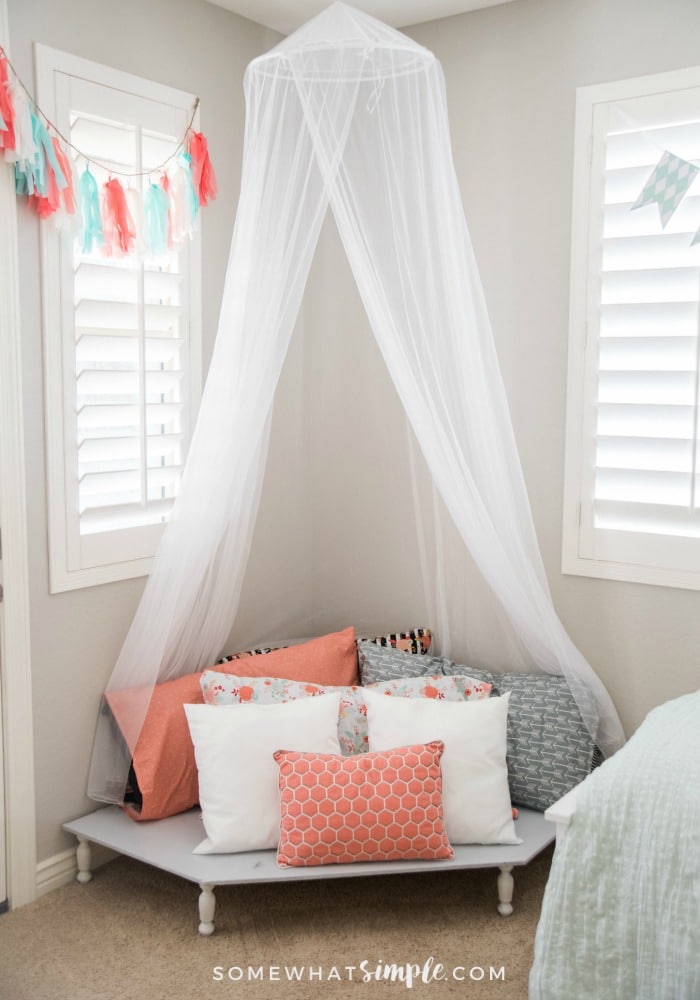 When the stage is not being used for belting out Taylor Swift songs, Leah uses it as a little reading corner. We bought some inexpensive pet pillows (the big, giant doggy bed ones) and we made some coordinating pillowcases to put on her stage when she'd rather get comfy with a good book.
We added the mosquito net above the stage for another fun element – it looks elegant and cozy all at the same time! I love that this little stage is multi-functional and can grow with her!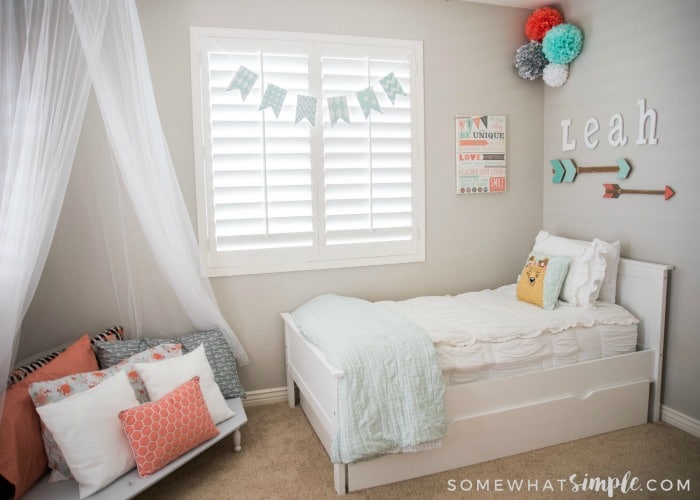 Next to the stage is Leah's bed. Since the accessories in the room can be a bit loud, we went with a soft bedspread in solid white. (My neutral-loving self had to tone it down a little!)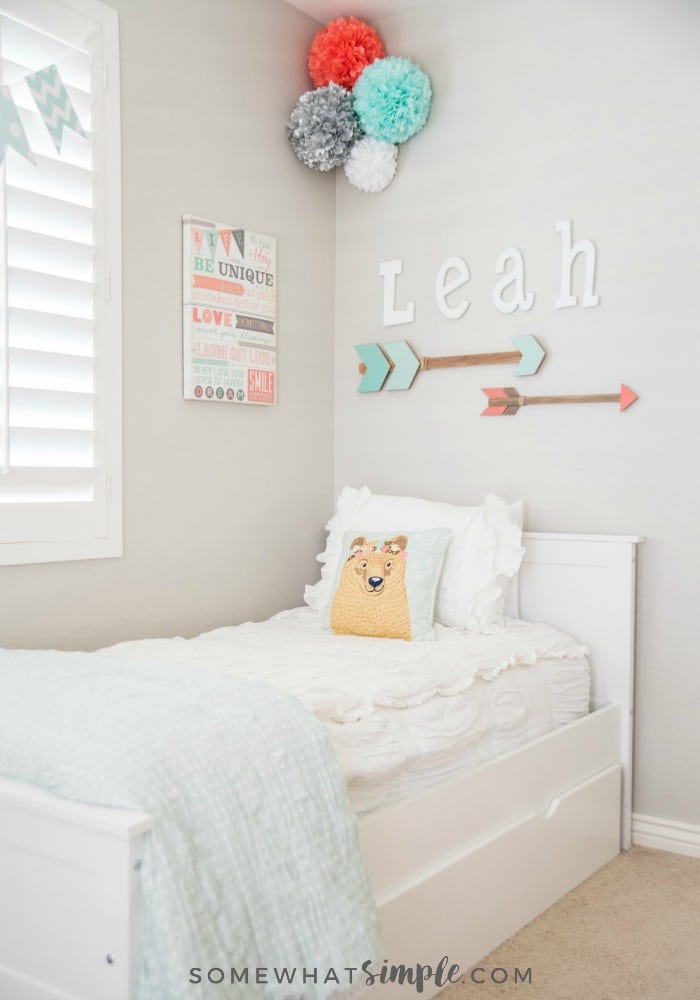 Even though Leah has her own room, she lets Mason and Addie sleep with her every.single.night! (She is the nice one in the family!) One of them pulls out her trundle bed and the other makes a bed with some blankets on the floor. They sure love their sister!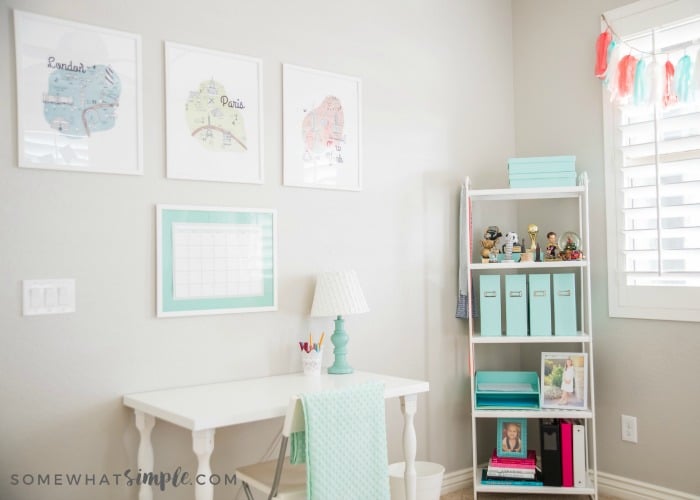 Across the room is Leah's desk where she does her homework- it never looks this clean! We framed some posters of places she has traveled in some simple white frames, and we added a shelf in the corner for storage of all her special things.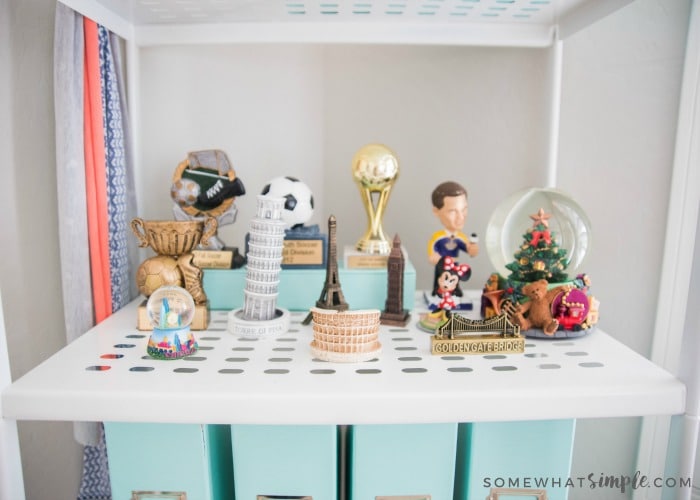 This girl collects small figurines from all her travels!
One more shot of the entire room –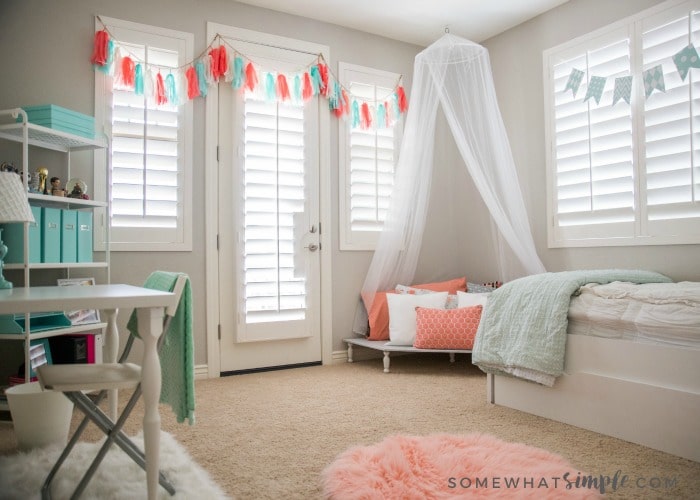 Annnnnd that brings us to the end of the tour!
Clean white furniture with artwork and accessories in pops of color – such a fun space, right??
What do you think of my daughter's bedroom???
Leah sure LOVES her new tween bedroom and all the bright colors, and I love seeing her so happy here!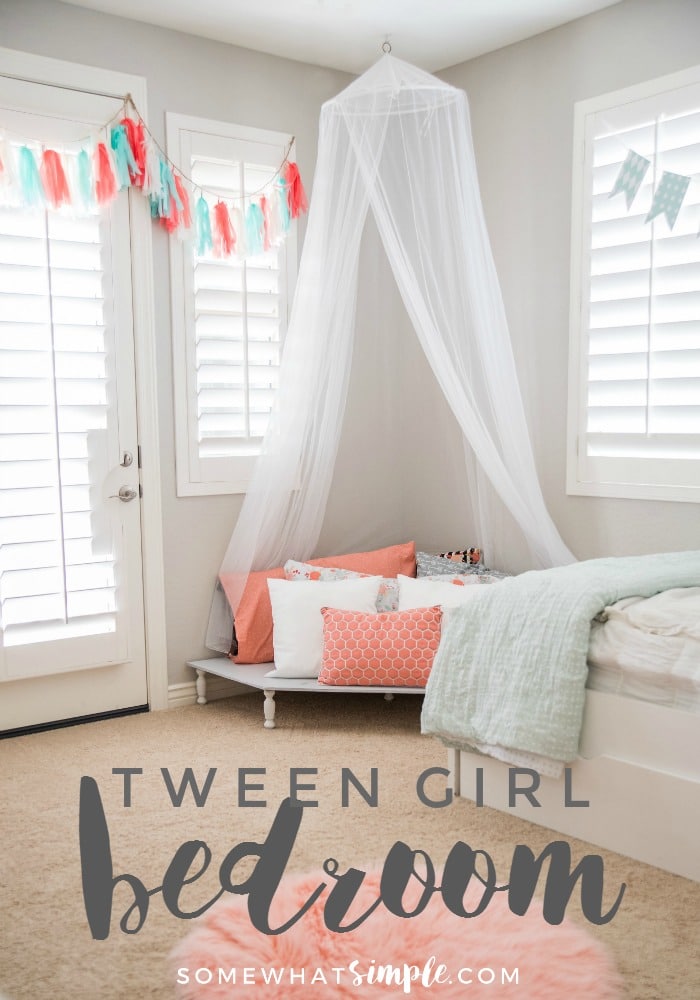 ROOM DECOR SOURCES –
*affiliate links
teal and coral accent accessories and window garlands are from Hobby Lobby
DIY Corner Stage – Tutorial Coming Soon!
pillow inserts on the stage
fabrics for pillowcases are from Hobby Lobby
white bed – similar
white comforter (throw pillow and quilt on top of her bedding are sold out from Target.)
desk and chair – IKEA
travel wall art – sold out from IKEA
white faux fur area rug under desk
TWEEN ROOM UPDATE!!!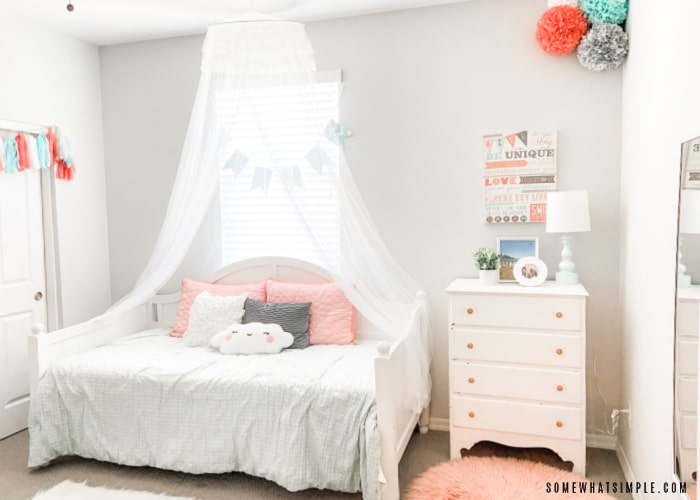 Leah was 10 when we decorated her space, and by age 12 she was over it! So I had all these coral and teal pieces in our extra closet for over a year, and I wasn't sure what I was going to do with them.
When my friend enlisted me to help decorate her daughter's room, I had a chat with 10-year-old Taelyn about what she wanted for her space and she said, "Remember Leah's room that had that stage and reading corner? I LOVE those colors!"
As soon as she mentioned this room, a lightbulb went off and I said, "I still have all those things – do you want them?!?!?" She was more than excited to use them, and I was more than excited to see them go to a good home! 🙂